If you plan to visit Iceland with kids, this guide will tell you everything you need to know, from the most popular tourist attractions to the best day trips, places to stay, where to eat, and more! Iceland is full of natural wonders, from bubbling mud pools to a black sand beach, beautiful waterfalls, the Skaftafell ice cave and Vatnajökull national park.
Reykjavik is the perfect starting point, and the perfect city break before you head off to explore the frozen landscapes of Iceland.
This post may contain affiliate links, which means I may receive a commission, at no extra cost to you if you make a purchase through a link. Please see the full disclosure for further information.
Is Reyjavik Good for Families?
Iceland impresses with the beauty of untouched nature. Its precious nature reserve with picturesque landscapes will provide great pleasure. Even more interesting is travelling to the land of red-hot lava and ice with children.
Discovering with kids the magical world of Vikings, trolls, and mythology is an unforgettable experience, and there are many more things to do in Reykjavik.
When visiting Iceland with children, it is good to plan your stay in advance and settle in Reykjavik, the most convenient place as a base from where you can easily explore the country.
Many hotels in Reyjavik are suitable for families with children. Some of them are equipped with entertainment areas. Hotels and motels often have cots, highchairs and play areas, and most Icelandic restaurants offer a special menu of local dishes for children.
All this, combined with picturesque landscapes, lava fields, great roads, good restaurants and incredible wildlife experiences, will make a family trip to Iceland an unforgettable experience for the whole family! So, don't delay, and take a flight to Reykjavik, and explore this beautiful country!
Top 10 Things to do Reykjavik for Families
1. Watch the northern lights
It is not necessary to travel outside the city. Northern lights can be viewed from Seltaiarnarnes. There is a magnificent lighthouse, and photos of the aurora borealis with it in the background will be even more magical. This activity is on a list of Reykjavik's best things to do.
2. Whale watching
Seeing a sea giant (including blue whales!) in its natural habitat is unforgettable. This is one of the best things to do in Iceland in Summer as this is when they are typically seen. Whales are often seen on the north coast of Iceland, near the village of Husavik – local companies promise to meet with whales in 98% of cases.
This whale watching tour is one of the best options out there >>>
3. Visit City Hall
The building is a mix of concrete and glass with a modern, attractive appearance. Children will love to check the map of Iceland placed on a 3D layout. The entire country is presented in a three-dimensional image so that you can see many interesting places for future visits and activities in Reykjavik. The city hall is just a short walk from Reykjavik city centre.
4. Buy an Icelandic Jumper
Buying an Icelandic sweater is a must among the top things to do in Reykjavik. Iceland shopping experience will be a great opportunity to explore the country's culture from the fashion point of view.
The souvenir shops have a huge selection of woollen clothes. A special ornament around the neck distinguishes Iceland's sweaters. It's of the most popular souvenir from Iceland. If travelling in winter, the purchase will be timelier. It is better to buy at the lesser-known Kolaportið market: the quality does not differ from those sold in numerous tourist shops in the city centre, and the price is lower.
5. Visit the Viking World Museum
Near the Keflavik airport on the Reykjanesskagi peninsula is the Viking World Museum (Víkingaheimar). The most famous exhibit is a replica of the 9th-century Viking longship "Islendingur", on which Leif Eriksson reached the shores of the New World a thousand years ago. Here you can also see items found at the excavations of the ancient settlement, a three-dimensional map of the sea voyages of the Icelandic Vikings and a diorama with plots of pagan legends about gods and legendary heroes.
6. Visit Hallgrímskirkja
This Lutheran church is one of the most known churches in Reyjavik. It looks like a space rocket when viewed from the facade. A cone-shaped skyscraper with "wings" on the sides, from a distance, indeed, resembles a rocket rushing into space. And only by walking around the building you are convinced that this is a cathedral.
>> (opens in a new tab)" rel="noreferrer noopener sponsored" class="ek-link">View Hallgrímskirkja tours here >>>
7. Try Skyr Yoghurt
Skyr is a traditional Icelandic dairy product like ice cream and Iceland's most popular dessert. It is a thick, creamy yogurt that is eaten for breakfast or as a snack throughout the day. Often berries and fruits are added to it, turning it into a delicious dessert.
8. Visit Harpa
Right on the shore of the harbour, there is an extraordinary building. This is the first Concert Hall in Iceland and a venue for international competitions. The main building structures are glass panels in blue and yellow shades and look like a honeycomb framed with a steel frame.
Daylight creates the effect of a giant sparkling diamond. But the most colourful picture appears at night when thousands of LEDs illuminate the walls of Harp. The building floats in the air, spreading a diamond glow over the city and the harbour – an amazing sight.
9. Feed the ducks on lake Tjornin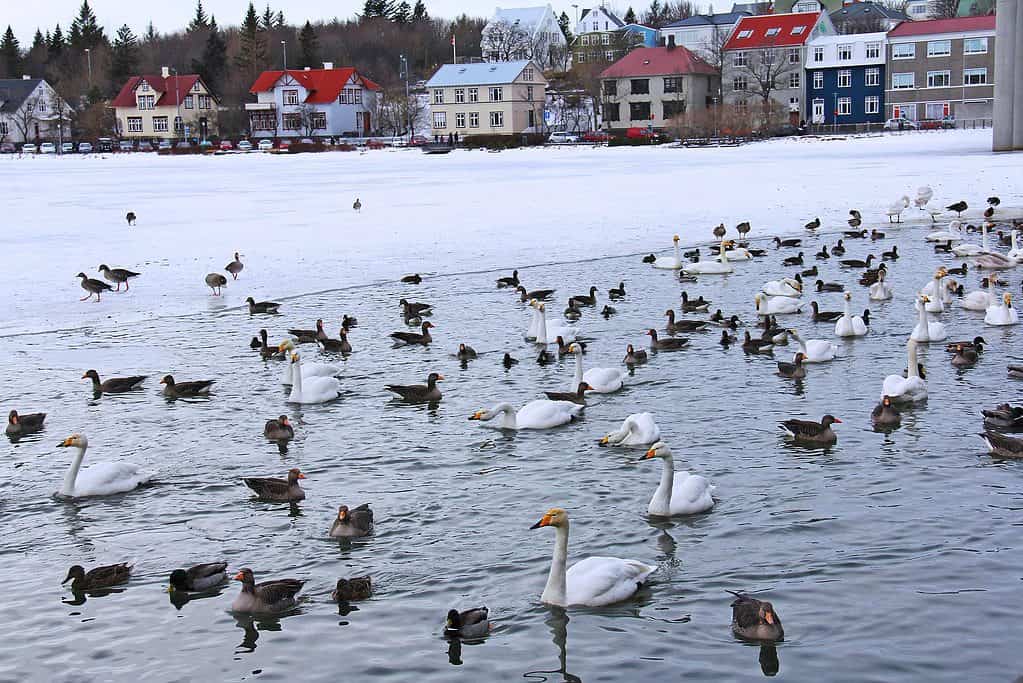 This loved by Icelanders and tourists from all over the world. The reservoir is in the heart of Reykjavik and is translated from Icelandic as "pond". Stunning picturesque landscapes, crystal clear waters and rich fauna make its shores a popular place for picnics, family activities and friendly gatherings.
The lake has excellent opportunities in winter. Ideally flat ice surface and a large area allow the use of a natural object as a skating rink.
10. Watch the sunset During Dinner in a Panoramic Restaurant
Perlan's building resembles a huge intergalactic ship. The spacious restaurant is situated under a transparent glass dome. The establishment's floor slowly rotates so that visitors can admire the circular panorama of the city without interruption from eating the ordered dishes.
From here, from the hill, a wonderful panorama of Reykjavik opens – cosy low white houses with red roofs, a blue bay and a mountain landscape in the distance.
When is the Best Time to Visit Reykjavik, Iceland
To fully admire the beauty of nature with children, it is better to go on a city break to Reyjavik – the capital city of Iceland, in the summer.
At this time of the year, warmer weather sets in the country, and local landscapes delight with lush greenery. Only in winter can you see the northern lights and the unique New Year's fireworks in Reykjavik, considered one of the best in the world. However, the New Year period is also a good time to travel with children.
Reyjavik in July
July is known for the warmest weather and white nights, so it's the best month to go to Reykjavik. This time in Iceland, the air temperature reaches +15…+20 degrees.
Experts say this is the best time to visit the Blue Lagoon. Geothermal area, the spa centre will please with its hot springs, located in the open air.
Reyjavik in December
Despite the disadvantages of the cold weather period in the winter months in December, there are many things to do in Reykjavik. The first is to see an amazing natural phenomenon – the northern lights. Second, the opportunity to take a family tour to ice caves and glaciers in the mountains or enjoy bathing in hot geysers and springs.
Christmas celebrations offer a lot of fairs, markets, and festive decorations. While the unique New Year's fireworks are considered one of the best in the world. However, it needs to consider frequent changes in weather conditions and the age of the children to ensure that the trip will be safe and avoid any risks.
How to Get to Reykjavik, Iceland
One of the best ways to get from Keflavik airport to the city centre of Reykjavik is FlyBus. The journey takes about 25 minutes, and Wi-Fi is available. The ticket price for children under 6 is free and for the 6-12 years old costs 50%.
The other way is to get a taxi, which is convenient but quite pricy. You can also pre-book a private transfer >>>
If you drive a car and have a family of 3-4 people, then it would be reasonable to rent a car for one day; just getting to Reykjavik will cost you less than three or four bus tickets. And at the same time, you can see the geothermal fields of Gunnuhver and the Blue Lagoon. View hire car prices for your dates here >>>
How to Get Around Reyjavik
Reykjavik is a relatively small city, so you can walk around the centre on foot or use taxis in some cases. Bicycle rentals also operate in the capital: enthusiasts ride them even outside Greater Reykjavik (if you travel in summer and the weather is mild).
It is better to use buses for long-distance trips because the public transport system is very developed and convenient. There are also organised tours available to popular tourist areas on the south coast, larger cities in the Westfjords and Eastfjords, and the Reykjanes and Snaefelness peninsula.
Bus routes run through the Highlands and stop at the beginning and end of the most popular hiking trails.
The most convenient way for a family to explore the country is to rent a car. Car hire Reykjavik will allow you to visit places in the capital and all the main Iceland tourist attractions. Car rental Reykjavik companies can be divided into two large groups, local and international. International offices are a little closer to the airport, and there is a regular shuttle bus going to them, but they are a bit more expensive to rent. Compare hire car prices for your dates here >>>
If you want to save money or just get the best car for the same money, then you should look at local companies. Their offices are 15-20 minutes from the airport, but they pick up their clients and take them in minibuses to the rental.
Where to Stay in Reyjavik with Kids
Reykjavik is safe and comfortable for whichever district you choose to stay in. Due to the compact size of the capital, you can move around it very quickly: the road from one end of the city to the other by transport will take no more than 30 minutes.
The most exciting areas of Reykjavik for tourists with kids are concentrated in the centre and around it. It has the most accommodation options, attractions, shops and cafes.
If you decide to stay in Laugardalur (104), it will be a great place to stay in Reykjavik with the kids. A small part of Laugardalur in the old port area is adjacent to the city centre, but a large area is located quite far from the main attractions. So be prepared for the fact that you must travel by public transport.
Another great option to pick is Miðbær/Central City (101*). This area is the city's heart with appealing cafes and restaurants, museums, old houses, unusual sculptures, shops, and churches. In the centre is the main shopping street of Laugavegur, a large lake with birds, a cool flea market where you can buy everything, an old fishing port and more.
Budget: Hotel Frón
This family-friendly hotel is at a convenient location on Laugavegur shopping street. It features a kitchen, where the special food can be prepared for children. The cots are available upon request at no additional charge.
Mid-Range: Canopy by Hilton Reykjavik
Canopy by Hilton Reykjavik city centre is designed with a minimalist Icelandic approach, located in the centre of Reykjavik, a couple of minutes' walk from Laugavegur Shopping Street. The restaurant offers kids' meals and a kid-friendly buffet. The rooms are suitable for families with children. However, the cots are not available. This hotel is a value for money option for staying with children.
Splashing Out Black Pearl Apartment Hotel
This hotel offers luxury apartments in downtown Reykjavik. It is located just 350 m from Old Reykjavik Harbour. Besides the spacious rooms, heated floors, and facilities, the hotel provides room-in breakfast with a special discount for children.
For their entertainment, there are board games and puzzles. For the little ones, the cots are available upon request. Try this experience of staying in one of the best hotels in Reykjavik.
Where to Eat in Reykjavik with kids
Iceland cuisine is based on meat and fish. The locals prefer lamb, which they traditionally breed for many years without using antibiotics and hormones, causing very light pollution in the atmosphere. Besides, they eat much of Icelandic yoghurt, which is creamy and thick and a good high protein healthy breakfast option for kids. Also, children in Iceland are very fond of the local misingur paste. It's like local Nutella, but it tastes more like caramel and is made from milk.
Given all the above, it is better to stay in an apartment with a kitchen, and not in a typical hotel. In Iceland, the kitchen closes early, so you can only dine on some sandwiches and hot dogs in the evening. However, you can find a special children's menu during the day in many restaurants. You can always cook something for yourself and your children in this case.
Emilie and the Cool Kids: A cosy, kid-friendly, modern café with delicious sandwiches, pastries, and bagels, including vegan options, and among the best places to eat in Reykjavik. View on TripAdvisor >>
Salka Valka eldhus/kitchen: Highly rated local restaurant with healthy dishes. Kids love their cream soup and smoothie cocktail. View on TripAdvisor >>
101 Bistro: It is a small family-owned restaurant with tasty pizza, burgers, fish and chips, and good quality food, which kids adore. View on TripAdvisor >>
2 Days in Reyjavik Itinerary
Reykjavik is a very small friendly city that has only become popular with tourists in recent years. It's nice to spend a good weekend here with your family and get acquainted with the city and its history. Besides the cultural program, you can have a lot of things to do in Reykjavik. For example, swim in one of the magnificent pools, taste delicious local delicacies, or enjoy the great outdoors.
Once in Reykjavik for 2 days with children, the first day, you can devote yourself to The Whales Museum, a local must-see place, and explore the area after climbing the small hill Thufa.
In the afternoon, head to Hallgrimskirkja church, and view the city from its observation deck. Finish your day learning the history of the Vikings in the Saga Museum.
The second day starts with the excursion to Perlan, a futuristic landmark, museum, and observation deck. Have a coffee or lunch in their panoramic restaurant. Check the Sun Voyager Sculpture in the afternoon, a signature monument in Iceland. Finish your day at Laugardalslaug Swimming Pool, where kids can have fun on the slides and the kid's pool.
Day 1: 1 Day in Reykjavik
Morning: Whales of Iceland
This is one of the most modern museums in Iceland. All copies of the whales here are presented in full size. Next to each of them, there is an interactive information sign that tells visitors about these amazing creatures! The museum has a cafe where you can order whale meat dishes and a souvenir shop. Book a whale watching tour here to see the Icelandic whales in their natural environment >>>
Thufa
Climb onto the Thufa installations – hemispheres overgrown with grass, from which you can see the harbour and the coast of Reykjavik.
Afternoon: Hallgrimskirkja church
You'll find one of the most famous viewpoints in Reykjavik, 74.5-metre-high. The church with the largest organ in Iceland is a Neo-Gothic building which depicts a volcanic eruption.
Saga Museum
This museum is a must on Reykjavik's list of things to do. Wax figures in armour and ancient dresses seem to have come out of the sagas and chronicles of the Vikings. Here, you can see the Icelandic Middle Ages' legendary characters and historical figures. Costumes and weapons were created by hand using traditional technologies – in some outfits, helmets, and a sword or spear in your hands. You can take a picture for the memory. Kids love this part the most!
Day 2: 48 Hours in Reyjavik with Kids
Morning: Perlan
This is one of Reykjavik's most famous attractions. The complex consists of six huge water tanks supporting an internal structure and a glass dome. Perlan has an excellent restaurant, a cafe, an observation deck with a panoramic view, and interesting exhibitions.
There you will find the largest artificial ice tunnel in Iceland, an ice cave, an almost exact copy of the Latrabjarg bird rock, and an observation platform that offers a view of the whole of Reykjavik and even the neighbouring peninsula. You will surely love this place!
Afternoon: Sun Voyager Sculpture
It was designed to become a symbol of the polar city. It is located right on the embankment. Not a single inquisitive glance of the traveller has slipped past it. Take a picture!
Laugardalslaug Swimming Pool
It is located right in the central park. Athletes train in the 50-meter pool, and for everyone else, a pool with two slides, a hot and warm jacuzzi, a children's pool and a pool for kids is open.
Best Things to do in Iceland: Day Trips from Reykjavik
Northern Lights
The Northern Lights in Iceland are best viewed away from city lights and on cloudless days. The highest probability is from October to January, from 22 to midnight.
Early and late season Northern Lights tours tend to run late at night, but if you decide to put the kids to bed later, you will be rewarded with unforgettable beauty. It's among top things to do in Iceland!
Blue Lagoon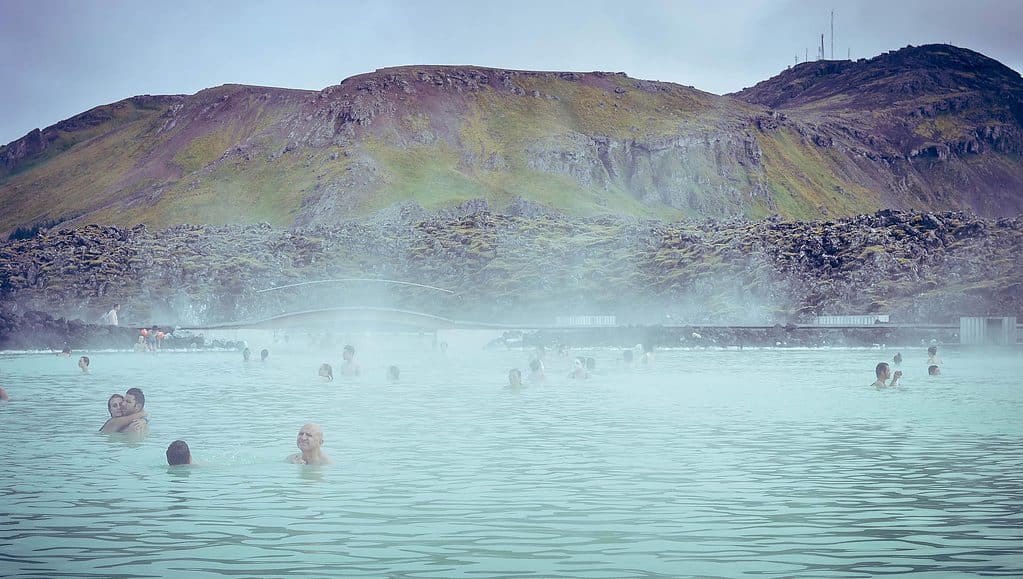 Ranked as the 25th wonder of the world, the Blue lagoon Reykjavik, Iceland, is an unearthly natural retreat, a geothermal pool and one of Iceland's main attractions that will impress everyone.
Grandiose heaps of stone blocks – traces of a long-standing lava eruption, covered with centuries-old velvet islands of green moss, and a sea lagoon with water of an incredible milky blue colour, nature baths – a fantastic picture!
A tiled path leads from the car parking to the lagoon, to the buildings of the spa centre, laid on a territory freed from stones. If you're looking for amazing things to do in Iceland, head to The Blue Lagoon!
Thingvellir National Park
Thingvellir is the most known from three national parks in Iceland and is a favourite stop among travellers on the Golden Circle route. Thingvellir became a national park in Iceland in 1930 and was named a UNESCO World Heritage Site in 2004. The park is one of the best national parks in Europe!
When the Viking settlers arrived in the 10th century, the place where the park now stands was chosen as the meeting place of the Althing, the world's oldest parliament.
The unique geology has created a natural amphitheatre ideal for public performances, including the high wall of Logberg (Law Rock). The ancient Vikings chose this place for public meetings, and it was here that the first laws of Iceland were written down.
Jökulsárlón Glacier Lagoon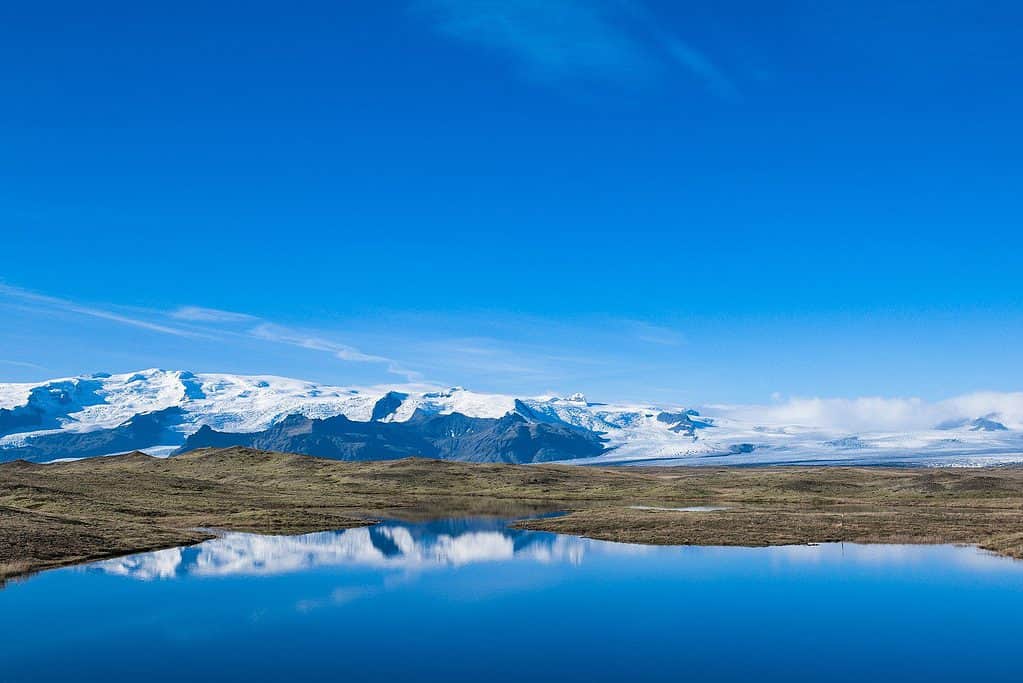 A fantastic lake with floating ice floes was formed due to global warming, and one of the main places to visit in Iceland. A hundred years ago, on the site of the lagoon, almost at the very ocean, lay one of Europe's largest glaciers, Vatnajökull.
However, starting from the 30s of the last century, under the influence of rising temperatures, the glacier began to retreat into the island's interior, leaving behind deep gorges that gradually filled with water.
As a result, a lake was formed between the glacier and the shore, or rather a bay, since it is connected to the ocean by a small strait. Every year, the body of water has gotten bigger and bigger – today, the glacier lagoon area in Iceland is 18 km², which is four times more than 50 years ago!
The Golden Circle
The Golden Ring of Iceland is one of the most popular tourist destinations in Iceland, and for a good reason. This route includes Gullfoss waterfall, hot springs and geyser, Thingvellir National Park (the only place you can step on the north American and European tectonic plates simultaneously) and several smaller attractions such as Kerid crater.
Also, the hot river in Hveragerdi is located along the ring road. The golden circle is a good starting point to explore the day trips from Reykjavik.
Things to See in Iceland: Top Landmarks
Iceland is full of natural beauty just waiting to be explored, from active volcanoes to the picturesque Icelandic highlands. The top landmarks are easily accessible as a day trip from Reyjavik or just a short drive away.
Gullfoss Waterfall
The Gulfoss waterfall is famous because falling water creates clouds of spray and soaks everything around, so visitors are advised to wear waterproof clothing or get a plastic raincoat, especially since you will need it more than once in Iceland.
When you see clouds of spray from this powerful waterfall hovering over the waterfall on a sunny day, you can easily understand why it is called golden. The sun's rays illuminate the haze, and you can see a bright rainbow in a cloud of spray. This is the perfect destination for nature lovers.
Reynisfjara Beach
This beach is black due to the volcanoes located nearby. After several eruptions at the tectonic plates, a huge amount of lava poured onto the surface. This lava formed the entire island of Iceland. For thousands of years, sea waves destroyed the coastal rock formations consisting of lava, and some stones became black sand over time.
Dynjandi Waterfall
Dynjandi waterfall is one of the most impressive waterfalls in Iceland and the largest waterfall in Vestfjord. It is about 85 km from the port city of Isafjordur. The waterfall's name is translated as "Thunderous", and indeed, the closer you get to it, the more thunderous its voice becomes.
The height of this miracle of nature is 100 meters, its width at the top is 30 meters, and at the base is 60 meters. Thus, Dinjandi is easily recognisable even from a distance, as it is similar in shape to a huge wedding veil.
Strokkur Geyser
Strokkur Geyser, Strokkur is the most famous hot spring and visiting it is among the top things to do in Iceland. It throws out huge jets of boiling water to a height of 20 to 40 meters.
Don't worry about missing out on this incredible sight as Strokkur erupts every five to ten minutes. It is worth choosing a point for a photo or video. Turn on the camera and be ready!
Dettifoss waterfall
Dettifoss is impossible to see in its entirety. It is the largest in Europe. Therefore, the earth is always wet for tens of meters around Dettifossa. Where a stormy stream of waterfalls from a ledge into the river, a huge cloud of spray rises into the air, covering almost half the height of the giant.
Read More
Fun Facts About Iceland for Kids
Plan Your Trip to Reyjavik with Kids
Find cheap flights to Reyjavik >>>
View more on Northern Europe >>>
Sylvie Simpson is the founder of European Cities with Kids. For the past 6 years, she has been travelling all over Europe whenever she has the chance, both solo, for work and with her daughter. Sylvie is on a mission to help people make the most of city breaks in Europe with kids and helps over 50,000 readers per month plan and make the most of their trips in Europe with kids.