(Last Updated On: November 24, 2023)
Looking for the best day trips from Bristol with kids? Although it's possible to spend weeks exploring Bristol, and not run out of things to do, you may be looking to explore more of the UK. Bristol is located in a lovely area surrounded by natural environments, historic monuments, fantastic places to try traditional British food, and amazing cities just waiting to be explored.
This post will take you through some of the very best day trips around Bristol when visiting Bristol with kids, including the best day trips from Bristol by train, best day tours from Bristol, best family days out near Bristol, and things to do near Bristol with kids.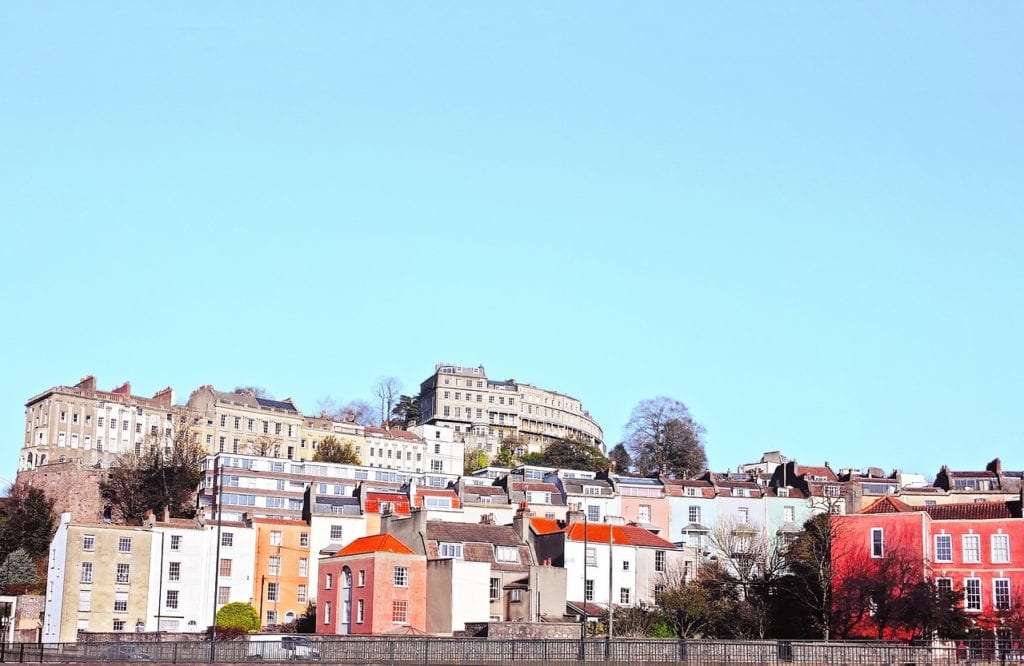 This post may contain affiliate links, which means I may receive a commission, at no extra cost to you, if you make a purchase through a link. Please see my full disclosure for further information.
One day trip from Bristol to a nearby city
1. Bath
Submitted by Chrysoula, Historic European Castles
If you're travelling to England or, more specifically Bristol, as a family, you may be wondering what other day trips from Bristol there are to keep the kids entertained. One such idea is a day trip from Bristol to the nearby historic city of Bath with kids. Bath is a destination that can easily be reached from Bristol. Bath is one of the best day trips from Bristol by car. Bath lies around half an hour from Bristol by car (simply following the Bath Road and then the Bristol Road) and can be even quicker by train, so there's no reason not to pop this extra city into your itinerary.
Bath is one of the most beautiful cities in England with royal architecture, stunning parks and world-famous Roman Baths. The UNESCO World Heritage city of Bath features some great family-friendly activities to get the kids learning about everything from Roman history and the Royal Mint to glass blowing and rural Somerset life!
As the city centre is quite compact, even little legs shouldn't get too tired and it means you can discover a variety of destinations in a short space of time.
Exploring the Roman Baths & Museum, the Royal Crescent, Sally Lunn's Historic Eating House & Museum and Royal Victoria Park are all musts. If you have more time, you can also try to squeeze in visits to the Bath City Farm, the Bath Boating Station and the stunning Bath Abbey.
Bath also features some decent high-street shopping (ideal for the older kids), some wonderful family-friendly restaurants and loads of outside spaces where you can relax with a picnic.
2. Plymouth
Our Recommendation
Plymouth is a spectacular maritime city, located just 2 hours South of Bristol. The city features a wide range of outdoor sights, large open spaces and plenty of things to do for kids.
Plymouth Hoe is a good starting point for any trip to Plymouth. It has a vast lighthouse as well as excellent views out towards Plymouth Sound and Drake's Island, a scenic island located just off the coast.
The Barbican is an excellent place to visit for a walk and a yummy lunch by the water. Either get a takeaway and find a scenic coastal spot or eat in at one of the many restaurants. The Barbican is also the starting point of some excellent boat trips around Plymouth and the nearby beaches in North Cornwall.
If you're looking for inside (or rainy day) activities, Drake Circus shopping centre is a huge complex where you can shop till you drop. The next-door Plymouth barcode features a 4D cinema and plenty of eateries.
Plymouth's star indoor attraction is the National Marine Aquarium, a charity-run marine centre that's home to a huge variety of marine life. Make sure you try out the cafe, it's got excellent views out onto the Barbican.
How to get to Plymouth from Bristol
The best way to reach Plymouth from Bristol is by train. The journey has some lovely sea views between Plymouth and Exeter when the train passes the Exmouth area.
Plymouth is also easy to reach by car. It is possible to travel by coach on Stagecoach or National express. However, you would need to provide a car seat for younger kids.
3. London
The new fast train link between Bristol and London has made it even easier to take a day trip to the capital.
For a day of sightseeing, the best way to see London in a day with kids is on the hop-on-hop-off bus. A variety of routes take you all over the major sights of London with minimal walking. Kids will love to see the changing of the guard at Buckingham Palace and walking next door to St Jame's park for a play.
For an educational trip, head to the London science museum where you can see the spacecraft that travelled to the moon in 1969. The natural history museum is also packed with things kids will love, including loads of information about dinosaurs. A trip to Kidzania lets the kids try out over 60 professions in role-play adventures. There are also many free things to do in London, so a day trip doesn't have to be as expensive as it seems.
How to get to London from Bristol
The train from Bristol Temple Meads to London will get you to the capital in just 1 hour, 36 minutes. If you want to drive, it will take significantly longer at 2 hours, 18 minutes, and possibly longer with delays and parking. Many coach services also run from Bristol to London.
A day trip from Bristol to a nearby town or village
4. Glastonbury
Submitted by Helen, Holidays from Hels
Glastonbury, situated just less than an hour's drive south of Bristol, is famous as much for its spiritual history as its music festival and makes for a perfect day trip from Bristol with kids.
Folklore holds variously that the town is sited on ley lines, is the entrance to the land of the fairies and may even by the burial place of the holy grail itself.
Children will love exploring the fabulously bohemian shops displaying crystals, witches' cloaks and unusual looking musical instruments. You will probably encounter a druid or a goddess on your visit.
Take the time to explore the Abbey and discover Glastonbury's history from Saxon times to Henry VIII.
There are plenty of cafes and olde inns for an afternoon snack. Don't miss the Blue Note café with its lovely courtyard tables strung with flowers. Their hot chocolates loaded with cream and Maltesers are legendary.
On a sunny day, take the 25-minute walk from the High Street to Glastonbury Tor, with its 800-year-old tower and views over the countryside, sheep and Avalon itself.
Cost: Glastonbury Abbey costs £25.25 for a family ticket for 2 adults and up to 3 children
How to get to Glastonbury from Bristol
The most direct route by car is to take the A39 south. The Journey takes about 50 minutes, and the A39 takes you right into the town. You can also take the Mendip Explorer bus 376 from the Broadweir bus stop by Castle Park in Bristol town centre which takes 1hour 10 minutes.
5. Leamington Spa
Submitted by Melissa, High Heels & a Backpack

Lovely Leamington Spa is a scenic upscale spa town in the heart of Warwickshire. It is situated just 90 minutes away from Bristol.
Start your day in Leamington by taking a stroll through the Jephson Gardens. Once upon a time, these gardens were a Victorian park. Many of the statues and buildings here have been preserved in the Victorian style in a way that makes visitors feel that they are journeying back in time.
Kids will love the opportunity to rent boats with their parents and row back and forth on the picturesque boating lake. Adults will admire the park's fragrant flower gardens and interesting contemporary sculptures. Stop for a hot coffee and cocoa at the park's Aviary cafe – a charming Victorian tea Pavillion that has been designed like a birdhouse.
The Leamington Spa Spy Mission is a fun family tour that parents can do with their kids. This is a smart way of sightseeing and exploring all of the top attractions in the town while keeping the kids entertained! To complete the spy mission, families download a PDF and hunt around Leamington Spa for the clues. The journey takes you from the narrow cobbled streets to the grand Royal Pump Rooms.
Leamington Spa boasts an excellent selection of dining options for when lunchtime rolls around. Arguably one of the best ways to enjoy a light lunch here is to order a traditional British afternoon tea at the Bandstand tearooms.
How to get to Leamington Spa from Bristol
Driving from Bristol to Leamington Spa takes approximately 90 minutes. If you do not have your own transport, you can also take the train. There is no direct service between Bristol and Leamington so you should transfer at Birmingham.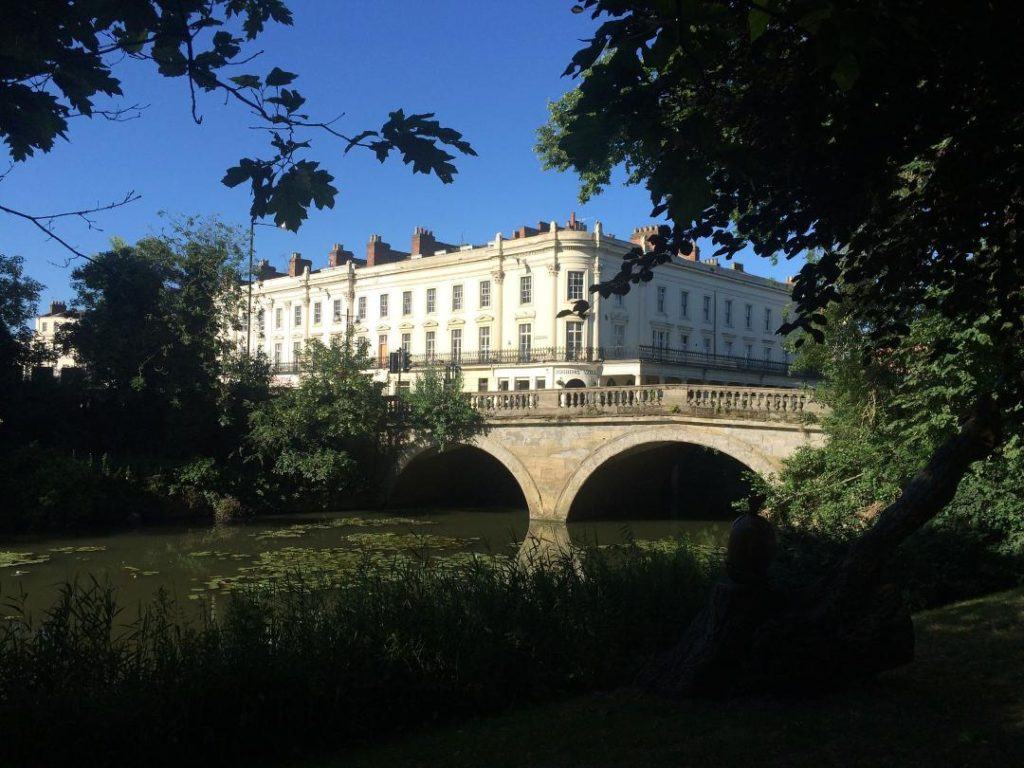 6. Weston Super Mare
Submitted by Bradley, Dream Big Travel Far
Located just 45 minutes from Bristol, Weston-super-Mare is probably the best local seaside destination to visit with kids. It's one of the oldest seaside resorts in England and there are tonnes to do for people of all ages! Most notably taking time to relax or play on the 2-mile long beach that is almost all sand and large enough to hold tens of thousands of people on a hot summer's day.
But the best site in Weston for kids is definitely the Grand Pier, home to a whole host of rides and arcade attractions. Including a 4D cinema, go-karts and even a ghost train. There are also plenty of cafes and restaurants around the pier, perfect for enjoying a family meal. If you visit at the right time of the year, you may even get to discover the famous Weston Sand Sculpture Festival.
How to get to Weston Super Mare from Bristol
It's easy enough to drive there from Bristol, and there is lots of parking on the front. There's also a train service that runs from Bristol, which is a lot handier and takes just over 30 minutes.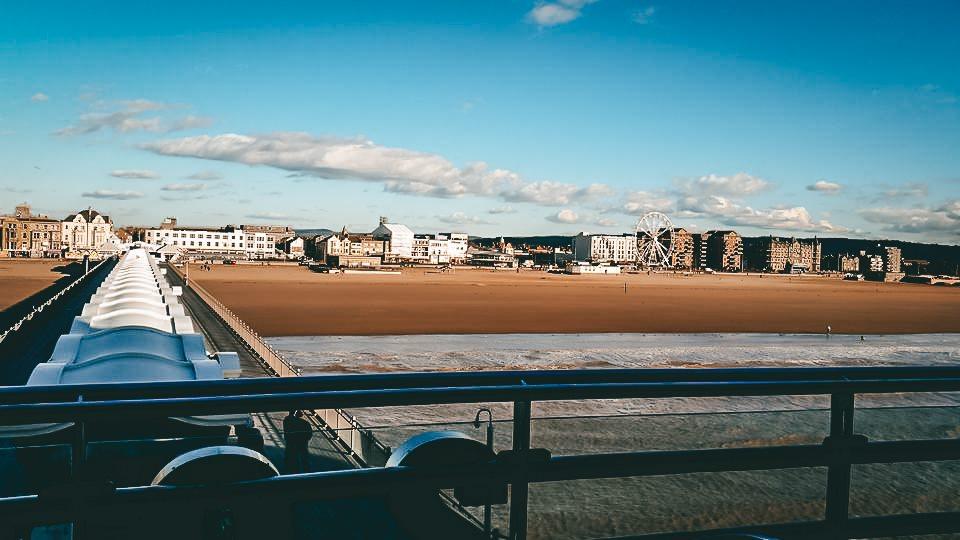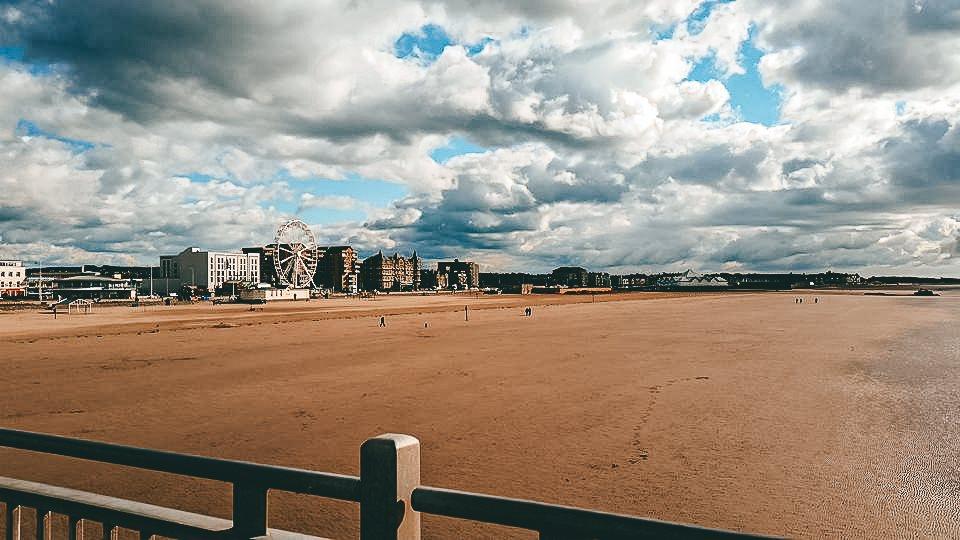 7. Hay-on-Wye
Submitted by Shireen from The Happy Days Travels
Hay-on-Wye is a small town found in the Brecon Beacons National Park and on the border of England and Wales (you can have one foot in Wales and the other in England)! The place was made famous as the world's first book town because of the huge ratio of bookshops to people – 1 to every 100 people. There are genre-specific shops like the Children's Bookshop, Murder and Mayhem, and The Poetry Bookshop (the only Poetry-only shop in the UK) as well as a 24 hour, open-air honesty bookshop. See here for a self-guided tour of the Hay bookshops which is the best way to experience the town.
As well as the book shopping, Hay-on-Wye has an abundance of activities for families such as Wye River walks to spot the wooden-carved animals, kayaking and canoeing, horse riding, arts and crafts, learning some history at Hay Castle and the town centre market with lots of street food options.
How to get to Hay-on-Wye from Bristol
The best way to get to Hay-on-Wye from Bristol is by car. If you drive through Wales you can take the scenic route through the Brecon Beacons for mountains and lakes which takes about 1 hour and 30 minutes. The closest train station to Hay is Hereford so if you get the train there, you can take a taxi or a bus into Hay-on-Wye which takes about an hour.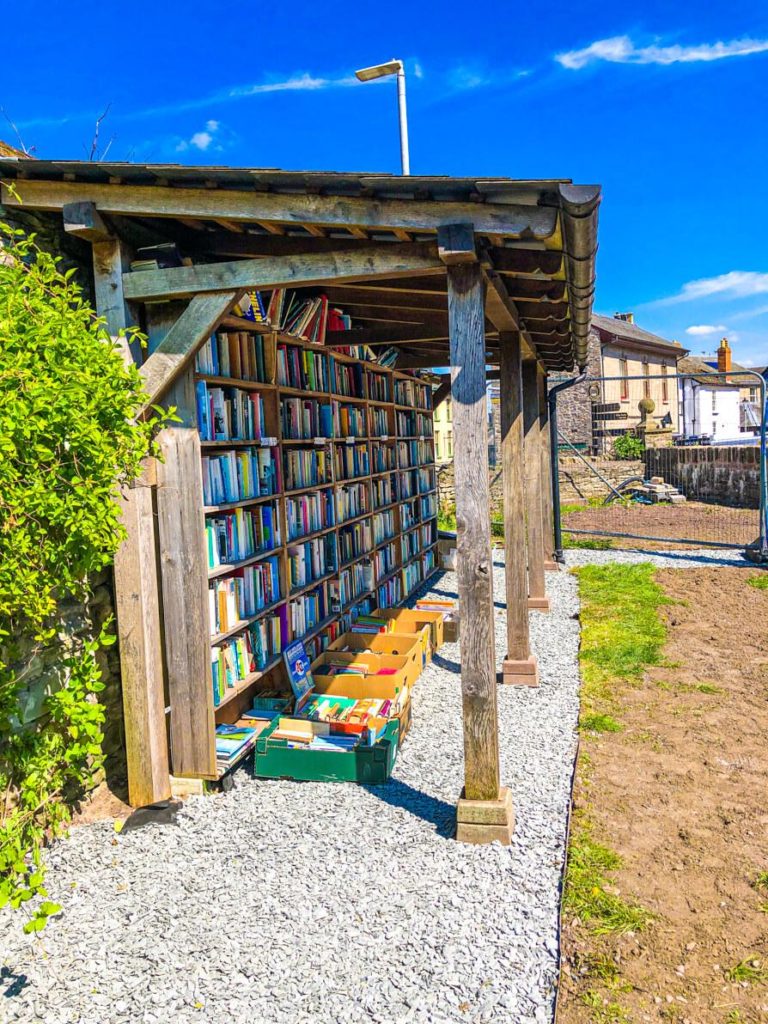 Outdoor Exploration day trips from Bristol
8. Cheddar Gorge and Caves
Submitted by Suzanne, Meandering Wild
Cheddar Gorge and Caves are located in Somerset, south of Bristol. The gorge is the deepest in England and at its highest reaches 137 metres deep. The road winds up through the gorge which can be viewed on an open-top bus from the caves. This is the best way to see the gorge and not have the worries of driving. The caves at Cheddar are great for experiencing the underground world. The audio guide and have a few surprises that kids will love. There are also a number of walks from the bottom of the gorge which take you to the top of the gorge cliffs.
Cheddar Caves is also a great place to try caving and climbing. Kids can also try our out their Escape Room with a caving twist.
Admission | The Caves Explorer ticket costs about £20 for adults and £15 for children. It includes the caves, gorge bus, entry to Jacobs Ladder and the museum. Without paying, there is still a lot of family exploring that can be done in the Gorge and around Cheddar.
How to get to Cheddar Gorge from Bristol
Cheddar Gorge and Caves are located 40 minutes drive south of Bristol on the A38. It is possible to get there by public transport but this involves two buses from Bristol to Wells and then a second from Wells to Cheddar. This takes a couple of hours. Cheddar village has lots of small shops and cafes for lunches and ice creams.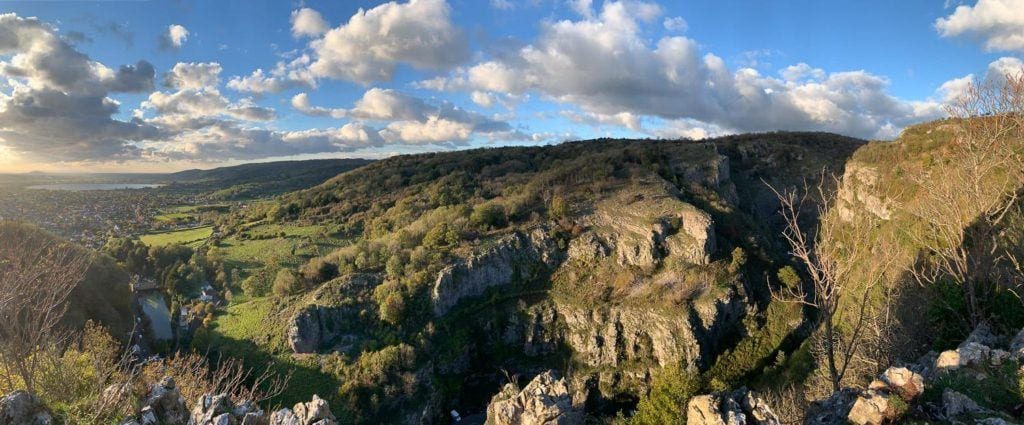 9. The Forest of Dean, Gloucestershire
Submitted by Cathy, Mummy Travels
Less than an hour from Bristol lies one of the most ancient stretches of forest in the UK. The Forest of Dean, on the border of England and Wales, is fantastic for a day out with kids, whether you're looking to get outdoors or to visit some of the area's family-friendly attractions.
Don't miss Puzzlewood, on the edges of the forest itself, where the twisting paths, mossy boulders and tangled boughs make it feel like you've stepped into another world. It's so convincing that Puzzlewood has appeared in various films and TV shows, including doubling for an alien landscape in Star Wars.
Or follow the Forest of Dean sculpture trail from nearby Beechenhurst, including a huge stained glass window hanging in the trees. For younger kids, there's often a Forestry England trail to follow too, themed around Julia Donaldson or Aardman Animations characters.
There are plenty of other things to do in the Forest of Dean with kids, including the Wye Valley butterfly farm, next to the Jubilee Maze and mini golf, or the ruins of Goodrich Castle, with views across into Wales.
This is one day out from Bristol where you do need a car – public transport is limited.
Admission | Entry to Puzzlewood costs £7 for adults, a combined ticket to the butterfly farm, mini golf and jubilee maze costs £5.50, and Goodrich Castle costs £9 for adults (free for English Heritage members). Walking in the Forest of Dean is free, although parking costs from £3.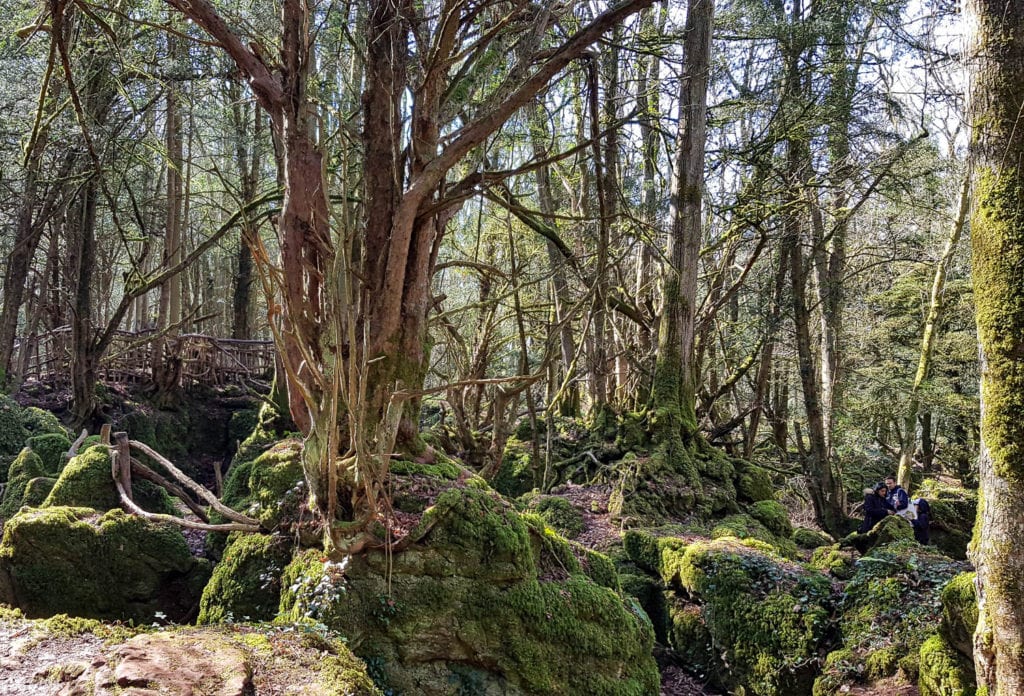 10. Stonehenge day trip from Bristol
Submitted by Anisa, Two Traveling Texans

Stonehenge is one of the most famous ancient sites in the world. Kids will be amazed that it was built over 4000 years ago without modern technology.
Your visit to Stonehenge begins with a stop at the Visitor's Center where there is a family-friendly exhibit to help explain the history of the monument. Kids can explore the model village and even try moving a sarsen stone.
From there, you can take a bus or walk the mile to the stone circle. There is an audio tour of the stone circle that kids will find interesting.
There are about 20 different ones that make up the UNESCO World Heritage site known as Stonehenge, Avebury, and Associated Sites. If you want to explore the other neolithic sites, it is best to drive.
Admission | As one of the most popular tourist attractions in England, Stonehenge tickets need to be booked in advance. English Heritage and National Trust members can visit for free but still must get tickets online. If you are not a member, it is £19.50 for adults and £11.70 for kids. There are also family tickets available.
How to get to Stonehenge from Bristol
Stonehenge is not well-connected by public transportation. There is no train station. You can take a bus from Bristol to Salisbury and change to another bus to Stonehenge. It's easiest to drive (via the A36) which takes a little more than an hour.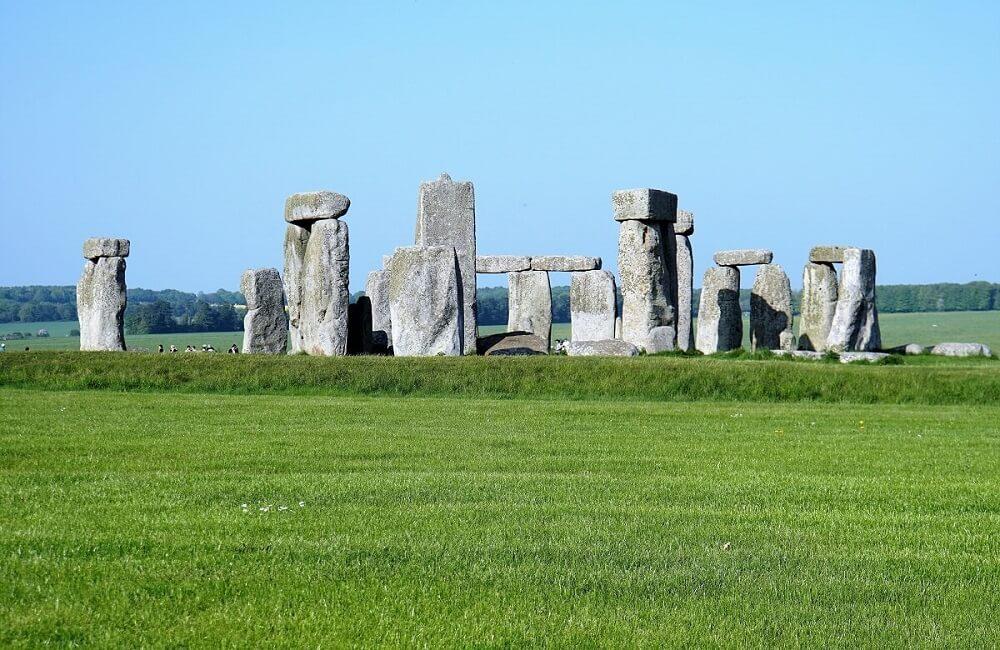 11. Visit Chepstow and Raglan Castles in South Wales
Submitted by Cath, Passports and Adventures
A great day trip to take with kids from Bristol is a trip to visit some of the castles of South Wales. Castles are in abundance in Wales and two which are reachable from Bristol are Chepstow and Raglan Castle.
Raglan Castle is a lovely ruined castle with a hexagonal tower which was built more for decorative than defensive purposes. There are several areas to explore with young kids and much of it is flat, apart from the climb up the tower. Throughout the year there are events, particularly during the summer, and sometimes there are also medieval re-enactments. While there are toilets at the castle, there is no café.
Chepstow Castle is a much larger castle with four baileys (courtyards), incredible views across the River Wye and lots of nooks and crannies to explore. There is lots of open, green areas for kids to run around in. Chepstow Castle does not have a café or toilets, but there are public toilets in the car park and lots of cafes in the town. Both castles are payable and the car park at Chepstow is a public pay-and-display.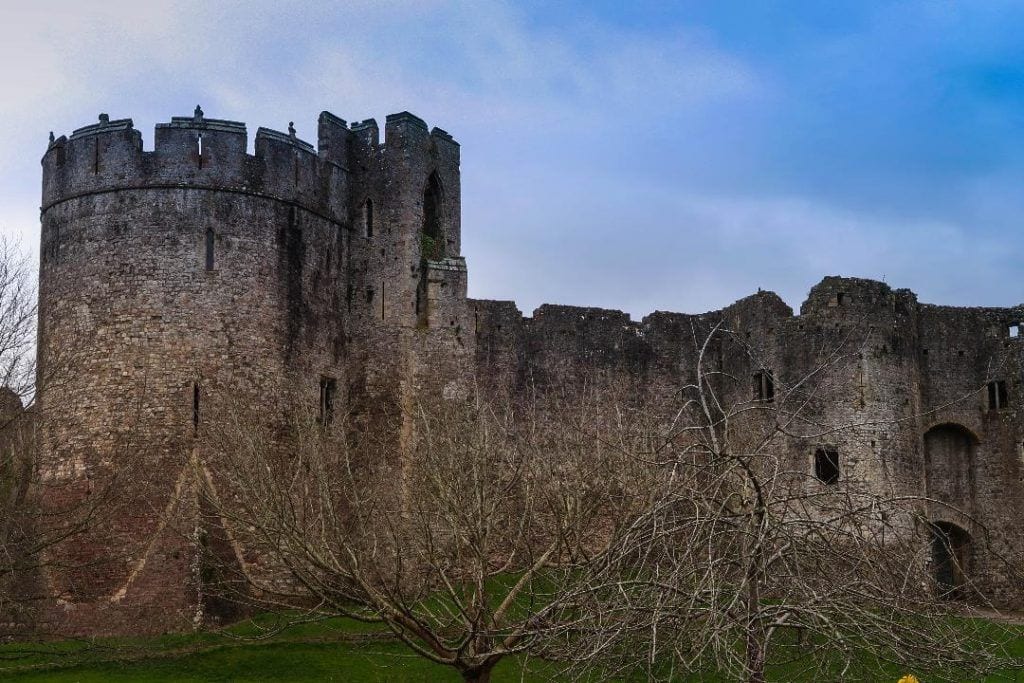 A visit to Raglan and Chepstow Castles makes for a great day trip from Bristol with kids
How to get to Chepstow/Raglan castles
Chepstow Castle is located along the River Wye in the town with the same name and is approximately 30 minutes from Bristol via the M32 and M48. Raglan Castle is located closer to Abergavenny and is approximately 45 minutes from Bristol via the M32, M4 and A449. The two castles are approximately 30 minutes apart along the B4293 road. Although both can be reached by public transport (bus), if you are using public transport, Chepstow is easier as there is a direct bus route from Bristol to Chepstow which takes around 50 minutes. Raglan is harder to reach via public transport (taking around two hours and twenty minutes).
12. Slimbridge Wetland Centre
Submitted by Becki, Meet Me In Departures
Slimbridge Wetland Centre is located just north of Bristol, in a village called Durlsey and makes for an amazing family day out and is only a short distance from Bristol. I remember my parents taking me here as a child as well as school trips and more recently I visited with my friend with toddlers in tow.
You can visit all year round. If you want to see the adorable fluffy ducklings, goslings and cygnets, then visit in the late spring or early summer, by June you'll get to see the beautiful dragonflies flitting about. Some of the birds here are migratory, so depending on the species, they visit Slimbridge as their summer home or winter home. Some even use it as a stopover mid-transit.
For the majority of the site, it's easily accessible for buggy users. You can buy bags of food to feed the birds with too which our little troupe loved. Dotted around the site are playgrounds and interactive information boards as well as a lovely indoor soft play area. There are also plenty of facilities for those essential toilet stops too.
How to get to Slimbridge Wetland Centre
The easiest way to get to Slimbridge is by car. From Bristol, take the M5 north and get off at junction 14 (it's signposted) and then continue following the A38 north. In total, the journey should take less than 30 minutes.
Admission | Slimbridge is open all year round, prices for adults are £15.95, children £9.25 and under 4s go for free. Various concessions and discounts are available.
13. Dyrham Park
Submitted by Deborah , Grand Adventure Story
The National Trust's Dyrham Park is an ancient deer park with a grand 17th-century house at its heart.
There is a wealth of family-friendly things to do on a day out at Dyrham Park. Join a volunteer-led nature walk which includes bug-hunting, learning about the resident deer and even pond-dipping, or entertain yourselves for hours playing hide and seek in the formal gardens before enjoying an ice cream or scone in the café. Little ones who enjoy role-play will want to head straight to the farm-themed Old Lodge Play Area where they can ride tractors and play in a 'pig pen'. Helpfully there are toilets nearby and covered picnic tables. If all of this hasn't tired the kids out already let them run off excess energy in the vast deer park and marvel at the spectacular views over the Bristol Channel.
It's possible to spend your whole visit outdoors but, when it's possible to do so, it's worth planning in a visit to the house where children's trails and quizzes are provided.
Admission | Entrance and parking are free for National Trust members. If you don't have a membership, a visit costs £8 per adult and £4 per child with family and other discounts available.
How to get to Dyrham Park from Bristol
Dyrham Park is only 2 miles from Junction 18 of the M4, so easily accessible by car from Bristol for a day out. Entrance and parking are free for National Trust members. If you don't have membership a visit costs £8 per adult and £4 per child with family and other discounts available.
The car park is at the top of a steep hill. A small bus is provided for visitors to take them straight to the house and formal gardens and back to the car park at the end of the day if necessary. If you're bringing a buggy an off-road model would be recommended.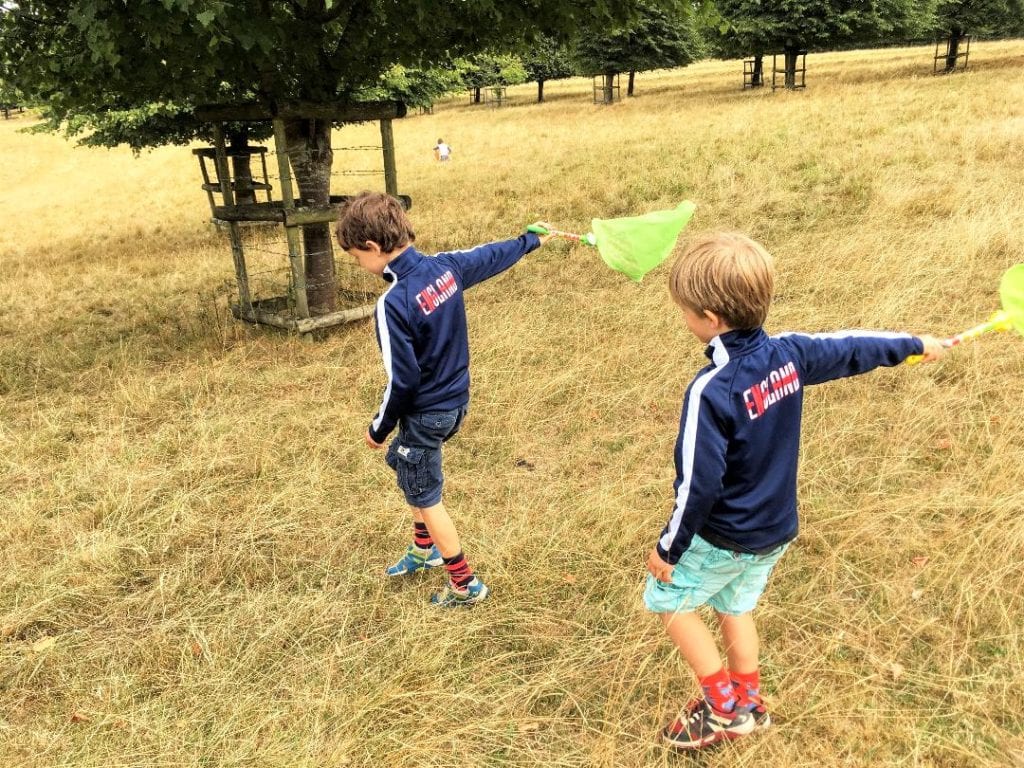 14. A trip around Dean Forest Railway, RSPB Nagshead & Clearwell Caves – A steam train day trip from Bristol
Submitted by Anuradha, Country Hopping Couple
Dean Forest Railway
Start your day by visiting Dean Forest Railway located at Norchard Station. There is a free car parking site available here. Buy your tickets, and you use them all day getting on and off from any of these stations – Parkend, Whitecroft, Lydney Town and Lydney Junction.
There is also a small museum dedicated to steam engines and their history, which children will enjoy. This station is also equipped with a cafeteria, gift shop and toilet facilities. Grab a snack from the cafeteria and hop into the train to enjoy the magical time into the woods. This 8.5-mile-long train journey on the heritage steam train runs through the medieval forest. The greeneries you see, the smell of the steam, and the traditional choo-choo sound together make the entire journey magical.
Website | deanforestrailway.co.uk
RSPB Nagshead
I recommend getting down at Parkend Station and visit RSPB Nagshead, which is a short 15-20 minute walk from the station. Located at the heart of forest dean, this RSPB is home to mature oak trees and is a perfect place to spot birds all year round. Needless to say, kids will enjoy their time experiencing the train journey and spotting birds.
Website | rspb.org.uk
Clearwell Caves
Finish the train journey, and a 15- minute drive will take you to Clearwell Caves. 9 beautiful caverns and 4500+ years of history, this attraction is suitable for all ages. Kids will love outdoor wildlife spotting, cave and exploring.
Website | clearwellcaves.com
How to get to Dean Forest Railway & Clearwell Caves from Bristol
While driving is the best option, there are train services from Chepstow to Lydney Station. Chepstow can be reached from Bristol by train & bus journey, which takes roughly 1.5 hours.
Attractions nearby Bristol to visit with kids
15. Swindon STEAM Museum
Submitted by Larch, The Silver Nomad
For an interesting day out, the STEAM Museum in Swindon is an ideal choice for children and adults alike. There are many interactive sections to play with the chance to drive a steam train with the simulator or work the signal boxes.
Many of the locomotives are in the museum. You can walk through the carriages and step up on to engine plates. There are reconstructed areas of offices, the foundry, stores and workshops.
The museum follows the history of the Great Western Railway, the men and women who worked at it. It also shows the amazing locomotives that were built and the passengers who used the trains. The museum is housed in the restored Swindon Railway Works buildings.
Like Bristol, Swindon's history is linked to Isambard Kingdom Brunel, who was the visionary that brought the Great Western Railway to life.
There is a Museum Café, or you can visit the food outlets in the Swindon Designer Outlet Centre next door.
Admission | Entrance tickets are £9.35 for an adult and £6.95 for a child. There is a range of combination tickets available at the STEAM ticket office.
How to get to Swindon STEAM Museum from Bristol
The STEAM Museum is forty-five minutes' drive from Bristol along the M4 to Junction 16. Alternatively, you can take a train to Swindon's main station then a 10-minute walk. There is plenty of parking and if free on showing your admission ticket at the Designer Outlet Information Desk next door.
16. Cotsworld Farm Park
Submitted by Lucy, Explore the Cotsworlds
Set among beautiful Cotswold scenery, the Cotswold Farm Park is the base of Countryfile farmer Adam Henson – along with plenty of his animal friends. If you're thinking of visiting The Cotswolds, the farm park is a great addition to the perfect Cotsworlds itinerary. The farm was set up by Henson's father in 1971 to protect rare breed animals, and you can still see over 50 different breeds at the park, including sheep, cattle and goats.
A visit is a great chance for kids to learn about life on the farm. You can board a tractor-trailer for a farm safari, stroke baby chicks and rabbits in the touch barn or follow a two-mile wildlife walking trail. There's also an Adventure Barn with a host of fun-filled play facilities, including a zip-wire, sandpits and a climbing wall.
There's something different at whatever time of year you visit, including lambing, sheep shearing, milking and bottle-feeding. And in winter, the park is open after hours for the festive Enchanted Light Trail, with light displays inspired by different animals and magical, illuminated woodland, fire pits, and hot chocolates to keep everyone warm.
The Cotswold Farm Park is located close to Guiting Power, north of pretty Bourton-on-the-Water. It's around 55 miles from Bristol and takes just over an hour by car. Public transport in the Cotswolds is limited, but you can catch the 801/802 bus from train stations at Kingham, Moreton-in-Marsh or Cheltenham as far as Bourton or Stow-in-the-Wold and then catch a taxi to the park. Entry costs £15 adults, £14.50 for children aged 4-15 and £10 for toddlers.
If you're thinking of making it a weekend trip, make sure you read about the best places to stay in the Cotswolds.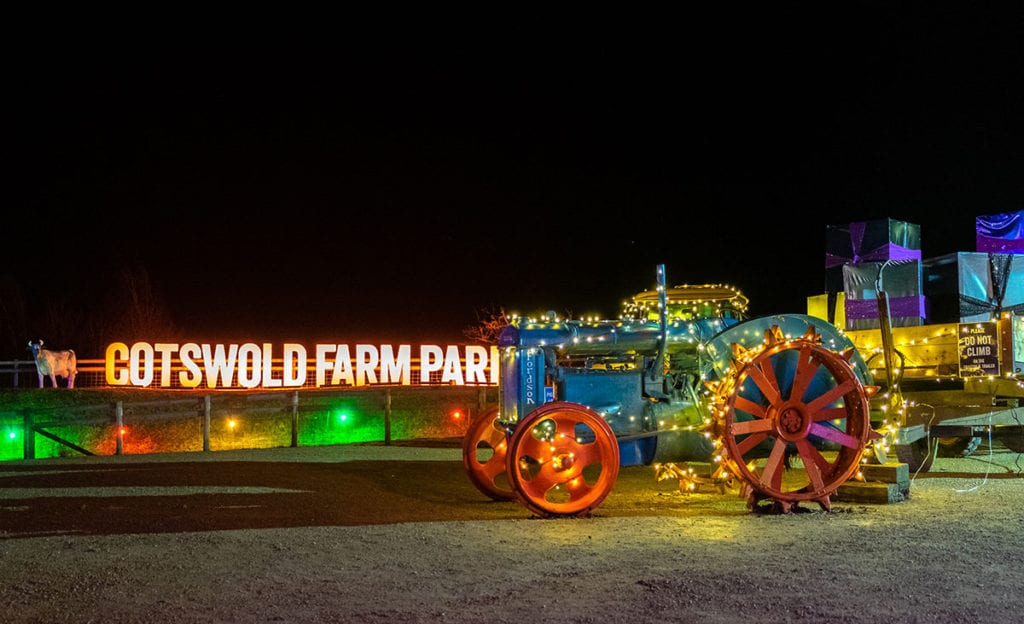 Discover more of Western Europe >>>
Sylvie Simpson is the founder of European Cities with Kids. For the past 6 years, she has been travelling all over Europe whenever she has the chance, both solo, for work and with her daughter. Sylvie is on a mission to help people make the most of city breaks in Europe with kids and helps over 50,000 readers per month plan and make the most of their trips in Europe with kids.