What is the most popular British food? Although Britain isn't always on the list of the best countries in the world for food (although it's on ours!), you'll be spoilt for choice. The UK has so many amazing dishes to try!
From traditional British dishes to local specialities, here are the most popular British foods to try on your next trip.
This post may contain affiliate links, which means I may receive a commission, at no extra cost to you, if you make a purchase through a link. Please see my full disclosure for further information.
What Food is Britain Known for?
Britain boasts a rich culinary heritage that has evolved over centuries, influenced by its history, geography, and diverse cultures.
While it once had a reputation for blandness, modern British cuisine showcases a vibrant mix of the traditional and contemporary.
The classic Full English Breakfast — a hearty plate with eggs, sausages, bacon, beans, mushrooms, and toast — starts the day for many. Fish and chips, a seaside staple, consists of battered and deep-fried fish, usually cod or haddock, accompanied by chunky chips.
Another beloved dish, the Sunday roast, often features roast beef (but can also be lamb, pork, or chicken) paired with Yorkshire pudding, vegetables, and gravy.
Cornish pasties, meat and vegetable-filled pastries, originated in Cornwall but are now enjoyed nationwide. For something sweeter, the scone, typically served with clotted cream and strawberry jam, is a cornerstone of the afternoon tea tradition.
Puddings like Sticky Toffee and Spotted Dick round out the roster of British culinary classics.
In recent years, multicultural Britain has seen a surge in the popularity of dishes from its former colonies, with Indian curry arguably being as British as some age-old classics.
Sunday Roast – Britain's Most Popular Dish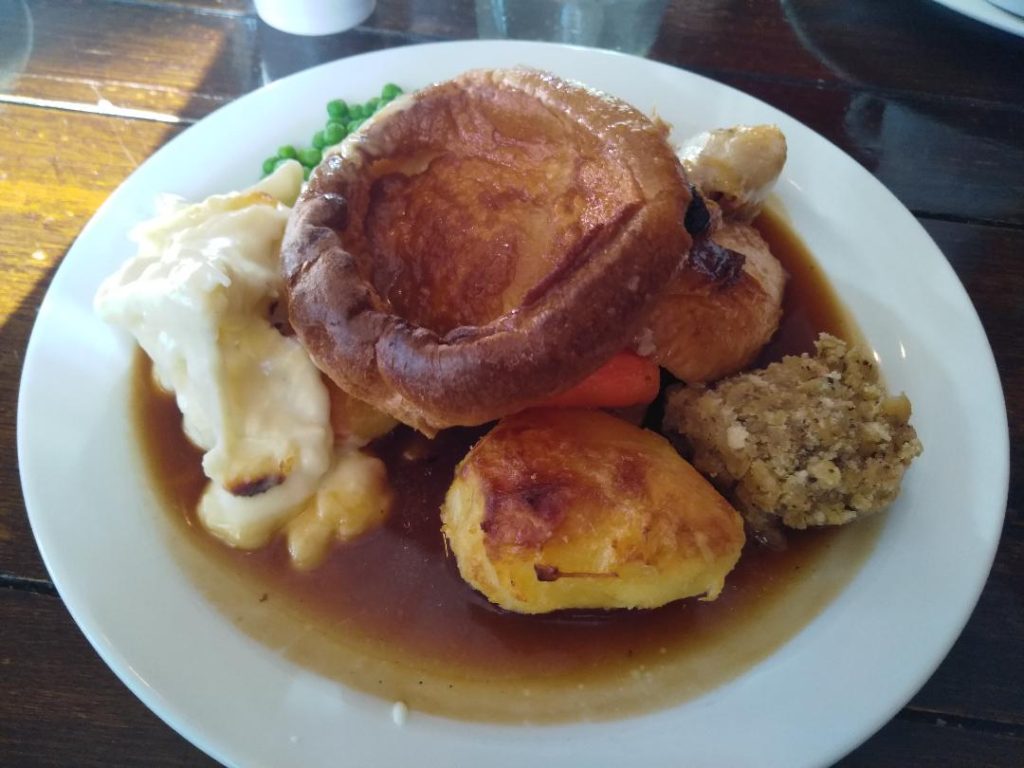 One British dish that you must try is the 'Sunday Roast'. The Sunday Roast is really one of the most typical English dishes served in the UK. It is a hearty and filling meal.
Originating in England, this dish was traditionally served on a Sunday after visiting the Church. Nowadays, a Sunday Roast is best enjoyed in a typical English pub.
For a truly British experience, why not enjoy your Sunday roast in some of England's most beautiful villages.
If you are in the UK, don't miss out on this delicious, warming dish.
The dish includes a meat of your choice, usually chicken, lamb, pork or roast beef with gravy, Yorkshire pudding, and a selection of accompaniments including cauliflower cheese, carrots, and roasted potatoes or parsnips and green vegetables.
If you don't eat meat, you may be able to replace the meat with a vegetarian option which may include a nut roast.
Recommended by Asha, Home Travel Guide
Shepard's Pie – One of the Most Typical British Food Options
Shepherd's Pie is a traditional casserole dish from England. This hearty meal is a popular comfort food among the English and is traditionally made with ground lamb, onions, gravy, and topped with mashed potatoes.
It is similar to another traditionally English dish, cottage pie. However, cottage pie is made using ground beef and beef broth as gravy. Shepherd's pie, however, uses ground lamb as the base of the pie, and the juices from grounding up the lamb are used as the gravy sauce.
A popular dish variation is adding vegetables to the lamb and gravy filling and topping the pie with cheese on top of the mashed potatoes.
The dish was first recorded in 1854 and was previously used as a synonym for cottage pie, but it has since been decided that the two types of British pies are different based on the type of meat used to make this delicious dish!
Recommended by Ali, Inspired Lifestyle Blog
Cornish Pasty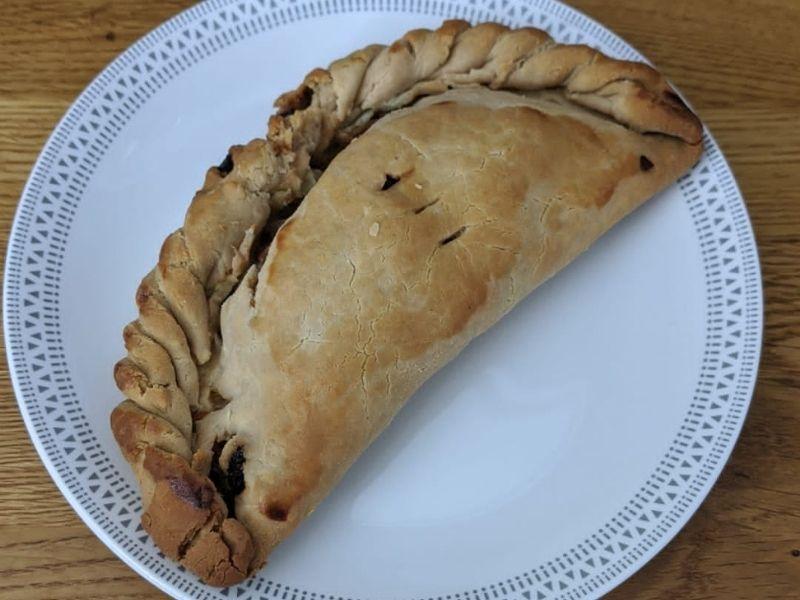 While I'm travelling and although I love eating all kinds of food, I often find myself dreaming of certain meals from back home.
There are some things that can't be helped, and at current, it's the most delicious and scrumptious Cornish Pasty which holds my thoughts. It's got to be one of the most popular British foods out there; known worldwide and loved by many, and yet it's so simple to make!
Traditionally it's filled with potato, onion and swede, and if you were lucky, meat – the ingredients melt together when baked, creating a thick gravy wrapped inside the savoury pocket. Incredibly, its origin can be dated back to the 13th Century, where it was enjoyed by royalty; however, around the 1700 the miners in Cornwall (hence the name) adopted it for their lunch.
You might not know that the delicious crunchy crust we love so much had a more practical use, too. It stopped the miners from being poisoned!
They would hold their pasty by the crust and throw it away after so as not to ingest any harmful toxins from their hands.

The best place to buy a Cornish pasty is Cornwall, with countless bakeries offering the baked goodie. It's illegal to call a pasty a 'Cornish pasty' unless it's made in Cornwall – but they are exported worldwide, so they can be enjoyed everywhere.
Lucky for us! If you're heading to Cornwall, my favourite bakery is Koffi and Crowst in Newquay. They also do a selection of amazing of gluten free treats!
Recommended by Abigail, I'm Going on an Adventure
Toad in the Hole – An Ancient British Food Tradition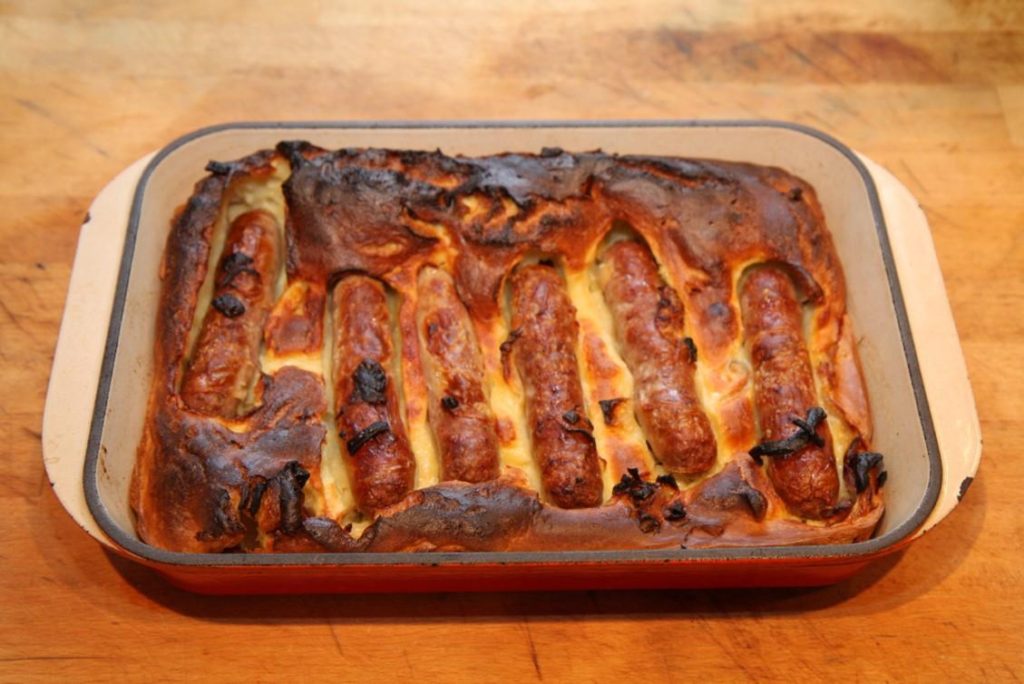 An ancient English dish that contains no toads and no holes but dates back to the 18th Century. The dish was created by home cooks who needed to stretch meals out to feed everyone.
Originally the dish contained very little meat and what was used was a cheap cut of beef or offal that had been stewed until tender.
Over time Toad in the Hole was popularised by the famous Mrs Beaton and has become an iconic English dish. You will find Toad at pubs, street food markets and cafes across England.
Yorkshire puddings are another iconic British dish. This is a simple batter of flour, eggs, salt, and milk poured into a dish containing hot fat. The dish is comprised of good pork sausages that are browned and then laid within a crispy pillow of Yorkshire pudding batter.
The dish is then placed in the oven for the batter mix to rise and, when ready, cut into slabs and served. Toad makes the perfect lunch or dinner and has become a traditional English dish served worldwide.
Recommended by Faith, XYU and Beyond
Hot Cross Buns
Hot cross buns are somewhat of a treat in England, and they can be eaten at any time of the day and pair like a dream with various other foods such as butter or cheese. But where did they come from, and what is special about them?
First, it is important to know that the hot cross bun, which is a fruit-laden sweet bread, exists to mark the end of the Christian Lent season and is traditionally eaten toasted after midday on Good Friday.
However, in more modern times, these fruity buns made with flour, currants, and added spices have come to be found in most supermarkets and eaten daily by the masses.
Recommended by Urban Abroad
Bakewell Tart – A British Delicacy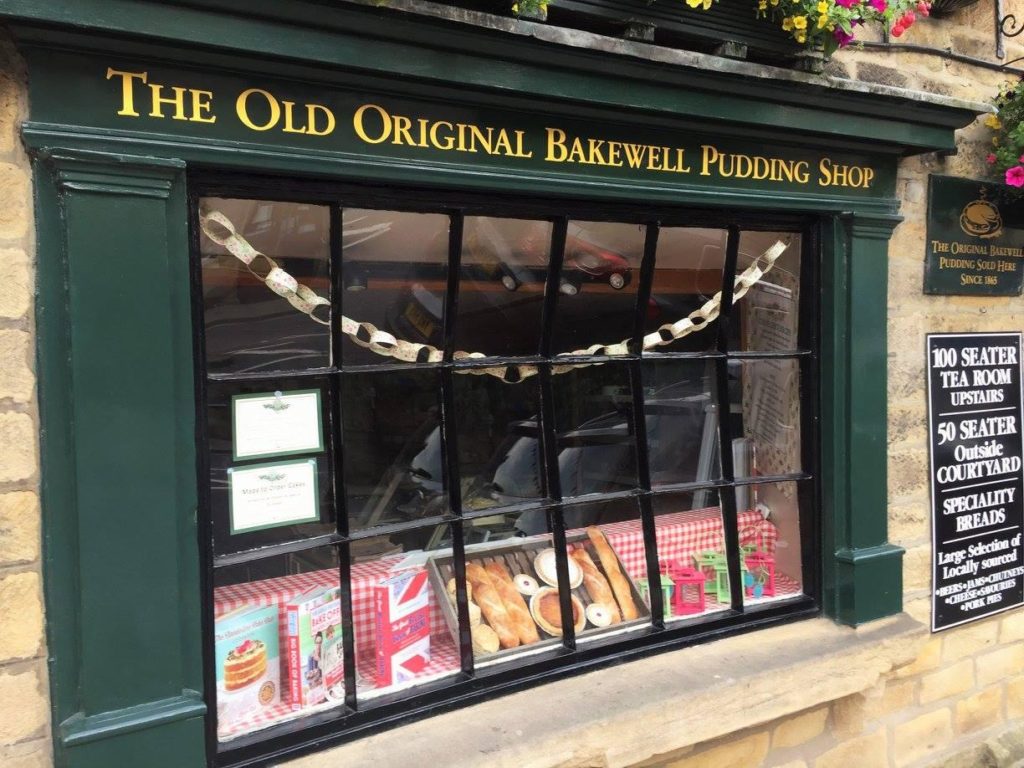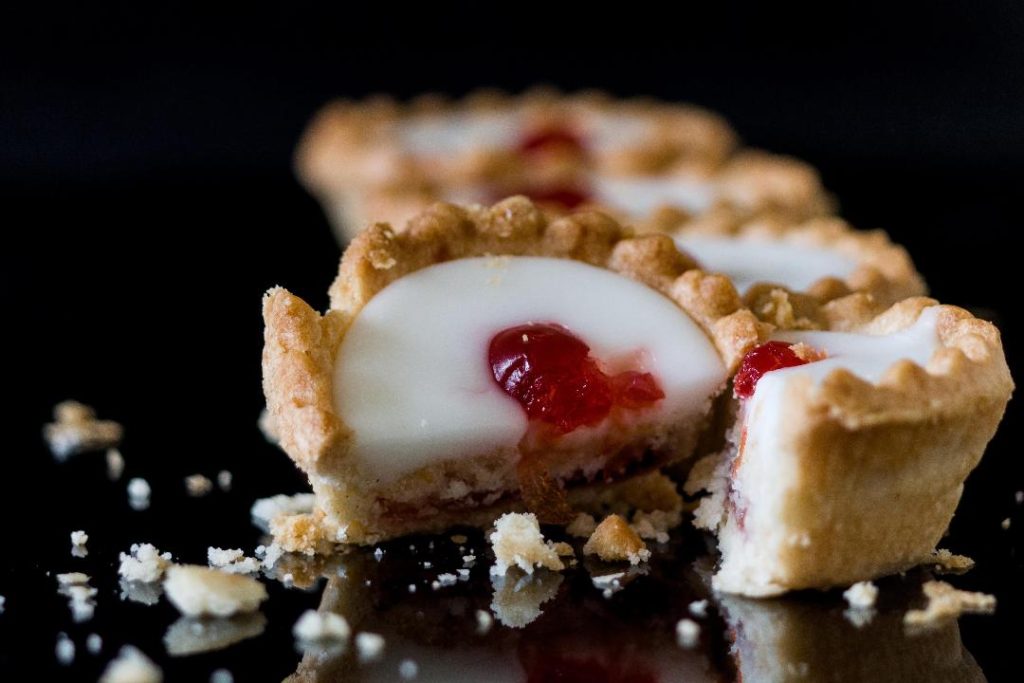 One of the most popular British foods you can try is the Bakewell Tart! Originating from the charming town of Bakewell, Derbyshire, Bakewell Tarts are a delicious combination of jam, ground almonds, shortcrust pastry and frangipane – a sweet almond custard.
Rumour has it the Bakewell Tart was mistakenly made while baker Mrs Greaves was making the Bakewell Pudding (which is made with eggs and puff pastry). The result was so good while accidentally making the Bakewell Tart that the recipe stuck.
Bakewell Tarts are commonly seen in bakeries as large tarts topped with flaked almonds meant to be shared in slices. Another variation commonly seen is Cherry Bakewells, small pastries with white icing and a candied cherry in the middle.
These pastries are often sold as a teatime delicacy and are commonly found in bakeries throughout the UK. There is a distinctive difference between Bakewell Tarts and Bakewell Puddings – and the only real way to tell the difference between the two is to try them both!
Recommended by In Search of Sarah
Bubble and Squeak – One of the Best English Dishes
Like many famous foods from France and Italy, some of the most popular British dishes of today have descended from traditional peasant fare, and that goes for Bubble and Squeak.
These specialities often have snazzy names with debatable origins. The most common explanation for Bubble and Squeak's name is that it comes from the sound it makes while cooking.
This dish made from frying together mashed potatoes, cabbage, butter, and simple seasonings dates back to the 1700s in England.
Originally, Bubble and Squeak was a common way to use the leftovers of a Sunday roast dinner. Therefore, sometimes, you will see beef included in the recipe. However, most modern versions exclude the meat.
Bubble and Squeak can be found in restaurants throughout the United Kingdom, and even packaged versions are sold in grocery stores.
Recommended by Denise, Chef Denise
Baked Potato – One of the Best British Dinners
One of my favourite things to eat in England, and some of the best British food to look for if you visit London with kids is a baked potato with beans and cheese. Called "Jacket Potatoes and Beans", this simple and affordable (but delicious) dish is a common British food that can serve as a meal.
While this is a common fare in a British pub, you can sometimes also get this delight in public parks, like at the concession stands at some of the public parks.
The baked potato is topped with baked beans and cheese, though you may find the baked potato with other toppings in some pubs.
From salad to lunch meat and everything in between, jacket potatoes can serve in place of bread in these hearty and delicious meals.
They also make easy street food as well. Loved by kids and grown-ups, this comfort dish is definitely one of the best British foods to enjoy when visiting England or at home.
Recommended by Keri, Bon Voyage with Kids
Bangers and Mash – One of the Best British Dinners
Bangers and Mash is a popular pub dish that can be found all over the British Isles. Typically, bangers and mash consist of cumberland sausages over a bed of mashed potatoes and covered in an onion gravy. The warm, hearty dish is the perfect comfort food on a cold, rainy day.
The dish dates back to the early 1900s, and the name "bangers" is in reference to sausages with a high water content that would burst when being cooked – hence the "bang."
Pubs in both big cities like London and small countryside towns tend to feature bangers and mash on their menus. Different pubs may offer their own take on the dish, such as adding peas or using different varieties of sausages.
Enjoying a plate of Bangers in Mash along with a pint while relaxing in a pub is the perfect way to spend a rainy afternoon.
Recommended by Sydney, A World in Reach
Chicken Tikka Masala
There is no better dish in the UK than Chicken Tikka Masala, one of the most popular British dishes. Its popularity is so widespread that some even called it the British national dish.
But you might wonder, what is an Indian dish doing in British cuisine? Chicken tikka masala became a staple dish in the British food scene when India was still a subcontinent of the British.
It wasn't until 1947 that India gained its independence from the British.
The chicken tikka is made with boneless chunks of chicken marinated in spices and yoghurt and roasted in the oven. The dish is composed of two main ingredients: chicken tikka and a creamy curry sauce.
The sauce is usually a mix of tomato, cream, coconut cream, coriander, and masala spice. Interesting enough, there is no standard recipe for chicken tikka masala. You will find slight variations in terms of taste and texture everywhere you go in the UK.
Because Chicken Tikka Masala is so popular, you will have no difficulty finding a nice restaurant to try in the UK!
Recommended by Sean, Livingoutlau
Pie, Mash and Liquor
London, England, has long been known for its street foods, and one unique food, in particular, made its appearance during Victorian times — a simple food called Pie Mash and Liquor.
The availability of the ingredients made for a cheap and filling street food for the working class that was sold from street carts.
At the time, although very polluted, the River Thames had an abundance of eels. Eels are eaten in other parts of the world and made their way into the local cuisine as well when someone decided to boil them and use them as a simple pie filling.
The broth or 'liquor' from the cooked eels was thickened with flour and seasoned with a bit of parsley, and some mixed spices, then added to the pie.
They are still sold in traditional pie, mash shops, restaurants, and cafes, and the dish hasn't changed much over the years except that it's no longer a hand pie and the liquor is now a savoury parsley sauce.
The dish is traditionally enjoyed with a bit of salt and a splash of malt vinegar.
One of the best places to enjoy the dish is at The Cooke Family Pie and Mash Shop, which has been in operation in London since 1862.
Reccomended by Lori, Travlinmad
Eccles Cakes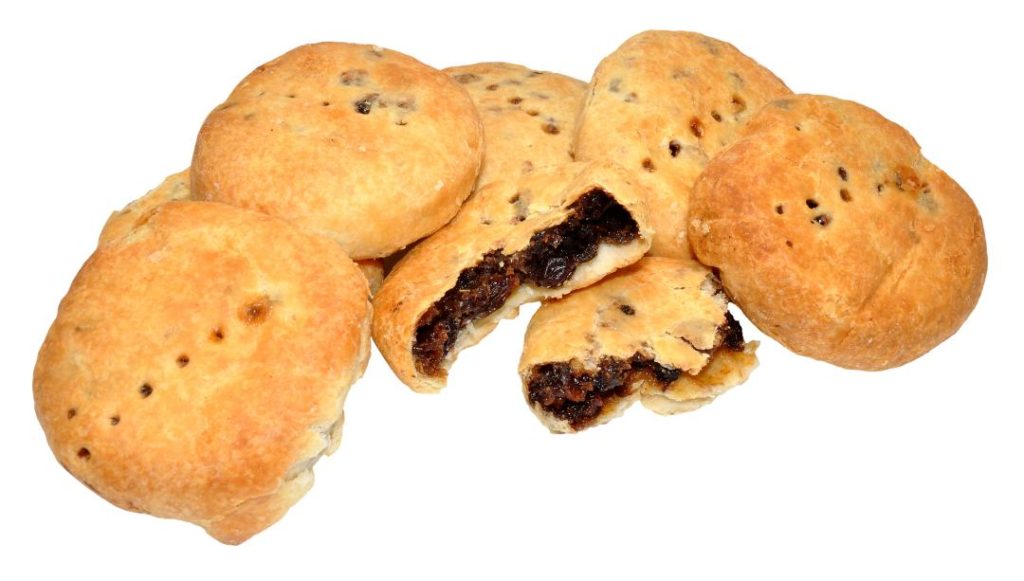 One of the foods you must try if you are touring the UK are Eccles Cakes.
Eccles cakes originate from the town of Eccles in Lancashire and were first sold commercially in 1793, although the recipe has been around a lot longer than that. They were banned by the Puritans in the 1600s for 'inciting revelry'- anyone found eating one faced time in prison!
Thankfully, they're now openly sold all over the UK. Affectionately known as the 'squashed fly' cake, it's a small, round 'cake', although there's no sponge. It's a light buttery flaky pastry (covered in sugar) surrounding a delicious sweet and sour mix of currants, citrus peel and spices.
They're similar in many ways to mince pies, but a different shape.
They can be eaten in a variety of ways. Some people like them warm (although be warned- they have been known to explode in a microwave!), some prefer cold and some people eat them with cheese, like a Lancashire or strong cheddar.
Recommended by Kat, Biker Girl Life
Yorkshire Pudding – Best of British Foods
The humble Yorkshire Pudding or Dripping Pudding is undoubtedly one of the most iconic British foods.
The first documented recipes for Yorkshire Pudding date back to the 1700s, when wheat flour became widely available in northern England.
Many variations of this light and fluffy side dish now exist – but to be deemed a 'true Yorkshire Pudding' the batter must rise at least 10 centimetres!
The ingredients for the batter are simple – flour, eggs, and milk or water – but the delicious, rich taste comes from the use of fat to achieve a crisp shell.
In the past, cooks would use fat drippings from roasted meat to cook the puddings. Today it's more common to use cooking oil. Puds are a beloved Yorkshire tradition that has made its way around the UK and the world.
Recommended by Emily, Wander-Lush
Welsh Cawl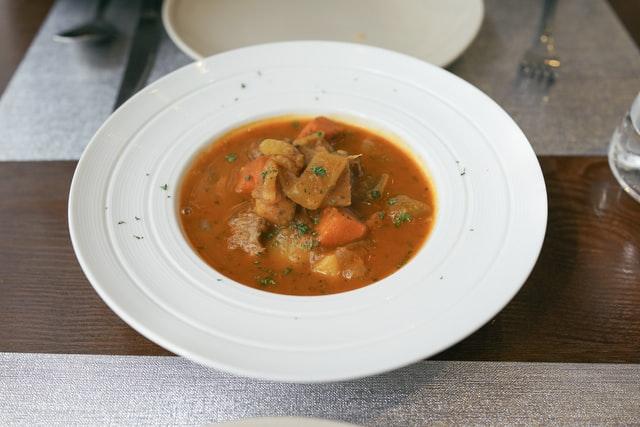 There are so many amazing places for Foodies throughout the UK. With its rich culture, green fields and blue waters, You will unsurprisingly find some of the very best British Food in Wales. And no visit to Wales is complete without a taste of traditional Cawl.
Cawl (pronounced c-a-w-l ) is a hearty Welsh traditional soup that is not only the national dish of Wales, but is super comforting. This dish is most commonly made by locals on a cold winter's night, and is best served the day after making it and paired with an Earl Grey Tea.
The national dish of Wales dates back to the 14th Century and is commonly made with lamb and seasonal vegetables. This dish can vary slightly depending on who is making it. However, you will most commonly find leeks, potatoes, carrots, and onions accompanying the Lamb or Beef.
The best British food is always great if it's hearty and leaves you wanting more, this is why Cawl is so popular. If you want to try creating this hearty dish at home, here is a quick recipe:
1 onion
1 kg Lamb or Beef of your choosing, neck is a popular option
2 carrots
2 parsnips
500g potatoes
3 large leeks
However, if you want to try Cawl for yourself, there are endless spots around Wales where you can try it. From local cafes to bistro bars, you will never find it hard to grab a bowl of amazing Welsh Cawl. If you are looking for one of the best spots to try it, stop by the Beach Break Tearooms in Pembrokeshire.
Recommended by Lowri, Many Other Roads
Custard Creams
For some delicious British biscuits to add to this list of best British food, find yourself finding some custard creams to try! These are one of the few traditional biscuits from the United Kingdom that are still a favourite for many.
The biscuit design is like a sandwich, it has two edges in the shape of rectangles, with the inside having slice of custard filling for the sweetness. This traditional biscuit once had vanilla buttercream in the middle, but this has of course changed to cheaper fillings over the years.
You can get custard creams with also other fillings, like chocolate, strawberry or coffee, but these are not original and not as tasty.
The outside of the biscuit is very recognisable as it has a baroque design stamped on the edges, representing the Victorian times. Custard creams are a very popular and old biscuit to be eaten in the UK and in Ireland these days.
You can find custard creams sold in most supermarkets and mini stores as well as abroad in most ex-pat stores.
Recommended by Zoe, Together In Transit
FAQs: Most Popular British Foods
What are the 3 most popular British foods?

Fish and Chips: A classic seaside favourite, featuring battered fish with chunky fries.
Sunday Roast: Typically roast beef, lamb, or chicken accompanied by Yorkshire pudding, vegetables, and gravy.
Full English Breakfast: A hearty meal with eggs, sausages, bacon, beans, mushrooms, and toast.
What is a typical English lunch?

A typical English lunch might include a sandwich (like the classic Ploughman's with cheese, pickle, and bread), a salad, or a hot dish like a pie or pasty. Accompaniments often include crisps (potato chips) and perhaps a dessert like a fruit tart or cake.
What is England's national dish?

Historically, dishes like roast beef or fish and chips might have been considered England's national dishes. However, in recent decades, chicken tikka masala, an Indian-inspired dish, has often been humorously and fondly referred to as England's national dish due to its immense popularity.
What is biscuits and gravy called in England?

"Biscuits and gravy" is an American dish and isn't typically found in traditional English cuisine. In the UK, a "biscuit" is what Americans refer to as a "cookie."
What is the most eaten food in the UK?

Chicken remains one of the most consumed proteins in the UK. However, when considering dishes, sandwiches are a lunchtime staple and are consumed in vast quantities.
Return to Homepage >>>
Sylvie Simpson is the founder of European Cities with Kids. For the past 6 years, she has been travelling all over Europe whenever she has the chance, both solo, for work and with her daughter. Sylvie is on a mission to help people make the most of city breaks in Europe with kids and helps over 50,000 readers per month plan and make the most of their trips in Europe with kids.