Whether you're planning a trip to the UK with kids or you're looking for the perfect staycation destination, visiting Portsmouth with kids is a great idea. Here's everything you need to know:
This post may contain affiliate links, which means I may receive a commission, at no extra cost to you if you make a purchase through a link. Please see the full disclosure for further information.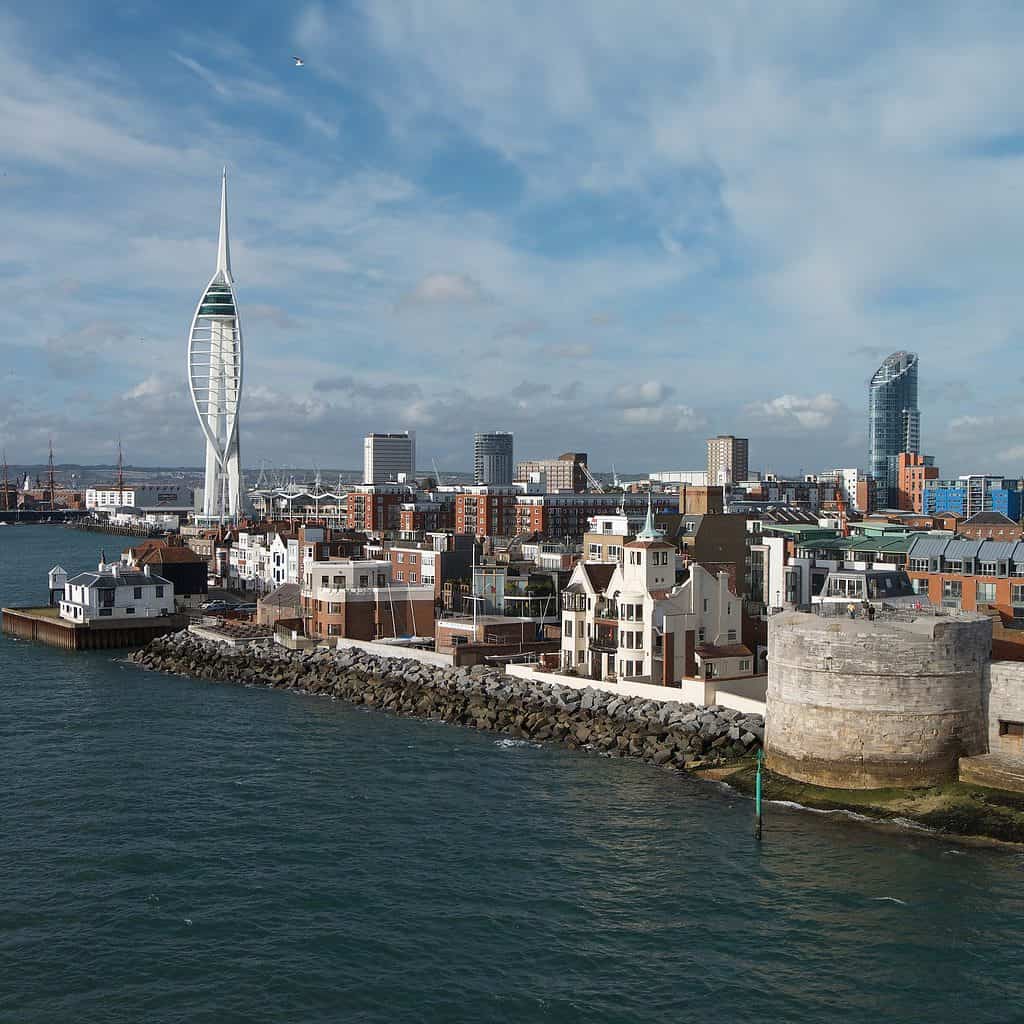 Is Portsmouth Child Friendly?
Yes, Portsmouth is a very child friendly city. There are plenty of attractions and activities for kids to do, including the Southsea Adventure Playground, the D-Day Museum, Gunwharf Quays shopping centre, a variety of parks and gardens, and its famous beachfront. Portsmouth also has many family-friendly restaurants and cafes to enjoy.
Top 10 Things to do in Portsmouth with Kids
There are so many different activities and events available around Portsmouth for you to do with your kids. There are the more famous attractions, such as the Spinnaker Tower and Historic Dockyard, or maybe you want something indoors such as the Playzone, there is something for everyone.
1. Playzone
Playzone is an indoor play area suitable for children from toddlers to teens, with a specific toddler zone so that the under 5s who are too small or a little apprehensive about joining the others in the main area can also have fun.
It is actually the biggest indoor play area on the south coast.
2. Southsea Castle
If you are looking for a free activity to do with your kids in Portsmouth, you can visit Southsea Castle. It was originally built by Henry VIII in 1544 as a defence for England's coast and has since been refortified several times so that it could continue to protect Portsmouth.
3. Portsmouth Historic Dockyard
There is so much available at the Portsmouth Historic Dockyard, including shopping, places to eat, harbour tours and many historical sites. In fact, several locations on this list are found here, so you could potentially spend the day here visiting them.
4. Spinnaker tower
The Spinnaker Tower is not a sight that you will want to visit should you be terrified of heights. This attraction can actually be seen from over 23 miles away and gives you breathtaking views of the surrounding neighbourhoods.
Should you be brave enough to venture inside, they also offer family tickets,, which will help you get the tickets at a slightly cheaper price.
5. Cumberland House Natural History Museum
Another free activity that is fun to do with kids is the Natural History Museum. It explores the different habitats found around Portsmouth, including a recently redeveloped Butterfly House.
While pushchairs aren't allowed around the museum, a pushchair park and changing facilities for younger guests are available.
6. Gunwharf Quays
Gunwharf Quays is situated by the Portsmouth Harbour, near the Spinnaker Tower. It is a picturesque location where you could spend hours, visiting all of the shops, restaurants and maybe even the cinema that are on offer here. It is also here that you will find some events that are happening in Portsmouth.
7. Mary Rose Museum
The Mary Rose was a warship used in the times of Henry VIII. It sank in 1545 while he was building the Southsea Castle.
The ship was then recovered in 1982, which is how it comes to be on display here. The Mary Rose Museum is perfect for a visit with kids due to the fascinating exhibits and events occasionally put on for your entertainment.
This museum is located in Portsmouth's Historic Dockyard, so it is potentially an activity that could be done simultaneously.
8. Blue Reef Aquarium, Portsmouth
As you are by the harbour, why not spend a couple of hours learning about the habitats and lives of the sea creatures that inhabit our world. Kids will be mesmerised by the different animals they can see in the aquarium, and if that isn't enough to hold their attention, the Blue Reef Aquarium also has special events running through the school holidays and different points throughout the year.
>> (opens in a new tab)" rel="noreferrer noopener nofollow" class="ek-link">View on TripAdvisor >>>
9. HMS Victory
Known for its role in the Battle of Trafalgar, HMS Victory is possibly the most famous Royal Navy warship. The ship can now be found in Portsmouth Historic Dockyard, where visitors can climb aboard and explore the historic ship. Visiting HMS Victory can help improve your kid's imagination as they will be able to visualise what happened and pretend that they are controlling the ship themselves.
10. Clarence Pier
Clarence Pier, like Playzone, is the largest amusement park on the south coast of England. Its arcades and indoor adventure playground are open all year round, but from March to October, there are also amusement park rides outside. Access to Clarence Pier is free. However, the rides will require you to purchase tokens or wristbands to ride them.
How to Get to Portsmouth
You can get the train from London to either Portsmouth Harbour Station or Portsmouth and Southsea station. Or you can catch the Coastway West line train from Brighton. Get your train tickets here>>>
f you are visiting Portsmouth from abroad, the closest airport will be Southampton Airport, then from there, you can travel by either car or train to Portsmouth.
View hire car prices for your dates here >>>
Book your flights to Southampton here >>>
There are National Express bus services which also make stops at Portsmouth if you choose to travel by bus.
Or you can drive directly to Portsmouth, either in your own car or one that you have chosen to hire for your stay.
When is the best time to visit Portsmouth, England?
There are always months that will offer more visitors than others, so it is best to consider your needs when planning your visit. Here are two of the best months to visit Portsmouth and why.
Visiting Portsmouth in June
Visiting Portsmouth in June is a great time to explore all this city has to offer. The weather should be warm, making it ideal for outdoor activities such as boat trips and beach days, but it's not as busy as peak season in July and August. Travel expenses should also be cheaper in June.
Visiting Portsmouth in August
Portsmouth in August is truly a magical time. The city takes on a special flair. Portsmouth's beach is bustling with activity with its array of waterfront cafes that offer breathtaking views of Portsmouth's maritime charm. Being the summer holidays, several free events are available for children to enjoy.
Where to Stay in Portsmouth with Children
As with every city, there are places that are better for your family's stay than others. For example, Southsea Seafront is said to be an ideal location for you to stay with kids because of all that it offers to entertain them. similarly, if you are looking to spend more time on the historic dockyard and areas in the city centre, it might be best to book your hotel rooms there to minimise travel costs.
Budget: Farmhouse Inn Lodge
Farmhouse Inn Lodge is a great budget location for families who want to stay in Portsmouth. It is only a 10–15-minute drive from the Portsmouth Historic Dock, so if you have rented a car or bought your own with you, it has easy access to all of the attractions available there.
This location also offers a children's play area for your use, so activities are available even when you aren't out exploring. The downside is that your kids will need to be a little older as they don't have cribs available in their family rooms.
Mid-Range: Blue Puffins Stays Short Lets Portsmouth
Blue Puffins Stays is a family-run self-catered accommodation located in Southsea. It is near the beach, pier, restaurants, and shops. This location again doesn't offer cribs, unfortunately.
Splashing Out: Ashby's Deluxe Studios
This location has been rated 9.3 for stays with kids, according to booking.com. It is beachside accommodation with family rooms and a sun terrace. There is a games room, and the company has cots for younger guests.
Where to Eat in Portsmouth with Kids
When travelling to Portsmouth, one food item is produced locally, and many would classify it as a must-try, and that is cheese. There are many different varieties that you can try, such as the Golden Cross and Wigmore. However, cheese isn't a fulfilling meal, so where is a good place to eat with your family while you are visiting Portsmouth? Below you will find four of the best restaurants and takeaways that you can choose from.
Smile Café: This family-run restaurant is located in Southsea and offers freshly cooked meals suitable for the whole family. They serve food for every meal of the day, having a separate breakfast menu as well as English favourites for lunch and dinner. View on TripAdvisor Here >>>
Agora Restaurant: Another family-run restaurant located in Southsea serves Mediterranean, Turkish and Greek BBQ. Agora Restaurant offers homemade traditional meals if you want to try a new cuisine or simply enjoy the taste of the Mediterranean.>> View on TripAdvisor Here >>>
Andre's Food Bar: Andre's Food Bar is a family-run restaurant which has been passed down to the next generation in its time since it opened in 1988. They offer a wide range of baguettes and other lunch options, such as salads, soups and baked potatoes. View on TripAdvisor Here >>>
The Fisherman's Kitchen: No British coastal holiday is complete without a meal of fish and chips. The bonus of this restaurant is that its food is completely gluten free! View on TripAdvisor Here >>>
How to Spend 2 Days in Portsmouth with Kids
Here you will find some sample itineraries for two days in Portsmouth with kids.
Day 1:
Morning: Spend the morning exploring Portsmouth Historic Dockyard; while here, you can visit the Mary Rose Museum, HMS Victory and potentially HMS Warrior (an armoured royal navy battleship).
Afternoon: You'll find the Spinnaker Tower and Gunwharf Quays a little further down the road. You can stop for lunch at a restaurant in Gunwharf Quays before taking a trip up the tower and maybe a walk around the harbour in the evening.
Day 2:
Morning: You could spend the morning at Southsea beach and castle, exploring all that is available in that area of Portsmouth.
Afternoon: Afterwards, head to the Blue Reef Aquarium, where your kids can learn all about the wildlife that may have inhabited the area you just visited.
3 Days in Portsmouth with Kids
If you have a third day in Portsmouth with your kids, you can take the time to visit Clarence Pier or Playzone to allow them to have fun playing on slides, high ropes and rides for a time. And, if there's enough time, explore the Cumberland House Natural History Museum.
Best Day Trips from Portsmouth for Families
If you want to spend some time exploring the surrounding area during your trip to Portsmouth, there are many locations suitable for spending time as a family. Below you will find three of the best day trips that you can go on together.
Isle of Wight
The Isle of Wight is a gorgeous island full of scenic walks, beaches and water sports. There is something available regardless of the weather. The easiest way to get there from Portsmouth is by boat or hovercraft, which could take as little as ten minutes.
Southampton
It is easy to visit Southampton from Portsmouth by bus, train or car. This lovely city offers many places for families to visit, such as zoos, parks and theatres.
Bournemouth
If you are looking for a day at beautiful sandy beaches, head to Bournemouth, two hours from Portsmouth, by train. If you'd prefer though, there are bus routes that make the same journey, or you can drive your rental car too.
Plan Your Trip to Portsmouth with Kids
Get your train tickets here>>>
View hire car prices for your dates here >>>
Book your flights to Southampton here >>>
Discover More of the UK with Kids
Looking for the best Blackpool hotels for families? Here's everything you need to know! Blackpool, the shining gem of the UK's seaside destinations, is a name that resonates with history, amusement, and the promise of a fun-filled family holiday. But where do you even begin with so many options to choose from? It can be…

Scotland has so many places to explore. But which are the best places to go in Scotland? I asked some top travel bloggers to talk about their best places to visit in Scotland to compile the ultimate list! From it's buzzing capital Edinburgh to awe-inspiring Lochs, beaches, and castles, not to mention a vast array…

Looking for the best family hotels in Edinburgh? Look no further! A fairytale castle, a museum full of dinosaurs, and acres of parklands – all these and more make Edinburgh one of the best places to go in Scotland for a family trip. On top of it all, the hotels in Edinburgh are some of the best in the UK.…
Sylvie Simpson is the founder of European Cities with Kids. For the past 6 years, she has been travelling all over Europe whenever she has the chance, both solo, for work and with her daughter. Sylvie is on a mission to help people make the most of city breaks in Europe with kids and helps over 50,000 readers per month plan and make the most of their trips in Europe with kids.