(Last Updated On: November 3, 2023)
If you're a family who loves nature, Nuuksio National Park is the perfect place to visit. Located within easy reach of Helsinki, it's one of Finland's most-visited national parks, boasting crystal clear lakes and lush forests, with scenic hiking trails.
For only a 30-minute drive from the capital city of Finland, you can escape into nature and soak in the park's relaxing atmosphere.
While most families would come here on a day trip, I suggest spending a few days enjoying everything the park has to offer.
This post may contain affiliate links, which means I may receive a commission, at no extra cost to you if you make a purchase through a link. Please see my full disclosure for further information.
When to Visit Nuuksio National Park
The best time to visit Nuuksio National Park is during the summer when the weather is at its finest and transport services are widely available. Summer usually starts in late May and lasts until mid-September.
The park enjoys an average temperature of 27°C to 30°C during summer, comfortable enough to venture out in the woods.
Nuuksio National Park camping is popular in summer. Reservation on camping sites is necessary, especially during the peak season. Summer is also a popular time for hiking along Nuuksio National Park trails.
Nuuksio National Park in Winter
Nuuksio transforms into a magical snowy landscape in winter. The forest looks very beautiful in a wintery way, with snow covering the trees. Families planning a winter break in Nuuksio can refer to our Europe winter packing list for tips on what to bring for your trip.
Some popular activities for your Nuuksio National Park winter break are downhill skiing, snowshoeing, and kick-sledding.
I visited Nuuksio National Park in February and had a fantastic time. The snow covers the trees creating a beautiful sight.
How to Get to Nuuksio National Park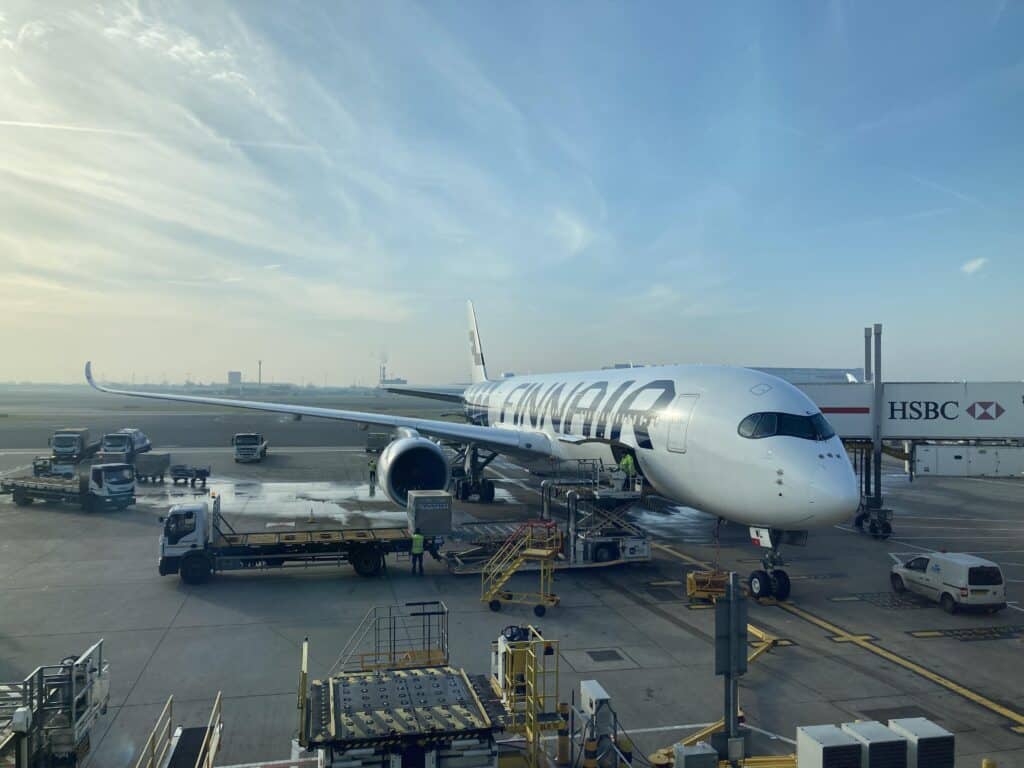 Helsinki-Vantaa Airport is your gateway to Nuuksio. Finnair runs regular flights from Edinburgh, London and Manchester and the airport is also served by many budget airlines.
From the US, direct flights to Helsinki run from major cities, including Seattle, Boston, New York, Dallas, Chicago and more. View flight deals here.
Upon landing, you can rent a car directly from the airport, and within a 30-minute drive, you'll find yourself at the park's entrance.
Public transport is equally convenient. From Helsinki, there are regular buses. You can plan your journey by bus here.
For those who prefer a more guided experience, several local tour operators offer day trips to Nuuksio, complete with insights into the park's plants and animals that you might otherwise miss. Read more about this half day trip from Helsinki here.
A Day Trip to Nuuksio National Park from Helsinki
Nuuksio National Park Finland is one of the most visited national parks in Europe due to its proximity to the capital. It's within easy reach of Helsinki and takes just over 40 minutes to drive from the city centre.
You can also take the train from the Helsinki Central Railway station. It takes just over an hour to get to Nuuksio National Park. The most convenient option is to take an organized tour from Helsinki.
A Day Trip from Espoo
Nuuksio National Park is very close to Espoo, one of the largest cities in Finland. The park takes only a 20-minute drive by car from the center of Espoo.
You can also take the public bus 245(A) that departs from Lehtimäki and will drop you off at Finnish Nature Centre Haltia.
The entrance to the park is only a 5-minute walk from here.
More Things to Do in Nuuksio National Park with Kids
Discover the joys of Nuuksio National Park with activities for everyone. Paddle on peaceful lakes, pick wild berries, or just enjoy the quiet of nature. It's a perfect spot for a fun day out.
Nuuksio Reindeer Park
Considered Finland's southernmost place to see a reindeer, the Nuuksio Reindeer Park is one of the highlights of your Nuuksio National Park tour and a must-visit for families heading to Finland.
Your kids will have a chance to feed the reindeer and learn more about these cute animals.
Your ticket to the park will also include campfire coffee and bun over an open fire in a Lappish Teepee!
Finnish Nature Centre Halitia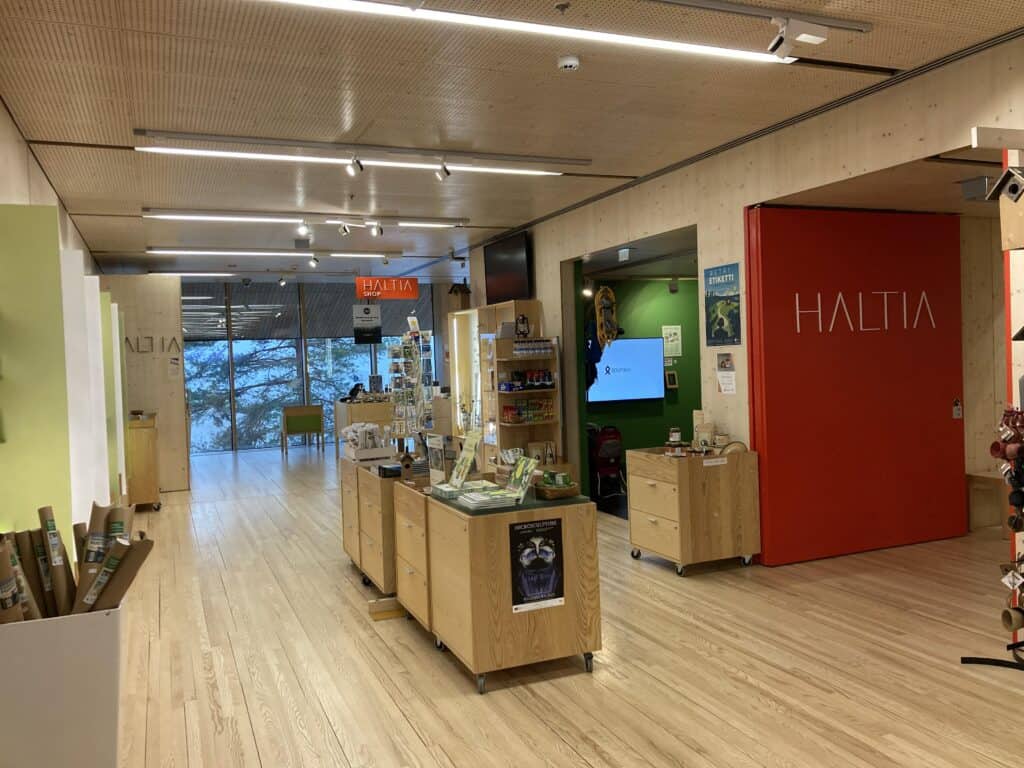 As the gateway to Nuuksio National Park, the Finnish Nature Centre Haltia is one of those places you can visit on your visit to the park. It's a sustainably operating Nature Centre offering a glimpse into Finland's nature, including issues like climate change and the positive impact of nature on well-being.
Here, you'll see impressive exhibitions of Finnish national parks and other facts about Finland and its nature destinations. There are also plenty of kids' activities, such as the one pictured above.
The Finnish Nature Centre is also the perfect place to start your explorations of Nuuksio National Park. You can hire all the equipment you need, including baby carriers, sledges and warm layers.
Hiking in Nuuksio National Park
A haven for hikers, hiking is the best thing to do on your family getaway to Nuuksio National Park. The park boasts many scenic trails suitable for all hiking abilities, including easy and short ones for families with kids.
You can hike the Punarinnankierros Circle Trail, a 2-km long trail perfect for kids.
Depending on your pace, it takes only an hour to finish. You will be in awe at the magnificent sights along the trail, taking you through lush forests and beautiful lakes, such as the stunning Mustalampi Lake with floating mats of peat moss.
Canoeing
Canoeing is another popular activity at Nuuksio National Park, especially if you have adventurous kids who love to explore the outdoors.
As you paddle through the park's scenic lakes, admire the stunning beauty of the natural forest in your surroundings. Consider joining guided canoe tours that include hiking excursions on trails by the lakeside.
Snowshoeing
Families heading to Nuuksio National Park in winter can try snowshoeing, a fun way to explore the park's snowy landscapes.
You will wear a pair of snowshoes to prevent your feet from sinking deep into the snow. You'll then venture into the beautiful trails, soaking up the magical snowy landscapes around you.
Staying Overnight at Nuuksio National Park
While many visitors would come to Nuuksio on a day trip from Helsinki, it's worth spending overnight at the park. Here are some of the best options for family friendly Nuuksio National Park accommodation.
I recently had the pleasure of visiting Haltia Lake Lodge, ideally situated just a brief stroll from the Haltia Nature Centre and the gateway to Nuuksio National Park.
This 4-star nature boutique accommodation, featuring both hotel rooms and charming glamping huts, provides a harmonious balance of comfort and outdoor adventure.
Each air-conditioned room has its own private balcony and bathroom, ensuring a private retreat after a day of exploration.
The lodge also offers an amazing breakfast with options for vegetarian and vegan guests.
Amenities like a sauna, complimentary WiFi, and bike rentals cater to all — whether you're seeking relaxation or eager to engage in the area's favored activities like skiing and cycling. For active families, Haltia Lake Lodge stands out as a top choice.
🤩 Check Prices and Availability!
When I visited Nuuksio Reindeer park, I loved the look of these Igluguts where you can stay on-site and even feed reindeer from your window.
The Igluhuts provide immediate access to the wilderness, with well-marked nature trails starting just at the threshold.
The family company managing the igluhuts has been offering nature programs since 1994 and operates with a deep commitment to sustainable tourism.
Add the option of renting bicycles and pre-ordering breakfast or snack baskets, and your stay is tailored for convenience and connection with the wild.
🤩 Check Prices and Availability!
The eco friendly Troll House Eco-Cottage in Espoo is a fantastic pet-friendly accommodation, with its enchanting garden views, offering a cozy chalet experience complete with free WiFi for your convenience.
The cottage features a bedroom, a well-equipped kitchenette, and a bathroom with a luxurious hot tub, complemented by provided towels and linen for a comfortable stay. The outdoor fireplace sets the stage for memorable family evenings under the stars.
Adventure awaits right outside your door; skiing, cycling, and hiking opportunities abound, and with available bicycle rental services, exploring the surrounding Nuuksio area is both easy and inviting.
There is also the option of a paid airport shuttle to Helsinki-Vantaa Airport just 24 km away.
🤩 Check Prices and Availability!
Positioned a mere 200 meters from the entrance of Nuuksio National Park, Hotelli Nuuksio is very convenient if you're thinking of visiting Nuuksio National Park and Espoo.
Guests are greeted with complimentary WiFi and contemporary rooms equipped with flat-screen TVs, ensuring a restful end to a day of exploration.
The added luxury of free access to the gym, indoor pool, hot tub, and sauna provides a perfect relaxation oasis for the entire family.
The rooms at Hotelli Nuuksio boast modern décor and hotel's restaurant is an experience in itself, with a focus on organic and locally sourced ingredients.
For the active family, complimentary amenities such as rowing boats, walking sticks, tennis rackets, and bicycles are available, enhancing the outdoor experience.
The hotel also offers a bookable waterfront sauna for a truly Finnish leisure activity.
Fishing enthusiasts can look forward to organized trips on the nearby Lake Siikajärvi. With Helsinki only 35 km away and free private parking on-site, Hotelli Nuuksio is a prime choice if you want to combine you trip to Finland with urban and remote locations.
🤩 Check Prices and Availability!
Final Words
Finland is renowned for its stunning nature sceneries of magnificent forests and lakes, and the best place to soak up its natural charms is at the Nuuksio National Park.
So, if you are a family who loves exploring nature and spending time outdoors, you should include the Nuuksio National Park on your itinerary.
If you don't have the time to spend overnight at the park, a day trip from Helsinki should be enough to soak up the park's majestic beauty.
FAQs: Nuuksio National Park
What animals live in Nuuksio National Park?

Nuuksio National Park is especially famous for the Siberian flying squirrel. It is also home to other wild animals, such as moose, osprey, fox, lynx, eagles, hawks, woodpeckers, owls, etc.
Where can I see reindeer in Helsinki?

The best place to see reindeer in Helsinki is in the Nuuksio Reindeer Park, which lies in the middle of Nuuksio National Park.
Is Nuuksio National Park worth visiting?

Nuuksio National Park is worth visiting, especially for nature lovers. It is one of the most recognizable parks in Finland and is worth a day trip if you are in Helsinki.
Can you swim in Nuuksio National Park?

There are no restrictions on swimming in Nuuksio National Park.
Sylvie Simpson is the founder of European Cities with Kids. For the past 6 years, she has been travelling all over Europe whenever she has the chance, both solo, for work and with her daughter. Sylvie is on a mission to help people make the most of city breaks in Europe with kids and helps over 50,000 readers per month plan and make the most of their trips in Europe with kids.