When you picture Spain, you'll probably think of stunning white sand beaches, family holidays and the beautiful Spanish islands. What if you could combine a Spanish city break with a beach break? Many coastal cities in Spain feature stunning architecture, ample landmarks, plenty of museums, fantastic family attractions and gorgeous white sand beaches.
The Spanish Coastline is a whopping 3084 miles long! If you tour the Spanish coastline, you'll find plenty of cities in Spain between the picturesque Spanish towns and villages.
Here are some of the best coastal cities of Spain to help you find the best coastal city in Spain to visit for your family:
This post may contain affiliate links, which means I may receive a commission, at no extra cost to you, if you make a purchase through a link. Please see my full disclosure for further information.
Best Coastal and Beach Cities in Spain for Families MAP
Which Spanish Cities Have Beaches?
Alicante
Malaga
Cadiz
Ibiza Town
Santander
Bilbao
Barcelona
San Sebastian
Palma de Mallorca
Las Palmas
Alicante
10 Best Beach Cities in Spain for Families
Spain has so many cities by the sea! Here are some of the very best destinations to visit with your family:
1. Almeria
Top sights in Almeria include the Alcazaba fortress – a medieval fortress from the 10th century, the Cathedral of Almeria, built to defend Mediterranean pirates, and the central market where you can pick up fresh local food for highly reasonable prices.
The many beaches of Almeria are perfect for visiting with kids. They are famous for being just as beautiful but less crowded than other beaches in Spain. Visitors can choose between the Levante Beaches, Beaches of Cabo de Gata, the Bay of Almeria or the Poniente Beaches – all with stunning beauty.
The beach of Playa Villa Africa is the nearest to the buzz of Almeria city. The beach is famous for windsurfing, and there's equipment available to hire from the local windsurfing and kitesurfing provider AWA Watersports. On a windy day, you can try your hand at watersports. On a non-windy day, the beach is excellent for swimming – the white sands and crystal clear waters create a perfect family environment.
2. Barcelona
Barcelona is famed for its many sights, most notably Barcelona Cathedral, which was built in the 14th century to honour the patron saint of Barcelona. Today, the cathedral towers above the city. Make sure you also visit La Sagrada Familia – a religious structure/cathedral.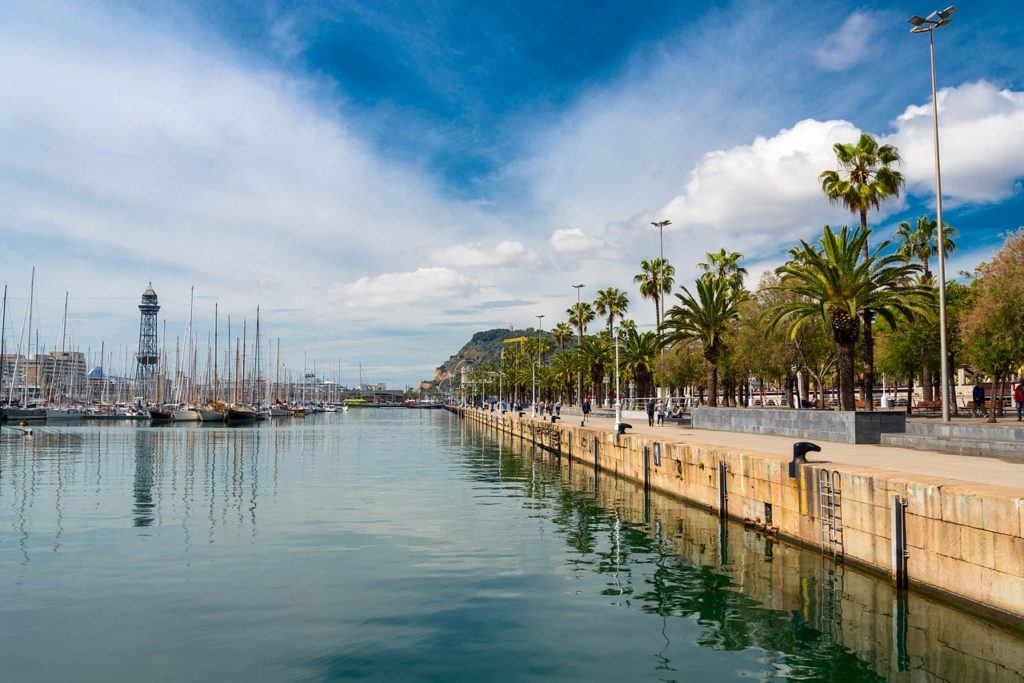 For some fresh, local produce, head over to La Boqueria Market, a colourful market in Barcelona's old town where you can try some fantastic street food.
Barcelona has 7km of golden sandy beach right on its doorstep. The beach is a perfect place to let off some steam after sightseeing.
quaint towns/charming village/beach lovers/medieval villages/beach town/old town.
If you like the sound of Barcelona, it's also one of the top destinations for remote working and a popular destination for digital nomads.
Read More – Best Hotels in Barcelona Near the Cruise Port
3. Coastal Cities in Spain – Palma, Mallorca
Palma is the capital city of Mallorca, the largest island in the Balearic Islands, located off the eastern coast of Spain. The proximity to the 262 white sandy beaches on the island, combined with a city break in Palma, makes the perfect trip with kids.
Kids will love the Palma Aquarium, which houses 700 different aquatic species, including sharks. A fantastic thing about Palma is that loads of children's parks are dotted around the city for quick play and a break from sightseeing.
A key sight in Palma is the Basilica de Santa Maria, a stylish castle in central Palma. If you're looking to do more sightseeing, the best ways to see Palma kids is on the hop-on-hop-off bus.
For a break from city life, board the Train de Soller through the countryside to the picturesque town of Soller – where the water is so clear you can see the fish swimming beneath the marina. Soller gave me a feeling of tranquillity like no other place before.
View the best Spanish islands for families here
4. San Sebastian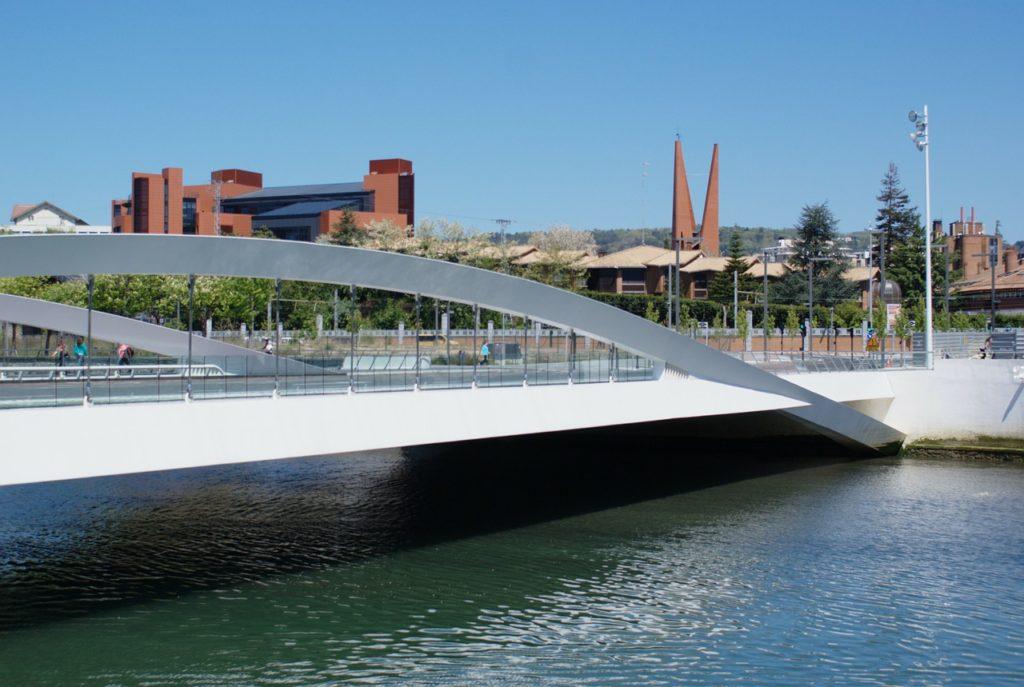 San Sebastian is located in Basque county, renowned for its delicious food and gorgeous beaches. The city is located in Northern Spain and has several long-sandy beaches, a vast cityscape and a background of rolling hills.
It's the perfect city break destination with kids for a mix of sightseeing and beach time – named Europe's best urban shoreline for many years.
For some beach time, head to Playa De Concha, a huge stretch of sand within walking distance of the main sights.
If your kids love animals, head to Parte Vieja Aquarium. The first two floors are a museum – dedicated to fishermen, and the lives once lived by seafaring professions. You'll then pass through the Oceanarium, a 360-degree tunnel where over 200 species swim around you!
San Sebastian is a city for Architecture lovers. The Ayuntamiento is located between La Concha Beach and the old city next to Alderdi Eder Gardens. Once a casino, the building now hosts the local parliament. If you love the Ayuntamiento, you'll also love the Catedral del Buen Pastor, one of the main religious buildings in the Basque country.
For some Basque history, why not visit the Museo de San Telmo, the biggest museum in the world for basque history with 26,000 historical artefacts.
You May Also Like | Malaga to Gibraltar Day Trip
5. Valencia
Valencia is famed for the stunning old town, winding streets, and medieval architecture.
Valencia's key sights are within easy walking distance of each other, perfect for a whizz around with kids. Valencia's key buildings include Valencia Cathedral – a gothic structure dating back to the 13th century. Casco Historico castle is at the heart of the city and a must-see on any visit to Valencia.
For some cheap ingredients and local delicacies, head to Central Market, where you'll find 400 independent traders selling locally produced products for reasonable prices.
Valencia's star attraction is Malvarrosa Beach, a short walk away from Valencia's old town, for some family fun in the sun. The beach is one of only a few to be awarded Blue Flag status for all the amenities it provides. It's a stress-free trip for any family, from lifeguards and medical facilities to free drinking water and beach showers. If you have a buggy, the beach has easily navigable ramps and footpaths for ease of access.
Want to explore inland Spain? Take a look at this 3 day Seville itinerary
6. Ibiza Town
Ibiza Town is the capital of the island of Ibiza, a UNESCO world heritage site with a stunning castle overlooking the Mediterranean sea and Ibiza's spectacular harbour and ferry port – scenic beauty at its best
Surrounding Ibiza Town, you'll find stunning beaches, the nearest being Talamanca. Ibiza is a small island with good transport connections, so you can easily base yourself in Ibiza Town and explore the other beautiful beaches on the island, traditional whitewashed houses and unique attractions.
Playa d' en Bossa is a lovely long beach with crystal clear waters and soft white sand, not to mention a fantastic view of the castle (Dalt Villa). Try your hand at water sports or relax at one of the many beach bars,
Ibiza is also an ideal destination for nightlife with some of the best clubs in Europe. Pacha is located in Ibiza Town, while the world-renowned clubs of Amnesia, Hi (formerly Space) and Ushuaia are nearby. Head to Ibiza for vibrant nightlife, fascinating history and stunning beaches.
7. Playa del Alicante
Alicante is the perfect city break destination to combine relaxing in the sun, attractions, beautiful food and sightseeing, located just south of Costa Blanca.
Alicante is one of the best beach cities in Spain. Playa del Postiguet is the best beach in Alicante, with a long promenade fringed with palm trees.
View our guide to visiting Alicante with Kids here >>>
8. Cadiz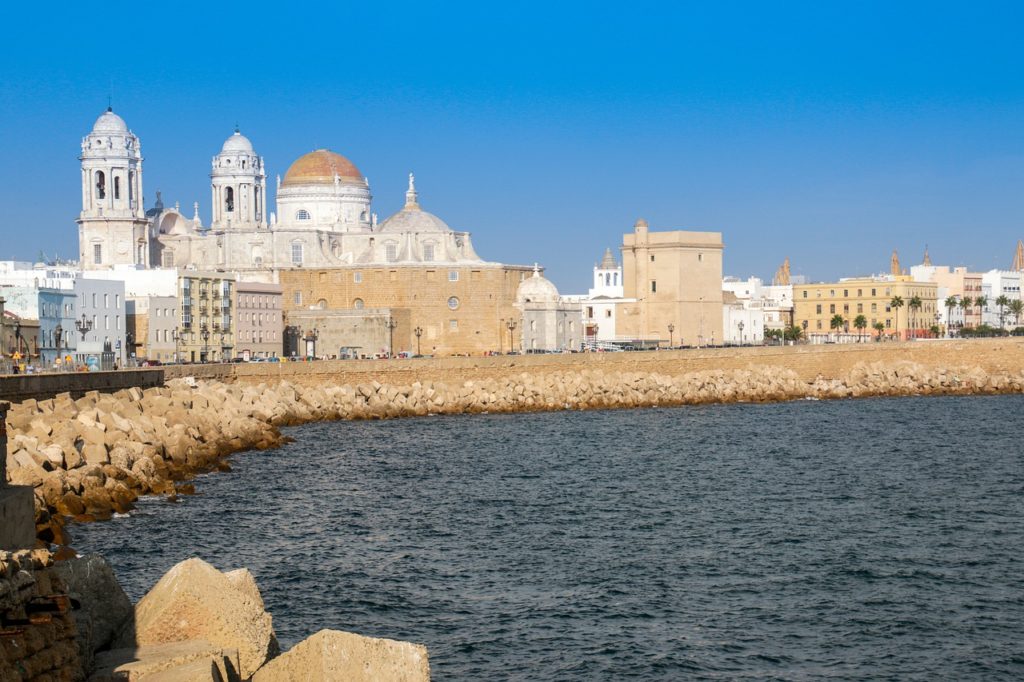 Cadiz is located in the Southwest of Spain, surrounded by the Atlantic Ocean – the perfect destination to combine city life with beach time and explore the Atlantic Coast.
The beach of Cadiz – Playa de La Caleta is located right in the old town with beautiful fortresses on either side.
Explore Central de Abastos, Spain's largest covered fish market or try some of Spain's best tapas in Cadiz city. Cadiz also has some of the best architecture in Spain and a fantastic art scene.
9. Malaga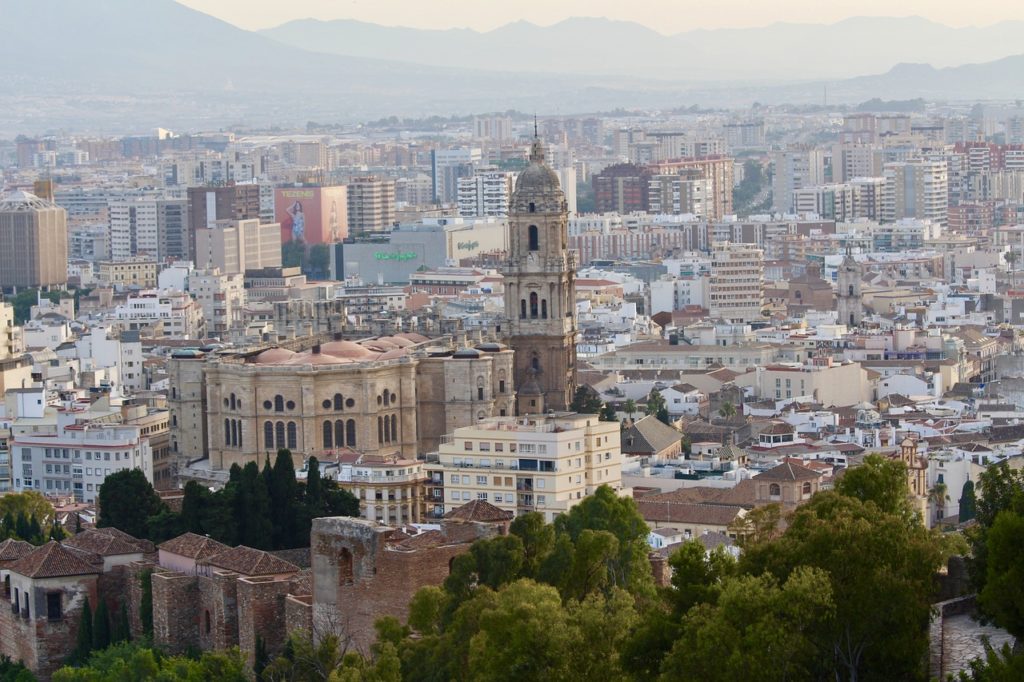 Right in the heart of the Costa Del Sol, Malaga is one of Spain's best cities to visit. The fantastic city has golden beaches, stunning architecture and a quaint old town. Playa de la Caleta is the best beach in Malaga, with a palm-lined promenade and plenty of beach bars,
In Malaga city centre and around, Visit the beautiful gardens of ardin Botánico Histórico La Concepción – the best gardens in Spain, or visit the hilltop palace of Alcazaba de Málaga. Malaga is famous for its Spanish seafood, especially the Paella which goes wonderfully with the local wine.
10. Marbella
Marbella is a famous destination worldwide, especially for the rich and famous. This fashionable destination is one of the most popular in Europe, with stunning beaches, beautiful architecture, authentic charm and plenty of adrenaline activities.
Explore the historic city center with its quaint streets and visit Plaza Naranjos, a small square filled with beautiful orange trees. For a bit of glitz and glamour, why not head to Andalusia's Costa Del Sol on your next trip.
Sylvie Simpson is the founder of European Cities with Kids. For the past 6 years, she has been travelling all over Europe whenever she has the chance, both solo, for work and with her daughter. Sylvie is on a mission to help people make the most of city breaks in Europe with kids and helps over 50,000 readers per month plan and make the most of their trips in Europe with kids.