(Last Updated On: December 2, 2023)
Are you looking for a romantic getaway to pop the question? Europe is home to some of the most beautiful and unique places to propose. Here are the best places to propose in Europe that are sure to make your proposal memorable and special.
This post may contain affiliate links, which means I may receive a commission, at no extra cost to you if you make a purchase through a link. Please see my full disclosure for further information.
Don't forget to plan ahead when visiting Europe:
🛫 Book cheap flights with WayAway
Get up to 10% cashback on flights with WayAway Plus! Use the code EuropeanCitieswithKids2023 for 10% off a plus membership.
🛏️ Find the perfect place to stay with Booking.com, or discover your perfect holiday home 🏨 with VRBO
🚗 Find the best car rental deals with Discover Cars
🎫 Book amazing tours and tickets with Get Your Guide
Best Places to Propose in France
France is a country full of charm and beauty and is the perfect place for making your proposal extra special. With historical cities like Paris, scenic castles, and breathtaking coastal views, it's easy to see why France holds a special place in the hearts of romantics worldwide.
From the Eiffel tower to Montmartre, there are plenty of romantic spots throughout France for popping the question.
The Eiffel Tower

One of the best places to propose in Europe is the Eiffel Tower in Paris. In the city of light and love, with a great view of the iconic Eiffel Tower is sure to make your special moment all that more memorable and romantic.
By day, visit Trocadéro Square or Trocadéro Garden, and have the Eiffel Tower fill up the background of your big question. By water, ride a river cruise along the Seine, letting the Eiffel Tower be in your sight.
At night, see the Eiffel Tower light up and dazzle the night sky. And if you prefer to get even closer, you can pop the question from the Eiffel Tower itself, high up in the sky with a stunning view over the rest of Paris.
However you propose at or near Paris's famous landmark (one of the MOST FAMOUS landmarks in Europe), you will remember this day for the rest of your lives and have the dreamiest photos to keep forever from your trip to Paris.
Recommended by Melissa, My Beautiful Passport
You May Also Like: What is Paris Famous for?
Mont-Saint-Michel, Normandy
Mont-Saint-Michel is one of the most romantic places to propose in Europe. Located off the coast of Normandy, France, this stunningly beautiful island has been a popular destination for couples looking for the perfect place to get down on one knee.
The beauty of Mont-Saint-Michel is undeniable; the island is surrounded by stunning views, clear blue waters and an impressive medieval fortress.
It's easy to see why it is so often used as a backdrop for romantic proposals. The atmosphere around this place exudes romance, making it the perfect spot to start your life together.
The magnificent Mont-Saint-Michel Abbey, with its breathtaking views, will make any marriage proposal extra special. But For those looking for something even more special, there are several exquisite restaurants on Mont-Saint-Michel that offer romantic private dining experiences. And if you are looking for the ultimate experience, arrive at your proposal spot in a luxury car.
For the most intimate experience, you may want to avoid the summer months of July and August as tourists flock to this site. But if you are planning your proposal during these months, plan your visit to either early morning or late afternoon.
Recommended by Lowri, Many Other Roads
Castle Hill, Nice
If you're looking for an amazing destination in Europe to propose to your partner then look no further than the gorgeous coastal town of Nice.
Perched high atop a hill in the center of town, Nice's Castle Hill offers some of Europe's most incredible views of the Mediterranean Sea. And behind you, the gorgeous French Alps loom in the background, making for an impressive and memorable backdrop! These breathtaking views make for a truly romantic setting.
But if you prefer something a bit more private, there are also several smaller terraces scattered around the hill that offer panoramic coastal views as well. These intimate spaces can also provide the perfect backdrop to an unforgettable moment.
Plus, Nice's year-round warm weather makes it the great place to pop the question at any time of year! So if you're looking for a romantic proposal destination, be sure to consider Nice's Castle Hill.
Recommended by Kristin, Global Travel Escapades
Montmartre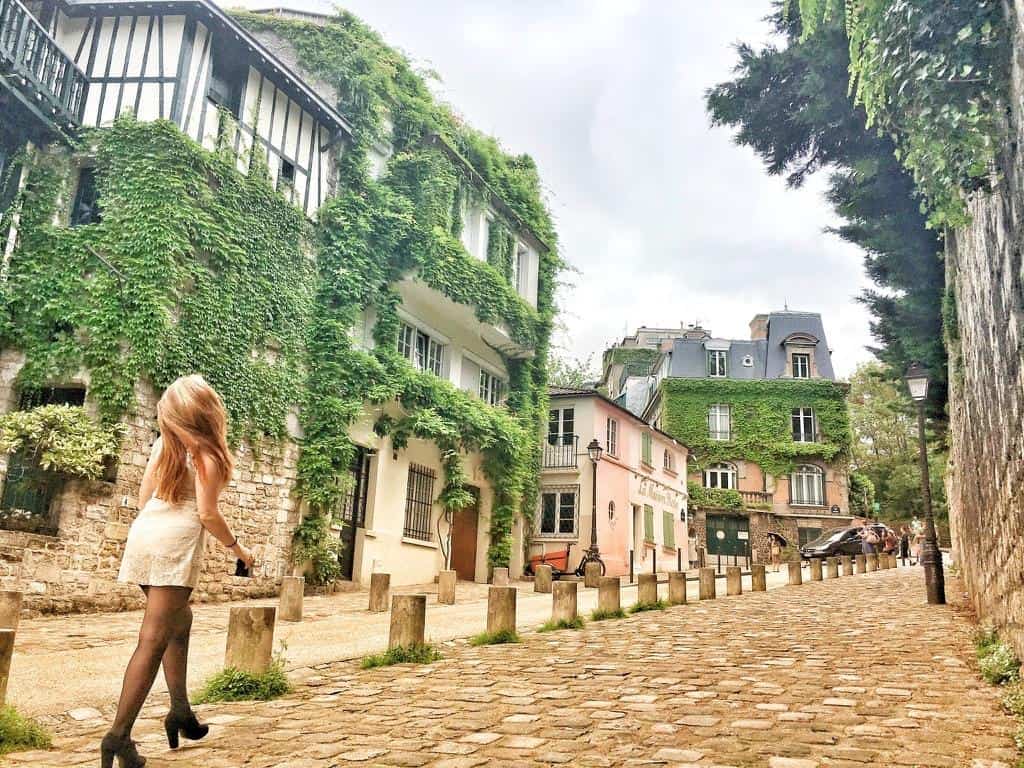 Montmartre, located in Paris' 18th Arrondissement, is the perfect place to propose in Europe! There's a cute romantic charm in Montmartre that you just can't find anywhere else in Paris – or Europe, for that matter. This neighbourhood is so picturesque, and there are so many things to do in Montmartre to keep your other half occupied that they won't realise you're about to pop the question!
Wander the quaint cobblestone streets, experience the authentic cafes such as La Maison Rose and Le Consulat, plus visit the iconic Sacre Coeur Cathedral a stone's throw away.
For an exotic evening, take your partner to the Moulin Rouge to watch the most famous cabaret in the world! Every night at 7, 9 and 11 pm, colourful can-can dancers take to the stage to give you an unforgettable eye-popping performance!
All of these locations make for incredible places to propose, but if you're looking for some privacy and wish to propose back at your hotel, a super romantic hotel to book is the Terrass Hotel – where you'll be able to enjoy incredible views of the Eiffel Tower from the rooftop!
By Catrina, 24hourslayover
Trocadero, Paris
One of the best places to propose in Europe is Trocadero in Paris. This is a beautiful area in the city on the other side of the River Seine than the side where you can find the Eiffel Tower. From this place, you get a very beautiful and romantic view of the Eiffel Tower.
What's great is that the area of Trocadero is very diverse. For example, there are spots with plants, stones, stairs, and other elements. This means that there are many beautiful spots for a proposal.
These spots are also why Trocadero is one of the most photogenic places in Paris. Also, the Trocadero Gardens are great if you want to propose in spring. That's because there are very pretty pink cherry blossom trees that are in bloom during that time. Also, Trocadero is a large area with walking paths, so you could go for a romantic walk after a proposal at this place
Thinking of Proposing in Paris? Discover the best airlines to fly to Paris here + the airports you could fly into and the cheap flights available TODAY. Read the post here.
Best Places to Propose Europe – Portugal
Portugal is a beautiful country that offers so many romantic and picturesque places to propose. Whether you are looking for a secluded beach, a historic town, or a place with incredible views, Portugal has something for everyone. Here are some of the best places in Portugal to propose – each one is sure to create an unforgettable experience.
Praia das Furnas in the Algarve
There are countless romantic settings throughout Portugal that will make your proposal extra special.
Praia das Furnas in the Algarve is perfectly suited for a romantic proposal. With its wide swathes of beach and tucked away location, it offers newly engaged couples an ideal spot to commemorate their love.
Whether you're surrounded by friends and family or just the two of you, this vast beach has plenty of space to fit your special occasion.
Not only is Praia das Furnas private and secluded, but beaches in general offer a unique setting to make a marriage proposal. The sound of waves crashing against the shore creates an intimate atmosphere while the sparkling waters provide a dreamy backdrop for your milestone moment.
Of course, watching the sunset from the sandy dunes is another very romantic option! With its picture-perfect views, Praia das Furnas is one of the best places and one of the best things to do in the Algarve to make your grand gesture!
Praia das Furnas is located in the Algarve and is 30 minutes drive from Lagos in the direction of Sagres. The best way to get here is by car. Public transport is difficult to get to the beach because it is remote.
Recommended by Alexander, Travel Your Memories
Ponta da Piedade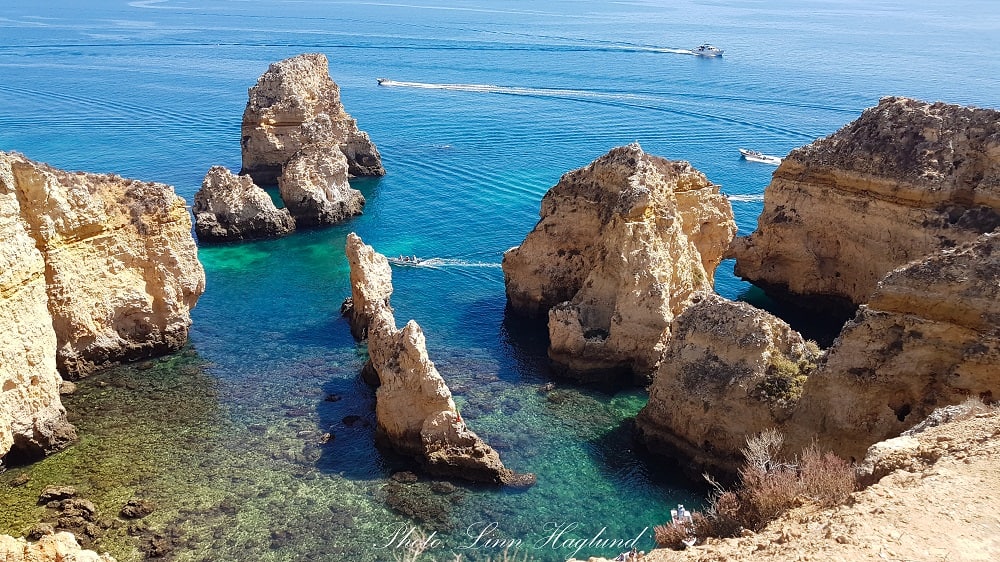 In the Algarve region in southern Portugal, you find one of the most picturesque natural wonders in Europe, Ponta da Piedade. It makes for such a romantic place to propose with the golden cliffs towering up to 20 meters above the glittering ocean.
You can maze at natural arches and unique rock formations. To make it even more romantic, there are plenty of boat tours in Lagos Portugal that take you to this magical spot. This way you can uncover the hidden sea caves and secluded beaches in this incredible place too. Maybe book a boat for two to make it extra romantic? It is especially beautiful at sunset when the golden light colors the rugged in a bright coastline orange color and the sky turns pink.
Bring a blanket, a bottle of bubbles, and take in the beauty of this enchanted moment. It is simply hard to think of a better place to propose to your significant other.
Reccomended by Linn, Amused by Algarve
Pico do Arieiro, Madeira, Portugal
If you're a hiker couple then one of the best places to propose in Europe would be at Pico do Arieiro, the third highest mountain in Madeira, Portugal. Madeira is a small volcanic island that's often referred to as the European version of Hawaii. Its spectacular scenery makes it a top place to propose for any outdoor loving couple.
Imagine waking up at the crack of dawn to stand above the clouds at 1,818m and witness the sun rising over them. This is magical enough on its own, but if you pick this moment to pop the big question, then it will be unforgettable.
After the perfect sunrise proposal, follow the stunning hiking trail to Pico Ruivo, the highest peak in Madeira at 1,862m. The 10km point to point trail is one of the best things to do in Madeira. Of course, going out for a lovely dinner after your hike would be the ideal way to end one of the most romantic days of your life.
Recommended by Kitti and Jon, Kitti Around the World
Sintra
Have you always dreamed of proposing to your other half in a fairy tail atmosphere? Then Sintra in Portugal might be the right place for you! With numerous palaces, gardens, and villas to choose from, this is a dream location for many.
Pena Palace and Quinta da Regaleira are the most popular palaces in Sintra. Especially in the high season, it can be pretty crowded. The gardens are a lot quieter, and the views are simply stunning. You can see as far as the Atlantic Ocean!
Are you looking for a less crowded location? Then the Park and Palace of Monserrate are perfect! This palace offers a romantic backdrop, and the garden even has a chapel! After choosing your ideal location to propose, you can also book a photographer to capture this unique moment in your life!
How wonderful would it be to have a dreamlike decor like this and have the proposal photographed? And the best thing is that you can use these images for your save-the-date cards or wedding innovations.
Enjoy the planning, and good luck with the proposal!
Recommended by Marga, Discover Portugal
Cabo de Sao Vicente
Cape St.Vincent or Cabo de São Vicente in Southern Portugal is considered the southwesternmost point of mainland Europe. This spectacular cape with a lighthouse is an amazing place to propose in Europe.
The history of Cape St.Vincent dates back to the neolithic times when it was believed to be a sacred place. Ancient Greeks built a temple dedicated to Hercules. Old Romans called it Holy Promontory and believed it to be a magic place. A proposal in such a special and incredibly beautiful place is unforgettable.
The scenery at Cape St.Vincent is breathtaking; dramatic cliffs dropping down to the turquoise sea, unspoiled sandy beaches, hidden bays and a rugged coastline.
The cape is one of the best places in Portugal to watch the sunset. Proposing on the top of the cliffs overlooking the Atlantic Ocean while watching the sun disappear into the sea is a unique experience. If you want to make it even more special, you can book a sunset boat tour to Cape St.Vincent.
Recommended by Alya, The Algarve Family
Proposal Places in The Czech Republic
The Czech Republic is a beautiful and romantic destination with stunning views, picturesque cities, and plenty of historical charm. For those looking for the perfect place to pop the question, here are some of the best places in the Czech Republic to propose.
Charles Bridge View Point in Malá Strana, Prague
If you're looking for one of the most romantic places to propose in Europe, it doesn't get much better than the medieval castles, towering spires and cobbled streets spanning the river's edge in Prague.
Tucked away behind what appears to be a parking lot (stay with me here!), a paved pathway appears between two old buildings, offering a sneak peak of views across the Vltava River. By following this path down to the shore, you'll be delighted to come across a leafy spot known as Charles Bridge View Point.
As swans elegantly float along the river's shore against a backdrop of 15th century landmarks of the Charles Bridge and Powder Tower, can you imagine starting one of the most exciting times in your life by stepping into the pages your own real-life fairytale?
Relatively fewer people bother to venture here from the more popular streets of Malá Strana, allowing you to to enjoy the unique moment away from the main crowds. It's so romantic and picturesque, even happy couples come to this location for photos on their wedding day. This spot is a must when planning your Prague itinerary!
Recommended by Alyse, The Invisible Tourist
Places for Proposal in Italy
Italy is a magical country with stunning landscapes and romantic sunsets, making it the ideal destination for an unforgettable proposal. From the Colosseum of Rome to the charming Piazza Michelangelo in Florence, here are some of the best places to propose in Italy – each one is sure to add an extra touch of romance!
The Colosseum, Rome
The Colosseum in Rome is another amazing spot to propose in Europe. A building with some much history, so much fame and of course, so much beauty. Visiting Rome for the first time and seeing the Colosseum with your own eyes is a magical experience, it's even better than in the photos.
Sharing this experience with a special person is a moment never to be forgotten. You can truly feel why Rome is the city of love. Especially at night time. When the Colosseum is lit up with its beautiful orange lights, sitting on the wall and chatting with your partner is incredibly romantic.
Once again, it's an unforgettable moment, a core memory. And what better way to add to this memory than to propose? Photos from couples outside the Colosseum are beautiful, it's so photographable, adding a ring to these photos will create photos unlike any you have taken before.
The Colosseum is an extraordinary, romantic and beautiful spot to propose in Europe.
Recommended by Josh, A Backpackers World
Trevi Fountain
Rome is already a romantic city, full of infamous sites like the Colosseum, the Pantheon, and the Roman Forum. If you plan to propose on your Roman holiday, the Trevi Fountain could be the perfect spot to create a lifelong memory with your partner.
Located in the Piazza di Trevi, the Trevi Fountain is typically mobbed with tourists. Although you may get a moment of daytime quiet at the fountain during the summer months, I'd recommend that you visit as early in the morning or late in the evening as possible. The rushing water is loud enough to create a sense of solitude when facing the water features, perfect for creating an intimate moment even in a very public place.
Traditionally, visitors throw coins into the fountain when they visit. One coin is said to ensure you return to Rome, two coins mean that you'll find love in Rome, and three coins mean that you will get married. So, you may want to throw three coins into the Trevi Fountain before you pop the question.
Recommended by Ambe, Amber Everywhere
The Vineyards of Tuscany

It is hard to think of a more romantic place to propose than the rolling vineyards of Tuscany in Italy. Whether you go on a road trip in Tuscany or set the entire trip to a vineyard, there are plenty of beautiful places to choose from.
Around the medieval town of San Gimignano, you find a wealth of old vineyards with so much charm that making it a romantic dinner for two with scenic views over golden vines at sunset should be easy to organize. And the wine is not hard to find either, you just have to decide on which one.
A good tip is to do a wine tasting before the proposal and take note of which one your significant other like the most. If she likes several, why not serve more than one? You will be celebrating anyway!
In such a picturesque setting, you should rent a photographer too so that you immortalize this important moment in your life.
Recommended by Linn Haglund, Brainy Backpackers
Piazza Michelangelo, Florence
As a perfect spot to watch the sunset and an incredible view that overlooks the entire city, what better place to propose than Piazza Michelangelo in Florence?
Piazza Michelangelo itself is located up on a hill south of Florence's city center. There's a few replicas of Michelangelo sculptures around the piazza, but it's the view that everyone comes to see. From this piazza you can see unobstructed views of the Florence Cathedral, Ponte Vecchio, the Arno River down below, and so much more beyond those key points. Sunset in particular is the most magical time to visit as soft light reflects peacefully over Florence's stunning architecture. This might just be the most romantic view Florence has to offer.
Piazza Michelangelo is best accessed by walking or by bus as it eliminates the need to find parking. (If you do decide to walk just know that it's mostly uphill). Plan to arrive early as it can get busy around sunset.
Happy proposing!
Reccomended by by Chelsea adventuresofchels.com
Amalfi
If you're looking for the perfect place to propose, there are few locations that can compare to Amalfi and Cinque Terre in Italy. These two stunning regions offer spectacular views of the Mediterranean coastline, with colorful houses perched on cliffs surrounded by lush greenery. From private villas in Amalfi to fishing villages in Cinque Terre, the two locations will provide an unforgettable backdrop for your proposal.
The city of Amalfi has a lot to offer. A boat ride along the coast provides breathtaking views with the sun setting over the sea – perfect for popping the question! For a more intimate experience, consider hiring a private villa. These luxurious homes come with terraces, pools, and stunning outdoor areas where you can sneak away for some romantic moments.
Cinque Terre is known for its five fishing villages: Riomaggiore, Manarola, Corniglia, Vernazza, and Monterosso al Mare. Each village offers something unique: cobbled streets, boutique shops, vibrant colors, and endless views of the gorgeous Mediterranean. No matter which village you choose for your proposal, you're guaranteed to have an unforgettable experience with your partner.
However you decide to propose in Amalfi or Cinque Terre is up to you – but if you plan it right, you'll create memories that will last a lifetime. Whether you take a romantic stroll through Riomaggiore or hire a private villa in Amalfi, these two Italian locations are some of the best places to propose in Europe.
Recommended by Giorgy, G-Extreme Travel
Romantic Places for Proposal in The Netherlands
If you're looking for a romantic setting for your proposal, the Netherlands is the perfect place. From its famous canals and windmills to its stunning parks and gardens, there's plenty of picturesque locations to choose from. Here are some of the most romantic spots in the Netherlands to propose – each one guaranteed to create a moment that you'll never forget!
Giethoorn
Giethoorn – a fairytale village in the Netherlands is an incredibly romantic place to propose in Europe. Not only is this idyllic village a romantic haven but it is also a short day trip from Amsterdam. You can get here from Amsterdam within 1.5 hours by car, 2 hours by public transport or with a bus or boat tour.
One of the reasons for which Giethoorn is famous is because it is a village with no roads and only canals. The few people who reside here get around by boat and one of the highlights of visiting Giethoorn is renting your own boat and taking it for a ride in this beautiful village.
A romantic boat ride, picture-perfect surroundings, cute cottages and flowers in the background make the perfect setting for an epic proposal! The best place to pop the question is towards the starting of the village where there are cottages in the background.
While visiting in late Spring or early Summer, there will be lots of flowers growing in the lawns, making the scene even more romantic. Additionally, there are nice scenic restaurants towards the edge of the village to grab celebratory drinks afterwards.
Recommended by Soujanya, The Spicey Journey
Romantic Places to Propose in Croatia
If you're looking for a breathtakingly romantic destination to propose, then Croatia is the perfect choice. With its glittering Adriatic coastline and charming old-world towns, Croatia is an idyllic getaway with plenty of beautiful places to pop the big question.
Dubrovnik Walls
The City Walls of Dubrovnik are undoubtedly one of the most imposing sights in Croatia and at the same time a wonderful idea for an unforgettable, absolutely romantic proposal in Europe. This gigantic defensive wall surrounds the famous old town of Dubrovnik and the gigantic view of the historical center, and the deep blue sea is truly to fall in love with.
Built in the 12th century, the construction in its current form lasted until the 17th century. Even after the war, this landmark was renovated and maintained. The gigantic wall, together with the historic Old Town, is a UNESCO World Heritage Site, so a visit to this fortress should not be missed on any trip to Dubrovnik.
In the past, the wall was used for security and protection of the city's inhabitants, today you take a walk on it and enjoy probably the most stunning scenery on the Adriatic! The walk has a length of almost 2 kilometers and on the wall there are numerous pretty places for a romantic break.
Recommended by Martina, Places of Juma
Best Places to Propose in Spain
If you're looking for the perfect place to propose, Spain is an ideal destination. From its stunning Mediterranean coastal towns and cities to its ancient castles and monuments, Spain has plenty of beautiful and romantic spots for a proposal. Whether you are looking for a cosmopolitan cityscape or a secluded beachside escape, here are some of Spain's best locations to make your big moment unforgettable.
The Alhambra Granada
One of the most romantic places to propose in Europe is without a doubt the impressive Alhambra palace, fortress, and gardens in Granada in Spain. In the Alhambra, a romantic place to pop the question would be in the perfectly groomed Generalife Gardens where trickling fountains of clear water are surrounded by colorful flowers and Arabic arches. It is hard to think of anywhere more romantic!
But remember, if you plan on proposing in the Alhambra, make sure you book your tickets early as they can be sold out months in advance. Most people choose to visit the complex with a guide, but on this occasion, it is most likely better to get individual tickets so that you do not interrupt the tour. While most people only spend one day in Granada, it is the perfect destination to enjoy a few days as a newly engaged couple. There is also a number of romantic spa hotels in Granada where you can check in like the Catalonia Granada Hotel.
Reccomended by Linn, Amused by Andalucia
City of Arts and Sciences, Valencia
The City of Arts and Sciences is a gorgeous futuristic-looking complex located in Valencia, Spain. It is comprised of several buildings and is a popular tourist attraction you must see on your Valencia itinerary.
Proposing at the City of Arts and Sciences can be super romantic and memorable. The complex offers a variety of breathtaking backdrops that are perfect for popping the question.
Imagine getting down on one knee in front of the breathtaking Hemisfèric, with its giant dome-shaped screen and sleek modern design, or in front of the stunning Reina Sofía opera house, with its elegant curves and towering pillars.
No matter which location you choose, the City of Arts and Sciences is sure to provide a beautiful setting for your proposal. After you've popped the question, you and your partner can spend the rest of the day exploring the complex and marvelling at all the attractions.
Recommended by Valencia Revealed
Magic Fountain of Montjuïc, Barcelona
So you're thinking of proposing and wondering where in Europe will provide the perfect backdrop to one of the most memorable experiences of your life? Well, look no further than Barcelona. Not only does this beautiful city have the weather, the food and the sights, but there are many romantic things to do in Barcelona. If you're looking for somewhere exciting and special to propose, then the Magic Fountain of Montjuïc is exactly the place.
Set amongst stunning architecture is one of the best free fountain shows in the world. Every evening between 9:00 – 10:00 PM the water fountains are illuminated with an impressive lightshow and dance to accompanying music. The area can get busy but you can head to the top of the stairs for more privacy and still enjoy the beautiful surroundings. Why not stop by the Bullring or head further towards La Ramblas for some Spanish tapas and a bottle of Cava to celebrate?
Recommended by Kerry, Vegg Travel
Plaza de España, Seville
Seville is one of the most romantic places in Spain. Its beautiful architecture, culture and food make it a fantastic destination for couples.
One of the best places to propose in Seville is Plaza de España, considered one of the prettiest squares in Spain, and there is no doubt why. The square is very picturesque and full of charm.
Its mosaic-tiled benches representing each Spanish city, its lovely canal and its atmosphere are some of the reasons this square is so unique. It has also been a filming location for many TV shows and films like The Dictator and Star Wars, which shows Plaza de España attracts everyone.
It is a lively square where you can see live flamenco, street vendors, and tourists taking photos of this beautiful landmark therefore if you prefer a more private moment to propose, head to Plaza de España at sunset. The colours of the sky and the beauty of this place make a very special moment to pop the question.
Another place to propose is Maria Luisa Park which is next to Plaza de España. This spacious park has more quiet spots, which are also beautiful.
Recommended by Cristina, My Little World of Travelling
Best Places to Propose in Turkey
If you're looking for a magical setting to make your proposal, look no further than Turkey! With its awe-inspiring landscapes, charming villages and breathtaking monuments, Turkey is a destination like no other.
The Galata Tower, Istanbul
Istanbul in Turkey is a city that simply oozes romance: with an incredible skyline, thousands of years of history and jaw-dropping sunsets, it's the perfect place to go on a romantic trip, especially if you are planning to propose. But where exactly should you get down on one knee?
The iconic Galata Tower is one of the best places for a romantic marriage proposal. At a height of 63 metres, it is one of Istanbul's most striking landmarks and boasts spectacular panoramic views of the entire city.
Galata Tower is also the centre of a romantic legend that says that if you visit the tower for the first time with your partner and climb to the top with them, you are certain to marry that person!
For a memorable proposal, head to Galata Tower before sunset and take the lift to the top. From the circular balcony, you and your partner will be treated to a breathtaking 360-degree view over the whole of Istanbul.
Walk around and you will see the landmarks of the Blue Mosque and the Hagia Sophia in Istanbul's historic quarter and enjoy views over the waters of the Golden Horn, the Bosphorus and out to the Sea of Marmara.
At sunset, everything will be bathed in red and gold hues and you can decide exactly what view you'd like as the backdrop to your proposal!
If all goes well, you can celebrate afterwards with a glass of wine or Turkish tea at one of the many cute cafes and elegant bars situated on the charming cobbled streets of the Galata area.
Recommended by Mog & Dog Travels
Best Places in the UK to Propose
The UK offers some of the most picturesque and romantic spots to make your proposal. From the grandeur of Edinburgh Castle to Buckingham Palace in London. there is no shortage of options for getting down on one knee and making it a moment to never forget. Here are some of our favourite UK locations to cherish that special day in all its glory.
Edinburgh Castle, Scotland
Located in Scotland, Edinburgh Castle is one of the most historic and recognizable landmarks in Europe and is a popular location for marriage proposals.
Previously, the structure was used as a royal residence, military garrison and prison.
The castle was officially designated as a UNESCO World Heritage Site in 1995.
There are numerous options for where to propose such as in front of the castle itself, which will provide magnificent views of the architecture in the background.
Alternatively, another proposal spot may be the Esplanade which will grant you sweeping views of the city as your backdrop.
Nevertheless, the challenge with the aforementioned options is the lack of intimacy and privacy as the location is a highly visited tourist attraction.
For a more romantic setting, you can book the castle for a private dining experience where you can pop the question in the presence of close friends and family.
This location is perfect for a couple who enjoys history, culture, beautiful surroundings and architecture.
Recommended by Rachel, Around The Caribbean
Buckingham Palace, London
If you're looking for the best places to propose in Europe you can't get much better than in front of one of the most iconic landmarks in London – Buckingham Palace! London is an incredibly romantic city from the get-go, and you'll be surrounded by beautiful, ancient buildings no matter which direction you walk in.
You can't go inside Buckingham palace except for on arranged tours that run in July and August, but proposing on a rushed tour would be far from romantic! Instead, you should be in front of Buckingham Palace. That way, you'll get the beautiful palace in the back of your engagement photos.
The front of Buckingham Palace can be very busy at weekends and at peak times (from around 10am-5pm). The perfect way to ensure the most privacy possible for your big moment is to get there as early as possible – ideally even at sunrise!
Near Buckingham Palace you'll have countless options when it comes to finding memorable restaurants and rooftop bars to celebrate after you've popped the question.
Recommended by Ella, Many More Maps
The Shard, London
The Shard is a super romantic place to get engaged in London. This 95-story tall glass skyscraper is basically London's version of the Eiffel Tower. Up on The View from The Shard, the three-floor viewing levels, you'll get 360-degree views of London as a romantic backdrop for your proposal.
This is where my husband proposed to me in 2019, and we've been happily married ever since! You can visit The Shard early in the morning, when it is less likely to be crowded, for a more intimate proposal. Or you can visit at night for a stunning proposal high above London with city lights in the background. And if you really want to go all out, The View from The Shard offers private proposal packages complete with a proposal concierge, champagne, and a personal photographer. If you want a truly jaw-dropping place to propose in London, The Shard is it!
Afterwards, the two of you can toast to your engagement at one of the two bars in the viewing gallery, or head to any of The Shard's romantic restaurants and cocktail bars.
Recommended by Paige, Paige Minds the Gap
Clodgy Point, Cornwall
Along the rugged Cornish coast between the artist's haven town of St Ives and carrying on towards Zennor and Lands End, Clodgy Point can be found on the South West Coast Path. Perfect for hikers, this remote spit of land was once a leper colony but don't let that put you off! Part of a Site of Special Scientific Interest, Clodgy Point offers breathtaking views out to the Atlantic coast, hidden mermaid pools and the chance to spot the rare Cornish bird the 'Chough' and groups of grey seals.
The relative remoteness so close to civilisation makes this a magical place to propose, away from the crowds, completely at one with nature and the elements.
Visit through Spring to Autumn but winter is a good time to see the stormy seas up close, just don't get too close to the edge!
To find Clodgy Point, from St Ives you can walk along Porthmeor beach and join the coast path near Man's Head (try and spot the head shaped rocky outcrop that gives the headland its name). Keep walking along the narrow coast path until you come to an open space of gorse land and you have arrived at Clodgy Point. If you keep walking along the coast path to Zennor you can celebrate your proposal at a traditional Cornish pub, the Tinners Arms!
Recommended by Sophie Simpson Art sophiesimpson.com
Best Places in Ireland to Propose
Ireland is known for its magical and romantic atmosphere, making it the perfect backdrop for a proposal.
The Cliffs of Moher
When looking for a place to propose, the Cliffs of Moher in Ireland seriously be considered! This romantic spot is located on Wild Atlantic Way, which is on the West Coast of Ireland.
The cliffs themselves are almost entirely vertical but provide safe, paved routes along the top.
From above, you can view the Atlantic Ocean and Aran Islands whilst taking in the natural sounds of booming waves below as they crash into the sandstone, which feels almost otherworldly.
On a clear day, the views are insane, unlike anything that you have experienced before, and on foggy days it can feel like a magical fairytale. The perfect landscape for engagement photos!
Not forgetting that these cliffs have been featured in many movies, including Harry Potter and The Princess Bride, making this location extra special!
The beauty of these cliffs has inspired artists and musicians and, without a doubt, will make your proposal day, a day to remember.
Recommended by Sam Opp, Find Love and Travel
Killeney Hill, Dublin
While Dublin has plenty of gorgeous places to propose to your significant other, one that doesn't get the recognition it deserves is the awe-inspiring Killiney Hill.
Killiney Hill is a trail that offers breathtaking views of the Irish Sea and is tucked away in the affluent suburb of no other than Killiney. There are many ways you can lure your partner up to the top to pull off the proposal of the century, but the most straightforward way of getting to the top is by taking the Killiney Hill Car Park route. Wander through the forested area for about 20 minutes before reaching the best vantage point to get down on one knee. Whether you choose to pop the question on top of the lucky Pyramid of Dublin or beside the Obelisk, they'll be jumping with joy by the end of it.
The Killiney Hill walking route is suited to all levels of fitness, so you don't have to worry if you or your partner aren't that fit.
After the hard part is over, you two love birds can pop into the nearby Tower Tea Rooms, which have the most delicious menu filled with tasty lunch options and sweet treats. You have to celebrate in some way, after all.
Reccomended by Adam, Where in Dublin
Best Places to Propose in Norway
Norway is famous for its breathtaking scenery, making it an ideal destination for a romantic proposal.
Alta
One of the most memorable ways to propose has to be under the Northern Lights, and one of the most magical European places to experience them is Alta in Arctic Norway.
Accessible by plane, cruise ship or on land from Tromso, Alta is an amazing winter wonderland destination. During the winter months, it experiences the polar night, where the sun doesn't rise above the equator meaning it is shrouded in darkness most of the day. This takes some getting used to but it does provide optimum conditions for viewing the Northern Lights.
Make sure you hire a private guide, they will check the clouds and solar activity, and depending on that they will take you to the right spot with the most likelihood of seeing this natural phenomena. Also, remember to hire a photographer to capture the moment for you, it is best to book the guide and photographer for each night you stay in Alta (to maximise your chances). Lastly cross your fingers and toes that you are lucky enough to able to experience the beauty of the Northern lights for your wedding proposal, it can't get more magical!
Reccomended by Roshni from TheWanderlustWithin.com
Best Places to Propose in Germany
Germany is a beautiful country bustling with culture and romance, making it the perfect place to ask that special someone to spend the rest of their life with you.
The Geierlay suspension bridge
Congratulations!! You've decided to propose to your loved one while you both are in Europe, but where should you do it? You both are the type of person who wants to get off-the-beaten path and the idea of doing it under the Eiffel tower is SUPER cringe.
You & your partner have adventurous hearts, love Nature and want something special and unconventional. There's no better place than the Geierlay Suspension bridge in Germany.
This 1200 ft long suspension bridge offers the perfect mix of Adventure, dramatic scenery, photo opportunities, and convenience as it's only 1 hour from the mega Frankfurt airport.
You'll take their breath away with your proposal while suspended 300 feet over the rugged and enchanting German forest. You can even hire a photographer that's positioned on the valley floor to catch the special moment and create memories that will never be forgotten.
Take your partner to the Burg Schoenburg restored castle hotel afterwards for a truly unique hotel experience and sleep in a room that's fit for a royal couple.
Reccomended by Morgan, Crave the Planet
Proposing in Gozo
Gozo is a picturesque island in the Mediterranean Sea that offers spectacular views and plenty of romantic opportunities to make a special proposal. With its beautiful beaches, ancient landmarks, and historic towns, Gozo provides many options for a memorable proposal setting.
Dwejra Bay in Gozo
Malta is a stunning country, with natural beauty everywhere you look. Dwejra Bay is located on a small island north of the mainland called Gozo, and if you're looking for a breathtaking landscape to propose in front of – this is it!
Dwejra Bay is where the famous Azure Window used to sit before tumbling down into the sea below. However, there are still some fascinating things to see here, including the Blue Hole, an incredible diving site, and the Inland Sea, a lagoon that sits behind huge rocks that link to the sea.
There is also a 17th-century watchtower that you can visit – if the flag is waving, then it means it's open, and you could pop the question at the top here, especially if you're a couple who enjoys a bit of medieval history!
We got engaged here, and the location couldn't have been better – it was gorgeous, the sea was crashing behind us, and we were able to find a quiet spot with no other people around easily.
If you're looking for somewhere to propose with dramatic views, rich history and excellent swimming spots, Dwejra Bay is a perfect choice!
Suggested by Jade, Two Tall Travellers
Best Places to Propose in Switzerland
Switzerland is renowned for its stunning natural beauty, making it the perfect place to pop the question. From soaring mountains to picture-perfect lakes and charming cities, Switzerland offers an abundance of breathtaking locations for a romantic proposal.
Interlaken
Interlaken is a beautiful town located in the heart of the Swiss Alps, and it certainly has the potential to be a romantic and memorable place to propose your better half. From scenic beauty, romantic atmosphere, to fun activities; there are many reasons for considering it a great spot for a proposal.
Interlaken is surrounded by picturesque mountains, crystal clear lakes, and lush green forests, providing a stunning backdrop for a proposal. In this stunning natural phenomenon, if you propose to your beloved, it will be a special lifetime memory for you. In Interlaken, there are plenty of outdoor activities to do with your loved one, such as hiking, skiing, or paragliding. You must keep these outdoor activities in your Interlaken itinerary. It will definitely increase the bond in your relationship.
Interlaken's charming streets and traditional Swiss architecture also create a romantic and intimate atmosphere where you can say those magical words to your beloved.
One of the most romantic ways to experience the beauty of Interlaken is by taking a hot air balloon ride with your closest one. Floating above the area's stunning landscape would be perfect timing for a proposal.
Best Places to Propose in Iceland
Iceland's enchanting landscape makes it a top destination for couples looking to share a romantic moment. Whether you want a majestic waterfall or an intimate hot spring, there are countless breathtaking spots in Iceland that provide the perfect backdrop for your marriage proposal. From the Black Sand Beach of Reynisfjara to the secluded Westman Islands.
The Westman Islands
Small green islands surrounded by an endless sea, magnificent scenery and very little visitors. If you are looking for unique natural landscapes to propose at, then Westman Islands in Iceland are an ideal candidate.
You can take several short and easy hikes on Westman Islands to reach numerous spots with amazingly beautiful 360° views everywhere around you. Plan your visit on a nice day to amplify the fairy tale-like experience. Hike the Eldfell volcano and propose at the top, or go for a bit harder hike with even better peak views called Heimaklettur.
Besides the hikes, you may take your loved one to watch puffins together, cute Icelandic birds with big orange beaks. There are also several cozy family restaurants to celebrate your engagement at. You can get to Westman islands by a ferry. A ride takes only 40 minutes from the nearby port of Landeyjahöfn and is a part of the entire romantic experience.
Reccomended by Igor, Epic Iceland
Reynisfjara Black Sand Beach, Vik
If you're looking for a dramatic backdrop for your proposal, consider heading to Vik, Iceland, home to Reynisfjara Black Sand Beach. This iconic beach is known for its jet black sand, jaw-dropping cliffs of columnar basalt and craggy sea stacks jutting out of the Pacific Ocean. This beach is so otherworldly, in fact, that it was used as a filming location for Game of Thrones!
If you can time your visit in June, you'll be able to enjoy the Midnight Sun, a phenomenon, due to Iceland's northern latitude, that allows the sun to set seemingly for hours as incredible colors light up the sky.
Alternatively, if you're a hearty soul, you could take your chances and head here in winter, in hope of seeing the Northern Lights. While the Aurora is quite unpredictable, Vik is one of the best places to see them in Iceland, due to its wide open skies and low light pollution.
Regardless of what season you visit, Vik offers the perfect scenery for an unforgettable proposal.
Recommended by Jessica, Uprooted Traveler
Diamond Beach

Diamond beach is an enchanting destination that is gaining popularity as a top pick for couples looking for a unique and romantic proposal spot. Situated on the south coast of Iceland, near the Vatnajokull National Park, this picturesque beach is renowned for its black sand and chunks of ice that have been washed up from the nearby Jökulsárlón Glacier Lagoon.
The icebergs that adorn the beach are often referred to as Iceland's crown jewels, and it's not hard to see why. The mesmerizing diamond-like icebergs make for an unforgettable proposal location, and they add an extra layer of beauty and romance to the already picturesque setting.
If you're looking to make your proposal even more special, a diamond ring at Diamond beach is the perfect combination. Surrounded by hundreds of shiny diamond-like pieces of ice, your partner will be taken aback by the stunning scenery, and the proposal is sure to be memorable.
By choosing Diamond beach, you're guaranteed a unique and unforgettable proposal experience that will be remembered for a lifetime. So add a little sparkle to your proposal and make it truly magical by selecting this charming destination.
Recommended by Tales from The Lens
Best Places to Propose in Greece
Greece is the ultimate destination for romance. With its awe-inspiring landscapes, warm turquoise waters, and picturesque villages, Greece provides the ideal setting for a romantic proposal.
Temple of Poseidon, Athens
Can you think of a better spot to pop the big question than a magical location steeped in centuries old history, surrounded by breathtaking views? The Temple of Poseidon, located on the southernmost trip of the Athenian Riviera is truly a remarkable landmark that over the centuries inspired poets and philosophers with its astonishing grandeur and mythical presence. It is here that the romantic poet Lord Byron scribbled his name on one of its pillars.
Set at a pinnacle point overlooking the Aegean Sea that stretches as far as the eye can see, the Temple of Poseidon offers one of the most dazzling sunsets, and a mythical atmosphere that promises a romantic setting for one of the most important moments of your life. You can make it even more unforgettable by combining your engagement with a dream holiday in Greece – one of the most sought out holiday destinations in the world. Sounds perfect, doesn't it?
Recommended by Elena, The Athenian Riviera
Best Places to Propose in Europe – Final Words
Europe is the perfect destination for a romantic proposal. Whether you choose to take in the breathtaking views of The Shard, explore a medieval castle in Scotland, or ask your loved one to be yours on a quiet beach in Nice, you are sure to find something magical here. With its rich culture and diverse landscapes, Europe is the perfect place to create beautiful memories that will last forever.
Discover Europe
Discover the Best of Europe >>
Sylvie Simpson is the founder of European Cities with Kids. For the past 6 years, she has been travelling all over Europe whenever she has the chance, both solo, for work and with her daughter. Sylvie is on a mission to help people make the most of city breaks in Europe with kids and helps over 50,000 readers per month plan and make the most of their trips in Europe with kids.