Although you could spend days exploring all that Exeter has to offer, the city is in a fabulous location for day trips. South from Exeter, you can visit the nearby city of Plymouth and the beautiful Cornish Coastline. North, you'll find a vast range of attractive and family-friendly cities, a wealth of attractions and excellent transport links that can easily take you to far-flung corners of the country in a day.
If you've already been to the best places to visit in Exeter and tried the days out in Exeter, you may be looking for the best day trips from Exeter with kids. This guide will take you through the best day trips from Exeter, including travelling from Exeter to Cornwall, Exeter to Bristol and visiting tome fantastic nearby beaches and staycation destinations.
Travelling with my daughter, I like to spend at least 3-4 days in each city to get an insight into the local culture and experience what the city offers. It's also great to have the same base to go back to rather than move daily. Instead, we often go on lots of day trips.
This post may contain affiliate links, which means I may receive a commission, at no extra cost to you, if you make a purchase through a link. We are a participant in the Amazon Services LLC Associates Program, an affiliate advertising program designed to provide a means for us to earn fees by linking to Amazon.com and affiliated sites. As an Amazon Associate, I earn from qualifying purchases. Please see my full disclosure for further information.
Day trips from Exeter MAP
A day excursion from Exeter to a nearby attraction
1. Bovington Tank Museum
The Tank Museum in Bovington, Dorset, is a thrilling place to take kids, with plenty to see and do for a fun-filled day out.
Located within Bovington Camp, the British Army's tank base, the Tank Museum is tucked away in an idyllic countryside setting, easily accessible by road, train or bus.
The big attraction is the vast collection of armoured vehicles from around the world – the biggest collection! Across seven giant halls, the museum traces the development of tanks from early conflicts to the behemoth monsters in use today.
It's a great way to bring history lessons to life for kids, and there are things to interest children of all ages. Many of the displays are interactive, and the opportunity to walk up to and touch these massive machines is irresistible.
One tank is cut in half to show what it's like inside and where the driver and other soldiers sit. Kids can dress up for the day, play online tank games, poke, prod and explore tanks to their heart's content, plus there are pre-bookable rides in armoured vehicles around the huge arena too.
How Much is Entry to the Bovington Tank Museum?
Advance tickets offer the best value, with a family ticket for 2 adults plus 2 children costing £36 online or £41 at the door. Full details here.
How to get to Bovington Tank Museum from Exeter
The best way to get from Exeter to Bovington Camp for a day trip is to drive (approx. 70 miles and 90 minutes via the A35). The Tank Museum is well signposted from all directions, and the drive is scenic, passing through pretty Dorset villages. If travelling by bus or train, the nearest station is Wool (approx. 1-mile walk).
Recommended by Coralie, Grey Globetrotters
2. The Eden Project, Cornwall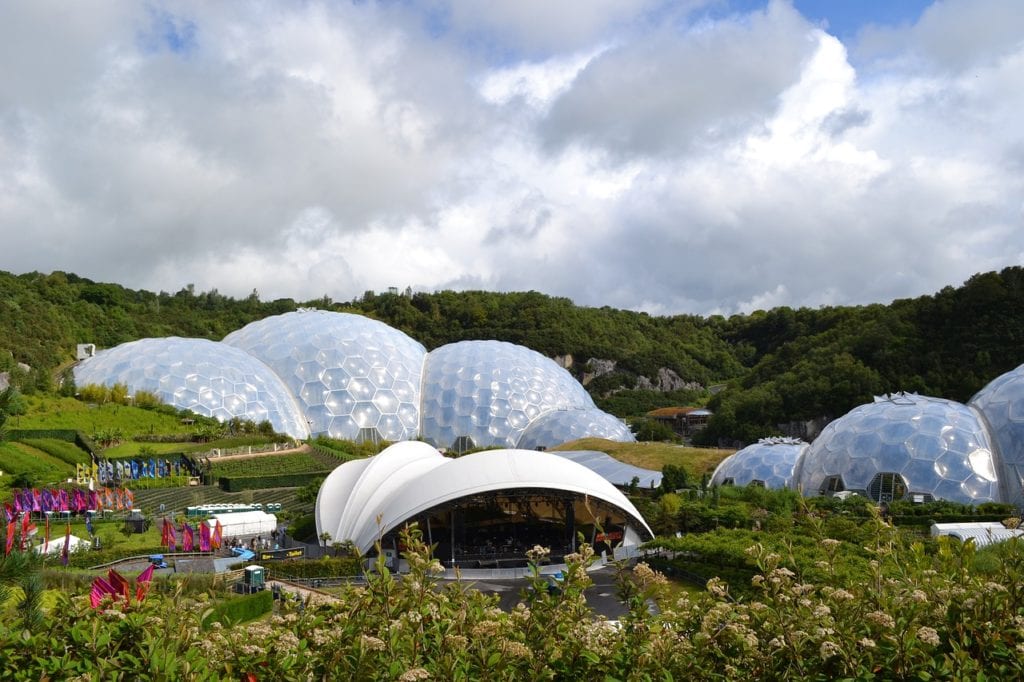 As one of Cornwall's most popular attractions, The Eden Project is well worth the distance and a great day out for families. Kids will enjoy the innovative play equipment and warm welcome. The Eden Project is nestled in a huge crater. Here, massive Biomes housing the largest rainforest in captivity, stunning plants, exhibitions and stories serve as a backdrop to striking contemporary gardens, summer concerts and exciting year-round family events.
How to get to the Eden Project, Cornwall
The Eden Project is located just outside St Austell, Cornwall. The best way to reach the site from Exeter is by car. The drive should take you on average 1 hour, 19 minutes. By train, the journey will take significantly longer. From Exeter St Davids, take the train to St Austell before boarding the Eden Project shuttle from the station.
How Much Does Admission to the Eden Project Cost?
Adult £28.50
Senior (60+) £26
Family (2 adults/2 children) £75
Student £23.50 | Child (6-15) £15
Child (0-4) FREE
Membership £50 Tickets bought in advance online save 10% on these prices. Click here to buy tickets in advance.
Website | edenproject.com
Places to Visit Near Exeter
3. Bristol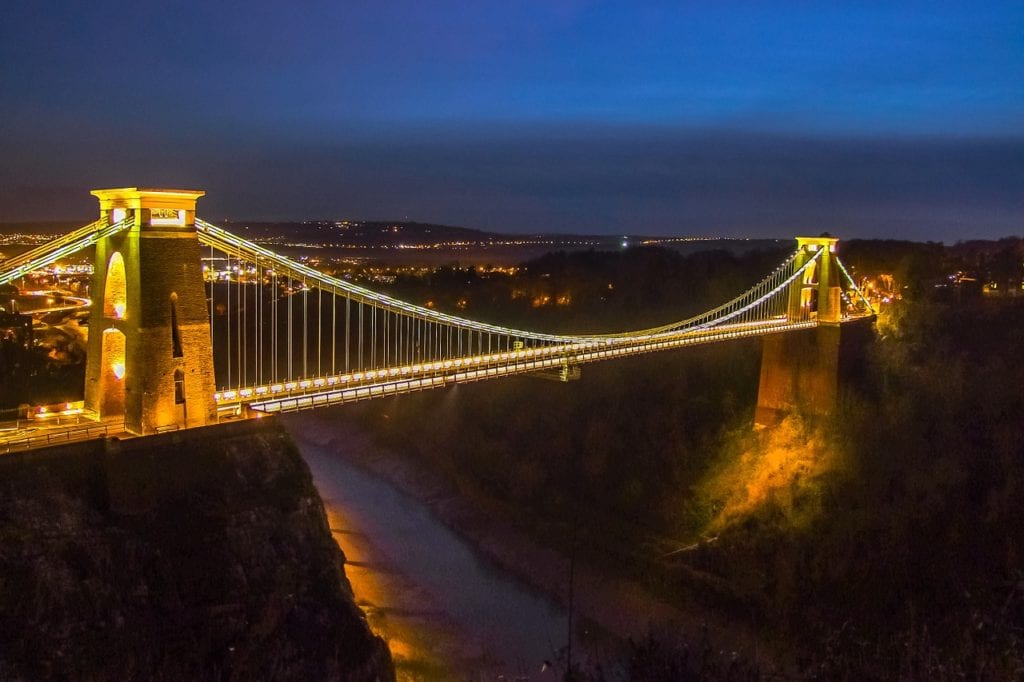 Just one hour north of Exeter, Bristol is totally different and unique to other cities in the UK. The city is well worth a visit with kids, there's plenty to do and plenty of attractions to choose from.
Bristol's top attraction is Bristol Zoo. The 12-acre area hosts over 50 different species, from Gorillas to lions. There's also an aquarium that holds over 70 species of fish. Kids will love the butterfly house, where you can get up close to thousands of butterflies in a huge indoor space. There are plenty of lawns and walks for some playtime, along with an amazing cafe.
For more animal fun, head to Bristol Aquarium, located right in Bristol city centre. The complex hosts over 40 displays where you can spot thousands of creatures, from seahorses to piranhas. The aquarium also has an urban jungle where you can spot exotic trees and plant species worldwide.
Head to the Clifton Suspension bridge for some sightseeing, a massive structure surrounded by picturesque scenery. The bridge is now the symbol of the city. Kids will also like visiting Cliftonwood, Bristol's iconic rows of colourful houses.
Other must-visit places include Bristol Harbour, a modern development with a huge range of sports from paddleboarding to cycling. Harbourside is a great place to stay in Bristol if you fancy stopping for the night.
Nearby harbourside is the SSS Kingdom Brunel museum. The ship was the world's first great ocean liner. Kids will love the experience of looking through the ship and seeing how life used to be.
Related Post | Day Trips from Bristol with kids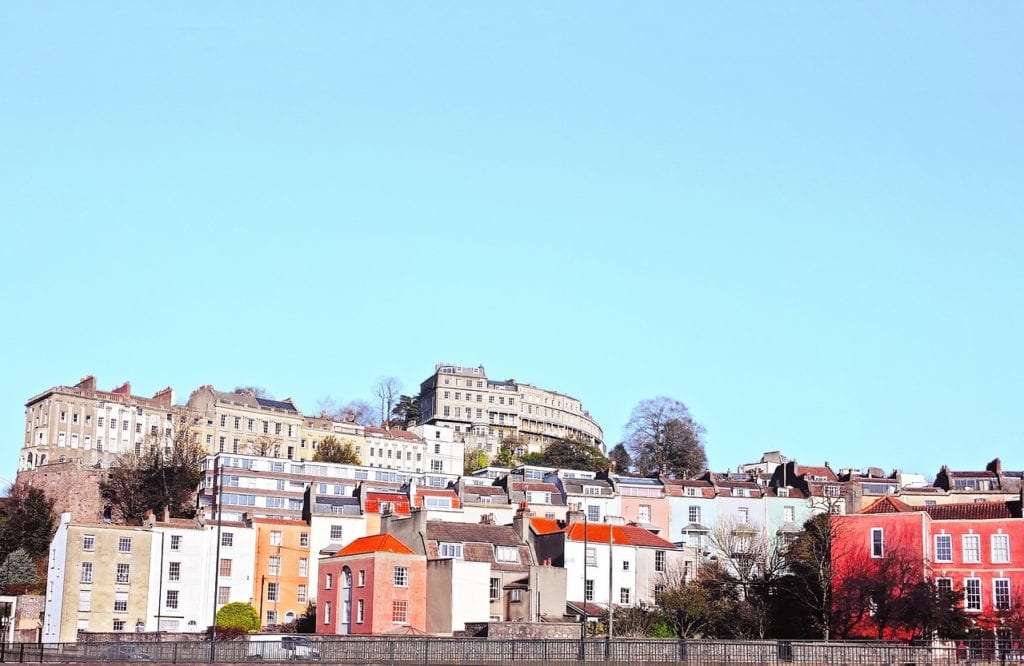 4. Oxford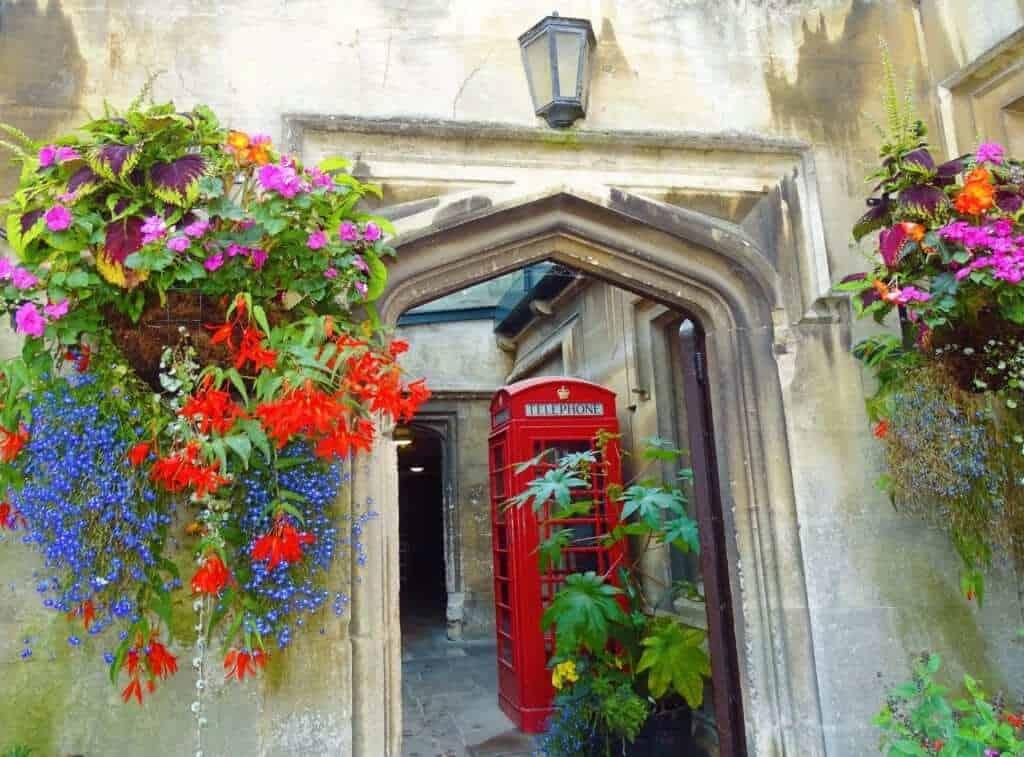 Thanks to its amazing buildings and Harry Potter history, an Oxford day trip is fun for adults and kids thanks to its amazing buildings and Harry Potter history. Authors including C.S Lewis, Lewis Caroll, Philip Pullman and J.R.R Tolkein wrote their famous novels (The Chronicles of Narnia, Alice in Wonderland His Dark Materials and Lord of the Rings) based in Oxford.
There are plenty of places you can explore the history, for example, the doorway with a gold fawn on St Mary's Passage which some people believe inspired the doorway to Narnia.
Kids might also want to explore the many Oxford Harry Potter filming locations such as the staircase at Christ Church College where Harry, Ron and Hermione meet in The Philosopher's Stone, The Divinity School where a Hogwarts school dance was filmed and Duke Humfrey's Library, which was used as the school library.
Another cool place in Oxford to explore is the Covered Market, where there are lots of colourful shops and every local's favourite stall, Moo Moos Milkshakes, where you can try hundreds of different favours.
To get from Exeter to Oxford, you can drive in 2 hours or 30 minutes or catch the train in 2 hours 20 minutes changing in Reading.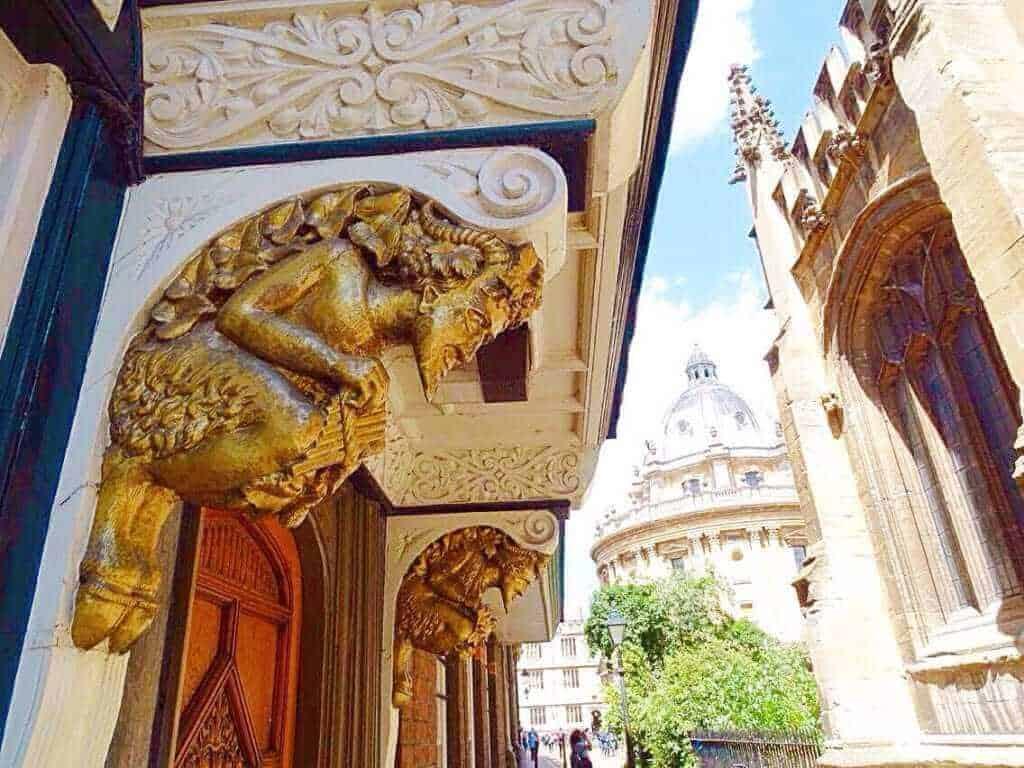 Recommended by Rose, Where goes Rose?
5. Plymouth – A day trip from Exeter to South Devon
Just one hour south of Exeter, 'Britain's Ocean City' is a must-visit and a perfect day trip from Exeter. Plymouth has a huge range of things to do with kids. Start your day with some sightseeing. For minimal walking, board the Plymouth hop-on-hop-off from the train station.
If you want to do the tour yourself, start by visiting Plymouth hoe, a picturesque lighthouse with perfect views towards Plymouth Sound and Drakes Island. Next, head to the Barbican area, where there's a huge choice of upmarket eateries and plenty of boat trips to nearby beaches in Cornwall and to the Royal William Yard.
Plymouth's National Marine Aquarium is a good choice of attraction on a day trip to Plymouth, hosting over 400 species of marine life and a lovely cafe overlooking the sea.
Plymouth is the perfect place for some major shopping for the older ones. Head to the Drake Circus shopping centre. You can go next door to the Barcode, a new 4D multiplex cinema complex with mini-golf and plenty of eateries when you've finished.
Day trips from Exeter | Seaside Escapes
6. Croyde Beach
Croyde, Devon in the South West of England, is surrounded by national parks and home to a surfers' delight, Croyde Beach. Whether this will be your first time surfing with the kids or you're seasoned regulars, Croyde is perfect for you. They have a surf school on the beach, which offers lessons to all those above 8 years old. This opportunity to get the kid's lessons surfing makes it a unique and memorable experience for them, and I am sure they'll be asking you to go back for more!
Due to its location on the coast, the train from Exeter may be quite a restless journey, and thus we recommend make the 65mile trip by car. Having your own car will also give the kids more comfort on their way home after a busy day in the sea.
As you approach the beach, you will pass through Croyde village, which has a very nice family atmosphere, boasting a few nice eateries, some local stores and a pub if you're looking for a Sunday roast after the beach.
If you fancy staying overnight, we recommend Oceans Pitch campsite, a short walk from the beach and their facilities are very child-friendly. You can always spend day 2 going on various hikes through the local national park.
Recommended by Manpreet, hellomanpreet.com
7. Exmouth
A day exploring the nearby town of Exmouth and some beach time is the perfect day trip from Exeter with kids. The beach has plenty of rock pools for kids to explore. There are various water sports on offer for the more adventurous, including Kayaking and Kitesurfing.
If the kids love animals, head to the world of country life, an interactive farm with plenty of activities for all the family. Opportunities include feeding red deer and llama, bottle feeding lambs and calves, hands-on experiences with rabbits and hedgehogs, animal racing, etc. You'll be sure to have an action-packed day!
There's a wide variety of fantastic walks from Exmouth for outdoor lovers due to the town's position on the South West Coast Path, a 630 mile stretch around the coast from Poole Harbour in Dorset to Minehead in Somerset. Walks vary in difficulty. You may prefer a short stroll around the town and the beach with small children. The 2.5-mile hike to Lympstone takes in the stunning sights of the Exe estuary, where you try your hand at spotting rare birds for an amazing family day out near Exeter.
How to Get to Exmouth from Exeter
Simply hop on the branch line from Exeter St Davids Station to reach Exmouth. The journey takes just 30 minutes. From the station, it's just a short walk to the beach which features two miles of beautiful golden sand and clear seas.
A cruise along the Jurassic coast
History, water, exciting boat trip, bird watching, and fun is what you will experience on a two to three-hour cruise along the Jurassic Coast. The cruise departs from Exmouth, a short 30-minute drive from Exeter.
The cruise goes along the coast where you will see some fantastic red cliffs. This coastline is a "natural" UNESCO World Heritage Site for its outstanding historical significance. You may even be lucky to see a Peregrine Falcon. They are the fastest member of the animal kingdom.
If your kids have not been cruising before or are unsure how they will do on the water, be prepared for motion sickness. Even on a beautiful day, the water can be rough – there is no predicting if you will have a rough or smooth ride.
Stuart Line Cruises has been listed as one of Devon's "top family attractions." They offer a variety of cruises (even some from Exeter). The one that will take you along the coast is the Jurassic Coast Cruise from Exmouth.
Ticket Options | Adult £11 | Child (1-5) £8 | Under 1 FREE
And for mom's (and dad's) you can even order a cream tea, to make a fantastic day even better. A Devon Cream Tea will set you back around £3.50.
Exmouth is also a town worth exploring with cute shops and several places to get that necessary ice cream on your day out. You may even find a dinosaur if you go to the town square.
If your family enjoys hiking instead of cruising, you can take the SW Coast Path along the cliffs overlooking the water. There is plenty to do in the area, making for a great family outing.
Submitted by Cynthia Graham, Blue Bag Nomads
8. Lyme Regis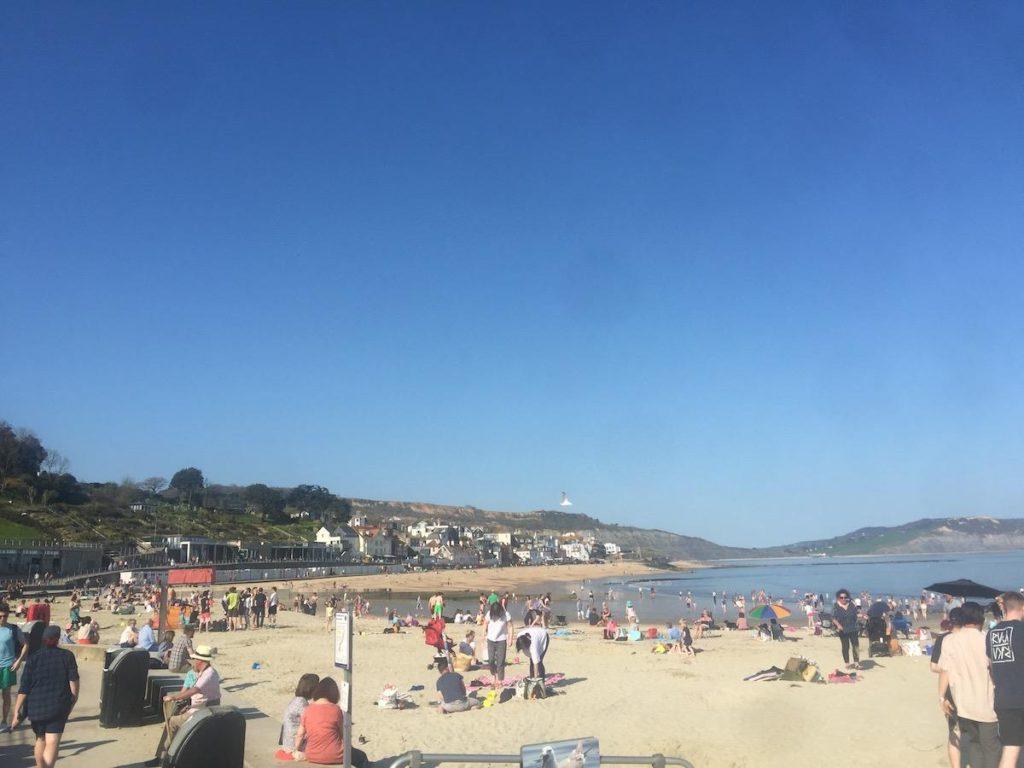 For a fantastic day trip from Exeter with kids, look no further than the delightful West Dorset seaside town of Lyme Regis. Situated just 30 miles east of Exeter on the Devon Dorset border Lyme Regis is famous for its Lyme Bay location on the World Heritage Jurassic Coast.
The simplest way to reach Lyme Regis is by car, with the 30-mile journey taking under an hour. Trains from Exeter to the market town of Axminster 6 miles north of Lyme Regis depart on average 20 times a day and take just 30 minutes.
However, a taxi or local bus service taking an additional 40 minutes will be required to reach Lyme itself. While this 'Pearl of Dorset' boasts a charming town centre and an abundance of gift stores, kids will undeniably be drawn to its fabulous seafront and dramatic Cobb. The sandy Town Beach to the east is ideal for bucket and spade adventures or family-friendly bat and ball games.
The rocky Monmouth Beach to the west is a haven of rock pools perfect for the inquisitive mind and the opportunity to go 'crabbing'. Kids will also be tempted by the prospect of fossil hunting and joining the likes of Mary Anning in finding their very own dinosaur.
After all this sea air and excitement, how better to end an exhilarating day than with traditional fish and chips from one of the many seafront stalls? Kids will remember their day out in Lyme Regis for many years.
Recommended by Paul, The Two That Do
9. Newquay – A day trip from Exeter to Cornwall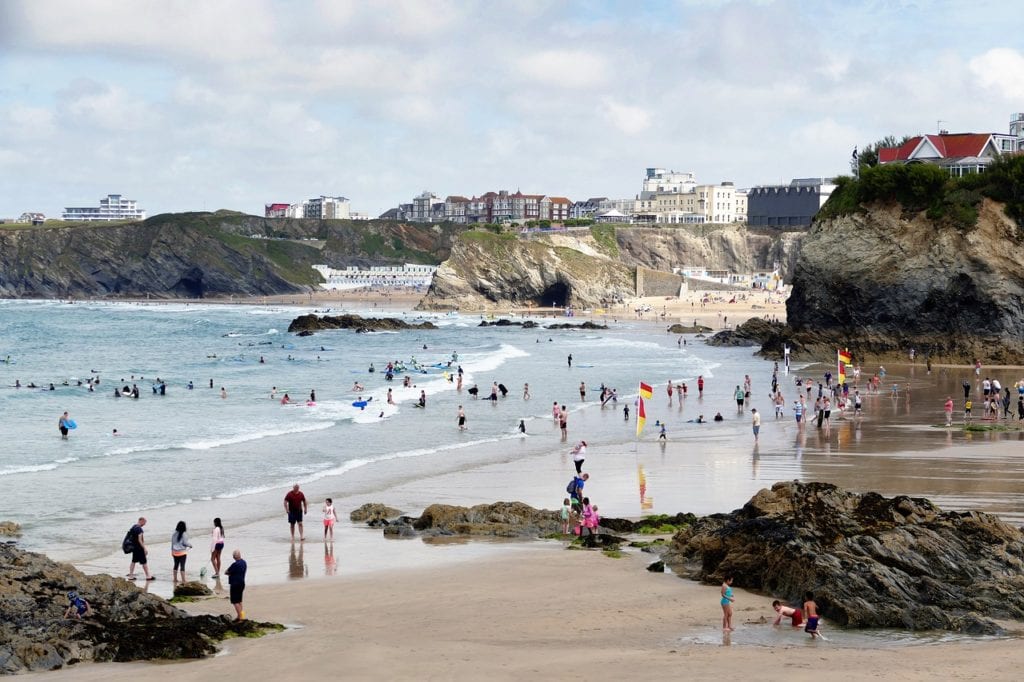 Newquay is one of the major resort towns of Cornwall, with plenty to do for kids. The town is definitely one of my favourite day trips from my home St Ives. You'll certainly not run out of things to do on a day trip to Newquay from exploring different beaches to learning to surf or visiting the many amusement arcades.
Start the day with a walk down the main street, where you can pick up a wide range of souvenirs from branded rock sweets to keyrings and signature Newquay t-shirts. A great way to get around is by Land Train, an alternative bus service that takes you around Newquay in open-top carriages.
Newquay has no less than 12 beaches! The most famous beach is Fistral Beach, a surfing hotspot backed by sand dunes and dramatic cliffs. Lusty Glaze beach is suitable for a quiet beach day with stunning views. Newquay also features Cornwall's most popular attractions, including Newquay Zoo and the Blue Reef Aquarium.
How to Get to Newquay, Cornwall from Exeter
Catch a train from Exeter St Davids to Par before boarding the Newquay Branch line. To reach Newquay from Exeter, the drive is 1 hour, 38 minutes. The journey is significantly longer by train, so you may have to consider stopping overnight with kids.
More day trips from Exeter with kids
We've also put together a similar post on day trips from Bristol to take with kids if you like this post. Most of these trips can also be made from Exeter. Here's a summary of the trips:
Nearby Cities
Bath | 1 hour, 55 minutes from Exeter
Nearby Towns
Leamington Spa | 2 hours, 53 minutes from Exeter
Weston Super Mare | 1 hour, 13 minutes
Outdoor Exploration
Cheddar Gorge and Caves | 1 hour, 16 minutes
Stonehenge | 1 hour, 52 minutes
Chepstow Castle | 1 hour, 32 minutes
Slimbridge Wetland Centre | 1 hour, 50 minutes
Dyrham Park | 1 hour, 39 minutes
Dean Forest Railway | 1 hour, 53 minutes
England's South Coast
Why not explore more of England's South Coast? Take a look at these 7 must-visit villages.
Find out more by reading the post below:
Where to stay in Exeter With Kids
Exeter is full of fantastic places to stay with kids to suit all budgets. Here are some of the best places to stay in Exeter with kids:
The Juries Inn 4* | The Inn is located just 2 minutes from the shopping area and within walking distance to the train station and Exeter cathedral. Rooms come in either twin, double, triple or king and sleep 1-3 guests. Cots are provided on request. View the latest prices and reviews here.
Mercure Rougemont Hotel 4* | You won't have far to reach the city centre here as the hotel is right in the heart of the shopping area, opposite Exeter central station. If you haven't got a car, this hotel is a convenient place to stay for day trips from Exeter. Rooms are available in single, double, twin and king. Cots are provided on request. View the latest prices and reviews here.
Holiday Inn Express 3* | This hotel is located out of the city centre, making it a perfect place to go on day trips by car. Rooms are either twin, double or disabled access. Cots are provided on request. View the latest prices and availability here.
Moving On From Exeter | Where to next?
Bristol | Just one hour by train from Exeter, Bristol is an ideal next destination when travelling the UK with kids. There's plenty to do in the city itself, not to mention the day trip opportunities from Bristol with kids.
Cornwall | Just over an hour South of Exeter, the beautiful county of Cornwall has plenty to offer. Head to St Ives, Portreath and Newquay (there's many more!). After some beach time, you can take day trips to nearby attractions and picturesque beaches, or try your hand at some of the South West Coast path, a 630-mile walk from Poole Harbour in Dorset to Minehead in Somerset.
Cambridge | Cambridge is a little too far for a day trip from Exeter, but the city is a must-visit when visiting the UK. There's a wealth of things to see and do, and you'll be in a good spot for some amazing day trips.
Discover More of the UK >>>
Discover Western Europe >>>
Return to Homepage >>>
Sylvie Simpson is the founder of European Cities with Kids. For the past 6 years, she has been travelling all over Europe whenever she has the chance, both solo, for work and with her daughter. Sylvie is on a mission to help people make the most of city breaks in Europe with kids and helps over 50,000 readers per month plan and make the most of their trips in Europe with kids.