Scotland has so many places to explore. But which are the best places to go in Scotland?
I asked some top travel bloggers to talk about their best places to visit in Scotland to compile the ultimate list! From it's buzzing capital Edinburgh to awe-inspiring Lochs, beaches, and castles, not to mention a vast array of islands, whether you're a city lover or a country lover, a backpacker or a family, Scotland has so much to offer!
This post may contain affiliate links, which means I may receive a commission, at no extra cost to you, if you make a purchase through a link. Please see my full disclosure for further information.
Best Places to Go in Scotland
1. The Culloden Battlefield
Culloden Battlefield is located in the Scottish Highlands, 10 minutes south and east of the city of Inverness.
A visit to Culloden is a must if you are visiting Scotland and you want to understand more deeply the important era in Scottish history, the 1745 Jacobite Rising, that this battle brought to an abrupt end.
The Culloden Battlefield Visitors Center offers an immersive, multimedia experience that gives you information about the battle that took place in one short hour on the nearby Culloden Moor that changed Scotland's history forever.
The decisive battle at Culloden signified the end of the Scottish clan system and a way of life that had existed for thousands of years.
After visiting the exhibit, you can visit the rooftop viewing platform and walk the moor itself to see the mournful cairns placed there to mark the clans who fought and died there.
Your visit includes access to an audio guide to use while you walk around the battlefield itself to give you deeper insight into the battle.
A visit to Culloden can easily fit in as a day trip from Inverness. A trip can also be combined with a visit to nearby Clava Cairns or Loch Ness. You should plan for a minimum of two hours.
By Shanna, There and Back Again
2. Dunnet Bay – One of the BEST Places to Go in Scotland
Situated on the North East coast of Scotland and stretching over 2 miles of beautiful golden beaches Dunnet Bay is a 'must visit'.
With Scotland having a lower population in its entire country than the county Yorkshire, you're not going to be surrounded by hoards of people. Which if you struggle with anxiety while travelling like me then this destination is going to be incredible for you.
The beach is such a beautiful place to sit, relax and enjoy a thistly cross (amazing Scottish Cider) as you watch the sunset.
On the day you can surf, where you might even be joined by a friendly local seal. Talk a nice walk and even spot the many different birds that nest there.
There is a small village nearby with places to eat, drink, shop and stay. Though I would always recommend staying at the Dunnet Bay Caravan Club site, which allows both tents and caravans on its site.
It's on Dunnet Beach, has great facilities and beautiful views. It really is paradise.
When to visit Dunnet Bay
The best time to go would be between March and May just before midge season. As the further North you go the worse they get, and in beautiful weather, they come in in their thousands.
So you don't really want to be covered head to toe in glorious sunshine to avoid being a meal for midges.

By Charlotte, Bursting My Bubbles
3. Dunnottar Castle, Stonehaven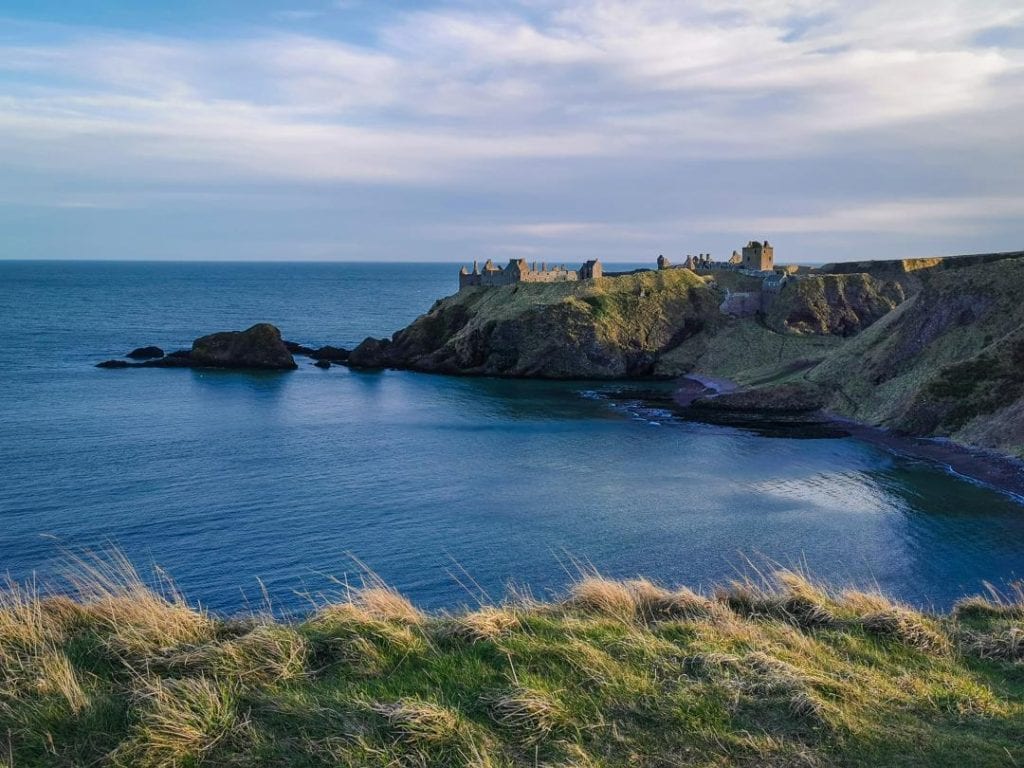 Stonehaven is a small and picturesque harbour town on the east coast of Scotland. Most people know it for the breathtaking ruins of Dunnottar Castle, which sits at the top of the cliffs just outside town.

Dunnottar Castle sits on a steep headland in a perfect location to see far up and down the coast – like a King on a throne overlooking his Kingdom.
Once captured by William Wallace (of Braveheart fame) and frequented by the likes of Mary Queen of Scots, it used to be one of the most powerful castles in Scotland.
Abandoned and ruined since the 1700s, Dunnottar Castle has not lost a single bit of its charm. If you're visiting Scotland with kids, Dunnottar castle is a must-visit.
Stonehaven itself is a great home base to visit Dunnottar and other nearby places of interest such as Fowlsheugh Nature Reserve (home to a puffin) colony, or other sites on the Scottish Castle Trail.
Stonehaven and Dunnottar Castle have some to offer for everyone. Castle lovers, helpless romantics, outdoor enthusiasts, and history buffs – which one are you?
By Kathi, Watch Me See
How to get to Dunnottar Castle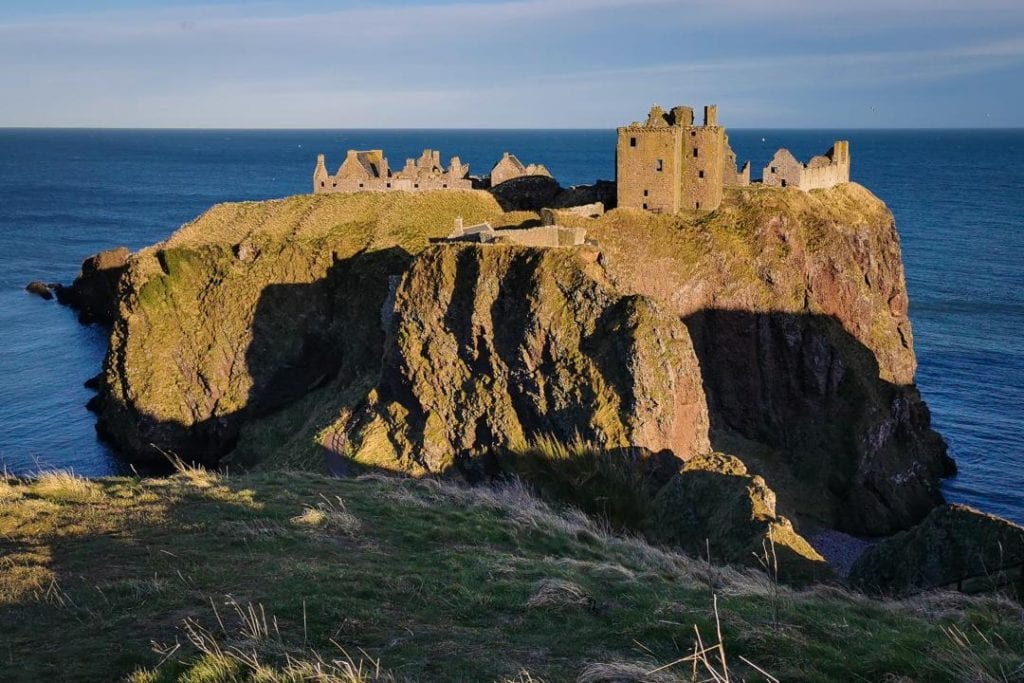 The best way to visit is by walking along the easy coastal path from the nearby town of Stonehaven. This takes around 40 minutes one way.
There is a small car park near the castle, but the views on the approach from the town are too magnificent to miss. To enter the castle, you must descend the stairs down the cliffs and then up again to get to the castle gate.
This means that the castle is not accessible and requires some effort to get to.
However, you will be rewarded with fascinating excavations, the remains of what once must have been stunning architecture and serene ocean views.
Related Post | Outlander Guide to Scotland
4. Dunfermline Abbey and Palace
The sleepiness of this quiet town belies its historical importance; you'd never guess that it was once the capital of Scotland. So while Dunfermline is not a great destination for bar hopping, it's perfect for history and culture enthusiasts.
It's two main attractions are inextricably linked — Dunfermline Abbey and Dunfermline Palace.
The Abbey was the first to be constructed, back in the 11th century. You'll find the graves of several rulers of Scotland here, including Robert the Bruce.
The palace wasn't built until the 16th century, and unfortunately, its heyday was short-lived. Not long after its construction, it was sacked during the Scottish Reformation.
In fact, both the abbey and the palace are now in ruins. A more modern church has been built on the ruins of Abbey's transept, and services are held regularly.
Once you've visited the Palace and Abbey, take some time to explore the surrounding countryside. Just a 45-minute walk away is the village of Crossford, where you'll find the very first vegan B&B to open in Scotland. You can view a complete UK vegan family travel guide here.
Submitted by Wendy, The Nomadic Vegan
5. Eilean Donan Castle
Eilean Donan Castle is one of the most recognized castles in Scotland and around the world.
Sitting in the heart of the Scottish highlands, enclosed by the Kintail mountain range, and on an island where three lochs meet, it is impossible to imagine any location more majestic or wild. Eilean Donan Castle is an icon and a must-see for any visitor to Scotland.
The castle has a rich history. In the early 13th century, the first defensive fortress was built on the island.
Since then, the castle has taken many different forms. Today's castle took around 20 years to restore and was completed in 1932 by John MacRae-Gilstrap.
Guests can explore the visitor's centre and learn the castle's history, traverse the bridge and sea gate, wander in the castle's many rooms, and explore the grounds.
An audio guide is included in some tour prices for a minimal fee and will explain the abundance of historical heritage in the castle.
How to get to Eilean Donan Castle
You can get to Eilean Donan Castle from several major cities in Scotland including Inverness (1.75 hrs away), Edinburgh (4.25 hrs away), and Glasgow (4 hrs away) by renting a car or taking a bus tour. I took a bus tour from Edinburgh to the Isle of Skye, which included a visit to Eilean Donan Castle.
It is possible to take a day trip to see the castle, but I recommend investing in a multi-day tour that incorporates Eilean Donan Castle as a stop. Or, if you are renting a car, make a stop at the castle to or from the Isle of Skye.
Submitted by Kelly, Snap Travel Magic
6. Edinburgh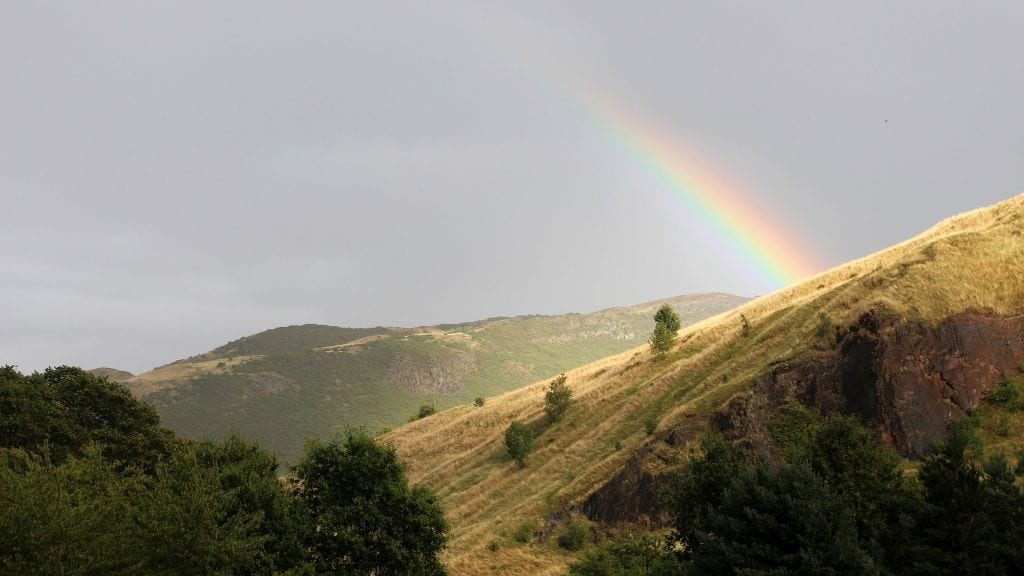 As the capital of Scotland, there are so many essential sights to see! To see Edinburgh in a short amount of time I definitely recommend the hop-on-hop-off bus. There are three lines that will take you to the best parts of Edinburgh.
Edinburgh Castle is high on many visitors bucket-list and well worth a visit. The Castle is one of Scotland's most celebrated historical attractions.
A wide variety of exhibits and activities are showcased on the grounds, including the Edinburgh Military Tattoo in August. This is undoubtedly Edinburgh's busiest attraction so it is best to pre-book online to guarantee your ticket.
Arthur's Seat is one of the hidden gems of Edinburgh. favoured because of its panoramic views of the city and its relatively easy incline that caters to different abilities.
For more information on Edinburgh, read about the best family friendly hotels in Edinburgh here.
7. Glasgow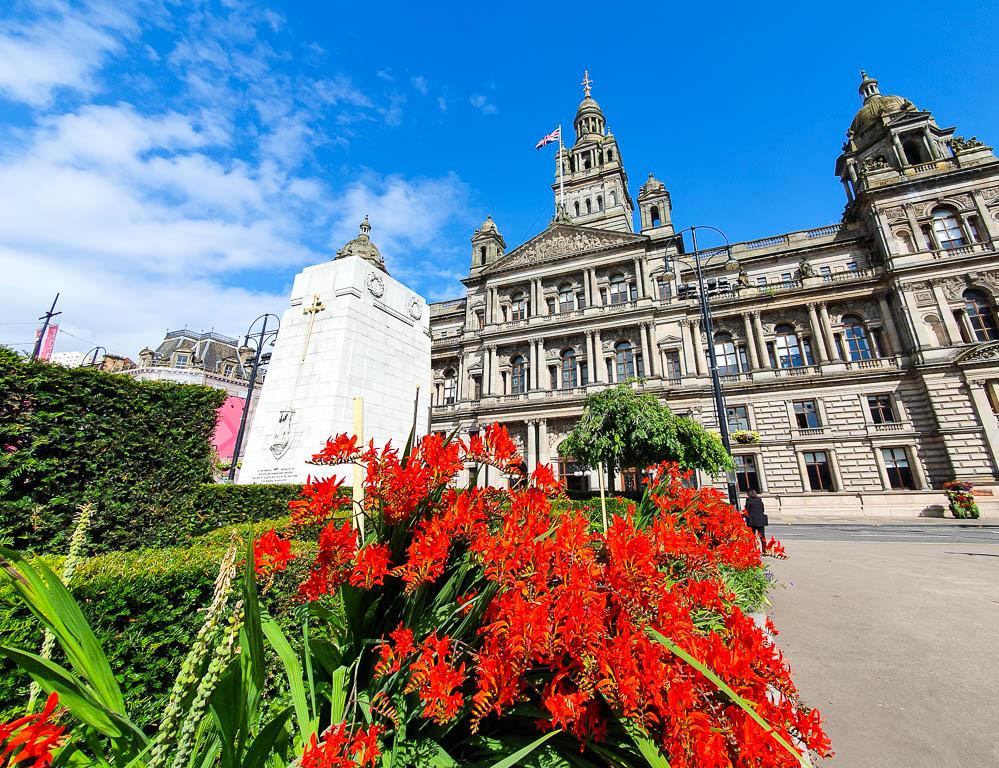 As Scotland's largest and most dynamic city, Glasgow offers something for everyone. Situated on the River Clyde, Glasgow has transformed from once a mighty city of industry to a major tourist destination.
A vibrant university city, Glasgow has an active art scene found in its museums and on the walls of its buildings.
The city's Clydeside area, once home to shipping now features museums, a whiskey distillery, and entertainment venues.
Sports fans visiting Glasgow can take in one of the biggest rivalries in sports when the city's two football teams, Celtic and Rangers, do battle on the pitch.
For food lovers, Glasgow offers great options for both traditional Scottish food and international cuisine. Glasgow's restaurants and pubs serve up some of the best traditional Scottish dishes like haggis and Cullen skink.
For those looking for upscale dining, the city features a number of Michel star restaurants.
No trip to Scotland is complete without sampling the "Water of Life", whisky. Glasgow offers a number of places to experience a whisky tasting including a new distillery located within the city limits as well as several historic whisky pubs.
For more information on Glasgow, read the best things to do in Glasgow with children here.
How to get to Glasgow
Glasgow is easily reached by a 40-minute direct train journey from Edinburgh. The city offers a wide range of accommodations including guesthouses and major chain hotels like the Moxy by Marriott, a good value option in the East End.
Submitted by Amber, Food And Drink Destinations
8. The Kingdom of Fife
The Kingdom of Fife is a welcoming region over the water from Scotland's capital and one of the best places to go in Scotland.
The road trip to West Fife kicks off with a train ride over the UNESCO Forth Bridge, a bus journey over the Forth Road Bridge or a car trip over the new Queensferry Crossing.
The first stop is North Queensferry for a breathtaking vantage point of all three bridges.
Next, head to Dunfermline to visit Dunfermline Abbey, Pittencrieff Park and enjoy lunch at one of the many cafes or restaurants.
A short ride away is Culross, best reached by bus or by car, a popular Outlander filming location.
Photographers will want to snap the ochre Culross Palace, pay to enter and see the gardens.
Struggling with the lingo? Check out this guide to Scottish words and sayings*.
Wander up the cobbled streets of this tiny village and enjoy a coffee before you move on.
Leaving West Fife, it's time to hit the coast.
If you are a hiker, you might want to consider the Fife Coastal Path, 117 miles through Fife's coastal towns and villages.
Alternatively, the new Pilgrim Way, which moves inwards, is attracting walkers too.
Pop into Aberdour to see the beach or play some golf, then swing by Burntisland to shop at Scotland's up and coming 'totally local' high street.
Next, it's up to the fishing villages of the East Neuk and then St Andrews, home of golf, Janettas ice cream and where Prince Harry and Kate first met.
By Gemma, Everything Edinburgh
9. The Black Isle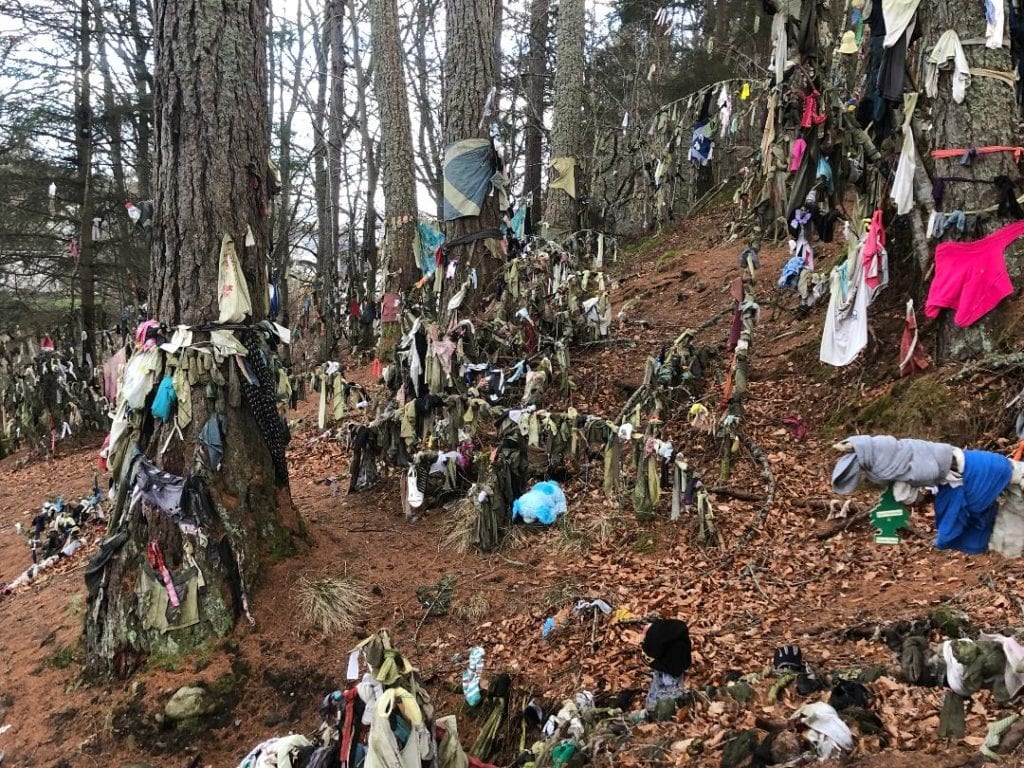 The Black Isle is a peninsula within Ross and Cromarty, in a small unspoiled area of highland Scotland near Inverness. Here you can find a load of things to do on a trip lasting for a day or even longer.
The Route
Leave Inverness on the A9 to cross onto the Black Isle. First stop, Harry Gow bakery off the A9 at North Kessock (lovely Scotch pies, strawberry tarts and cakes) good place for lunch.
Then visit the Black Isle Brewing Company, a small farm-based organic brewery near the village of Munlochy. The beer is truly handcrafted and loved before it is sent out for you to enjoy.
Munlochy Clootie Well is also worth a visit (off the A832). This is a wooded area where people make offerings to the local river spirit in the form of an item of clothing tied to a branch in the hope of getting an illness cured.
Further around the coast at Chanory point lighthouse, there is an excellent outlook over the Moray Firth, which is great for spotting the local pod of bottlenose dolphins.
The Glen Ord distillery produces some of the Singleton brands of highland malt whisky, it also does some good tasting tours. In Fortrose, you will find a great stopover for the night.
This is 'The Anderson' a whisky tasting bar and restaurant with rooms. A good place to stop for excellent food and whisky.
The next day you can work your way back around and take in some of the fabulous scenery. But one last thing. Just off the Black Isle no trip would be complete without a trip to the battlefield at Culloden.
The visitors centre is brilliant and the battlefield is unbelievably atmospheric. The Black Isle a lovely place to visit
Submitted by Tracey, Pack The PJs
10. The NC500 Route
If you're looking for an incredible place to visit in Scotland, look no further than the NC 500. The NC500 is one of the most scenic drives in Scotland and the scenery is breathtaking.
The route is just over 500 miles long, will take around 3 or 4 days and takes in parts of the Highlands in the northwest of Scotland. Some of the roads are very narrow, but there are plenty of passing places.
Along the route, you will encounter beautiful white sand beaches with incredibly clear water, incredible mountain views, the Smoo Cave, one of the largest in Scotland and the Kylesku bridge.
There are plenty of lovely hotels and B & Bs along the route, many of which provide views across the sea or the Scottish highlands.
If you have a few days and want to see more of authentic Scotland, the NC500 is absolutely the place to visit
There are countless places to visit in Scotland. To see as much as possible during your trip, take a look at this 10 day Scotland Road-trip itinerary by Highlands2Hammocks.
Submitted by Kathryn, Wandering Bird
Discover the UK
Best Christmas Markets in the UK
Things to do in Bristol with Kids
Discover More of Western Europe >>>
Return to Homepage >>>
Sylvie Simpson is the founder of European Cities with Kids. For the past 6 years, she has been travelling all over Europe whenever she has the chance, both solo, for work and with her daughter. Sylvie is on a mission to help people make the most of city breaks in Europe with kids and helps over 50,000 readers per month plan and make the most of their trips in Europe with kids.