(Last Updated On: November 7, 2023)
If you're visiting Prague in April or/ and over the Easter weekend, the Prague Easter Market is a must-visit; you'll get to experience easter in Czech.
Try the Czech cuisine and learn about the local culture, not to mention some fantastic souvenirs to take home. Prague is also the perfect city break destination for families!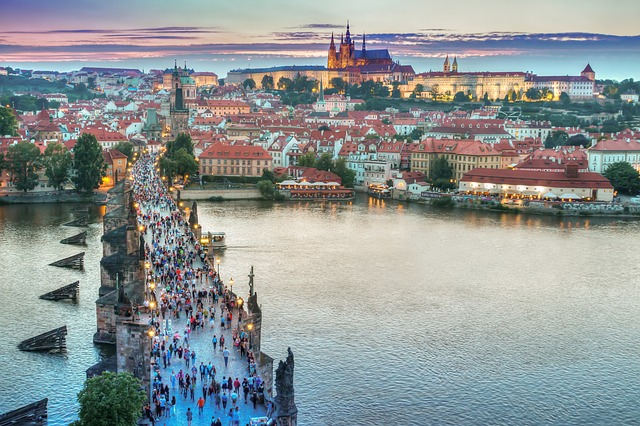 This post may contain affiliate links, which means I may receive a commission, at no extra cost to you if you make a purchase through a link. Please see my full disclosure for further information.
Is Easter a Good Time to Visit Prague?
Thanks to a mild climate and smaller crowds, April and May, September and October are the best times to explore Prague.
View Prague from Prague castle, visit the John Lenon Wall and walk along Charles Bridge! Easter is also good weather, and there are plenty of unique things to do, including the Prague easter market!
Shopping in Prague: Marvellous Prague Easter Markets
The Easter Market in Prague comprises wooden cabins decorated with the vivid colours of spring. The collection includes several objects such as glass and ceramic jewellery woven from the same materials, wooden furniture, candles and traditional costumes.
Around the market huts on the street and around the squares are trees blossoming and a multitude of colourful flowers tied onto the trunks of the birched trees.
While some exciting souvenirs can be gathered in each stall, which you should bring home and decorate your home or give as a present, the market is more than just shopping.
Easter markets were revived with the fall of the communist regime and Liberalisation. Czechs gather to visit colourful markets and enjoy the unique atmosphere.
Many easter markets are dotted around Prague, mainly in The Town Square, but there are other smaller easter markets elsewhere in Prague. Here are the main markets and their locations. Whichever one (or ones!) you choose to visit, you'll be sure to find an open fire that adds to the atmosphere.
The Main Market – Prague Old Town Square
The Prague Easter market in the old town square is the biggest. Here, many wooden huts sell cold beer, mulled wine, honey wine, roasted ham, souvenirs, wooden toys, easter chicks, and desserts.
Chips topped with anything you like (almost) to eating potato dumplings or indulging in the traditional chimney cake – a doughnut dough rolled and filled with chocolate and fruit, topped with whipped cream or ice cream.
This market is the backdrop of the Astronomical Clock – one of the most famous landmarks in Prague. The market is so fantastic you'll be spending 1 hour plus there so you won't have to wait around to see the astronomical clock.
You may even be lucky enough to enjoy a carol as you explore the market. There are also horse and cart rides available for around 900Czk for a 20-minute tour. Enjoy an easter carol while you explore the market.
The Republic Square Spring Market
The Republic Square market is another of the main easter markets in Prague, located in front of the Palladium shopping centre. Here, you'll find many souvenirs, including hand-painted easter eggs, chicks, candles, handmade wicker souvenirs and easter chicks.
Kampa Island Easter Market
Although one of the smaller markets in Prague, the Kampa island market is still a must-visit. Here, you'll find handcrafted products, including painted eggs and a variety of Prague delicacies.
Easter in Prague
Easter in The Czech Republic is considered a religion-related holiday but a joyful welcoming into Spring when the natural environment is restored. Easter markets in Prague have an ancient heritage dating back to the Middle Ages.
Prague has a full holy week instead of Good Friday, Easter Saturday, Easter Sunday and Easter Monday!:
Czech Easter Foods
Easter is a time for feasting and in the Czech Republic, there are several traditional dishes that are prepared and enjoyed during this season.
Many of these dishes can be found in traditional Czech restaurants around Prague during the Easter season.
Special Easter Services
During Easter, many churches in Prague hold special services to mark the occasion. Here are a few notable ones:
St. Vitus Cathedral: Located within the Prague Castle complex, St. Vitus Cathedral is one of the most important religious sites in the Czech Republic. They hold a special Easter Mass on Easter Sunday.
Church of Our Lady before Týn: This iconic church on the Old Town Square holds Easter services throughout Holy Week, including a Good Friday service and an Easter Sunday Mass.
Strahov Monastery: The Strahov Monastery is a historic monastery that holds Easter services in its beautiful Baroque Theological Hall.
Basilica of St. Peter and St. Paul: Located in the Vyšehrad fortress, this neo-Gothic church holds a special Easter Mass and often has concerts during the Easter season.
Czech Easter Traditions
Blue Monday
Locals start their spring cleaning and throw away broken items from their houses. Green seedlings are also placed on tables to signify spring.
Gray Tuesday
This is the day to clean out the winter cobwebs!
Ugly Wednesday
This is soot sweeping Wednesday – the day to clean out the chimney. Another saying is that 'someone who frowns on ugly Wednesday will also frown every Wednesday for THE REST OF THE YEAR!'.
Green Thursday
Locals go to church on this day, and the church bells ring from all the churches across the Czech villages and towns. The Czech tradition on this is day for eating healthy (green) food such as spinach, lettuce, green beans and nettles.
Another saying is that eating peas on green Thursday will protect against toothache until the next Green Thursday.
Great Friday
This is a day for fasting, and meat should not be eaten. Cabbage soup is the traditional dish on a great Friday.
White Saturday
People continue to fast on white Saturday. Traditional cakes are baked in a lamb shaped mould, and the locals decorate eggs in special dyes (you can buy these eggs at the easter markets across Prague!).
In the evening., the fasting stops and a feast is eaten.
Easter Sunday
A day for celebration!
Easter Monday
Czechia has a unique tradition of Easter Monday. Girls give the boys chocolate and eggs, and the boys gently whip the women (to ensure fertility and health!). The boys should also sing a song or read out a poem.
Czech Easter Eggs
Many stalls at the easter market sell real painted eggs. If you're staying in Prague for easter, a hand-painted egg could be the perfect gift.
Photo Opportunities at Prague's Easter Markets
A better viewpoint is climbing the top of the Old Town Tower, which gives breathtaking aerial views of the square of Old Town. In market stalls, you will find bright pictures of colourful products that are being sold and the food being prepared.
Visiting the Prague Easter Market with Kids
If you're visiting Prague with kids, you can participate in Easter activity workshops in the Old Town Square at weekends, where locals teach the kids to decorate Easter eggs in flower pots, cut ribbons, create eggs in a chick, and weave Easter baskets and whips.
Alternatively you can roam the market and watch folk dancing and the dance, hear the music or watch all kinds of activities.
FAQ's
Is Prague Open over Easter?
The Market opens all day during spring. Tours and river cruises run throughout the day. Pragues landmarks and touristic attractions are open from Easter to Easter Sunday. Certain attractions can only be reached on Easter days and typically have limited opening times.
What is there to do in Prague for Easter?
Prague has a wide variety of activities for Easter, including markets, boat rides, fairs and churches. The Easter markets are held between mid-March and Easter Sunday, featuring beautiful decorations, traditional merchandise, live shows and poodle parks for the little ones.
Do they celebrate Easter in Prague?
Easter in Prague is fun. There are still many traditions, especially within rural towns, and Several areas have their own Easter traditions. Hand-painted eggs (kraslie) are recognisable as the main symbol for Czech Easter.
What is Prague like in April?
April has more rain than in April, averaging 33 mm spread over 16 days. Its average temperature was 6.5°C and rose to 11°C when it was warmest. However, when we visited, the sun was shining, and the weather was coats, hats and sunglasses. At night temperatures are below -2 oC, so bring a jacket for a comfortable night's sleep.
What is there to do in Prague on Easter?
Prague offers plenty to do at Easter, such as shopping, boat rides, fairs, and religious activities. Easter markets occur between mid-February and Easter Sunday and are filled with beautifully decorated stores, traditional items and entertainment.
Is Easter Monday a holiday in The Czech Republic?
Bank Holidays are observed throughout The Czech Republic, Except for Easter Monday. The sliding holiday concept cannot apply as the holidays are on Saturdays, and the Monday following Monday is a typical business day. The holiday dates remain fixed.
Is Prague a cheap holiday?
Prague is popular with short city holidays, and prices are high on weekends. Make sure that your trip takes place during the week to avoid any unexpected expenses during your trip. Old Town and The Wenceslas Square hotel prices are expensive, and it is cheaper to stay outside city centres or in a hostel.
What is Easter called in the Czech Republic?
Easter in Tschechien The Czech word meaning 'Easter' is derived from the night ("Vlakánoc") on the same day Christ died on his death.
Discover the Czech Republic
Sylvie Simpson is the founder of European Cities with Kids. For the past 6 years, she has been travelling all over Europe whenever she has the chance, both solo, for work and with her daughter. Sylvie is on a mission to help people make the most of city breaks in Europe with kids and helps over 50,000 readers per month plan and make the most of their trips in Europe with kids.