(Last Updated On: October 3, 2023)
Looking for the best European cities for New Years? Look no further!
Europe is home to some of the most spectacular celebrations and family-friendly destinations for ringing in the New Year. From fireworks displays and traditional festivals to ice-skating rinks and winter wonderlands, there's something for everyone.
Here are the 24 best European cities for New Year's Eve celebrations.
Spending New Year's Eve in Europe
Many European cities host special events and celebrations on New Year's Eve, making it a magical time to visit. Some of the most popular destinations include Paris, London, Berlin, Edinburgh, and Madrid.
Each city has its unique charm and traditions, but all share an exuberant atmosphere of revelry and joy.
In addition to the cultural and entertainment offerings, spending New Year's Eve in Europe can also provide a chance to experience the winter wonderland of Europe in winter. Imagine skiing in the Swiss Alps or taking a romantic sleigh ride in Salzburg. The possibilities are endless!
Visiting Europe in December and January is a great way to experience the festive spirit of the continent during the winter season. The cities are adorned with lights, decorations, and Christmas markets, creating a magical atmosphere that will enchant visitors of all ages.
This post may contain affiliate links, which means I may receive a commission, at no extra cost to you if you make a purchase through a link. Please see my full disclosure for further information.
Best Places to Spend New Year's Eve in Europe
As the clock ticks down to midnight and a new year approaches, Europe transforms into a wonderland of celebrations, each one unique and unforgettable.
Europe offers a plethora of options to make your New Year's Eve memorable.
Here are the best places to spend New Year's Eve.
1. Paris, France
While many people go to Paris for the elaborate club and food scene, families in Paris can still have an unbelievable night in the City of Light.
Most French begin the night with a nice meal and champagne. If you want to take your meal out, many French restaurants have special menus for the evening.
A special way to experience New Year's is to reserve a dinner cruise on the Seine where you will sail by all of Paris' iconic sites lit up for the event. If your kids are too young for such an involved gourmet meal, drop the meal and book a Bateaux Parisiens cruise.
Not the cruising type. Bundle up and head to the Champs-Elysée, the epicenter of Paris' celebration. From here you have a great view of the Eiffel Tower that sparkles at midnight. A light show is projected on the Arc de Triomphe with a firework show at midnight.
Or if all of that feels like a little too much, pay a little more at the Hotel Pullman Paris Tour Eiffel with a beautiful view of the Eiffel Tower, order room service and share family kisses at midnight.
No matter what you do as the clock strikes midnight and the Eiffel Tower sparkles, you'll realize that you made the best Parisian New Year's memories just being together.
Recommended by Faith, 3 Tickets Please
2. Reykjavik, Iceland
If you're looking for one of the best European cities to celebrate New Year's then you can't beat Reykjavik, Iceland.
After all, the capital of this amazing island nation is positively brimming over with fun things to do since Icelanders are crazy about New Year's.
In fact, you'll typically see children running through the streets with sparklers as citizens and professionals alike release tons of fireworks into the air starting at around 8:30 pm on New Year's Eve.
The fireworks will then continue all the way until New Year's Eve, with a brief lull around 10:30 pm as Iceland locals watch Aramotaskaup, a comedy show that spoofs everything that happened in the country throughout the year.
So, start your New Year's Reykjavik itinerary off by watching fireworks and meeting up with locals around a bonfire, which typically is held in the capital from 8.30 pm to 10.30 pm.
Afterward, join a magic and mystery New Year tour where you can learn about traditional Icelandic folklore, which states that elves come out to play on New Year's Eve to create mischief and play pranks on people.
During this tour, you can also visit a local graveyard and learn all about the dead coming back to life before spending the night inside one of these super cool Reykjavik Domes.
Recommended by Victoria, Iceland Trippers
3. London, UK
One of the best ways to ring in the New Year is with the UK's largest annual fireworks show in London! The ticketed event draws over 100,000 people to pack along the River Thames and on all Central London bridges to watch the colorful show.
The tickets to the fireworks are approximately £15 (regardless of the location), and they sell out very fast! The first round of tickets is usually released in early October; it's best to sign up for e-mail updates with See Tickets so you don't miss it. The second and final round of tickets will be released in early December.
Plan to go out to dinner early on the night of the fireworks, as you'll need to get into the security line to access the ticket areas early (prepare to wait up to a couple of hours).
If your viewing area is near The Tower Bridge, consider visiting one of London's best vegan restaurants, Mallow in Borough Market, before the fireworks.
Since it will be a late evening, it's best to choose centrally located accommodations so you don't have far to travel. A great hotel close to the River Thames is Hilton London Bankside.
In addition to the fireworks, there are also multiple Christmas markets and central London is covered in festive lights — It's a lovely destination for the whole family.
Recommended by Rebecca, Veggies Abroad
4. Seville, Spain
Seville is one of the hottest destinations for New Years in Europe. The charming Andalusian city boasts an energy like no other and the New Years celebrations give you the opportunity to celebrate like a local at one of the city squares.
Looking for where to stay in Seville, make sure you check in somewhere central like Palacio Pinello, and like with restaurant reservations, it is recommend book early.
The kids will love the popular firecrackers that are so popular among the local kids and make sure you grab a pack of 12 grapes for each so you can join the locals in eating one grape each of the last 12 seconds to midnight.
It is said to bring good luck. New Years is a great time of the year to visit Seville, but if you happen to stay until the 5th or 6th of January, you might also catch some of the Three King's Parades crossing through the city.
This is not only a unique cultural experience for adults, but the kids will love the fun fairy tale costumes in the parades and best of all – they throw heaps of candy to the crowds, so make sure to bring an empty bag to fill up!
Recommended by Linn Haglund, Amused by Andalucia
5. Barcelona, Spain
Spending New Year's Eve in Barcelona is a fabulous way to welcome in the new year with a bang!
Barcelona's biggest new year's event is a fireworks display on Avinguda Maria Cristina next to Plaça Espanya. The evening begins with a light and musical show at the Magic Fountain and ends with fireworks from 11.45 pm until midnight, and it is completely free to watch.
Understandably it does get very busy, so if you want to be in the middle of the action, prepare to arrive early! You can also watch the fireworks from rooftop terraces all around the city, or the beach is another popular place to go.
If you don't plan to go out to see the fireworks then booking a hotel with a rooftop terrace is a great idea so you can watch the fireworks and then head downstairs to bed without battling the crowds.
Book a "City View" or "Square View" room at the Catalonia Barcelona Plaza to watch the fireworks at Plaça Espanya from your bedroom or from the roof terrace. View the best hotels in Barcelona for families here.
Don't leave Barcelona right after New Year, as King's Day on the 5th of January is another big celebration a few days later. The Three Kings arrive by boat into Port Vell and parade through the city on floats, throwing sweets to children who line the streets to watch.
Recommended by Claire Sturzaker, Why Visit Barcelona
6. Lisbon, Portugal
There are so many ways why Lisbon is a must-visit during the New Year! The Christmas decorations will still be up and beautiful lights will line the major streets and shopping areas.
The days/weeks leading up to New Year's Eve has lots of public events including concerts on the Praca do Comercio, as well as road races such as the Corrida de Sao Silvestre.
Enjoy the New Year's Eve festivities at many local bars and restaurants. There are plenty of multi-course dinners and Fado, Portuguese traditional folk music, for those who want a party atmosphere.
No New Year's Eve is complete without fireworks! Head down to the Praca do Comercio or Belem to get a great view and experience live music and performances.
If you are traveling with children it would be best to avoid booking an apartment in the main nightlife areas- Bairro Alto and Cais do Sodre- as you might not get too much sleep.
I'd suggest booking in the historic quarter which is completely walkable and close to many tourist attractions such as Sao Jorge's castle and Lisbon's historic yellow tram.
Tip: Lisbon is hilly and covered with cobblestones so be sure to wear good walking shoes and take advantage of the ample public transportation options.
Recommended by Sierra, yourguidetowandering.com
7. Tallinn, Estonia
Tallinn, the capital of Estonia, hosts a festive and lively New Year's Eve party at the Town Hall Square every year.
In the heart of Tallinn's medieval Old Town, surrounded by historic buildings, festive lights and decorations which include a large Christmas tree at the centre; there are also wooden stalls selling local handcrafted items such as Christmas ornaments, jewelry and knitwear, and traditional Estonian snacks.
There is a large stage in the centre of the square that features performances all throughout the Christmas market which runs from November to early January.
This stage is used for the special New Year's Eve event and features live music and an emcee.
Earlier in the evening, before 8pm there are performances in English and Estonian specifically aimed at kids.
As you walk through the Christmas market, you will see a lit up Christmas train that winds its way through Old Town.
The train is the perfect way for families with small children to enjoy the sights of Old Town in an old-fashioned and festive way. There's also a lit up carousel in the Christmas market area which is also open on New Years' Eve.
There are several stalls selling mulled wine for the adults and hot chocolate for the kids – perfect for the chilly weather!While celebrating Christmas and New Years' in Tallinn with kids, stay at the Kalev Spa Hotel & Waterpark, right in Old Town.
The kids will love the huge water slide and two swimming pools. Wake up to the beautiful views of Tallinn while enjoying a delicious breakfast every morning before starting your day sightseeing .
Tallinn's Christmas and New Year's celebrations are similar to the festivities in other Baltic cities, Riga and Vilnius.
Recommended by Kristin, Tiny Footsteps Travel
8. Berlin, Germany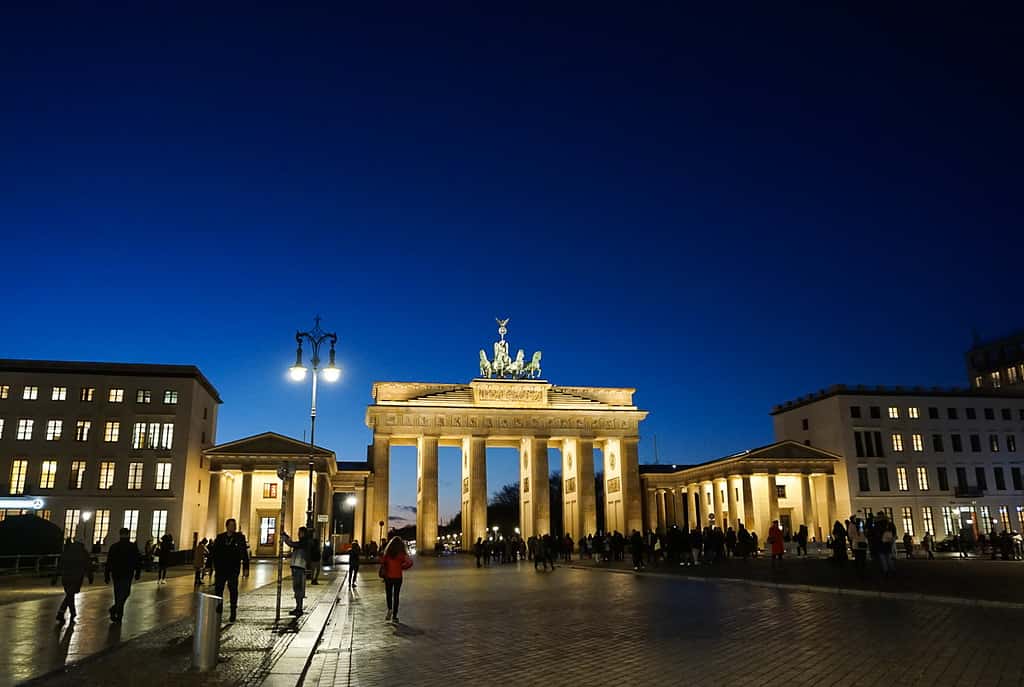 Berlin, Germany is the perfect European city to celebrate Silvester, or New Year's Eve. Each year on December 31, the city comes alive with street parties and lots of fireworks.
The biggest Berlin NYE party is held at Brandenburg Gate, one of the city's most famous landmarks. Nearly a million people flock to Pariser Platz, the square surrounding the gate, to take part in one of the largest New Year's Eve parties in the world.
Spend the evening dancing to the music and enjoying the food, drink and atmosphere before ringing in the New Year at midnight with fireworks and a light show. The event is family-friendly, and there are activities and attractions perfect for all ages.
Even if you don't attend the big party at Brandenburg Gate, you'll be guaranteed to see fireworks. The sky is lit up with colorful fireworks all around the city.
One of the best things about visiting Berlin for New Year's Eve is that many of the city's Christmas markets are still open. The market at Gendarmenmarkt is open until the 31st, as is the one at Breitscheidplatz.
Some of the others are open until the 30th, so you can catch them if you arrive in Berlin a few days before the New Year.
The Hilton Berlin is the perfect place to stay in the city, as it's a short walk from Brandenburg Gate, Christmas markets, and many other Berlin attractions.
Recommended by Sydney, A World in Reach
9. Valencia, Spain
Valencia is a super nice destination to welcome the New Year. It's not only that the city is all decked up for the holidays, but Valencia also has some pretty unique traditions that are guaranteed to make your New Year's experience memorable.
The highlight of visiting Valencia for New Year's, however, is the city's spectacular fireworks display in front of the City Hall.
The fireworks are followed by DJ music and many people choose to stay and dance to the lively beats until the small hours of the morning. The fact that the temperatures are usually pleasant, is definitely a bonus.
In addition to the New Year's festivities, the last week of December in Valencia is filled with special events.
If you're visiting with kids, you should definitely check out the fun fair next to the marina and the ice rink in the City Hall Square.
These are just a few of the things you can do in Valencia at Christmas, but the list is much longer.
For accommodation, a suggestion would be to stay in the city center, in a place such as Casa del Patriarca guest house.
Recommended by Valencia Revealed
10. Madrid, Spain
Madrid is a vibrant and lively city that comes alive during the New Year's celebrations. The city is known for its rich history, beautiful architecture, and bustling nightlife, making it a great place to visit during the holiday season.
One of the main draws of Madrid during New Year's is the tradition of eating 12 grapes at midnight.
This tradition dates back to 1909 and involves eating one grape for each chime of the clock at midnight to bring good luck for the coming year. The event occurs in the central Puerta del Sol square, where thousands of people gather to celebrate.
In addition to the grape-eating tradition, Madrid offers a range of other New Year's Eve celebrations. The city hosts numerous street parties, live music events, and fireworks displays throughout the night.
Visiting Madrid during the last week of December is also a great opportunity to experience the city's festive atmosphere. The streets are decorated with colourful lights and numerous Christmas markets and fairs to explore.
If you're visiting Madrid with kids during New Year's, there are plenty of family-friendly activities to enjoy. The Parque de Atracciones amusement park offers a range of rides and attractions for children, while the Madrid Zoo and Aquarium offer a chance to see a variety of animals up close.
When booking your accommodation, make sure it's close to the metro system, which is the perfect way to get around on a budget in Madrid. Therefore I recommend the Veracruz Puerta del Sol Hotel with its amazing charm and great location.
Recommended by Victoria, Guide Your Travel
11. Malaga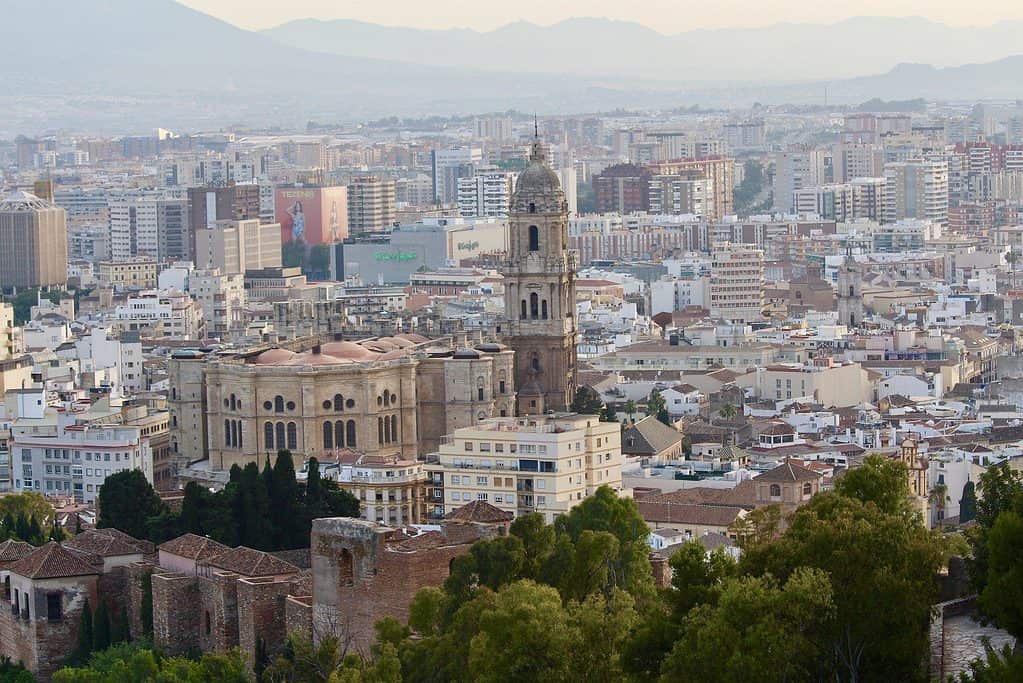 Malaga is a city popular for its beaches, food, and culture. Another thing this city is recognized for is Pablo Picasso. With its mix of natural and manmade attractions, Malaga is one of the most artistic locations in Spain. There are enchanting laneways and glittery plazas in the Old Town.
If you want to visit a nice European city for New Year's, Malaga it is. Celebrations take place all over the city during New Year's Eve. You can get involved in everything from free public celebrations to private parties.
People in Malaga have regional New Year's traditions. One of the most popular traditions is eating 12 grapes at midnight, one for each stroke of the clock, to bring good luck for the coming year.
Many also wear red underwear for good fortune and prosperity. To toast the new year, locals enjoy cava, a delicious Spanish sparkling wine. The city center comes alive with fireworks and street parties, making it a festive and exciting night to remember.
Visiting there in the last week of December gives you the opportunity to see the luminous Christmas lights. Plus, the city is surrounded by New Year's markets, ice-skating rinks that can be enjoyed with kids. Other attractions for kids include Automobile and Fashion Museum and the Interactive Music Museum.
Families staying for more than one day in Malaga can consider their stay at Ilunion Málaga. This hotel is in a central location, overlooks the sea, and has got impressive customer reviews.
Recommended by Paulina, Visit Southern Spain
12. Vilnius, Lithuania
Vilnius, the capital city of Lithuania, is an excellent choice for spending the New Year's Eve holiday. One of the main reasons for its popularity is the city's festive atmosphere.
With a variety of Christmas markets, ice skating rinks, and street performers, the city center is transformed into a winter wonderland. The New Year's Eve fireworks display at Cathedral Square, which draws a sizable crowd each year, is the festival's focal point.
Aside from the celebrations, Vilnius is known for its rich cultural legacy and its old town, which is a UNESCO World Heritage Site. Holiday activities and exhibitions are frequently held in the city's cathedrals, museums, and galleries, making it a great visit for cultural lovers.
Vilnius is a wonderful place to take kids over the holidays since there are so many family-friendly events including ice skating, puppet plays, and kid-friendly concerts.
Lithuania is also one of the most affordable European countries to live in, making Vilnius a great destination for travelers on a budget. When it comes to accommodations, there are plenty of options ranging from budget-friendly hostels to luxurious hotels.
A great suggestion for staying in Vilnius during the holiday season is the Hotel Pacai, located in the heart of the old town.
Recommended by Trijit Mallick, Budget Travel Buff
13. Dublin, Ireland
Dublin is a city that comes alive on the 31st of December, from bustling bustling bar crawls to full-on street parties that go on until the sun comes up on New Year's Day.
With so much happening around the Irish capital on New Year's Eve, it can be challenging where to spend your evening.
If you're a young adult looking to party, Bow Lane Social Club will be right up your alleyway, or maybe you have the kids with you; stroll through Grafton Street to enjoy the Christmas lights before heading to Cafe En Seine.
Once you've figured out how to spend your New Year's Eve in Dublin, you're going to need a hotel to stay.
There's no better place in the Irish capital on New Year than the Belvedere Hotel Parnell Square, boasting lavish rooms, exquisite designs and really affordable deals if you book far in advance.
Recommended by Adam, Where in Dublin
14. Zurich, Switzerland
One of the best European Cities to spend New Years in is Zürich. The city is known for being a pristine and luxurious city, making it the perfect place to see in the New Year.
There are lots of things to see in Zürich such as the Fraumünster or Grossmünster.
On top of the sights, Zürich offers lots of New Years celebrations. Despite not being the capital of Switzerland, it's in Zürich where the largest New Year's Eve Party is: Silvesterzauber.
It makes for the perfect place to end and start a year, especially with kids. It's more or less a Christmas market but for New Years. You can read more about the best cities in Switzerland to visit with kids here.
There are food stands and tents, bars and pop-up restaurants and lots of other things which add to the celebrations. Throughout the day there are also lots of activities in Zürich for New Years such as the festivities around the lake.
Of course, the best part about the occasion is the fireworks.
What's unique about Zürich's fireworks is that they start at 20 past midnight.
This is because there is a 15-minute slot on either side of midnight where the city's church bells ring to end the previous year and begin the new one. It's quite magical to witness.
There's something special about seeing in the New Year in Zürich, it's not like anywhere else at all! If you choose to visit, the best place to stay in is the Hotel Hirschen am See which would offer an incredible view of the celebration and fireworks.
Recommended by Josh, A Backpackers World
15. Munich, Germany
Munich is the perfect destination for families who want to celebrate the start of the new year in style. There are countless things to do in Munich, a family-friendly Bavarian city near the Alps.
Spend New Year's Eve morning and afternoon exploring the historic sights of the Altstadt (Old Town), taking a stroll through the English Garden and stopping to see the surfers at the Eisbach (yes, surfers!), ice skating at a pop-up outdoor ice rink in the city center.
Enjoy one of the many fantastic museums (the Deutsches Museum is a good one for kids), and sipping a hot Glühwein (adults) or hot chocolate (kids).
As the sun sets, grab a bite to eat at one of the many German or international restaurants downtown and choose where you want to view the informal fireworks displays that take place all over the city.
Marienplatz, one of Munich's main squares, is a popular viewing point, as are the less crowded English Garden and further away Olympiapark. As the clock strikes midnight, watch the sky explode in a dazzling array of colors and lights. It's truly an amazing sight.
For somewhere to stay, check out this hotel near the Old Town and the train station.
Recommended by Cate & Aaron, MyGermanyVacation.com
16. Stockholm, Sweden
Located on an archipelago of over 30,000 islands, Stockholm is a bustling European city and one of the most exciting to visit for New Year. As the capital of Sweden, Stockholm is home to a charming old town, vibrant city centre and full of authentic Scandinavian culture.
In Winter, Stockholm's city skyline transforms into a wintery wonderland as the Söderström River freezes and snow litters the city's many parks.
In the run up to New Year, the city is taken over by fun and festive events. The Royal Opera House hosts a classical New Years concert, while the New Year's poem is read by a Swedish celebrity every year at midnight in the Skansen Open Air Museum.
Opened in 1891, Skansen is the world's first open-air museum and makes for a great day out for all the family.
There are also plenty of indoor museums to choose from where you can escape the chilly air outside. The ABBA museum and Viking Museum are firm favourites, and The Vasa Museum is home to a preserved 17th century ship.
No visit to Stockholm in Winter is complete without ice skating in Kungstradgarden, one of Stockholm's most popular parks. As the clock strokes midnight on New Year's Eve, Stockholm's sky lights up in a dazzling display of fireworks.
One of the best ways to see the fireworks is on a New Year's cruise, which includes an extended dinner from the waters around Stockholm.
Recommended by Lucy and Dan, Thoroughly Travel
17. Prague, Czech Republic
Prague, the capital city of the Czech Republic, is a spectacular destination for visitors all year round. But during the New Year season, Prague becomes a magical wonderland that offers something for everyone, making it one of the best cities to visit for New Year!
What makes Prague with kids so special is its rich history, stunning architecture, and the festive atmosphere that takes over the city during the New Year's celebrations.
The city's charming Old Town Square, one of the best photo spots in Prague, transforms into a winter wonderland with twinkling lights, Christmas markets, and an enormous Christmas tree that adds to the festive ambiance.
During New Year's Eve, Prague hosts an array of events and parties, from concerts to fireworks displays. Many bars and restaurants organize parties and offer special menus to mark the occasion.
Visitors can also take a boat ride along the Vltava River and enjoy the panoramic view of the city's skyline and the fireworks show.
Prague is an excellent destination for families with kids, as the city offers many activities suitable for children. Kids can explore Prague Castle, the largest ancient castle in the world, and visit the famous Charles Bridge, where they can watch street performers and musicians.
Overall, Prague's New Year celebrations offer a unique and unforgettable experience for visitors of all ages, making it an ideal destination for anyone looking to welcome the new year in style.
Recommended by Alina, World of Lina
18. Vienna
The time leading up to Christmas and New Year is truly magical in Vienna. You can stroll through the beautiful Christmas markets in Vienna, get some punch and roasted chestnuts and marvel at the festive light displays. Discover the best christmas markets in Austria here.
Many of the markets transform from Christmas markets to New Year's markets in the last week of December, selling good luck charms for the new year instead of Christmas decorations.
The best thing to do in Vienna in December with kids is to go ice skating in front of the historic city hall. You can borrow ice skates there and skate in the ice rink in the heart of Vienna. The best way to warm up afterwards is with some hot tea or hot chocolate in one of the many Viennese coffee shops.
On New Year's Eve, everyone is outside on the streets in Vienna waiting for the famous bell "Pummerin" that rings at midnight. Afterwards, every radio station plays the famous Austrian waltz "The Blue Danube".
It's an Austrian tradition to dance a waltz first thing in the New Year. So, you might see people dancing after midnight no matter where they are. A truly unique way to celebrate the New Year.
The most famous hotel in Vienna is the Hotel Sacher, which is a true Viennese institution. If Hotel Sacher is a bit out of your price range Zoku Vienna is a cheaper choice which is highly rated and makes you feel right at home.
Recommended by by Tina, Veganderlust
19. Brussels
Brussels is a city that offers a unique experience for anyone looking to celebrate the New Year. The city's cultural diversity, rich history, and exceptional gastronomy make it an ideal destination.
One of the highlights of the New Year celebrations in Brussels is the spectacular fireworks display at the Place des Palais, in front of the Palace. Apart from the fireworks display, you can also explore the iconic Atomium, a remarkable landmark and a symbol of modern architecture. The Atomium offers breathtaking views of the city and an immersive experience.
Visiting the Brussels Christmas Market with kids is a must-do activity during the holiday season. The market features festive stalls selling handicrafts, decorations, and delicious Belgian treats. Kids can enjoy rides on the Ferris wheel or the merry-go-round, while adults can sip on some hot mulled wine and soak up the festive atmosphere.
Additionally, the city offers plenty of fun activities for kids. Families can visit the Comic Strip Museum, where they can explore the world of Belgian comics, and the fun and interactive Natural Sciences Museum with life-sized dinosaurs. Kids can also enjoy a chocolate workshop and learn about the art of chocolate-making.
For accommodation, you can stay at the luxurious 9Hotels Sablon, located at a historical square 5 minutes from Grand Place. This elegant hotel offers comfortable rooms and a small indoor pool.
In conclusion, Brussels is a perfect destination for those seeking a unique New Year experience. The city's cultural diversity, vibrant atmosphere, and exciting events, such as the fireworks at Place des Palais, the Atomium, the Christmas Market, and activities for kids, make it a must-visit destination for families.
Recommended by Jo, World Wild Schooling
20. Hamburg
One of the best European cities for New Years is Hamburg, Germany. With its fun attractions, historic museums, and amazing restaurants, Hamburg is a great place to visit any time of year. However, New Years is an especially fun time to visit.
Many restaurants, bars, and clubs will have special menus and parties where you can ring in the New Year. If you're traveling with kids or prefer a more budget-friendly alternative, you can head to the Port of Hamburg to watch the incredible fireworks display. They will be going off for hours past midnight!
While you're in Hamburg, you should also visit the many Christmas Markets around town. Some close before Christmas Day, but many are still open until after New Years. Make sure to also visit the main churches of Hamburg. They are all decorated beautifully and some offer holiday concerts.
For your New Years trip, consider staying at The Madison Hotel Hamburg. It's in a great location; within walking distance of many attractions (including the harbor) and public transportation stations.
Recommended by Vicky, Buddy The Traveling Monkey
21. Athens
Athens, the capital city of Greece, is an incredible destination to celebrate the New Year. With its rich history, distinct culture, and stunning views, Athens offers visitors a unique and exciting experience for families.
During New Year's Eve, the city comes alive with ecstatic energy as people gather to celebrate with music, fireworks, and traditional Greek cuisine. The iconic Acropolis and Parthenon are also beautifully lit at night, creating an atmosphere taken right out of a movie! This will be a special moment if you have children fascinated with ancient Greek history.
Syntagma Square and Stavros Niarchos Foundation Cultural Center (SNFCC) are two of the best places to ring in the new year. In addition to an impressive fireworks show, you'll be entertained with live performances by famous DJs and artists.
SNFCC is the perfect location for kids as it has an ice-skating rink and exciting shows by dancers, acrobats, and other live entertainers! Even better, along with Syntagma Square, it's free entry!
Moreover, tavernas are a great way to celebrate the holiday. Some of the most popular ones are Psara Taverna and Oinopoleion. You can also welcome the new year at a rooftop restaurant overlooking the Acropolis. As with most places worldwide for this holiday, contact venues in advance for availability.
Whether looking for something more laid back or exciting, Athens is a phenomenal place to enjoy New Year's in Greece.
Dryades & Orion Hotel is located in a quiet but fantastic location and features family rooms.
Recommended by Tamara, My Elated Odessey
22. Warsaw, Poland

Warsaw, Poland's capital, is a truly enchanting destination to celebrate New Year's Eve, Warsaw's Old Town, is dedicated to creating a festive atmosphere. Streets are adorned with twinkling lights.
On New Year's Eve, the city comes alive with an array of events, including street parties, live music, and fireworks displays that can be enjoyed by families visiting the city.
If families happen to be in Warsaw the last week of December, it is a great time to explore kid-friendly attractions such as the Copernicus Science Centre, the Warsaw Zoo, and the Royal Łazienki Park, which is transformed into a winter wonderland complete with ice-skating rinks.
In terms of accommodations, the Novotel Warszawa Centrum is an excellent choice for families. The hotel has amazing city views as it is centrally located, and it offers spacious rooms and a play area for children.
Whether this is the final destination or a stopover before continuing travel, Warsaw really does promise an unforgettable experience for families ringing in the new year. When in Warsaw, make sure you read our guide to the best theme parks in Poland.
Recommended by Diana, Travels in Poland
23. Amsterdam
Amsterdam is a wonderful city to ring in the new year in. You'll have the chance to observe and take part in local Dutch traditions for the holiday, and you'll get to experience this beautiful city during the winter months, when it's a little less crowded than high season. Check into Eden Hotel Amsterdam for a great stay in a good location, and for a reasonable price.
A New Year's Eve celebration in The Netherlands isn't complete without eating "oliebollen." Oliebollen actually translates to 'oil balls,' because they are dough balls that get fried in oil. They're basically donut balls!
Across The Netherlands, it's tradition to eat oliebollen at midnight to celebrate the new year's arrival.
Of course, if you're ringing in the new year with young kids, you can enjoy your delicious Dutch donuts earlier in the evening. You'll find oliebollen sold at street vendors throughout the city.
Another way to spend New Year's Eve in Amsterdam is to wander the city center's old streets, along the canals. You can enjoy the Amsterdam Light Festival, which lights up the streets, and watch as locals set off fireworks from the city's bridges. You'll also notice local homes put up DIY light displays for New Year's Eve!
On January 1st, watch the annual New Year Swim. This New Year's Day event attracts brave swimmers to ring in the new year with an icy dip in the North Sea.
You can watch the dip at Amsterdam Beach (Zandvoort aan Zee), just half an hour west of Amsterdam. Enjoy a hot mug of coffee or tea as you watch thousands of daring people run into the sea together.
Recommended by Erin, Pina Travels
24. Milan, Italy
Milan, the bustling city in northern Italy, is an excellent destination for families looking to spend their New Year with their kids.
One of the most exciting things about visiting Milan during this time is the festive atmosphere that permeates the city. As Milan is known to be the fashion capital of the world, you will find some unique Christmas trees by fashion brands. There are also many Christmas markets to visit for delicious treats and unique gifts.
As family is an important part of Italian culture, the city is very family-friendly and an amazing destination to visit with your kids.
The Duomo, Milan's most iconic landmark, is a great place to visit. The piazza is illuminated with lights and bustling with people wanting to soak in the holidays. There is a big Christmas market adjacent to the Duomo where you can find treats and gifts.
On New Year's Eve, families can take their kids to one of the many street events organized in Milan's city center. The streets come alive with live entertainment, celebrations, and food vendors offering traditional Italian treats. Fireworks have been restricted in recent times, but you may catch a glimpse of some in the night sky.
I would suggest staying at the Rosa Grand Hotel. It is within walking distance of the Duomo, many restaurants, and shopping.
Recommended by Rehana, Rehana Mahomed
Map of The Best European Cities for New Years
FAQs: Best European City for New Years
Where is the best place in Europe for New Years?
Some of the top destinations in Europe for New Year's Eve celebrations include London, Paris, Berlin, Vienna, Amsterdam, Barcelona, and Reykjavik. Each of these cities offers unique festivities, including spectacular fireworks displays, lively street parties, cultural events, and traditional festivities. Ultimately, the best place in Europe for New Year's depends on factors such as personal preferences, budget, travel style, and interests.
Which city has the best fireworks on New Years?
Some European cities that are renowned for their impressive fireworks displays on New Year's Eve include London, Paris, Berlin, Vienna, and Copenhagen. However, it's subjective and depends on personal preference.
What country is good for New Years?
Some of Europe's best countries to celebrate New Year's include the United Kingdom, France, Germany, Austria, the Netherlands, Spain, and Iceland. Each of these countries offers a unique cultural experience, with various festivities, traditions, and celebrations. For instance, the UK is famous for its spectacular fireworks display over the River Thames in London, while France has its traditional New Year's Eve feast and the impressive fireworks display at the Eiffel Tower.
Discover The Best of Europe
Best Theme parks in Europe for Families
Best Water Parks in Europe for Families
The Best Theme Parks in Ireland
Best Cities for Shopping in Europe
Homepage >>>
Sylvie Simpson is the founder of European Cities with Kids. For the past 6 years, she has been travelling all over Europe whenever she has the chance, both solo, for work and with her daughter. Sylvie is on a mission to help people make the most of city breaks in Europe with kids and helps over 50,000 readers per month plan and make the most of their trips in Europe with kids.