What is Paris famous for? Paris, the French capital city, is famous for many things – its food, its fashion, its art, and of course, the Eiffel Tower. But Paris is also a great destination for families with kids. There are plenty of kid-friendly attractions to keep them entertained, from boat rides on the Seine to visits to the Louvre and Notre Dame. Of course, no trip to Paris would be complete without a stop at the top of the Eiffel Tower to see the city from above. If you're looking for a family-friendly destination that is one of the best cities to visit in Europe, Paris is worth considering.
This post may contain affiliate links, which means I may receive a commission, at no extra cost to you if you make a purchase through a link. Please see my full disclosure for further information.
#1 What is Paris Famous for? The Eiffel tower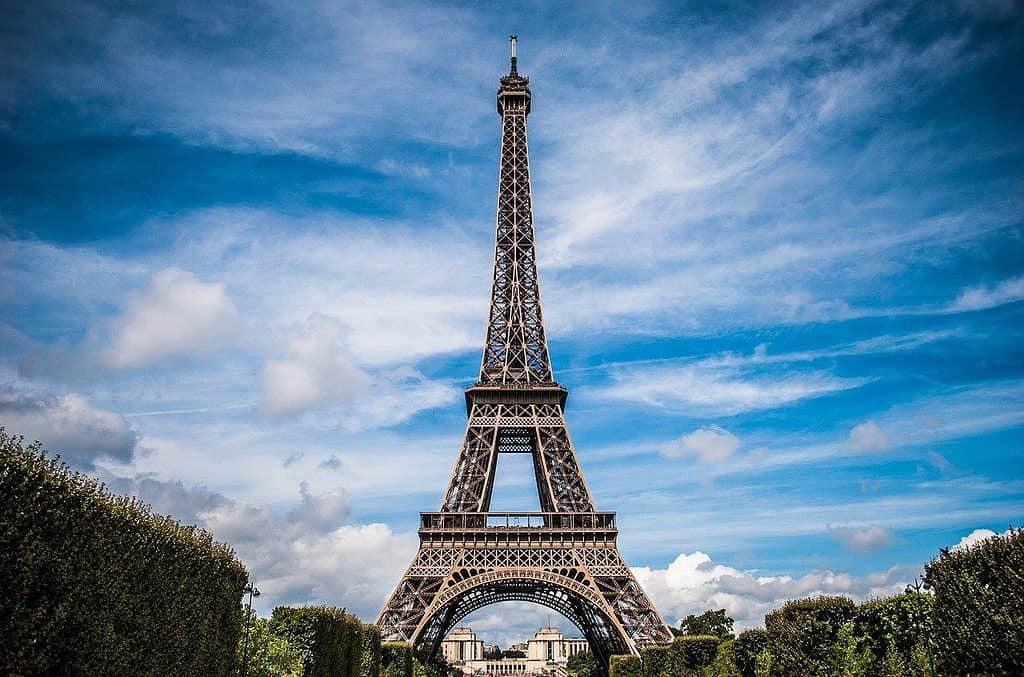 When you think of famous structures in Europe, this tower – the most-visited paid monument in the world – is top of the list! It's one of the most famous landmarks in Europe and the most iconic of the landmarks in Paris – a must-visit if you are visiting Paris for the first time.
Some of the best landmarks in France are in Paris, but the tower is definitely top of the list! There are two restaurants in the tower, and on top of that, there are fantastic views of the whole of Paris. Be warned, though – there can be long queues to keep this in mind if travelling with kids!
#2 Disneyland
Disney Land in Paris is one of the best theme parks in Europe. It's literally "city within a city" is a replica of the famous US Disneyland and the best theme park in France. Disneyland cannot be compared to any other European amusement park.
There is no way to get around in a day all this state of continuous fun and carefree pastime. The park is located in the north of Paris and covers an area of 200 hectares – this is approximately 20% of the area of Paris.
It includes two theme parks, a hotel complex of six hotels, a Disney village ("village" with shops, cafes, and restaurants), camping, lakes, an ice rink, a golf course, and several swimming pools. To fully enjoy the beautiful Disney World, France, you need to set aside at least 2-3 days in your schedule.
#3 Notre Dame de Paris
The people of France are passionate about their food, fashion, and art and fiercely proud of their architectural landmarks. 
Notre Dame Cathedral is one of the most famous works of French Gothic architecture. It was begun in 1163 but wasn't completed until 1345. It is located in the Île de la Cité, in the 4th arrondissement of Paris. 
The cathedral has two towers, each with 10 bells. The west front of the cathedral has three huge doorways, each decorated with statues of Biblical figures.
#4 The Louvre Museum
The Louvre is a must-see. As the world's largest art museum and one of the most famous landmarks in Europe, it houses an incredible collection of paintings, sculptures, and antiquities from around the globe. With more than 9 million visitors each year, it's clear that the Louvre is one of the most popular tourist attractions in the world.
#5 Fun and History
Paris is famous for its monuments, and one of the most popular is the Arc de Triomphe. Built in 1806 to celebrate Napoleon's military victories, the Arc de Triomphe is an iconic symbol of the city. Visitors love to take photos in front of it, and kids love to see it up close.
Some popular kid-friendly places in Paris include Disneyland Paris, the Jardin d'Acclimatation amusement park, and the Cite des Enfants children's museum. The city also has many parks and gardens where kids can run and play.
#6 Moulin Rouge
The Moulin Rouge is a famous French landmark and one of Paris's most popular tourist attractions. The original Moulin Rouge was built in 1889 and was destroyed by fire in 1915.
It was rebuilt in 1921 and has been operating ever since.
The Moulin Rouge is best known for its dancers wearing iconic red dresses and performing the can-can. The Moulin Rouge also features live music and other entertainment, making it a popular destination for nightlife in Paris.
#7 Versailles Palace
If you're looking for a famous French castle, look no further than the Palace of Versailles. This stunning palace was once the home of the French kings and French royals, and it's now one of the most popular tourist destinations in the country.
The Palace of Versailles is famous for its opulent design, and it's definitely worth a visit if you're in the area. Just be sure to wear comfortable shoes, because there's a lot of ground to cover!
#8 Art And Painters
From the Louvre to Versailles, Paris is a city brimming with art. The most famous painting in France may be none other than Mona Lisa painting – commissioned by King Louis XIV and finally completed after more than 20 years after Leonardo da Vinci's original sketch!
This iconic piece has been examined thoroughly both academically and through popular culture; everyone from determining what she might be doing at her desk (writing?) or if it's even humanly possible for someone so beautiful not to have some kind of hidden agenda.
#9 What is Paris Famous for? The Seine River
The Seine River is one of the most famous landmarks in Paris. Stretching through the heart of the city, it has been a source of inspiration for writers, artists, and romantics for centuries.
Taking a boat ride along the river is a great way to see some of Paris' famous sights, including the Eiffel Tower, Notre Dame Cathedral, and the Louvre. If you're travelling with kids, they'll love getting up close to these famous landmarks.
If you're lucky enough to be in Paris during the summer, you can dip in one of the many public pools set up along the river.
#10 Fashion
Paris is often said to be the world's fashion capital, and it's not hard to see why. The city is home to some of the most iconic fashion houses, including Chanel, Dior, and Louis Vuitton.
If you're looking for the latest trends, you'll find them on the streets of Paris, where fashionistas flaunt the latest designs from brands like Saint Laurent and Givenchy. But it's not just clothing that makes Paris a fashion powerhouse – the city is also known for its fine perfumes.
Some of the most popular French perfume brands, such as Lancôme and Guerlain, have their flagship stores in Paris.
#11 Paris – The City of Love
Paris is often referred to as the city of love, and it's not hard to see why. The French have a reputation for being romantic, and the city itself is incredibly beautiful. From the stunning architecture to the picturesque parks, there's no shortage of things to love about Paris.
Plan Your Trip to Paris – Discover the airports and best airlines >>
Discover France
Searching for family beaches in France? France is known for its stunning Eiffel Tower and delicious food It offers countless family holiday destinations that include a good mix of culture, beautiful cities, picturesque towns, charming villages, all-around stunning scenery, and delicious food. Here are the best family beaches in France so you can plan the…

Looking for the most beautiful cities in France? France is one of the most beautiful countries in the world to visit and the perfect choice of destination for anyone with kids in tow. France is famous for its stunning sights to natural landscapes, delicious cuisine, and rich architectural heritage. visiting France with kids is a…

The great Christmas markets in France are one of the best places you and your family can visit during the festive season. France is home to some of the best Christmas markets in the world, with Christmas markets dotted all over the country. France Christmas markets are a winter wonderland filled with festive treats, local crafts, and…
You May Also Like
Sylvie Simpson is the founder of European Cities with Kids. For the past 6 years, she has been travelling all over Europe whenever she has the chance, both solo, for work and with her daughter. Sylvie is on a mission to help people make the most of city breaks in Europe with kids and helps over 50,000 readers per month plan and make the most of their trips in Europe with kids.