Looking for the most beautiful cities in France? France is one of the most beautiful countries in the world to visit and the perfect choice of destination for anyone with kids in tow.
France is famous for its stunning sights to natural landscapes, delicious cuisine, and rich architectural heritage. visiting France with kids is a must-do.
Here are the most beautiful cities in France, plus tips on making the most out of visiting the most beautiful French cities with kids.
This post may contain affiliate links, which means I may receive a commission, at no extra cost to you if you make a purchase through a link. Please see my full disclosure for further information.
The Most Beautiful Cities in France Map
1. Colmar
France is full of beautiful cities with amazing food and history that goes back centuries but if you are looking for complete perfection you must visit Colmar.
Colmar is a city on top of many people's bucket lists for Christmas markets but there is so much more to Colmar.
The city comes alive in the winter with all the small village squares filled to the brim with people celebrating the festive season enjoying all the markets and food that go hand in hand with them.
But what makes Colmar one of the most beautiful cities in France?
Many people will put it down to the fairytale, colourful houses that line the streets. These houses make many an Instagram post and calendars are sold with them on it. How have they managed to stay so strong and last such a long time made from timber? Wandering the cobblestone streets to see them is also a wonder. Tiny streets lead to some magnificent hidden gems that sell the most amazing Alsacian cuisine.
The canals that weave their way through the town are not only a gorgeous added aspect to the city but another way to see the town. You can glide along them and get a perspective of the city you normally would not get. The Little Venice area is very popular with tourists to get all of the perfect pictures they can on their visit to Colmar.
Some people will tell you that the food makes the town a great family adventure too. With a mix of French and German cuisines, you can't go wrong with a good hearty meal.
Best Things to do in Colmar with Kids
Things to do in Colmar with kids:
Little Venice Area
Tourist Train in Colmar
Gondola ride of the canals
Market hall of Colmar for a quick meal
Christmas Market (if visiting in winter)
Where to Stay in Colmar with Kids
You can find many good Air BnB's just out of the city centre but if you are looking for a hotel in the centre the Colmar Hotel has family rooms available.
Recommended by Bec from Wyld Family Travel
2. Bordeaux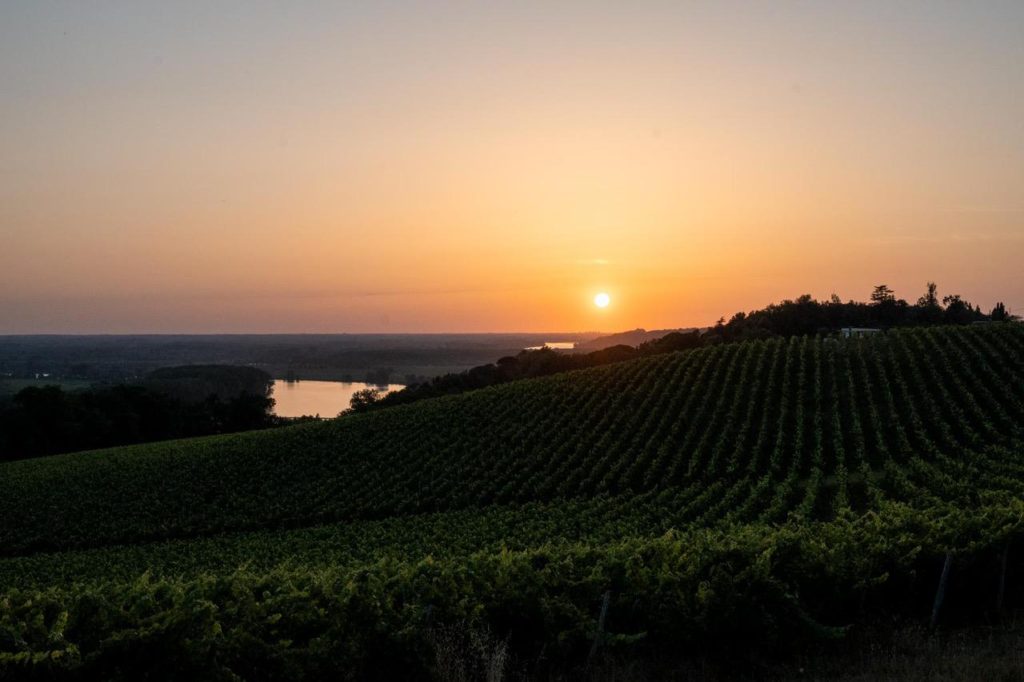 Bordeaux is a beautiful city located close to the western coast of France. It's far less popular with tourists than larger cities like Paris or Lyon and an underrated place to explore with your family. Bordeaux is very walkable with a lot of attractions located close together.
The city is known for its delicious cuisine, including sweet treats like the iconic canele, which are little cakes. The river walk is an especially beautiful spot and perfect for a picnic with kids.
No trip to Bordeaux is complete without a day trip to the countryside to the vineyards and nearby villages. 
Saint Emilion is one of the most famous and known for its world-class wine. Of course, you can come here for fancy wine tastings, but even if you're travelling with kids and not interested in expensive wine, you should definitely come here for an afternoon.
The village is incredibly beautiful with little shops you can explore and stunning historic buildings. One of the best activities is to ride the little tourist train that takes you around the vineyards to see different chateaux.
You can either get off and explore the beautiful buildings or stay on and see the vineyards pass you by.
Recommended by Victoria, Guide Your Travel
3. Metz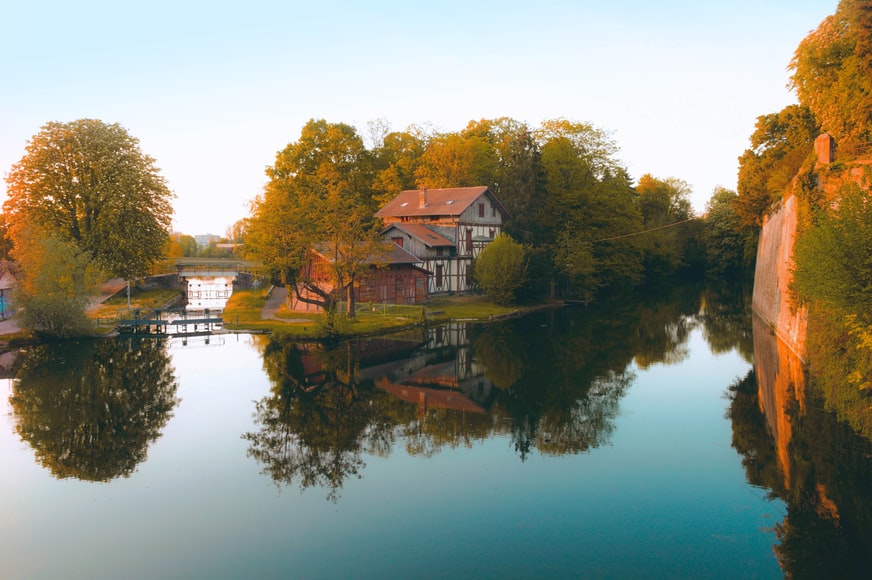 France has lots of beautiful landscapes like the beautiful beaches in Corsica. But it also has beautiful cities, and that includes the city of Metz.
Metz is a French city located in the east of France, 50 kilometres away from the German border and about 4 hours from Paris. It is famous in France for its beauty and historical relics and because its train station was elected the most beautiful train station in France several years in a row.
Best Things to do in Metz with Kids
The Cour d'Or Museum takes you back in history with treasures and medieval painted ceilings at the Gallo-roman time. The museum organises games and craft activities based on history for kids.
The "Jardin des Cinq Sens" (the Garden of the five senses) is an aromatic and vegetable garden with a playground for kids. It is surrounded by the Grand Séminaire, which is built in a baroque revival style.
The "Porte des Allemands" (the German's gate) is a relic of the city's medieval fortifications. It has two round towers and two gun bastions. The tour takes you along the ramparts. The office of tourism set up a scavenger hunt on the medieval fortifications in the city. Kids are given a booklet with enigmas to solve as they learn about the history of the gate. It's a playful activity that will teach them lots!
Whether you come to see an exhibition or just check out the mushroom-shaped building, the Pompidou museum is definitely an art museum you will want to check out with kids. The museum organises workshops that are open to all ages.
The Saint-Etienne Cathedral is one of the most beautiful Cathedrals in France. No matter the age of your kids, they will be blown away by how majestic the Cathedral is! Make sure to have them look up and search for gargoyles.
A great area to stay in is the city centre around the Cathedral and by the Moselle river.
Metz is a great city to visit with kids.
Recommended by Mary, Be Right Back by Mary
4. Paris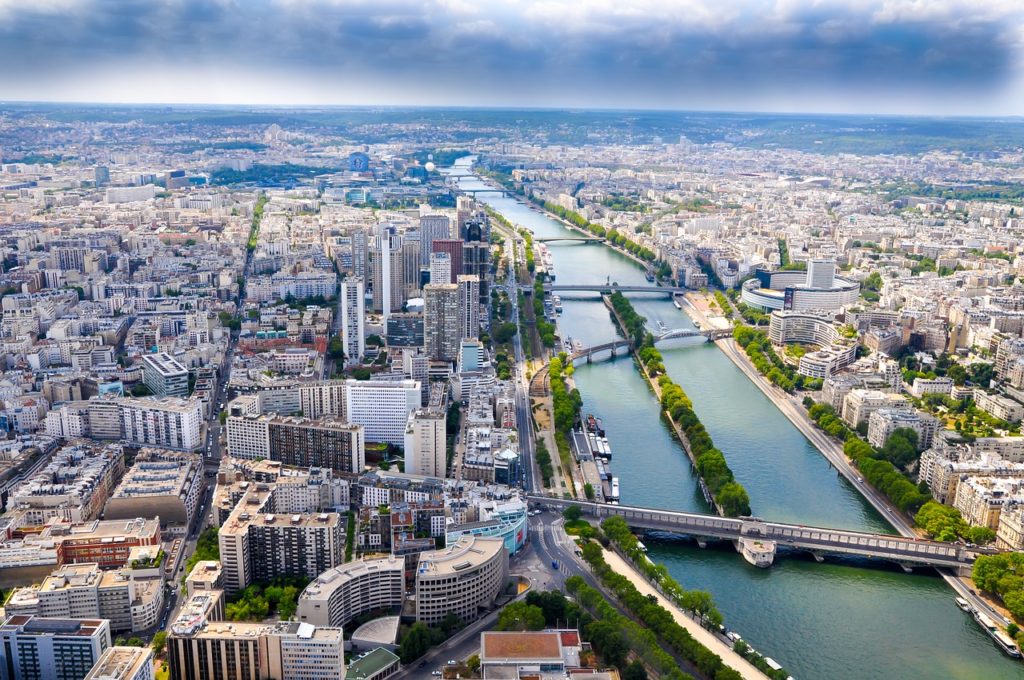 One of the prettiest cities in France that is great to visit as a family is the famous city of Paris. Paris is recognized worldwide because of its ample famous landmarks, culture, hidden gems and other things to do.
Probably the most famous sight in the city is the Eiffel Tower, and seeing it and going to the top is a lot of fun! Also, during winter, you can go ice skating in front of the Eiffel Tower.
Besides that, the Arc de Triomphe and the Notre-Dame cathedral are great to see when you are going to Paris, and you should not miss out on the Louvre museum and the area of Montmartre.
Another lovely thing about the city is that there are many cute cafes in Paris where you can sit down and relax. Also, what's great is that it is very easy to go from one sight to the next.
Many areas in the city are very walkable, and public transport in the city is great, which is very convenient when visiting Paris with kids.
Make sure you spend at least 2 days in Paris to sell all the major sights and longer if you want to visit attractions and learn about French culture.
Things to do in Paris with Kids
Best Things to do in Paris with Kids
Going to the top of the Eiffel Tower
Visiting Disneyland Paris
Taking part in Easter egg hunts throughout the city during Easter
Seeing the moving Christmas window displays at the department store Galeries Lafayette
Riding the carousel in front of the Sacre-Coeur
Staying in or near the 1st arrondissement of Paris is best with kids as many of the sights are near this area. You should also consider staying near the Eiffel Tower.
Recommended by Dymphe, Dymabroad
5. Nantes
It was whilst we were travelling France in our motorhome that we first discovered Nantes.
Some fellow nomads had told us of a magnificent giant robotic elephant that you can visit and ride in Nantes. This certainly sounded like a good enough reason to visit, but with an elephant-obsessed nine-year-old daughter, it had to go on the travel itinerary.
The city of Nantes is located on the Atlantic coast of France, with the river Loire passing through the centre, and immediately on arrival, you can sense the hustle and bustle of this thriving cosmopolitan city.
We had barely parked the motorhome before we found ourselves making a beeline for Les Machines, which is in the centre of Nantes and very easily accessible by the cities excellent tram network.
Each family member was thrilled by the enchanting array of robotic creatures that we saw, with the pinnacle, of course, being meeting and taking a 30-minute ride on the enormous elephant as he squirted water from his trunk over the waiting crowds!
Nantes has a relaxed but focused vibe, a busy city with so much to offer its visitors. From stunning architecture, educational museums and very friendly locals to delicious and varied French cuisine. Nantes is a family-friendly gem.
Recommended by Vikki, Family Travel with Ellie
6. Marseille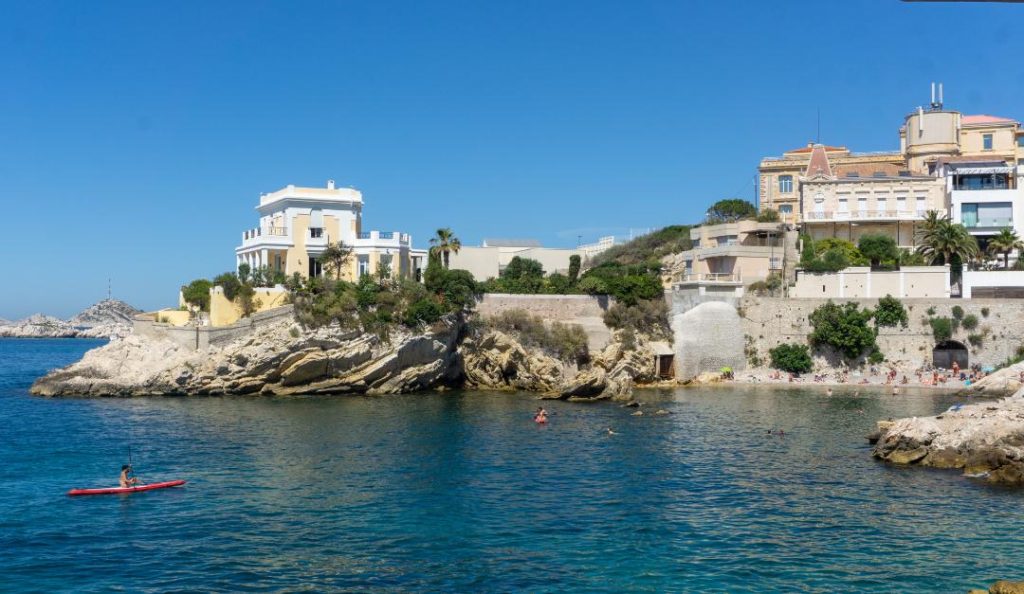 The Southern city of Marseille hasn't always been heralded as one of the most beautiful cities of France; in fact, until recently, its reputation was for slightly less admirable traits.
But the recent regeneration has sought to change this, and it's an excellent place to seek out a more authentic side of France, one that you won't find in the more gentrified French cities.
The Vieux Port is the ideal place to start your visit, with a trip to the ultra-modern MuCEM (which has kid-friendly exhibitions) and a walk around the ancient walls of Fort Saint-Jean. T
he old port is also home to the city's bustling fish market, and the charming Le Panier district is close by. A walk along the stunning waterfront promenade is sure to cement the city's place in a list of the most beautiful cities in France. 
Best Things to do in Marseille with Kids
If visiting with kids, be sure to include the following Marseille attractions on your itinerary
A swim at any of the family-friendly beaches
Visit the Natural History Museum and observatory at Palace Longchamp
Take a ride on the grand Ferris wheel in the Vieux Port.
A ride on the petit train to the majestic Basilica Notre-Dame de la Garde.
Take a ferry to the famous Chateau d'If and the Frioul Islands.
For a family-friendly place to stay, look no further than the Radisson Blu Hotel Marseille Vieux Port, which is ideally located for exploring.
Recommended by Nadine, Le Long Weekend
7. Annecy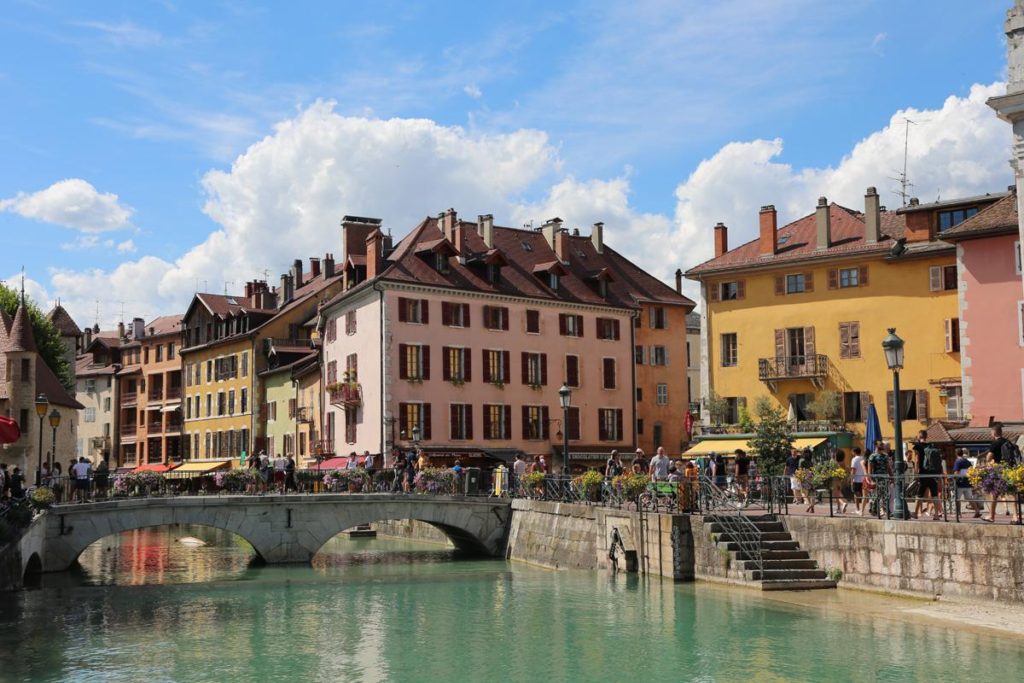 The Alpine city of Annecy is one of the most beautiful cities in France.
Annecy is located in Eastern France, by the lake of the same name, and surrounded by snowcapped mountains. The city is well known for its picturesque architecture, pretty cobbled streets crisscrossed by canals, and great local food and wine.
Annecy is a walkable city, and it is possible to visit in one or two days. We recommend staying in the Old Town to soak up its particular atmosphere. The area close to the train station is also an excellent place to stay, a mere 10-minute walk to the Old Town and slightly cheaper hotels.
Best Things to do in Annecy with Kids
The list of best things to do in Annecy includes:
A stroll around the Old Town,
The castle,
The cathedral,
A picnic in the area known as Le Pâquier
Savoy cheese and wine tasting
Of course, there are also boat tours and other water activities in Lake
Annecy, and you can also rent a bike to explore the towns around the lake.
How to Get to Annecy
Annecy is easy to reach from Paris or Lyon by train. Many people like to combine Annecy with Chamonix and other Alpine towns in a French Alps road trip. Due to its proximity to Switzerland, others prefer o visit Annecy on a day tour from Geneva.
Recommended by Elisa, France Bucket List
8. Lille
If you're looking for the best cities in France, then you can't go wrong with a trip to Lille. Located in the Northern part of the country, very close to the Belgium border, the French and Flemish architecture makes this a stunning and unique city.
Lille is the capital of the Hauts-de-France region and has existed under Flemish, Spanish and French rule.
This rich history is reflected in the buildings resulting in a vibrant and exciting place to visit. 
The city is known for its amazing food with local delicacies such as La Carbonnade Flamande, a rich beef stew and Le Welsh, a gooey mix of bread, ham and melted cheese.
Lille is easy to get to as it is on the Eurostar route from London. If you're driving to France, then it's around an hour from the major ferry ports.
Best Things to do in Lille with Kids
Lille is incredibly family-friendly, with plenty to keep all ages entertained. Top attractions for visiting with a family are:
Lille Zoo
The Natural History Museum
The tower at Lille Town Hall
The play area at Parc Jean-Baptiste Lebas
La Piscine, a museum in a beautiful art deco swimming pool.
Where to Stay in Lille
For a luxury stay in the city book into L'Hermitage Gantois which has family-sized rooms and a swimming pool.
Recommended by Karen, Are We There Yet Kids
9. Avignon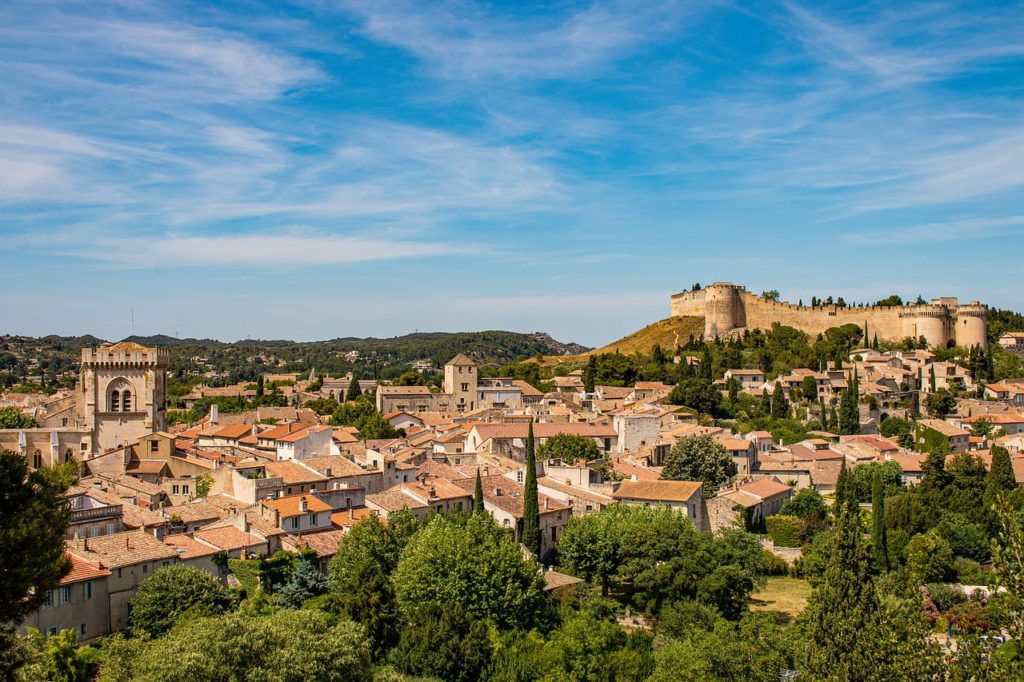 Avignon is a small and charming town in the south of France, Provance region. Due to its rich history, it is listed as UNESCO World Heritage Site. The most important period was in the 14th century when Pope moved from Rome here.
Now we can find here Le Palais des Papes (pope's palace) with many sculptures and paintings. It is considered the biggest Gothic palace in the world.
Second place no tourist should miss is Pont Saint-Bénézet (Pont d'Avignon). This is just a half of the bridge on river Rhone, built first time in the 12th century and since many times destroyed by the river.
If you travel with kids best option would be to rent an apartment over AirBnB where you can cook and prepare snacks for kids. They would enjoy doing these things there:
Best Things to do in Avignon with Kids
Riding on Petit train with a touristic guide (running 10h-18h): Price Adult: 9.50 € Child: 6 €. Free entry for children < 4 years).
Visit natural history museum Museum Requien with free entrance.
Walk in park Rocher des Doms.
Ferris Wheel with beautiful views, price 5 €.
Eat Les papalines d'Avignon – oregano dessert.
Recommended by Džangir, Dr Jam Travels
10. Albi
Albi is one of the most beautiful cities in France to visit with family. Situated in the foothills of the Pyrenees, on the river Tarn this city has a lot to offer when it comes to sightseeing.
Among the main attractions are the Basilica of Saint Cecilia, with its beautiful rose window and bell tower, the Toulouse-Lautrec museum, a museum of French history and a large collection of paintings. Albi and its medieval architecture is listed as a Unesco Site
Best Things to do in Albi with Kids
Explore the picturesque medieval cobblestone streets of Albi.
Visit in Basilica os Saint Cecilia.
Toulouse-Lautrec museum and kids workshop.
Albi is to go for a hike along River Tarn – one of the most beautiful rivers in France.
Explore Les Jardins de la Berbie
A great place to stay in Albi while with family is Gîte De briques et de bois Albi Tarn Occitanie.
Recommended by Ania, Travelling Twins
11. Aix En Provence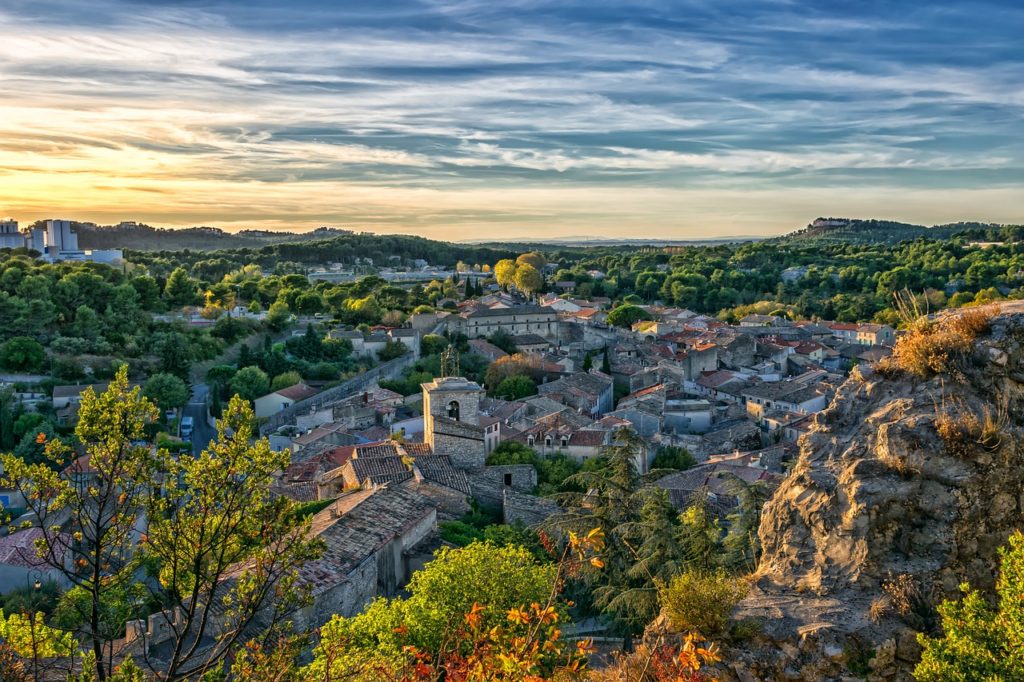 Taking on many enchanting nicknames over the centuries, Aix-en-Provence can be found in the Provence-Alpes-Côte d'Azur region of southern France. Once the seat of aristocracy in Provence, the charming streets are lined with lavish Provencal palaces and manicured trees.
The most famous nickname "City of a Thousand Fountains" best describes the elegant stone fountains you'll discover on every corner, making Aix-en-Provence one of the most beautiful cities to visit in France with your family. 
Best Things to do in Provence with Kids
Lay out a picnic blanket, bring a frisbee and hang out in the picturesque Le Terrain des Peintres Park (Painter's Park), named after the famous Provencal painter, Paul Cezanne.
Book a cooking class with Chef Clement to discover Provencal cuisine or create french macarons with your kids.
Stroll the iconic Cours Mirabeau, a charming street lined with Provencal homes and beautiful lights.
Visit the Musee du Calisson, where guests are taken through the process of making the local delicacy, the Calisson, a diamond-shaped sweet made from almonds and candied melons, covered in icing. Afterwards, peruse the yummy selection of treats at the Confiserie du Roy Rene.
Take your kids on a customized day trip with Simon Says Provence Tours.
Make sure to stay in the center of the city in the area around the Place d'Albertas to discover everything this city has to offer.
Recommended by Haley of Haley Blackall Travels
12. Strasbourg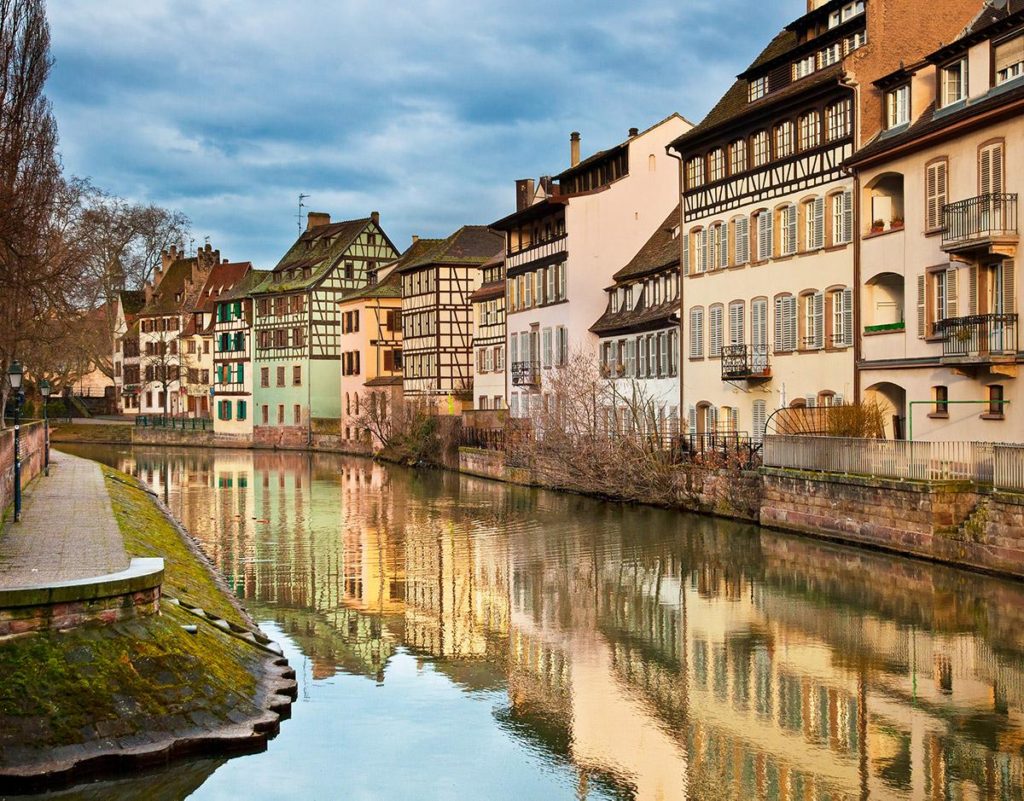 Strasbourg is widely renowned as one of the most beautiful cities in France. Situated on the border between France and Germany, it's a wonderful mix of small streets, canals, cafes and boulangeries. It's also got a great mix of cultures, including many churches and one of France's largest mosques.
Kids will love visiting La Petite France, a part of the city which is full of canals and older wooden buildings. It's as picture perfect as you can get.
It's possible to hire bicycles at several places around the city in order to explore or, if you're travelling with older kids, why not hire motorbikes or scooters and go motorcycling in France– it's the perfect area to do that. 
Things to do in Strasbourg with Kids
As well as La Petite France, kids will love:
Parc de l'Orangerie-; a huge park filled with lakes and grass areas. It's great for a picnic and a run around to burn off some steam. There's also a zoo, mini farm and a vintage car track.
The vaisseau- science museum dedicated to kids aged 3-18. They'll love all the experiments and things they can do.
Boat ride down the river. It's the perfect way to see the city without walking too far.
Place Gutenberg – with one of the coolest merry-go-rounds I've ever seen.
Strasbourg Pass City trail. When you buy a Stras Bourg Pass junior, you'll get one of these great trail maps, asking them questions on what they can find around the city. They'll love it.
There are plenty of places to stay around the city, including the usual Best Westerns and Ibis, but if you want to stay somewhere spectacular, stay at the Chateau de Pourtales just outside. Some of the most famous people in the world have slept beneath its roof.
Recommended by Kat from Biker Girl Life
13. Biarritz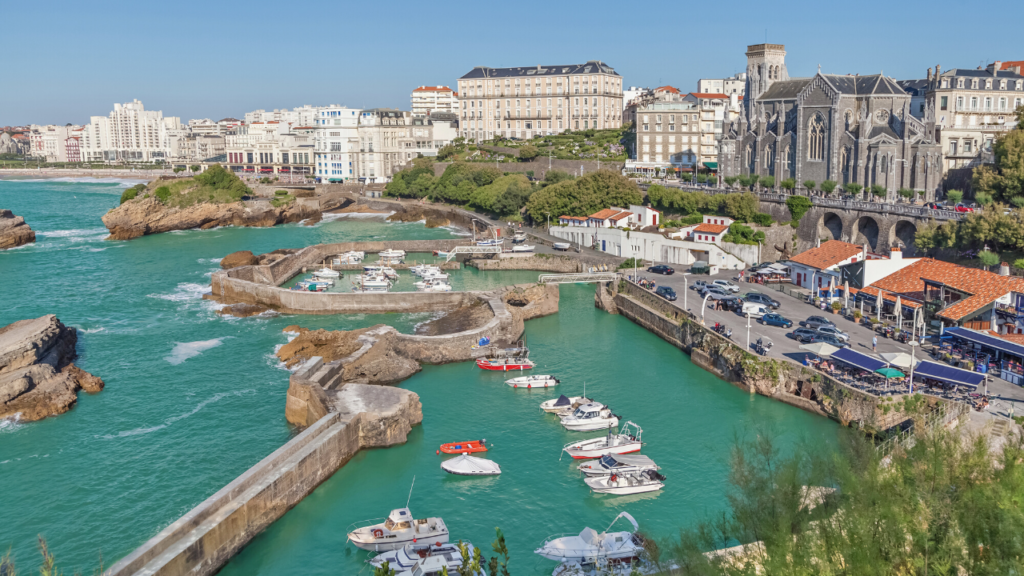 There's a reason Biarritz is one of the most famous and most visited cities in France. The location is stunning, there's loads to do and it's CRAMMED full of delicious places to eat and drink.
Biarritz has a wonderfully laid-back, eclectic atmosphere and is a favourite destination for both the wealthy who want to see and be seen, and the surfers who want to spend as much time enjoying the great waves as possible.
The city was made famous when Napoleon III's wife, Eugénie de Montijo made it part of the royal circuit. Even now it's full of posh hotels, large villas and expensive restaurants.
One of the most famous places to stay is the Hotel du Palais, the former palace of Eugénie. If you feel like treating yourself, you can enjoy two swimming pools, a spa and a restaurant with spectacular views over the ocean. 
There are plenty of other hotels in the area, many with secure parking for your vehicle. If you're motorhoming in France, there are some wonderful campsites with views over the ocean.
Things to do in Biarritz with kids
For kids, the area is all about the beaches.
La Grande Plage is the largest beach and is sandy and close to plenty of toilets and ice cream shops. There are surf schools and rental places along the coastline.
Nearby Cote des Basques beach is the most popular surfing beach in the area. Please take care if swimming in the area; not only are there a lot of surfers but the currents and rip tides along this Atlantic coast are notoriously strong and can pull any inflatable dinghies or boards out to see very quickly.
Don't miss the Biarritz Aquarium– one of the best in the area and sure to be a firm favourite with kids and adults of all ages. It's also a great plan for a rainy day
Near the aquarium is Rocher de la Vierge, well worth a walk, even on a stormy day (although you might get wet) The views are spectacular and just around the corner you'll find Biarritz harbour to explore.
If you'd like to see the city but don't want to wrangle tired children, get on the Petit Train. You can pay for a variety of routes and also pay to get a headset for commentary. It is SLOW (you'll find walking quicker… unless you're pulling a toddler.
Recommended by Kat from Wandering Bird
14. Grasse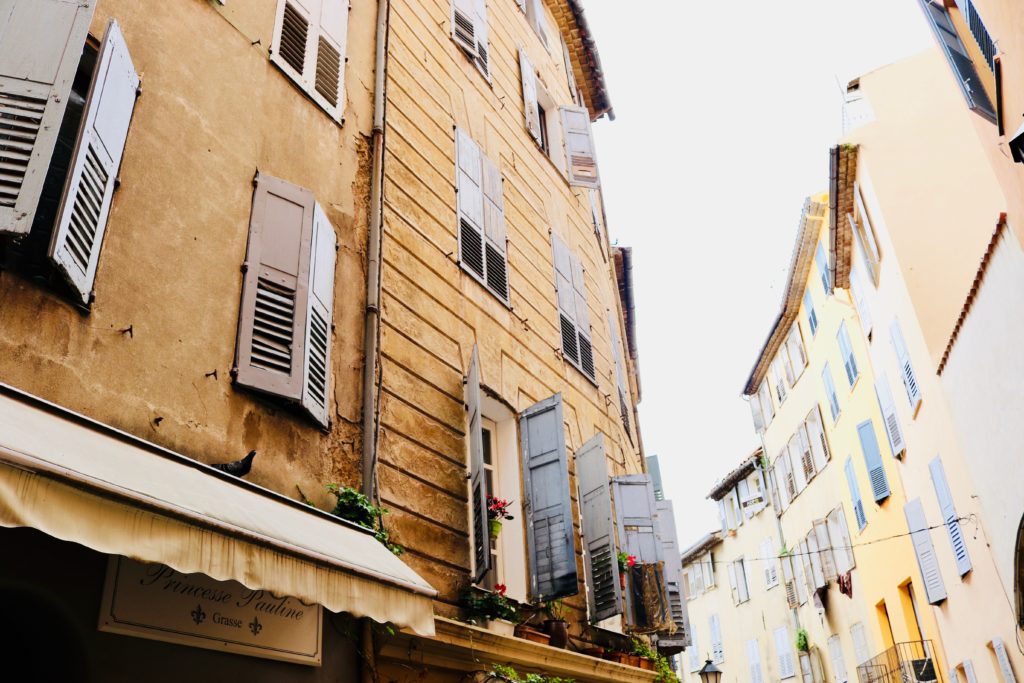 Grasse is one of the most beautiful cities in France. It is home to the world's best perfume ingredients thanks to its gardens lush with fragrant perfume-making plants. Unveil the history of its perfume making in its Perfume Museum, located in the downtown area.
Note that large perfume-makers such as Fragonard, Mollinard, and Gallimard arrange for walking tours.
Famous as it is for its all things pleasant-smelling it is also home to a number of historical landmarks such as a former Catholic cathedral in the town centre housing paintings by the likes of Rubens, which makes Grasse one of the most famous towns of France.
Head to Grasse, one of the best towns in Provence, to immerse in its atmosphere redolent of what makes towns of France so luring and hospitable.
What to do in Grasse with kids
One of the best things to do in Grasse, one of the most beautiful towns in France, is to take a tour of its perfumeries and visit its stunning Perfume Museum. Also, take a walk to the old Catholic cathedral in its downtown and check out its marvellous pieces of art. Other things include:
Take part in the Workshop & Factory visit in Grasse
Take a tour of the Grasse surroundings
Take a Jurassic Karst Tour
Where to stay in Grasse with kids
Grasse offers a number of accommodation options. Some of the best of them can be found on the platforms such as Airbnb, Booking or Agoda.
Discover France >>>
Return to Homepage >>>
Sylvie Simpson is the founder of European Cities with Kids. For the past 6 years, she has been travelling all over Europe whenever she has the chance, both solo, for work and with her daughter. Sylvie is on a mission to help people make the most of city breaks in Europe with kids and helps over 50,000 readers per month plan and make the most of their trips in Europe with kids.