Bratislava is the capital city of Slovakia and a part of the Visegrad Four, a group of four Central European capital cities. Located on the Danube river, near the Czech Republic, Austria, and Hungary borders, Bratislava is the largest city in Slovakia and one of the most vibrant and cosmopolitan cities in Europe.
It is home to various interesting historical monuments, cultural attractions, and excellent restaurants. Here are some interesting facts about Bratislava.
This post may contain affiliate links, which means I may receive a commission, at no extra cost to you if you make a purchase through a link. Please see my full disclosure for further information.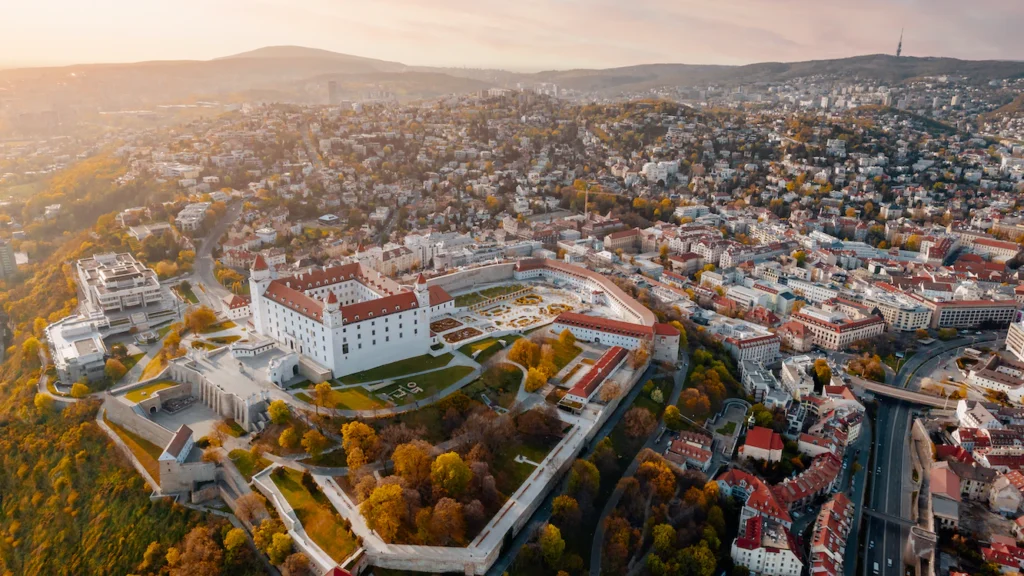 1. Where is Bratislava?
It is located in the western region of Eastern Europe, making it an excellent spot for anyone looking to test their European knowledge in a Europe Quiz. Bratislava lies in a valley of the Little Carpathians and borders Austria, Hungary, and the Czech Republic.
2. What is Bratislava Famous for?
Bratislava is becoming increasingly popular with tourists to the region. Famous for its winding cobbled streets, baroque architecture, and bridges, it is the only national capital that borders two countries, Austria and Hungary.
Bratislava is also one of Europe's cheapest cities and home to numerous historical sites and monuments. One of its most iconic features is the UFO Bridge, the most photographed bridge in Europe. Bratislava also offers excellent restaurants, cafes, and nightlife; its historic old town is a popular destination.
3. What Does the Name Bratislava Mean?
Bratislava is derived from the Old Germanic word 'Bratislava', which translates to 'Protector of the Glory'. The city's many wooden churches, houses, and other wooden structures exemplify its folk architecture.
4. How Old is Bratislava Castle?
Bratislava Castle is one of the oldest buildings in the city, having been built in the 9th century. It has been the site of many important historical events, including coronations, and has been a dominant feature in the city for centuries.
5. What language do they speak in Bratislava?
Located in Slovakia, the language spoken in Bratislava is Slovak. Slovak is the official language in Slovakia and, therefore, also in Bratislava. Also known as Slovenčina, Slovak is a West Slavic language of the Czech–Slovak group, written in Latin.
Here are 5 more interesting Bratislava facts:
6. Bratislava is Slovakia's capital and largest city
located in the western part of Slovakia on the Banks of the Danube river; Bratislava has a population of around 430,000 and is the country's political, economic, and cultural centre.

Bratislava has a rich cultural history that dates back to the 9th century. It was once known as Pressburg and served as one of several capitals in the region under its various rulers.
The city boasts charming old-world architecture, cobblestone streets, a variety of cafes and restaurants, and plenty of modern amenities.
7. Bratislava is known for its lively cultural life
with many theatres, museums, music venues, and other attractions. The city is also known for its cuisine, which is heavily influenced by the cuisine of neighbouring countries. The most popular dish in Bratislava is Bratislavské rezone, a combination of pork, onions and garlic.
8. Bratislava is also home to a vibrant nightlife, with many bars and clubs.
The city's bars and clubs range from traditional pubs to chic and modern establishments.
The city centre is home to numerous bars and clubs, as well as a diverse variety of restaurants and cafes. Whether you're looking for an evening of lively conversation at a local pub, or a dance-filled evening at one of the city's many nightclubs, there's something for everyone.
9. Halloween is a popular holiday in Bratislava
The city celebrates Halloween with many events, such as costume parties, haunted houses, and parades. The celebrations usually take place in the old town and other popular areas of the city. Bratislava is one of the BEST places to visit in Europe for Halloween!
10. The city of Bratislava is well known for its monuments, buildings, and landmarks
One of the most iconic landmarks in Bratislava is the Bratislava Castle, a castle which dates back to the 10th century. The castle stands atop a hill overlooking the city and offers panoramic views of Bratislava.
Other popular attractions include Old Town Hall, St. Martin's Cathedral, Michael's Gate., the Slovak Radio Building, the St. Martin's Cathedral, and the Primate's Palace. These buildings are visible from Bratislava Castle hill and provide a stunning city view.
Plan Your Trip to Bratislava
Don't forget to plan ahead when visiting Bratislava:
🛫 Book cheap flights with WayAway
Get up to 10% cashback on flights with WayAway Plus! Use the code EuropeanCitieswithKids2023 for 10% off a plus membership.
Or book train tickets to Bratislava with Rail Europe
🛏️ Find the perfect place to stay with Booking.com,
…or discover your perfect holiday home 🏨 with VRBO
🚗 Find the best car rental deals with Discover Cars
🎫 Book amazing tours and tickets with Get Your Guide
Discover More Facts About Europe
Discover Slovakia >>>
Discover Eastern Europe >>>
Return to Homepage >>
Sylvie Simpson is the founder of European Cities with Kids. For the past 6 years, she has been travelling all over Europe whenever she has the chance, both solo, for work and with her daughter. Sylvie is on a mission to help people make the most of city breaks in Europe with kids and helps over 50,000 readers per month plan and make the most of their trips in Europe with kids.