(Last Updated On: September 22, 2023)
Looking for the perfect winter city breaks in Europe?
This post will help you find the best winter getaways in Europe for families for the perfect European city break in winter. We'll also cover the best December city breaks in Europe, best Europe city breaks in January, and the best European city breaks in February to help you plan the perfect winter city break in Europe.
We are a participant in the Amazon Services LLC Associates Program, an affiliate advertising program designed to provide a means for us to earn fees by linking to Amazon.com and affiliated sites. As an Amazon Associate I earn from qualifying purchases. Please see my full disclosure for further information.
What are the Best Winter City Breaks in Europe for Kids?
There are hundreds of amazing winter city break destinations in Europe for families to enjoy, whatever your child's age. Whether you're planning a trip in December, January or February, read the list below for inspiration:
Don't forget to plan ahead when visiting Europe for Easter:
🛫 Book cheap flights with WayAway
Get up to 10% cashback on flights with WayAway Plus! Use the code EuropeanCitieswithKids2023 for 10% off a plus membership.
🛏️ Find the perfect place to stay with Booking.com, or discover your perfect holiday home 🏨 with VRBO
🚗 Find the best car rental deals with Discover Cars
🎫 Book amazing tours and tickets with Get Your Guide
Europe weather in December
The warmest countries in Europe in December are the southernmost ones. The Canary Islands are the hottest, followed by Spain, Italy and other Mediterranean countries.
If you're looking for a snowy wonderland for your winter city break, head to Russia, Finland and Norway, where you could find temperatures under -10°C.
Best Europe city breaks in December
From the cold North of Europe to the Mediterranean South, December is an exciting time across Europe. Thousands of Christmas markets, festivals, and events spring up all over Europe.
December is also an exciting time for a cold city break, such as a family skiing trip or a Lapland trip to visit Santa Claus. This section will help you find the best December city breaks help you find the best winter city breaks in Europe for December:
1. Amsterdam City Break (Netherlands)
There is no better place to visit in Europe in December than Amsterdam. Amsterdam is a magical travel destination all year round, but December offers some extraordinary things to do and see perfect for families.
December is a month full of festivities in Amsterdam, so you will not only find some great things to do, but you will really feel the Christmas spirit all around.
What makes Amsterdam during December so amazing are the activities. One of which is the skating rink in front of Rijksmuseum. During all of December, you can find a huge ice rink to skate on night and day with one of the most beautiful buildings in Amsterdam as your backdrop.
December is a month where you can enjoy the Amsterdam Light Festival, which hosts artists from around the world who put on art exhibits all around the city. You can take a canal tour, bike, or walk to see them all. December is also the month where the lights are up all around the city; Dam Square has a huge Christmas tree!
All these activities are perfect for families and have something everyone can enjoy. The best place to stay in Amsterdam for families is Jordan, Canal Belt, and De Pijp. The QO Hotel in Amsterdam is a great option. You can view prices and availability for the QO Hotel here.
By Sam, Sam Sees World
Click here to view more family activities in the Netherlands
2. Bratislava City Break (Slovakia)
If you are looking for a unique winter destination with kids, you definitely should check out Bratislava – the main city of Slovakia in Europe. Especially in December, this city is worth a visit!
People are amazed by the many picturesque Christmas Markets and the unique atmosphere when visiting Bratislava in winter!
The best one can be found at Hlavné und Hviezdoslavovo námestie – where you will also find plenty of excellent accommodation like the beautiful APLEND CITY Hotel Perugia. View the latest prices and availability for APLEND CITY here.
During Christmas time, the city is full of local specialities, delicious food and charming goodies. Families come together for having some kinder-punch or mulled wine and enjoy the true atmosphere of a traditional Christmas Market.
Really delicious is here the Loksa, a salty pancake or the traditional Strudl, a crisp cake filled with apple and raisins. Also, the mulled wine in Bratislava is tasty – probably because it comes from local wineries nearby the city.
In addition to amazing food, you will find plenty of homemade products and traditional souvenirs – perfect for bringing home some souvenirs for your beloved.
Another highlight for families and for many, a must-do is ice-skating. Especially at the Main Square, you will find a very well-prepared open-air ice rink.
Not only kids but also adults love to turn some rounds in this wonderful atmosphere. Skates are available to hire, so you don't have to bring your own ones.
Local artists – singers and dancers- in the evening, perform directly at this Christmas Market and make each visit an extraordinary experience. Christmas Markets have had a long tradition in Bratislava, and therefore a visit to Bratislava for Christmas is absolutely recommended.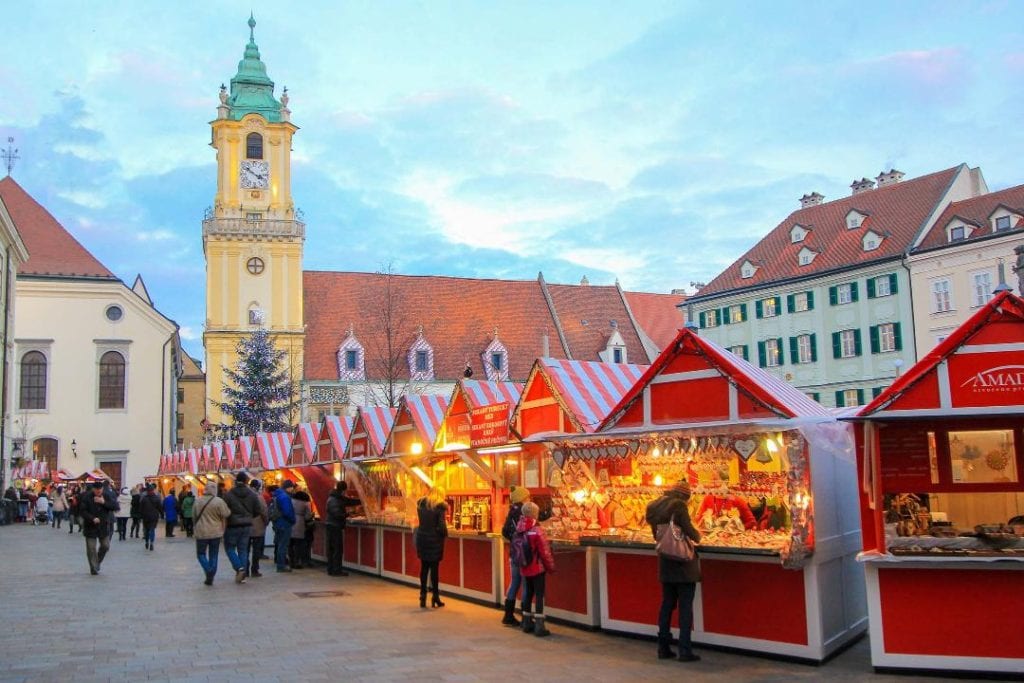 By Juma, Places of Juma
3. Deventer City Break (Netherlands)
Deventer, a city in the North of The Netherlands, is perfect for visiting in wintertime. Several fun museums, like the Museum de Waag and the Speelgoedmuseum Deventer (Toys museum).
Museum de Waag is a monumental building from the Middle Ages, which houses the history of Deventer. You can reminisce about toys from your youth, your parent's generation, and nowadays in the toys museum.
Deventer is one of the oldest cities in The Netherlands, situated on the river Ijssel. It was one of the most important cities in the Hanseatic League. Next to the Museum de Waag, other historical buildings can still be admired on a city walk.
Deventer holds the oldest stone house, the oldest scientific library (the Athenaeumbibliotheek) and the oldest park (Worpplantsoen) of The Netherlands.
Don't miss a stop at the Deventer Koekwinkel. Be cosy inside with a hot beverage and the famous Deventer koek, a cookie already produced in the Middle Ages.
Deventer can best be visited in December, because of the Dickens Festival. Every year the weekend before Christmas, the Bergkwartier in Deventer turns into a village from a Dickens story.
950 Actors and residents dress up as characters from his books and for 2 days entertain visitors. The same weekend there are 2 Christmas markets, one outside the Brink and in the Grote or Lebuïnis Church.
Family-friendly accommodation in the area is a cabin on campsite Stuurmanskolk in Welsum. You can view prices and availability for the campsite here.
By Cosette, KarsTravels
4. Madrid (Spain)
One of the best cities in Europe to visit during winter with kids is the capital of Spain, Madrid. The city is great to visit in other seasons too, but during winter, the vibe of the city changes. The city looks beautiful in winter, and there are many winter activities.
One of the best of these is to see the Christmas lights. In winter, famous Spanish designers and architects come together to create beautiful Christmas lights that decorate the whole city every year.
Another great thing to do in winter is to go ice skating, and you can find many ice rinks in the city.
Furthermore, if you are looking for something to eat, you should definitely try out some Churros covered with chocolate. This treat is typical of Madrid, and it is delicious!
The best month to go to Madrid is definitely December, as most of the winter events take place during this month, such as during Christmas and New Year's Eve.
Madrid is one of the best places in Europe to spend New Year's Eve. Also, all city areas surrounding the city centre are very family-friendly and thus are great to stay with kids.
So, if you are looking for a great winter city break with kids, you should definitely consider visiting Madrid in winter.
By Dymphe, Dymabroad
View more: Best Spanish Islands to Visit with Kids
5. Montreux City Break (Switzerland)
For the best winter city break in Europe with kids, head to Montreux in Switzerland. Located by Lake Geneva, this is the perfect place to visit in December, when the city may be the best place to get in the Christmas spirit on the planet, thanks to its Christmas festival, Montreux Noel.
Every day and evening, the long Christmas market is held on the banks of the Lake with Christmas music playing. Kids will especially enjoy this market in the evening when Santa flies past on his sleigh regularly (on a cable which is surprisingly well done). There's also an Elves' Square adjacent to the market, primarily focused on family entertainment with workshops and activities.
There are many other things to visit around Montreux as part of the festival. Kids are sure to love the cogwheel railway up the top of Rochers-de-Naye mountain, where you can visit Santa's house. The big red man himself is in residence. There's a good chance of snow here. There's also UNESCO listed Chillon Castle, where you can experience a medieval Christmas.
We recommend Hotel Bristol, which has suite rooms with kitchenettes that worked great for our family of five, just a short bus ride from the centre of the action. You can view prices and availability for Hotel Bristol here.
Visiting Montreux at this time of year really is an experience your family will never forget.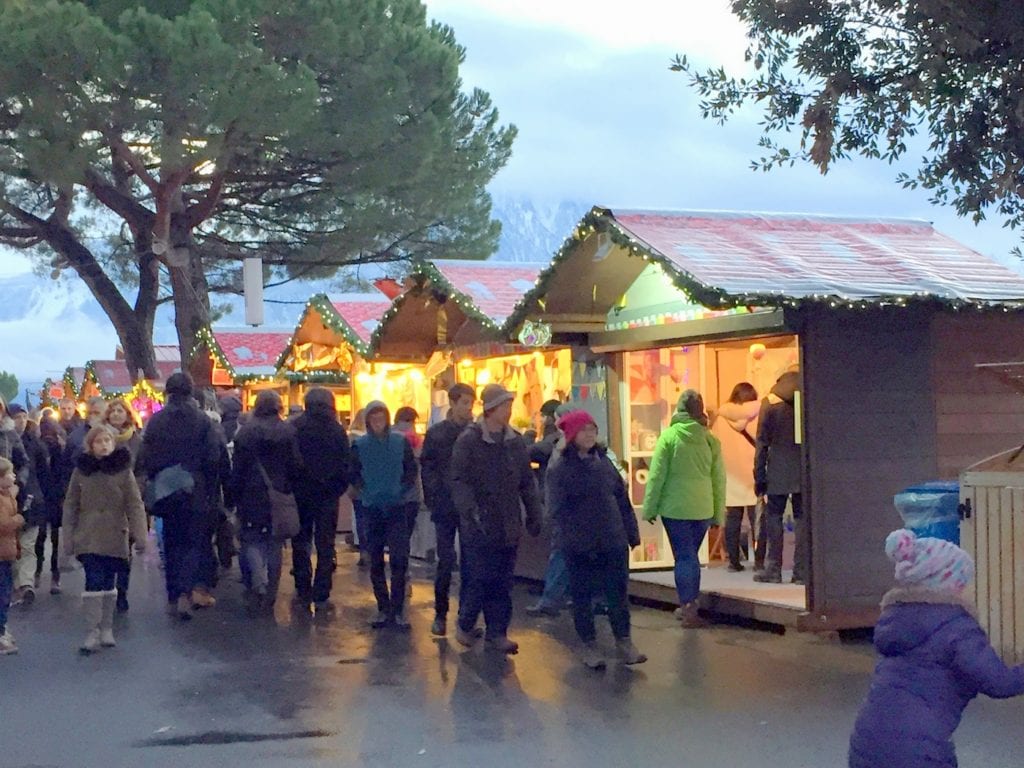 By Sharon, Dive Into Tasmania
6. Prague City Break (Czech Republic)
The city of the hundred spires belongs to the best year-round destinations, but if you're looking for a special charm, you need to visit Prague in winter. In December especially, it turns into a magical wonderland. Christmas markets pop up, the city is decorated beautifully, there's a Christmas tree at nearly every square… Nothing can beat Prague this time of year.
Children will love watching the blacksmith at the markets or how the delicious smelling "trdlo" chimney cakes are rolled above the heat. Bigger kids will enjoy ice-skating – it can be done even in the city centre at the Ovocný trh Square.
If the weather turns bad, there are plenty of indoor things to do in Prague, and many cater especially to families. E.g. the Museum of Senses just off Wenceslas Square provides a fun interactive experience that'll deceive the senses and entertain greatly.
Another lovely museum – Karel Zeman Museum – in the Lesser Quarter showcases Karel Zeman's special film effects – he was a pioneer of these filmmaking techniques in the 20th century. This museum is interactive too.
Prague also features many cosy cafés for the whole family to warm up at in between sightseeing. It's common to have a children-playing corner on-site so the little ones will not have a chance to be bored.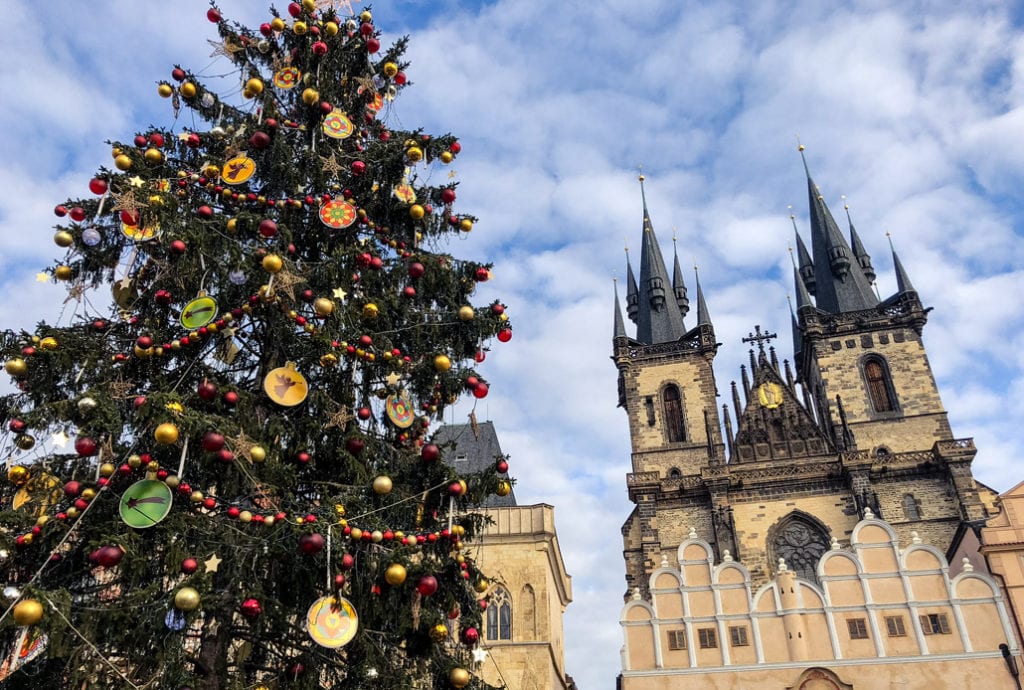 By Veronika, Travel Geekery
7. Rome City Break (Italy)
If you're keen to start your family's Italian adventures, Rome is a great place to visit in December.
The city sparkles with festive lights and giant Christmas trees before Christmas, including one outside the Colosseum! Simply wandering in this magical atmosphere is reason enough to visit.
However, Rome's major attractions are less crowded and overwhelming at this time of year, so take advantage of fewer visitors and enjoy them at your leisure.
Kids of all ages like to stroll around the cobbled streets of the historic centre, admiring the impressive fountains and statues.
Of course, a trip to the Colosseum is sure to ignite an interest in ancient history, especially if you join a family-friendly tour with a guide that tells stories about famous gladiators and their exploits in the arena.
When you get hungry, you can't go wrong with a delicious pizza or plate of carbonara pasta quickly followed by gelato. Then visit the Mouth of Truth and bravely test the legend of the ancient lie detector!
Stay close to the Pantheon, and you'll be in the best position to get around the city on foot, even for the smallest of legs. Accommodation in this area is also perfectly placed to access family-friendly eateries and the city's best sights.
By Katy, Untold Italy
8. Rovaniemi Finland City Break
The best winter city in Europe for a break with kids in December has to be the official hometown of Santa Claus of Rovaniemi.
Located in Finnish Lapland, Rovaniemi is a city that is a winter wonderland in December and a snowy playground that kids of all ages will love.
Many families flock to this part of Lapland with kids for one main reason. To visit the big man himself. And in Rovaniemi, there are not one but two places to visit Santa Claus.
Visiting in December ensures you can tell Santa what you want for Christmas while enjoying winter activities such as husky safaris, reindeer sleigh rides, snowmobiling and much more. There are also two great museums which are perfect kids, Arktikum and Pilke.
Santa is located in the Santa Claus Village (free to visit) and Santa Park (payable attraction), his underground home cavern.
Both are perfect places to visit with lots of things to do besides giving your wish list to him, and you can cross the Arctic Circle at both places. You can even stay at the Santa Claus Village Hotel! Don't forget to pick up your certificate.
View the latest prices and availability for the Santa Claus Village Hotel here >>>
Older kids might enjoy a spot of skiing at Ounasvaaran Mountain skiing resort, and Ranua Zoo is just an hour's drive from Rovaniemi, where kids can see wildlife from the Arctic Circle. Rovaniemi is the perfect destination for a winter city break in Europe with kids.
Discover more cities in Finland here >>>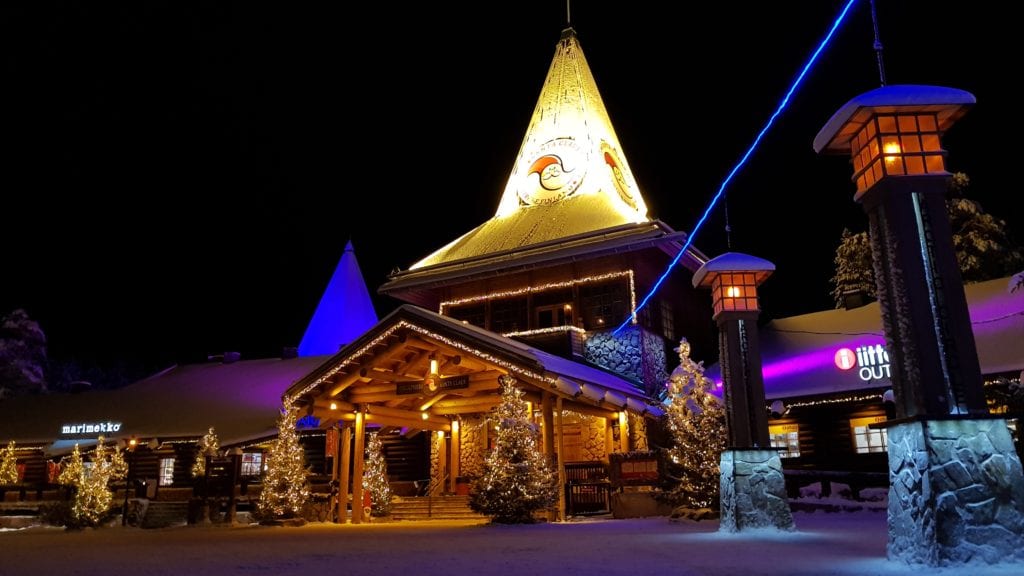 By Cath. Passports and Adventures
9. Saarisälka Finland
Saarisälka is a resort village located 250km north of the Arctic Circle in Finish Lapland. It is best known for being the northernmost ski resort in continental Europe and a popular tourist destination for winter activities.
It is bordering Urho Kekkonen National Park, one of Finland's largest protected areas. This national park is a perfect place for snowshoeing or cross-country skiing.
The skiing season in Saarisälka lasts from October to May and covers over 200 kilometres of perfectly maintained ski tracks with breathtaking views over the Finish winter wonderland. Saarisälka is also a popular destination for exotic activities such as reindeer or husky safaris and snowmobile rides.
Several guided aurora tours are available that take you to the best spots to see the famous aurora borealis. The best time to see the Northern Lights in this region is between November and March.
Many visitors prefer to stay in glass-roofed igloos to see the Northern Lights in cosy beds during the whole night. View the best northern lights tours here >>>
How to get to Saariselka from Helsinki
There are several ways to get to Saariselka from Helsinki.
The fastest way is to fly to Ivalo, about 30 km from Saariselka and then take a short bus ride. View the latest flight deals and availability here >>>
If you prefer to travel by public transportation, you can take a train to Rovaniemi, the main town of Lapland. From Rovaniemi, you can either take a bus or rent a car to get to Saariselka. Compare rental car prices and availability here >>>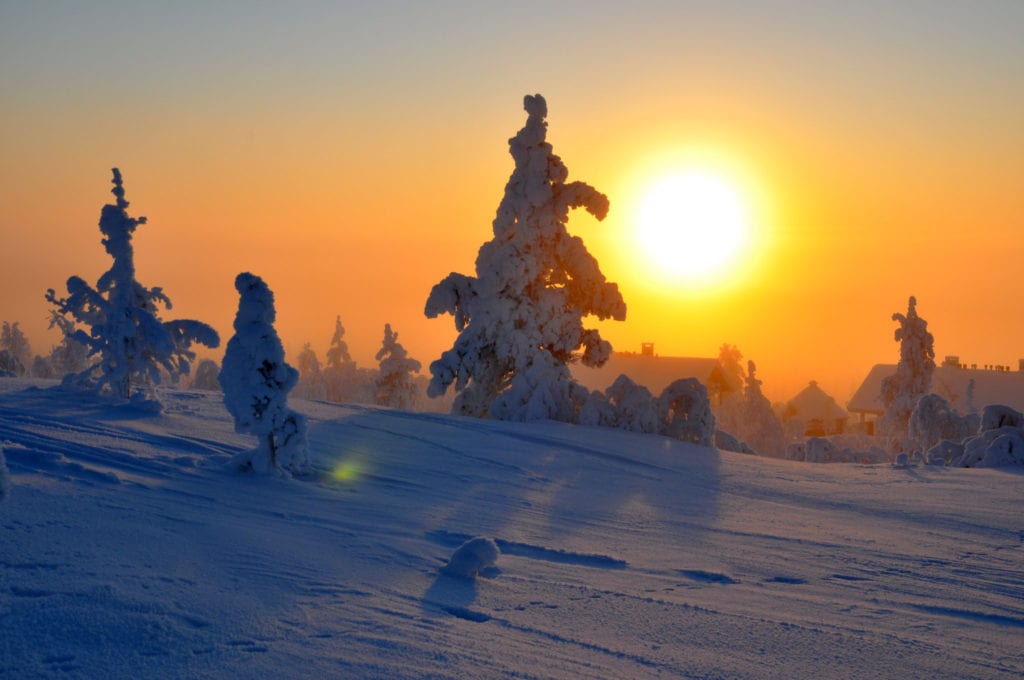 By Anna, Big World Short Stories
10. Seville Spain City Break
Seville in Southern Spain is a great destination to visit in December because the daily temperature is a pleasant 16ºC, perfect for exploring this lovely city. If you have children, there is plenty to see and do. Walking around the city is lovely as the roads are lined with fragrant orange trees laden with fruit.
The Cathedral of Seville is magnificent and contains the tomb of the explorer Christopher Columbus. It is fun to climb to the top of the Giralda Bell Tower because there are no stairs but 34 ramps to the top. Plaza de Espana is interesting to visit as it is encircled by 48 alcoves decorated with brightly coloured tiles. Each alcove is dedicated to a region and showcases the buildings and traditions found there.
If you are visiting Seville over Christmas, the Belen festival has several nativity scenes to enjoy. Belen comes from the word Bethlehem, and the best nativity scenes are by the Town Hall and in Plaza San Francisco – where there is also a fairground and ice skating rink.
There are four Christmas markets throughout the festive period, including the Artisan Market with handcrafted toys, jewellery, and leatherwork.
There's so much to do and see in Seville! If you have a short amount of time in the city, I would recommend checking out this 1 day Seville itinerary to plan your trip.
By Chrysoula, Travel Passionate
Related Post: Best Cities in Europe to Live this year
11. Utrecht (Netherlands)
Utrecht is one of the largest cities in the Netherlands (around 360.000 residents) and a wonderful place to visit in winter, especially in December. The historic city centre of Utrecht looks even prettier when it's decked out with beautiful Christmas lights, and there are quite a few special events.
As a mum of two young kids and someone who has lived in Utrecht for eight years, I can say from personal experience: Utrecht is a great city to visit with kids! It has a very walkable city centre, there are several highlights near each other, and there is no shortage of kid-friendly museums in Utrecht.
Some of my favourite Utrecht highlights with kids in December are:
Climb the Dom Tower: This is a must-do activity during any season. From the top of the iconic Dom Tower, you will have a beautiful view of the city.
On a clear day, you may even see as far as Amsterdam and Rotterdam (the Netherlands is a tiny country).
Note that if you intend to climb the Dom with young kids, you will have to park your stroller at the information centre next door and carry your kids up the 465 steps.
Visit the Miffy Museum: kids between two and six will love the Miffy Museum. Here Miffy's world comes alive, with a zoo, a traffic area where children can ride little bicycles and learn how to cross the street, Miffy's house, and much more. In December there is a special Christmas Theme which makes visiting this wonderful museum even better.
Ice skating at the Spoorwegmuseum: for children between four and twelve, the Spoorwegmuseum is a great place to learn about the history of train travel in the Netherlands. There is a special 'Winter Station' theme during the Christmas Holiday and even a temporary ice-skating rink!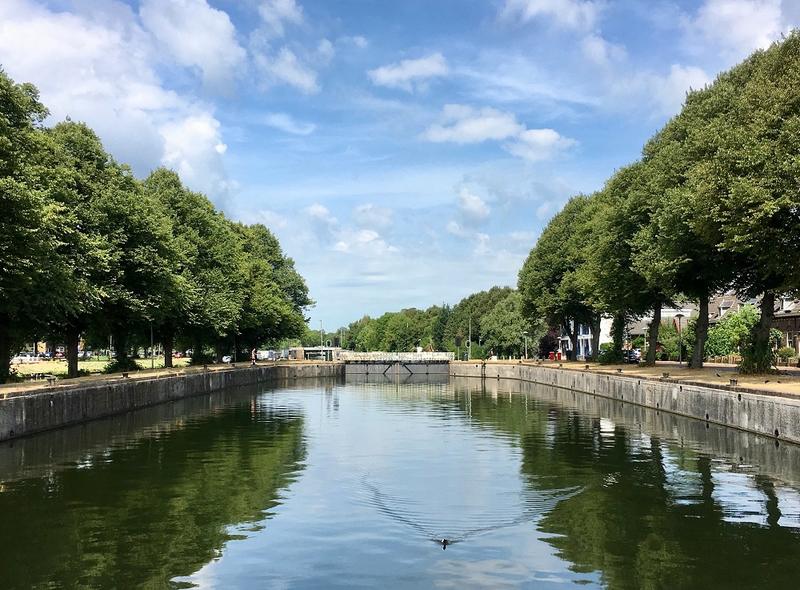 By Lotte, Beste voor Kids
12. Warsaw (Poland)
Poland is a wonderful country, diverse and full of history. It is a country that is not really seen as a family-friendly destination, but if you visit Warsaw with kids, you will be in for a treat, especially in December.
Warsaw in December comes alive with Christmas markets everywhere and one of the most beautiful Christmas light displays in all of Europe. A great place to stay is the Dream Hostel and Apartments, located right in the heart of the old town, and you can easily walk to all of the main Old Town attractions from here, including the Christmas Markets. Food stalls are located right out of the front doors too.
The lights display starts in Castle Square (Plac Zamkowy) with a huge Christmas tree right our front of the Castle and then spreads out through the entire city all the way up the Royal Route to Wilanow Palace where you can be wow-ed at the display there as well.
There are twinkle lights everywhere and even some larger displays like peacocks, buses and books where you can stop to have a picture taken along the way. You may even run into Santa too!
If there are other things you would like to see, there is a bus stop right out the front of the hostel. Buses from here can take you to the Palace of Culture and Science for awesome views over the city, The Warsaw Rising Museum and the Polin Museum, to name a few.
Warsaw is a beautiful city to visit and is an easy vacation with kids. The people are friendly, the food is good, and you will find plenty of things to see in Warsaw with kids in winter.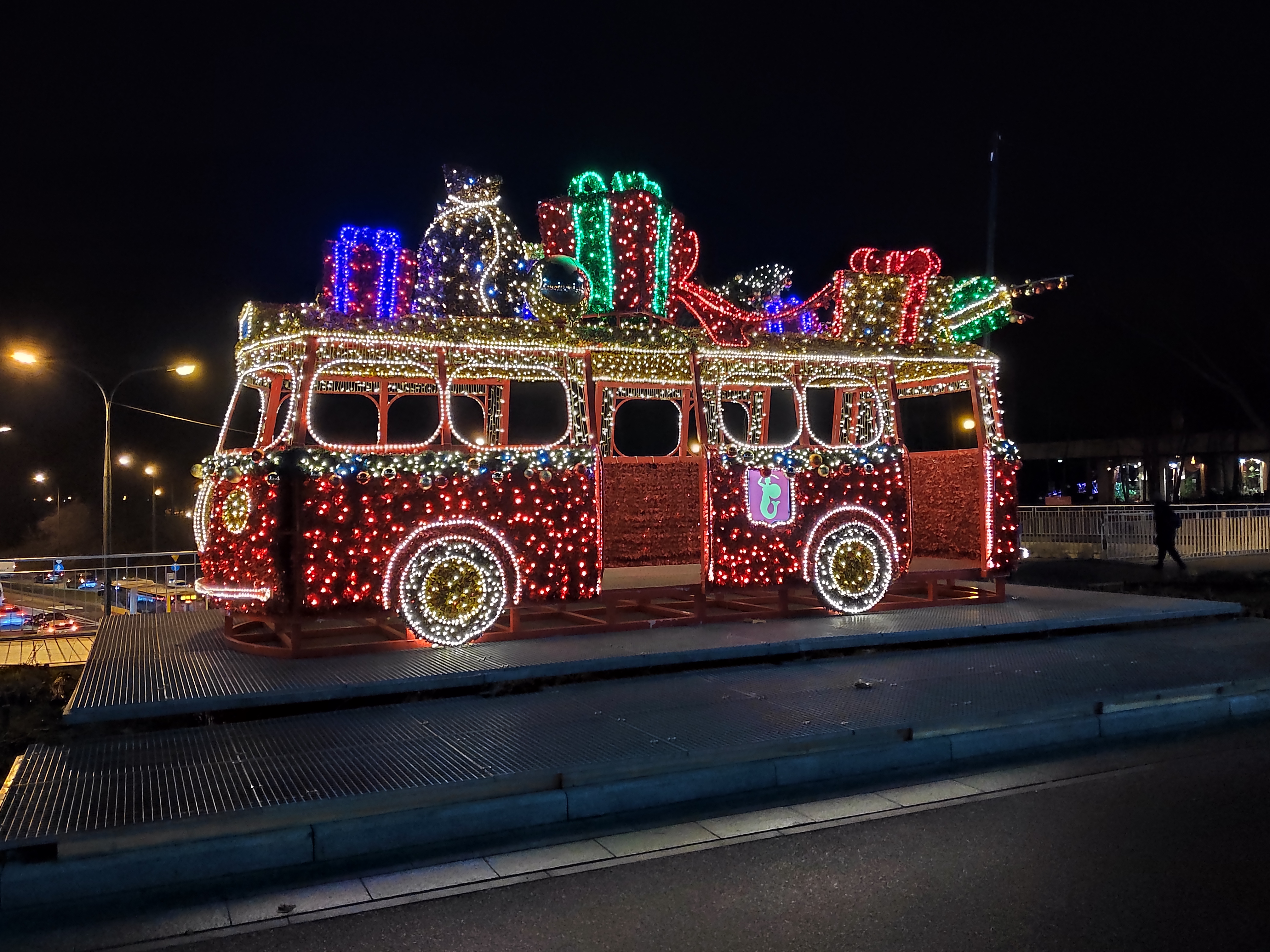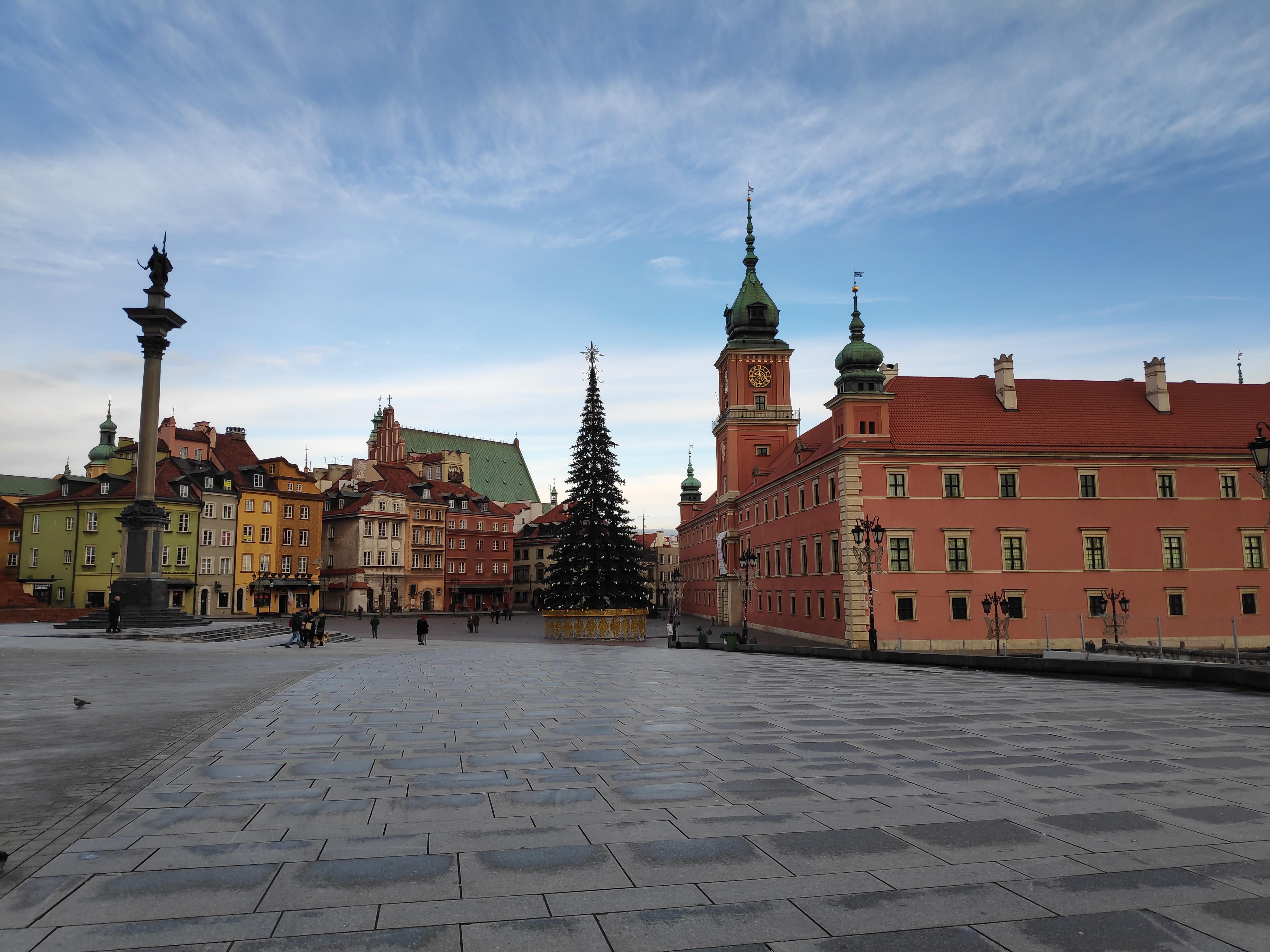 By Bec, Poland Travel Expert
January Weather in Europe
In the cold north of Europe, January is often the coldest month of the year. You'll be more likely to find ice and snow in January! Countries in central Europe often have more rain in January so make sure you research indoor attractions! For some winter sun, head to the Canary Islands, where you'll find temperatures of 17-21°. Here are the best winter city breaks in Europe for January:
Best European City Breaks in January
If you have some time off in January, here are the very best European city break destinations for families.
13. Edinburgh (United Kingdom)
A lot of people don't like the idea of travelling to Scotland in winter. The country is cold in summer, let alone the biting freeze in the harsh winter.
Having lived in Edinburgh for 9 years, we can safely say Edinburgh is beautiful (a little grey, sometimes!) even in the gloomy months of January and February. One of the top reasons to recommend Edinburgh in January is quiet, after the spectacular Hogmanay and Christmas Markets. There isn't much crowd, and the stays are not very expensive either.
Walk around Princes Street and admire the historic buildings and the iconic Edinburgh castle dominating the skyline. Head over to the Holyrood Park, and climb either Salisbury crags or Arthur's seat to soak in the panoramic views of Edinburgh.
Caution is required since the paths could be slippery due to weather conditions. If you are not up for a hike, you can do a short climb and visit Calton Hill as an alternative.
If it's raining, you can still enjoy a plethora of indoor attractions in Edinburgh. Visit Camera Obscura & World of Illusions, located near Edinburgh Castle.
With around 100 interactive exhibits and five floors of fun, and a panoramic view of the city, this is a top attraction and one for all ages to enjoy. Alternatively, visit Dynamic Earth, an interactive science centre, or head over to the National Museum of Scotland.
Recommended Stay: Apex Grassmarket Hotel, located in the heart of Edinburgh. Spacious family-friendly rooms, and kids under 17 stay for free.
View the latest prices and availability for the Apex Grassmarket hotel here >>>
By Anuradha, Country Hopping Couple
14. Granada (Spain)
Granada in southern Spain is the perfect destination to travel with kids in January. You can explore the gardens in Alhambra, the old fortress, and the palace.
The old town is also full of beauty and charm. There are parks, churches, views, and extraordinary restaurants. But there are also other fun things to do nearby, like going skiing in the southernmost ski resort in Europe, in the nearby Sierra Nevada.
It's less than an hour away, and you can rent all the ski equipment there. The ski lifts take you all the way up to one of the 3000-meters peaks, Pico Veleta, where you'll have amazing views over the Sierra Nevada mountain range. But there are also a lot of small slopes great for beginners and the smallest children.
Another fun activity for the whole family is to hike Ruta de Los Cahorros in Monachil. This is perfect in the winter months and is only 20 minutes from Granada city.
This hike goes through a gorge where you'll cross several hanging bridges, and there are sections where you'll have to crawl under the rocks and hold on to metal handles that are fastened to the rock wall. It's an enjoyable adventure for everyone.
Eurostars Washington Irving is a great hotel to stay at with family rooms and parking. The hotel is also close to the Alhambra. View the latest prices and availability for your dates here >>>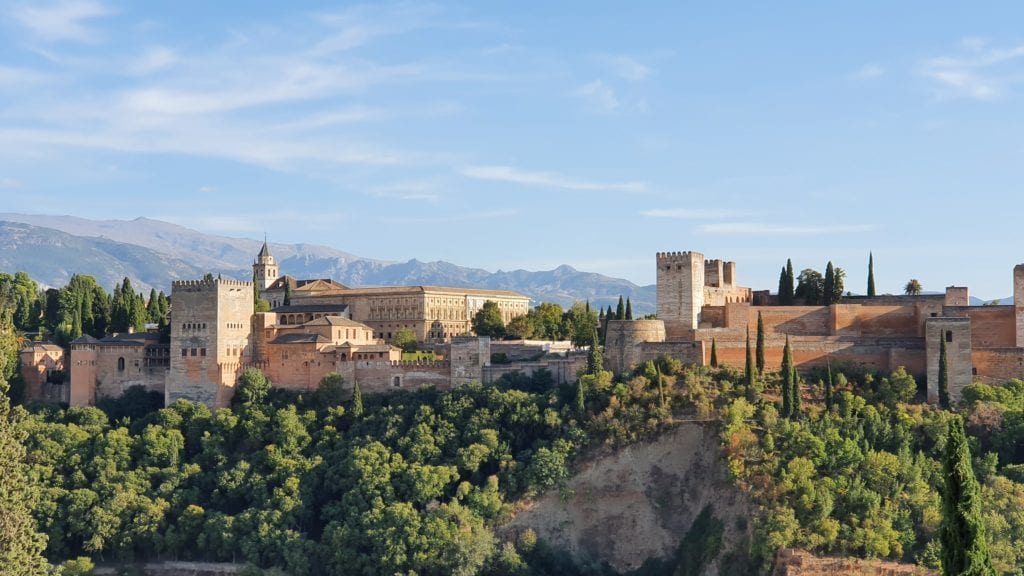 By Linn, Andalucia Hiking
15. Innsbruck (Austria)
When most travellers think of Austria, they visualize the majestic opera houses in Vienna or Mozart's classical music in Salzburg, but Innsbruck is unmatched once the snow starts falling.
Innsbruck hosted not one but two Winter Olympics (1964 and 1976), bolstering its reputation as the winter capital of Austria.
Once December rolls around, the plazas in Old Town (Aldstadt) fill to the brim with Christmas markets, glühwein (mulled wine), and cheery people. The annual Christmas Eve tradition of brass instrument renditions of carols blaring from the surrounding rooftops never ceases to amaze.
With all that said, the best time to visit is in January. Fewer crowds, cheaper accommodation, and still all the winter wonderland you and the kids can handle!
A favourite activity for both the locals and tourists is travelling into the Nordkette mountains, the stunning peaks that tower over the city below. The funicular and tram ride to reach the top will be just as entertaining for the kids as the afternoon of playing in the alpine snow! On the way back down, it's easy to hop off midway to visit the Alpine Zoo, the highest in all of Europe.
Take the kids to the Olympic ski jump stadium to fuel their dreams, warm up at the famous Café Kroll with a warm strudel and hot chocolate and immerse the family in the rich Tirolean culture. All of that to say there is plenty to do and you'll never be bored.
For family-friendly accommodation in a quieter location, look to the surrounding villages. Patsch offers scenic views of the valley and plenty of wide spaces full of walking paths for the kids to burn off their energy. Access to the city centre is just a short drive or bus ride away.
Dust off the suitcases, pack the winter clothing, and get over to Innsbruck in January to experience all that this winter wonderland has to offer!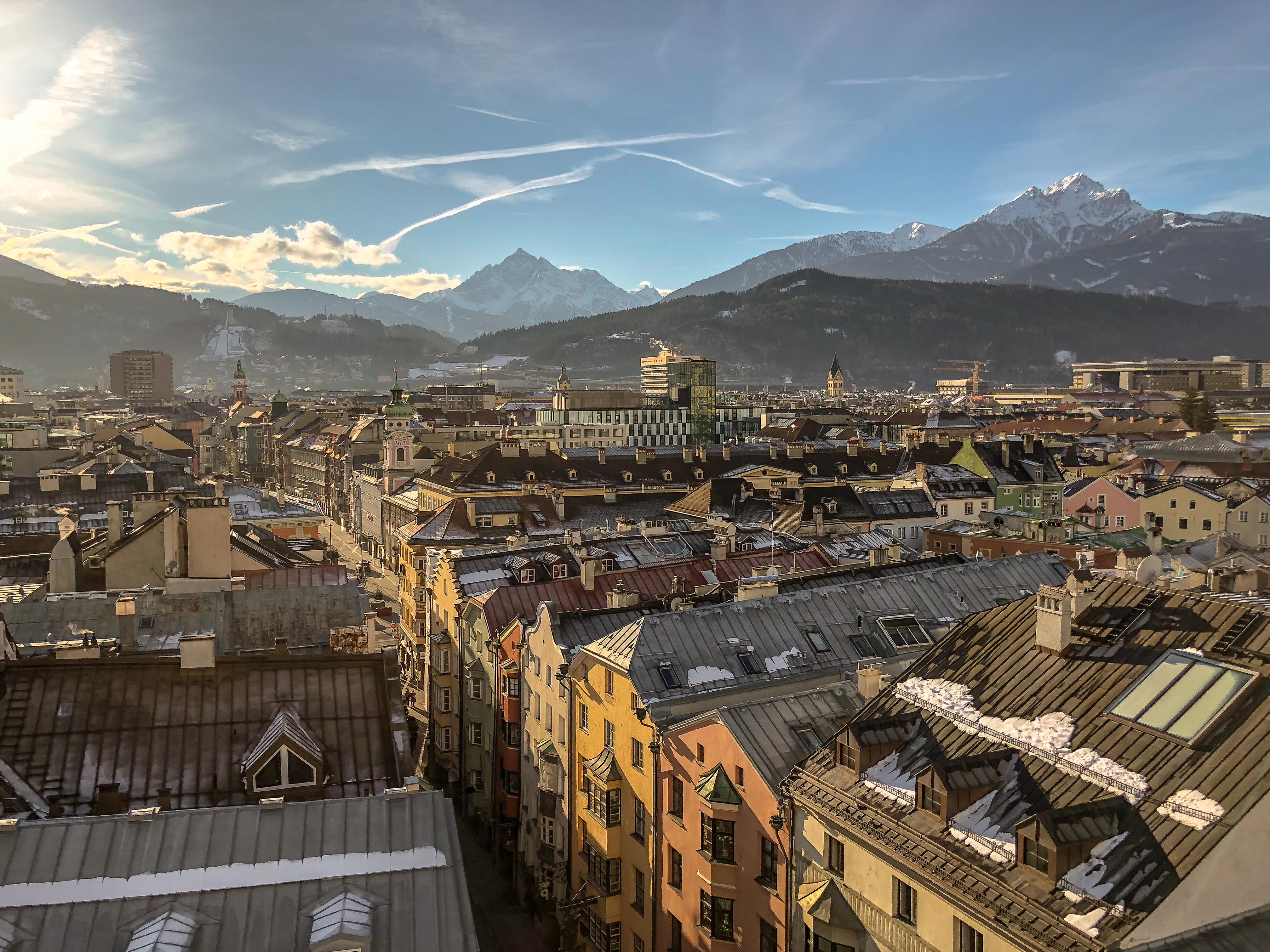 By Chris, Toone's Travels
16. Kotor (Montenegro)
Kotor is an enchanting little city in a country that has not yet been discovered by mass tourism, so it is easy to embark on an exciting Montenegro road trip and still be able to discover unspoiled and less frequented places. This rule, however, is more difficult to apply when it comes to Kotor and its enchanting bay.
The mountains surrounding the bay, the villages perfect for photoshoots, and the crystal clear waters are well-known attractions.
Kotor is the largest town in the bay, and despite being on the sea, it is completely enclosed by high protective walls. The port is just outside the old city, and in the warmer months, it pours hit and runs tourists from cruise ships every day.
On the other hand, January represents a bit of calm after the storm, cruises that still arrive at Christmas time now arrive less frequently, leaving space for those who are ready to be fascinated by a more drowsy atmosphere.
January is the month where you can enjoy the most beautiful attractions almost in private. The out-of-time village of Perast, Our Lady of the Rocks, and of course Old Kotor itself, which, without the masses of tourists, reveals its small squares, hidden alleys, and invites you to sit in one of the many cafes.
Of course, sea swimming may have to wait, but if you choose to stay just outside Kotor at the boutique Hotel Casa del Mar Amfora, sitting on the balcony of your room, you may also just decide to move there! Click here to view the latest prices and availability for the Boutique Hotel Amfora.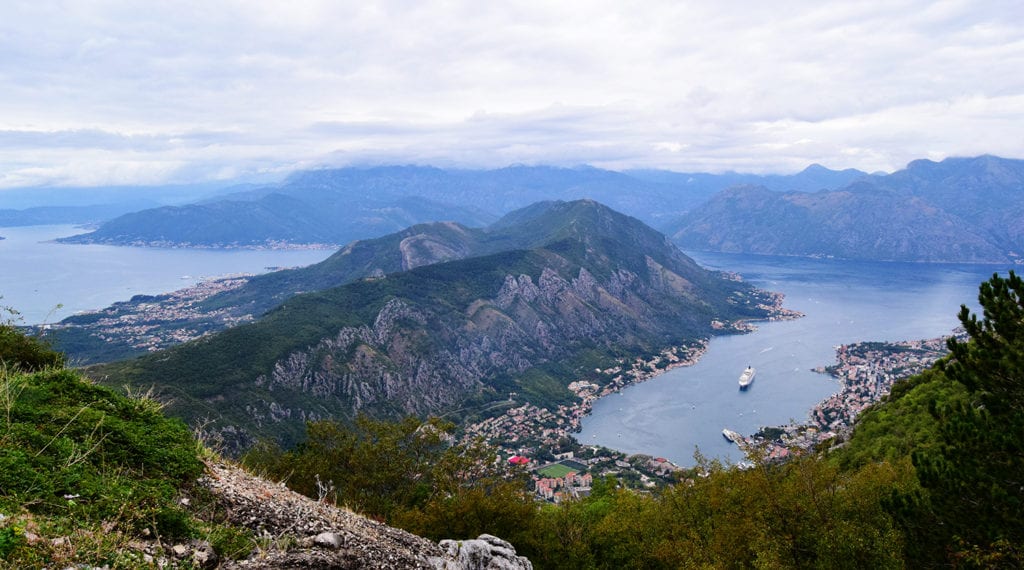 By Clotilde, A Princess Travelling with Twins
17. London (United Kingdom)
Visiting London in January during the winter, there is so much to do with your kids. January begins the celebration of the New Year, and to kick it off, there is a New Year's Day parade that starts at Piccadilly and goes through London West End; what better way to start the year with such fanfare.
Winter is also a great time in London because it is still cold enough that the kids can ice skate. There are so many places to skate historical places to hike that you can visit.
Make a day out of it by visiting the museum or sight along with ice skating. Some of the most iconic places to ice skate are as follows: Natural History Museum, Tower of London, or Somerset House, just to name a few.
Chinese New Year is also a big festive celebration in London as the city hosts one of the largest celebrations outside of Asia held towards the end of January. Kids can take in all the action at the launch of the festivities by watching the lion dance parade, which takes place in Chinatown.
A fun indoor activity for kids is the pantomime. Kids can be exposed to the theatre through fun plays on traditional stories such as Cinderella and Sleeping Beauty, and London is known for its many theatres throughout the city.
In terms of family-friendly places to stay in London, several areas allow easy access to many of the places I would have recommended visiting during January; they are as follows: South Kensington, Paddington, West End, and South Bank.
I would recommend that families rent an apartment as the hotel room sizes in London can be very small the extra room will give the parents and the kids their privacy.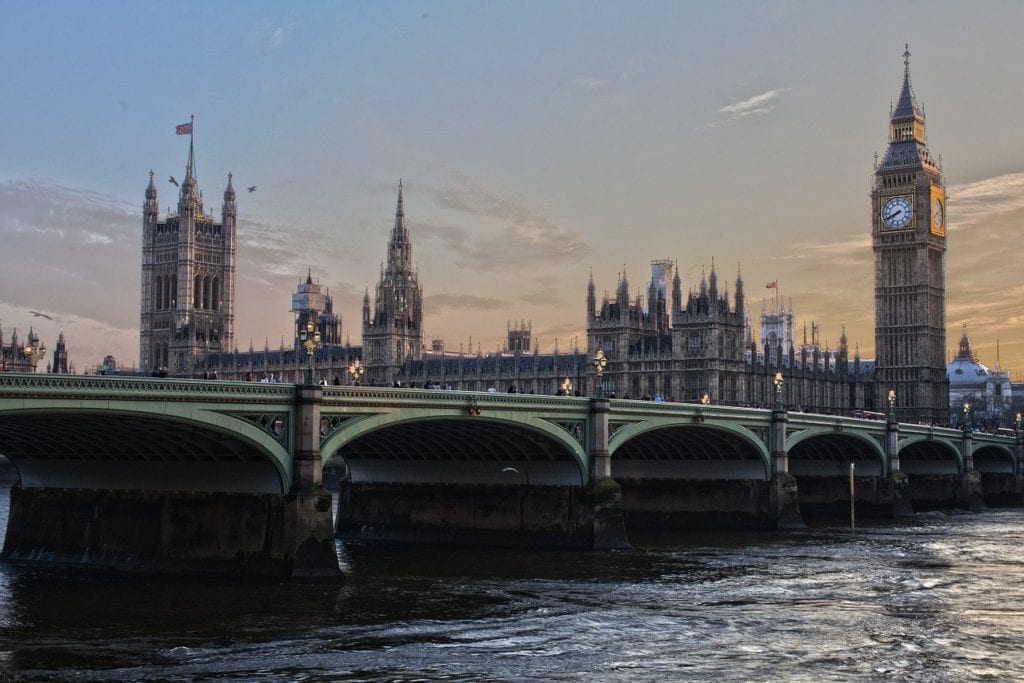 By Leticia, Chic Travel Around The World
18. Malaga (Spain)
My husband, I, and our little daughter came to Malaga to celebrate the New Year and stayed there for a month. We spent the whole month of January in Malaga, which delighted us with the sun and excellent weather every day.
In Malaga and the entire Costa del Sol, there is no winter: in the coldest month of January, the air temperature does not drop below 18°C. Therefore, Malaga in winter is a great destination for a trip with kids.
Malaga is an amazing city to travel with a child, as it has a well-developed infrastructure. You can be sure that you will find everything your child needs: a lot of playgrounds, a large selection of baby food, and a place for qualified medical care.
And of course, neither you nor your children will be bored in this city.
If you are travelling to Malaga with children, be sure to visit the Museo Alborania dedicated to marine life. This museum has a diverse exposition that will certainly interest kids of any age. You can see a collection of shells, models of old ships, old maps, as well as equipment that mariners used on their ships hundreds of years ago. The museum forms a single complex with an oceanarium that is also worth a visit. Find out how to spend 2 perfect days in Malaga by reading this itinerary!
Another interesting place to spend time with children in Malaga in winter is Centro De Ciencia Principia. In this science museum, kids can participate in a series of experiments that demonstrate basic physical and chemical laws. The museum is part of a planetarium where kids can attend thematic events.
And of course, if you are going to Malaga in winter, it is worth spending time on the Malaga beaches. You will not be able to swim in January, as the seawater is too cold, but you can sit for hours on the beach, play with children, or have a picnic.
By Sasha, The Alternative Travel Guide
Related Post | Coastal Cities in Spain to Visit with Kids
19. Venice (Italy)
January in Venice is the furthest you can get from tourist season in the city, and that's exactly why you should go. Gone are the crowded alleys, jostling for a mediocre photo at St Mark's Square and standing in line for hours to see the Doge Palace.
Admittedly, it's cold – averaging around 6°C – and the daylight is short. Yet, if you dress warm, you'll find the city mesmerising. Sunsets that glint off the buildings, a crisp purity to the place, and when the fog comes in, it's a sight to see.
Additionally, all the major attractions from the Basilica San Marco to the Doge Palace, the Churches and the Museums are still open. Travel to the neighbouring islands of Burano and Murano, and you'll have them to yourself.
Tourism has unfortunately pushed out many locals, but in Winter, they thrive. Restaurants are open for them and them alone – in fact, the whole experience of Venice feels more authentic.
January has the Italian holiday of Befana and the run-up to Carnivale (the masked ball festival), so there are pockets of buzz in the otherwise quiet month if that's what you're looking for.
There are loads of options for family-friendly accommodation in Venice, and I'd recommend somewhere like the H10 Palazzo Canova on the Grand Canal. Reasonable prices, good views, and it's closer to the largest square in Venice – the Campo San Polo – which turns into an ice rink each winter. View the latest prices and availability for the H10 Palazzo Hotel here >>>
The kids will love Venice in January, as it's when the city is at its most magical. Just make sure they remember their coat!
By Dave, davechant.com
Europe weather in February
If you're looking for some time in the sun, the only place to go is the Canary Islands. Elsewhere in southern Europe, you should expect temperatures of 4-14 degrees. In February, Northern Europe begins to warm, so you should expect warmer temperatures than January but still very cold! Most countries in Northern Europe have an average temperature of -7 degrees.
Best European City Breaks in February
February is a great time for a European winter city break. It's low season in most countries, so you're guaranteed to meet fewer tourists and be able to experience the natural beauty of the continent.
Here are the best European city breaks in February:
20. Barcelona (Spain)
If you ever wanted to see Barcelona without the crowds, February is a wonderful time to visit. You can enjoy the sites at your leisure, without a thousand tourists around. Queues are shorter, locals are friendlier, and the weather is relatively mild for winter.
This is great news if you're travelling with children – they can explore Park Guell without getting lost in the crowds, run around the parks and get easy, delicious snacks at La Boqueria, Barcelona's famous market.
Get Your Park Guell Tickets Here Before They Sell Out!
Mid-February is a perfect time to visit with children, as the Festival of Santa Eulalia, the patron saint of Barcelona, runs for four days around that time. With processions, dances, parties and other revelries, the festival is fun for locals and tourists of all ages. The festival events are designed with children in mind and include the Giants Parade, the making of human towers, and a photography contest for children. There's also a Cerrefoc celebration, where people dressed as devils dance and jump between fireworks.
The Festival of Santa Eulalia is also usually accompanied by Llum Barcelona, where the Ciutat Vella district is lit up with over 20 different light projections. Seeing the city lit up is an exceptional treat for both residents and visitors to the city. February is an exciting year to experience a different side of Barcelona's culture with all of these festivities.
Read More – The Best family hotels in Barcelona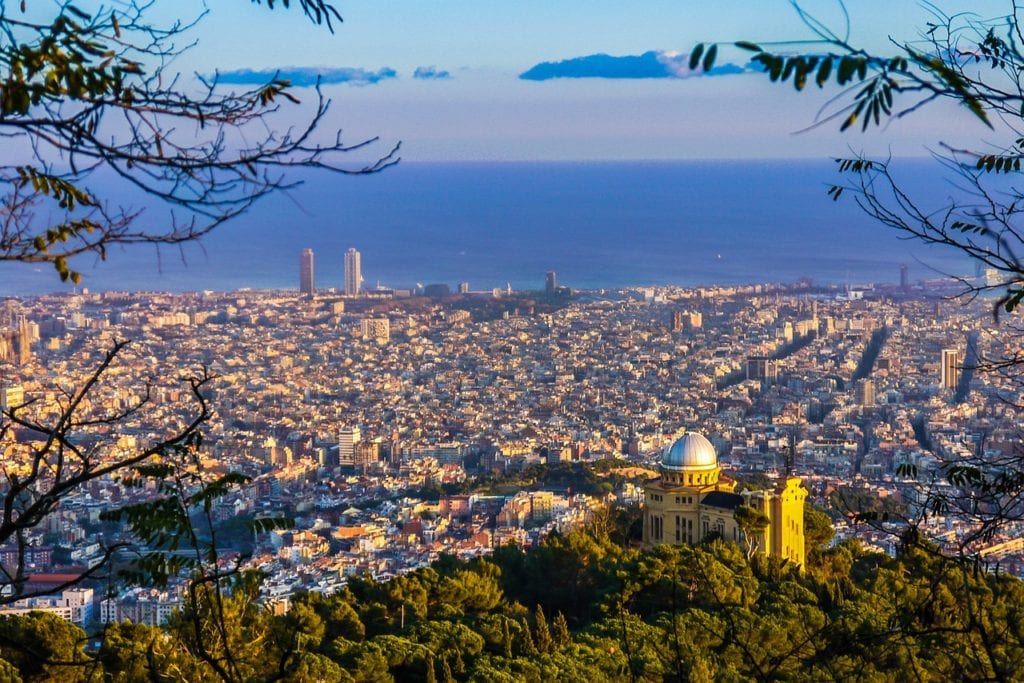 By Roxanne, Faraway Worlds
21. Belfast (United Kingdom)
Belfast is a city in Northern Ireland. It is a lovely walking city, relatively flat, with a small downtown core. It has delicious restaurants, fun bars, great shopping, and a lot to explore that both you and your family will enjoy.
The Winter weather in Belfast consists of a little rain but no snow. This is a fantastic walking city during any month of the year, so bundle up and enjoy.
For family-friendly accommodation, there is Tara Lodge, located near Queens University. This is a reasonably priced hotel with different size rooms and bed arrangements, just minutes away from excellent restaurants and easy walking distance to downtown Belfast. Click here to view the latest prices and availability at Tara Lodge for your dates here.
Two of the best things to do in Belfast are taking a private cab tour of the "Troubles" and visiting the extraordinary Titanic Museum. The "Troubles" refers to the three decades of civil unrest (that only ended in 1998) between the Catholics and Protestants in Northern Ireland, where over 3600 people died. The 90-minute tour takes you into the most contentious areas in Belfast, where some of the worst conflicts between the Protestants and Catholics occurred. There is still barbed wire, fencing and gates that separate Protestant and Catholic neighbourhoods. Tension still exists, and it is a fascinating experience.
The Titanic Museum is an enormous multi-level interactive museum that brings the Titanic back to life and highlights what it was like to work and live in Belfast in the early 20th Century. The museum includes nine interactive galleries, including an incredible ride deep into the middle of the Titanic construction. You could spend hours experiencing this museum and loving every minute.
View the Best Christmas Markets in the UK >>>
By Nicole, Go Far Grow Close
22. Dubrovnik (Croatia)
Dubrovnik, a Croatian coastal city on the Adriatic Sea, never fails to charm you, no matter how many times you've visited. That's the magic of Dubrovnik!
Though summer is the best time to visit Dubrovnik, it's also the worst time in terms of tourists. Yes, Dubrovnik is infamous for being ruined by hordes of tourists during summer.
The city is a delight in winter, especially in February when the weather is mild and enjoyable. The temperature hovers around 9° C with seawater temperatures of 14° C, meaning you can take a dip in the water.
With about 11 hours of sunshine per day and fewer crowds, February is, undoubtedly, an ideal time to visit Dubrovnik.
From strolling the Old Town's shimmering narrow limestone streets, gawking at old stone baroque buildings, touring old city walls, beach-hopping, museum-hopping, island-hopping to climbing the Mt. Srd – there are so many family-friendly things to do in Dubrovnik. You can even go on day trips to other nearby countries, reach some of Europe's best waterfalls and visit some of Croatia's best waterparks.
GoT fans can explore Game of Thrones locations in and around Dubrovnik. View the best Game of Thrones Tour in Dubrovnik here >>>
Once you finish exploring the Old Town, relish the local cuisine along with views over the ocean and the city walls at Nautika Restaurant, a beautiful place just about a 2-minutes walk from St. Lawrence Fortress.
Housed in the 18th-century baroque palace right in the heart of Dubrovnik, The Pucić Palace, is one of the best family-friendly accommodation in Dubrovnik.
By Anjali, Travel Melodies
You May Also Like | Best Islands in Croatia for Families
23. Lisbon (Portugal)
Lisbon is one of Europe's sunniest cities, making it a great European destination to visit in winter. We travelled to Libson for the February half-term and enjoyed blue skies and plenty of sunshine every day.
But there's more to the Portuguese capital than simply good weather; there is also lots to do in Lisbon with kids. This city is filled with characterful neighbourhoods and dramatic lookouts, fascinating museums and historical sites to charm even the most sightseeing-adverse kids. Plus, there's a huge aquarium and an excellent science museum where kids can get hands-on and interact.
Once you've seen the sights in Lisbon itself, it's there are some great day trips to be had. The colourful Pena Palace in Sintra is always popular (so make sure you get there early), as is Jeronimos Monastery in Belem. The monastery might be a little lost on younger kids, but you can always bribe them with Portuguese tarts from the Pastéis de Belém.
If you have more time, then consider a trip to see the big wave riders at Nazaré or visit the medieval town of Obidos.
For family-friendly accommodation, look no further than Martinhal Chiado in central Lisbon. Run by the Martinhal group, this hotel is the epitome of family-friendly, offering everything you could need for a fun and comfortable stay. View the latest prices and availability for the Maartinhal Chiado here >>>
By Katja, Globetrotting
By Hels, Holidays From Hels
24. Nice (France)
Nice is a French city located in the French Riviera, in southern France. Thanks to its sunny weather and pleasant temperature, Nice is an excellent destination to visit in France in the wintertime.
We especially like Nice in February when the city celebrates the carnival. The Nice Carnival is one of France's best festivals and is a colourful and joyful event, especially entertaining for kids. The carnival theme changes every year, but it's always a time of parades, live music, and street fairs.
Apart from the Carnival, Nice is a walkable city, and the Old Town's narrow streets boast colourful architecture and pretty baroque churches. Don't miss the old port with its colourful boats and the street markets, the perfect place to get a taste of Provençal food in Nice.
Nice also makes a great base to take day trips from. The best day trips from Nice in the winter months will allow you to discover the top tourist sites in the French Riviera without the crowds.
Nice is known for its fancy hotels, but you will also find convenient apartments managed by private hosts, perfect for families.
By Elisa, France Bucket List
25. Pisa (Italy)
Pisa is, without doubt, one of Italy's most family-friendly cities. The city can become overrun with tourists in the summer months, but you'll discover a much quieter city if you visit in winter.
The Leaning Tower of Pisa is lit up at night, so families won't need to wait until late to see the Tower aglow in February. The Piazza dei Miracoli, where the tower is located, is one of the best squares in Italy – aside from the tower, the cathedral and baptistry buildings are definitely worth exploring.
An evening passeggiata along the River Arno, punctuated by ice cream at Ponte di Mezzo bridge, is a great way to round off the day. The best part of Pisa to dine in is the far side of the river from the tower; there are fewer tourists, and the restaurants are more authentic. This is also a good area to stay in with a range of Airbnbs available for families (stay close to the river rather than the railway station).
February is the best winter month to visit Pisa because you can hop on the train to Viareggio and witness the annual carnival. This spectacle involves lots of dramatic floats and processions through the streets with a real party atmosphere.
Pisa looks lovely in wintertime. On a clear day, you can see the snow on the distant mountain peaks. If it's really chilly, the best way to warm up in Pisa is to find a cosy café and enjoy a thick hot chocolate and some fresh pastries.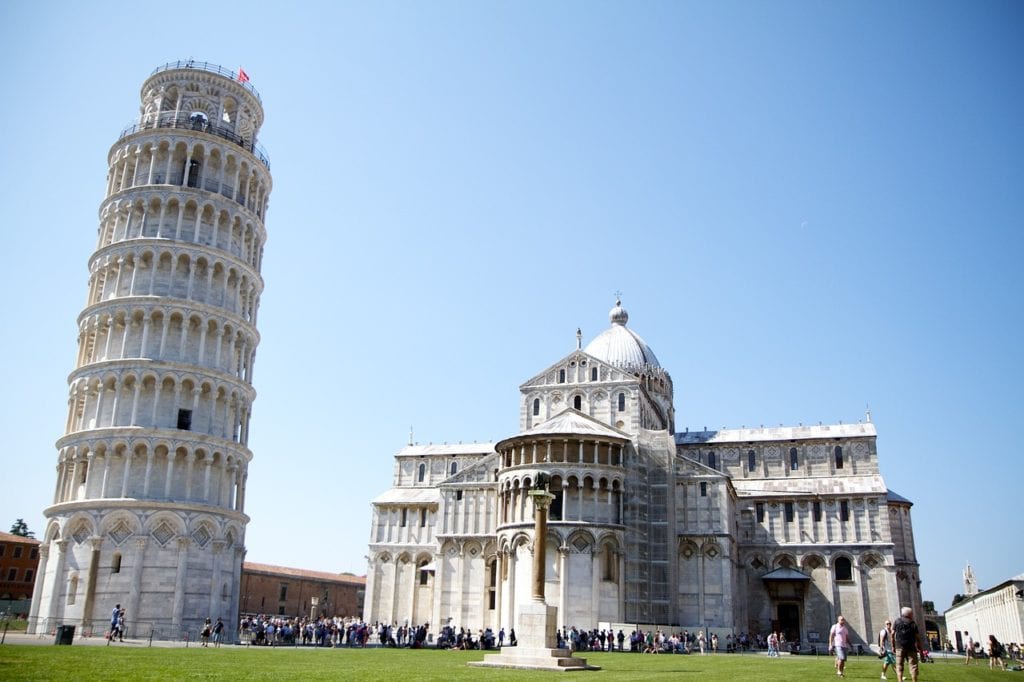 By Annabel, Smudged Postcard
26. Tromso (Norway)
If you're looking for a winter city break with kids, head north to northern Norway and the beautiful city of Tromso.
One of the best reasons to visit Tromso during winter is the high chance of seeing the Aurora– Tromso is one of the best places in Europe to see the Northern lights! Your kids will be in awe. You can see the Aurora in the months between November and March, whenever the sky is dark enough.
While you're waiting for darkness, there are plenty of other things to do in Tromso, including the polar bear museum. There will also be plenty of snow- your kids will enjoy being able to play in it and build as many snowmen as they like.
It's possible to fly directly into Tromso from many places across Europe, including London, so it's a fairly easy place to get to for a weekend or short winter break. There are also plenty of hotels, bars and restaurants for you to enjoy during your stay.
TOP TIP: If you can, book a tour or find a way of getting out of the city to see the spectacle at its finest. Light pollution dulls the colours, although it is definitely still possible to see the lights shimmering above the city without leaving your hotel room.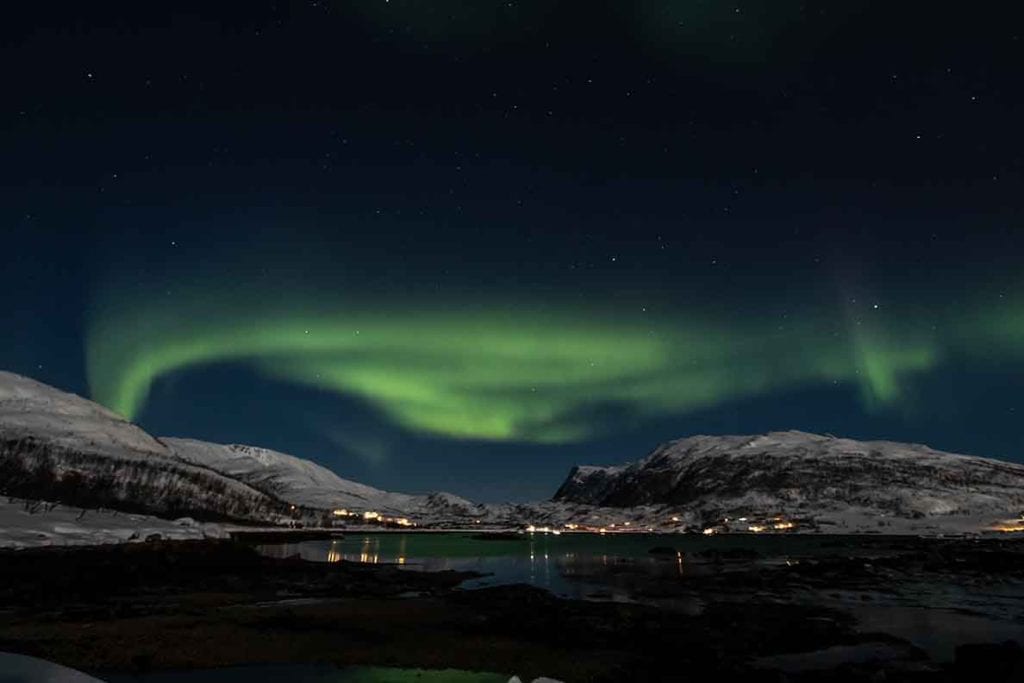 By Kathryn, Wandering Bird
Package Winter City Breaks in Europe
If you want to make the most of a small amount of time, or you want to leave the planning up to someone else, there are some great companies offering city breaks to suit all budgets.
Letsgo2 | Letsgo2 provides a fantastic range of city breaks. Many city breaks are to destinations by the sea. Letsgo2 will. We'll take the time to understand your needs before recommending the perfect baby and toddler break for you and your family. View the latest offers here.
Easyjet Holidays | A wide range of great value for a money city break and beach holidays, combining easyJet flights with 3, 4 and 5-star hotels and other extra services such as car rental and transfers. View the latest offers here.
Planning your own city break with kids
Flights: I filter the cheapest flights on Skyscanner. If you're travelling with kids, it's best to book a direct flight, even if it means travelling to an airport a little further away. Larger airports mostly have cheaper flight deals. If you're travelling to a city with more than one airport, make sure you research how long it will take to get into the centre. View the latest flight deals for your dates here.
Transfers: You can search for all the transfers available in your city break destination on Get Transfer. You can filter out transfers that meet your needs (e.g. car seats/minivans). A private transfer will get you from the airport to your accommodation much faster unless you're staying in a highly developed city with amazing transport networks such as London. View the latest Transfer prices for your dates here.
Insurance: Holiday Extras have trusted insurance providers with multiple policy options covering most eventualities. When travelling with kids, it's extra important to get travel insurance! View the latest Insurance deals for your city here.
Car Hire: On Travel Supermarket, you can compare the best hire car deals from a huge range of operators. Click here to search for the best deals in your chosen city.
Discover the BEST of Europe with Kids
Best places to propose in Europe
Family Europe Winter Packing List Guide: 101 Essential Items
Sylvie Simpson is the founder of European Cities with Kids. For the past 6 years, she has been travelling all over Europe whenever she has the chance, both solo, for work and with her daughter. Sylvie is on a mission to help people make the most of city breaks in Europe with kids and helps over 50,000 readers per month plan and make the most of their trips in Europe with kids.