Are you looking for the perfect destination to spend Easter in Europe? From traditional festivities and unique customs to breathtaking landscapes and awe-inspiring cities, there's something for everyone.
Whether you're planning a romantic getaway or an exciting family holiday, spending Easter in Europe is a great way to experience some of its most iconic destinations. In this post, we will be exploring the top places to visit across Europe during Easter 2023 – from Barcelona's stunning architecture to Limone Sul Garda's stunning Views. So grab your camera and prepare yourself for an unforgettable trip!
This post may contain affiliate links, which means I may receive a commission, at no extra cost to you if you make a purchase through a link. Please see my full disclosure for further information.
Don't forget to plan ahead when visiting Europe for Easter:
🛫 Book cheap flights with WayAway
Get up to 10% cashback on flights with WayAway Plus! Use the code EuropeanCitieswithKids2023 for 10% off a plus membership.
🛏️ Find the perfect place to stay with Booking.com, or discover your perfect holiday home 🏨 with VRBO
🚗 Find the best car rental deals with Discover Cars
🎫 Book amazing tours and tickets with Get Your Guide
Easter in Spain: The Top Destinations to Visit
Spain is a great place to celebrate Easter, and there are plenty of popular destinations to visit. Here are the best places to spend easter in Spain!
Valencia, Spain
Easter in Valencia is a time of great celebration, and the city is renowned for its vibrant and colourful festivities.
Semana Santa Marinera, or the Maritime Holy Week, is a major event that takes place during this time. This unique celebration combines religious devotion with the maritime culture of Valencia.
During the week leading to Easter Sunday, colourful processions take place in the Poblats Marítims district, including Grau, El Cabanyal and Canyamelar neighbourhoods near the harbour. So as a bonus, you can also take a stroll along Valencia's beaches before or after the procession.
The processions are a feast for the senses and come complete with music bands and beautiful floral displays. The highlight for more tourists, however, are the traditional robes and pointy hats.
While in other cultures, these outfits have negative connotations, in Spain, they are the traditional costumes of the Brotherhoods and there's nothing negative about them.
The main processions take place on Palm Sunday, Maundy Thursday, Good Friday and Easter Sunday. The most impressive ones where you can see the most pointy hats, however, is the one organised on Good Friday.
Recommended by Valencia Revealed
Mona de Pascua, Barcelona, Spain
When you think of Easter in Spain, you might initially have the south of Spain in mind. However, visiting the Catalan capital Barcelona at Easter is also worthwhile. Because here, too, you will find a lot of fascinating traditions and fantastic sunny spring weather that invites you to long beach walks.
The most significant Easter tradition in Catalonia is the Mona de Pascua, a colourful Easter cake. This yummy cake is usually colourfully decorated with chocolate and other sweets.
While in earlier times, the cake was a simple dry cake with actual eggs in it, today, there are no limits to the bakers' creativity. There are numerous motifs, flavours, and décor.
You can probably find everything from traditional Easter designs like bunnies or chicks to modern toys, comic book creatures, or famous cartoon characters.
Walk along the numerous bakeries, pastry shops, and supermarkets in Barcelona and look at the different creative cakes.
Of course, trying them is also a must. After you've chosen your favourite, make sure to enjoy it. Traditionally in Catalonia, the Mona de Pascua is served by the godfather. But of course, there is no law against gifting yourself with a delicious Spanish Easter cake.
Contributed by Vicki Franz, Vicki Viaja
Read More – The Best Barcelona Hotels for Families
Malaga, Spain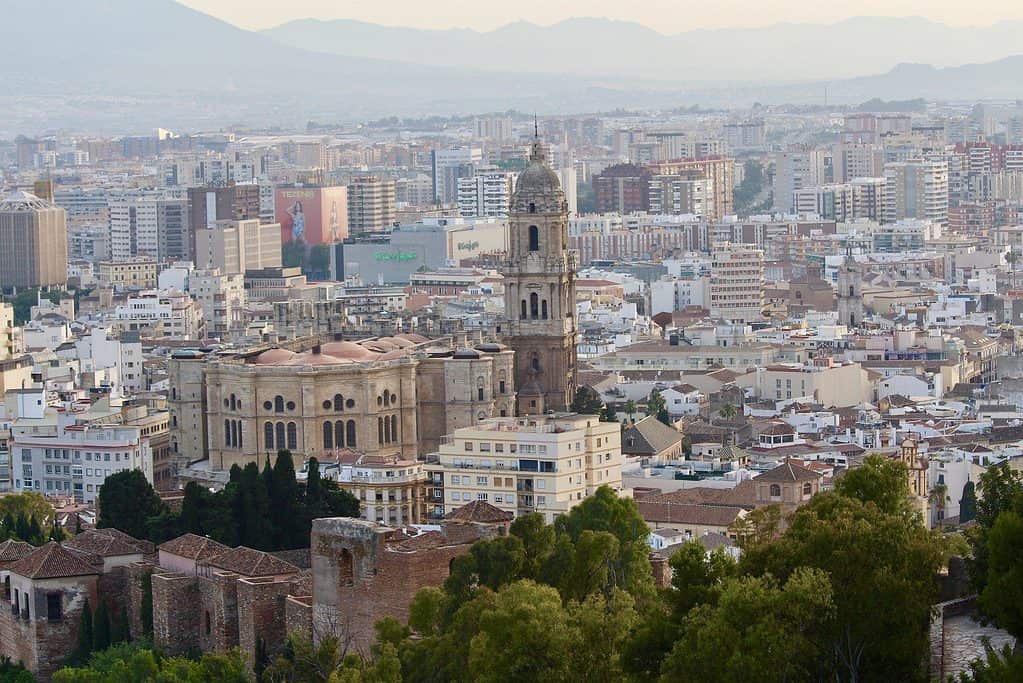 There are many reasons to visit Malaga, and one of them is its traditional events like Easter. Semana Santa (Holy Week), often celebrated during the first week of April, lasts from the sixth Sunday of Lent, also known as Palm Sunday, until Easter Day or Resurrection Sunday.
During this period, the streets of the centre of Malaga are packed with locals and tourists who go to see the impressive religious processions which happen every day, morning and night.
Whether you are religious or not, it is an event worth experiencing: a lot of passion goes into this event – from the people who carry huge religious floats to those who follow the procession from the beginning to the end of the route.
Apart from the processions, food is an essential aspect of Easter too. Fish and vegetable dishes are the most popular options following religious traditions, and there are some delicious desserts and cakes typical of Easter too!
If you visit Malaga at Easter, you can't leave the city without trying the delicious torrijas, the Spanish version of French toast.
The best area to stay in Malaga at Easter is the centre, so you don't miss this incredible event. Room Mate Valeria is a beautiful boutique hotel that is a fantastic choice for couples and families."
Contributed by Cristina of My Little World of Travelling
Seville, Spain
One of the most unique places to celebrate Easter in Europe is Seville in southern Spain, where they have the biggest celebration in the country. Easter Week is filled with processions through the streets where the different brotherhoods carry large floats through the streets, orchestras play moody music, and participants dress in capes with pointy hats.
Not only are there processions during the day, but you should also stay up for at least one of the night processions. The mood is completely different, and they will use the large candles to drip candle wax onto little balls of silver foil that the kids have prepared, hoping for the biggest ball of candle wax.
In fact, they save it year after year to make it bigger and bigger.
During Holy Week, one day in Seville won't cut it. You will not get the chance to see the main attractions as the processions will block all foot traffic through the city.
You might also find that several attractions are closed or have restricted opening hours. You should also book your hotel in good time in advance as they fill up quickly during Easter. Hotel Zaida is a great central hotel to stay at.
Contributed by Linn Haglund of Amused by Andalucia
Salamanca
Salamanca is one of the most beautiful cities in Spain.
The nickname of Salamanca is the Golden City, or La Dorada in Spanish. The city appears to shine in gold in the sunlight.
Salamanca is a World Heritage Site of stunning Romanesque, Gothic, Moorish, Renaissance, Baroque, and Ultra Baroque architecture. Salamanca's Plaza Mayor is considered the most beautiful square in Spain, and Salamanca's cathedrals (yes, there are two of them) are among the most beautiful cathedrals in Europe!
The Golden City of Salamanca is beautiful year-round, but it gets glorious during Semana Santa.
Salamanca is among the best places to spend Easter in Spain. The city of Salamanca has one of the oldest and largest Holy Week parades in Spain.
The tradition of Semana Santa processions in Salamanca traces back to the 13th century. The parades count 10 000 people in total who participate as penitents.
They belong to 18 Catholic fraternities from Salamanca. The 18 fraternities march in 24 public processions in the streets of Salamanca each day from Palm Sunday Eve to Easter Sunday.
However, the most spectacular processions happen on Maundy Thursday and Good Friday. The penitents dressed in distinctive robes and face-covering hoods carry large wooden floats with sculptures of Jesus and the Sorrowful Virgin Mary in the processions.
The sculptures belong to the most outstanding artwork of the Spanish artistic heritage.
Besides seeing the Semana Santa processions, visitors love touring Salamanca's cathedrals, Casa de las Conchas and the Art Nouveau Casa Lis museum. Visiting these iconic places is some of the best things to do in Salamanca, Spain.
Consider staying at the 4-star Soho Boutique Salamanca in the heart of Salamanca. The hotel has a fabulous location in the middle of the Old Town of Salamanca and elegant and spacious rooms.
Recommended by Milijana, World Travel Connector
Easter in Italy: The Top Destinations to Visit
Easter in Italy is a time to celebrate with friends and family. It's a time of reflection and joy, where traditional religious ceremonies combine with festivals and other celebrations.
From the north to the south of Italy, there are many exciting places to see and experience during Easter celebrations. Here are some of the top destinations for an unforgettable Easter in Italy.
Florence, Italy
Of all the Italian cities, Florence has one of the most surprising traditions to celebrate Easter: the explosion of the Cart.
At the end of Sunday's Easter Mass, Florence archbishop set on fire a dove-shaped rocket, la Colombina, small dove in Italian.
The rocket is linked through a wire to the cart, known as Brindellone, outside the Cathedral. The cart is full of fireworks that start to explode as soon as the dove hits them.
For more than 350 years this tradition set the beginning of the cropping season, if the cart explode entirely than it will be a productive summer.
In addition to this famous tradition, Florence also hosts an artisans and culinary market in the center that features the local products. For the occasion many of the incredible museums of Florence are open to celebrate the holidays.
Where to stay in Florence during Easter? The incredible Hotel Brunelleschi is the perfect destination for you! This elegant hotel is just a few meters away from Santa Maria del Fiore Cathedral, where the cart explodes. And from the rooftop you have a panoramic view of the city.
Are you planning to visit Florence soon? Then you should check out these Tuscany itineraries, prepared for you by a local!
Contributed by Anita, Anita Beyond the Sea
Limone Sul Garda, Italy
Italy is really beautiful any time of year, however if you are visiting Europe over Easter be sure to head to Limone Sul Garda, this historic lakeside town is pretty as a picture.
This hidden gem in Italy can be found perched on the hillside just above Lake Garda and makes the perfect place to relax and unwind on a laid-back and family-friendly vacation over Easter.
The name of this town gives you a hint of what it is famed for – its lemon production!
It is also well connected with ferries, boat taxis, and boat tours to other towns, which makes it a perfect Lake Garda base.
Over Easter, the whole of Lake Garda celebrates with markets. You will find traditional products, local food, and produce. Entertainment for the children can be found by the many buskers and jugglers around the town squares.
The most notable event that happens over Easter at Lake Garda is the Festa di Pasquetta which takes place in Rocca in Lonato del Garda.
It is a fun day outdoors with the kids with so many activities for them to take part in like the botanic treasure hunt where they will pick up seeds, flowers and plants for the Stampa e colora con le piante activity. There is also a masked egg hunt which is a great hit with all kids!
At night time, the town does a very special parade in the name of Jesus who died on the cross for our sins. They line the streets of the town with candles. After the church service, there is a parade of people who follow the cross through these beautiful candlelit streets – it is incredibly touching and such a special event.
There are so many wonderful places that you can stay, but a top pick is Hotel Capo Reamol, right on the lake shores. It is a stunning hotel set among olive trees and is an ideal spot for your Easter vacation in Europe and Italy.
Contributed by Ejmont, Wanderlust Storytellers
Top Places to Visit at Easter in Europe – Portugal
Lisbon
Easter in Lisbon is a memorable experience that combines religion, culture, and tradition. Many churches throughout Portugal will open their doors to visitors on Good Friday, providing an insight into the religious culture of the country.
During the holy week, several spectacular penitential processions take place after dark and are illuminated by candlelight.
This adds incredible charm and solemnity to the occasion and makes for an unforgettable experience. Visitors can see one of the most renowned in Obidos, about an hour from Lisbon, and wander around the city to explore its winding streets, taking in the atmosphere of a Portuguese Easter.
Good Friday is celebrated in Portugal with traditional codfish dishes. This is a great way to sample some of the local cuisine and get a taste of of some the best Portuguese gastronomy.
The weather in April is also just right to enjoy sightseeing or take part in the traditional festivities. It really is the perfect time to walk around Lisbon to see it at its best! There's something for everyone to enjoy during this magical time.
Stay at the modern Memmo Alfama design hotel for top design with a fabulous view in the heart of Lisbon. From ancient churches to vibrant markets, Lisbon is a great city to visit during the Easter holiday.
Contributed by Nancy Michelle Cote of Ericeira Family Adventures
Lagos
The beautiful coastal town of Lagos is a fantastic place to spend Easter by the beach. Lagos is located in the South of Portugal in the Algarve region and is known for spectacular beaches, rugged limestone cliffs, and clear water.
With more than 300 sunny days a year the weather is mild all year, but with spring coming at Easter time this is a nice to spend some time on the beach. Easter is a big event all over Portugal, especially in smaller towns and villages, where traditions are held by the local parishes.
Lagos has Easter celebrations in two churches: Santa Maria and São Sebastião. During Easter week, Lagos hosts a fair celebrating local customs and traditions as well along with food and craft.
Traditional regional folklore dancing to the sound of great music can also be seen at the fair. Dolphin watching from Lagos and activities such as kayak tours, surf lessons and boat tours to the surrounding caves are very popular over the easter period.
This is a great time for hiking and to enjoy exploring the surrounding cliffs and trails.
Recommended by Campbell, The Algarve Family
More of the Top Easter Holiday Destinations in Europe
Sibiu, Romania
Udatul Fetelor is one of the most interesting Easter traditions around Transylvania, in Romania. On the second day of Easter, men used to go to the houses of unmarried women and throw water over them, so that they can blossom, be pretty all year long, smell like spring flowers, as well as have good luck.
If a girl wasn't "watered", she would have a very bad year ahead. The water used to water the women had to be fresh from the fountain. It was believed that women are like flowers, so they had to be watered as well in order to blossom during the year.
In returned for being "watered", the women reward the men with painted Easter eggs and traditional Romanian desserts such as cozonac or pasca.
These days, the tradition has changed, and the girls are not thrown water on anymore, but "watered" with perfume. It is a tradition that is still kept alive, but these days it doesn't matter if the girls are married or unmarried anymore, everyone gets "watered". It is custom to have guests on the second Easter day for this exact reason.
If you want to visit Sibiu for Easter, consider staying at Imparatul Romanilor Hotel.
Contributed by Joanna, The World in My Pocket
Discover the best cities in Romania to visit here >>>
Prague, Czech Republic
Easter in Prague is magical, especially if you're visiting Prague with kids. Spring temperatures invite you outdoors to take part in traditions like painting eggs, folk dancing, and a more and more less popular tradition, whipping—men and boys whip women and girls with willow sticks braided with ribbons for gifts, luck, and fertility.
The entire Old Town Square (Staroměstské náměstí) where the famous astrological clock resides is transformed into a colorful Easter market, complete with festive decorations, food vendors, and wooden handicraft stalls.
The vendors sell all kids of beautiful crafts like painted eggs, embroidered textiles, wooden toys, decorative flowers, traditional Easter whips and more.
Don't miss the astrological clock show every hour on the hour between 9am and 11pm when it chimes and the procession of the Twelve Apostles takes place. It's a tourist favorite and great for kids because it's very quick.
After the show, nibble on some traditional Czech food from the market.
Try smoked ham with potatoes, mulled wine or a traditional pilsner, and a delicious sweet treat called Trdelník. It's a yeast dough pastry that is spiraled around a stick and cooked over an open fire then topped with cinnamon and sugar, similar tasting to a cinnamon roll. Try having just one of these hot-off-the-fire bites of heaven.
One could argue Easter is the absolute best time to visit Prague due to the overwhelming love for the holiday. Prague should definitely be on your list of Easter destinations!
Where to stay in Old Town: Art Deco Imperial Hotel
Recommended by Allison Baxley, Renovating Life
Paris, France
The Easter holiday is a magical time to explore Paris with the kids.
From religious services in the city's beautiful churches and Easter concerts, to chocolate bunnies and candy eggs filling pâtisseries shelves and egg hunts in spectacular venues, there are plenty of activities for families to enjoy over the 3-day weekend.
If you're looking for an exciting way to spend your family vacation this spring, why not take a trip to Paris? With its stunning sights, delicious food, and unique experiences, it's sure to be an unforgettable experience!
One of the best ways to celebrate Easter in Paris is to take your kids on an egg hunt. There are many fun and creative locations around town that host special Easter egg hunts, such beautiful Parisian neighborhoods and the most beautiful parks in the city.
To make it even more memorable, why not pack a picnic lunch of French delicacies and enjoy the start of spring weather in one of the city's beautiful parks?
Or, if you're looking for a relaxing activity, enjoy a cruise down the Seine River and marvel at some of the most famous landmarks in the world.
On Monday following Easter, many shops and restaurants are closed so plan ahead.
However, there are still plenty of things to do – so make sure to take advantage of all that Paris has to offer and create some special Easter memories with your family!
To continue enjoying the magic in your hotel room, check into Terrass" Hotel with gorgeous views of the Eiffel Tower.
Happy Easter, bonne fête de Pâques! 🙂
Recommended by Fiona, Travelling Thirties
Zakopane, Poland
Zakopane is tucked into the heart of the Polish Tatra Mountains. It's often referred to as the winter capital of Poland, but it's a gorgeous place to visit no matter the time of the year.
You'll see timber-built cottages in the shadows of jagged peaks and get to wander between traditional craft stores selling homemade jams and vodka.
Easter marks the beginning of the traditional hiking season in the Tatra National Park. It begins with a flurry as the crocuses come into full bloom between the grassy meadows of the beautiful Chochołowska Valley.
After hitting the trails, be sure to snuggle up in a traditional Polish highlander tavern, where the seasonal smoked sheep's cheese of ocypek will be served with a dollop of cranberry sauce on the side.
For a hotel, there's nowhere that can beat luxurious Aries Hotel and Spa – it's even got outdoor hot tubs where you can bathe while watching the light fade on the mountains.
Recommended by Joseph, Krakow Buzz
Easter in Dublin

Dublin is a fabulous city to visit during the Easter holidays. The weather is slowly starting to improve, huge events like Malahide Castle's Easter hunt are being held, and there's more chocolate on the shelves because of all the Easter Eggs.
Once the first of April approaches, that's when a lot of the Easter events kick off in Dublin.
Newbridge Farm and Malahide Castle host their egg hunts from the 9th – 24th of April. Airfield Estate hosts an Easter extravaganza on Easter Sunday. The Irish EPIC Museum sets up an Easter trail in their complex for children to enjoy. And the list goes on.
Ireland has always been traditionally a predominantly Catholic country, so naturally, most practicing Catholics would go to Mass on Easter Sunday and other important dates around throughout the celebration.
A great hotel to stay in when you visit Dublin is the Jurys Inn. Situated on Parnell Street, and is popular among families who travel to the capital.
There's no better way to see the real side of Dublin than by taking a walking tour. Bring the kids along to learn about the city's history and how it has transformed into one of the most visited cities in Europe.
Recommended by Where in Dublin
Plan Your Easter in Europe
Don't forget to plan ahead when visiting Europe for Easter.
🛫 Book cheap flights with WayAway
Get up to 10% cashback on flights with WayAway Plus! Use the code EuropeanCitieswithKids2023 for 10% off a plus membership.
🛏️ Find the perfect place to stay with Booking.com,
…or discover your perfect holiday home 🏨 with VRBO
🚗 Find the best car rental deals with Discover Cars
🎫 Book amazing tours and tickets with Get Your Guide
Sylvie Simpson is the founder of European Cities with Kids. For the past 6 years, she has been travelling all over Europe whenever she has the chance, both solo, for work and with her daughter. Sylvie is on a mission to help people make the most of city breaks in Europe with kids and helps over 50,000 readers per month plan and make the most of their trips in Europe with kids.