Planning a trip to Newcastle with kids? This guide will enable you to make the most out of your city break in Newcastle, Tyne and Wear. From helping you discover the best things to do and recommending the top places to stay and eat through to unforgettable day trips and experiences.
This post may contain affiliate links, which means I may receive a commission, at no extra cost to you if you make a purchase through a link. Please see my full disclosure for further information.
Is Newcastle Good for Kids?
There are so many cool things to do in Newcastle. Kids interested in history can learn a lot, and there are many unique experiences on offer in terms of sports, arts, culture and science. This includes lots of activities for babies, toddlers, tweens, teenagers and adults.
Is Newcastle Good for a City Break?
Newcastle, Tyne and Wear ticks a lot of boxes. The city itself is vibrant, family-friendly and lots of fun in terms of the attractions and the people you will meet. You are also close to the coast for a beach day, and Northumbria has lots of beautiful places to visit, so you are spoilt for choice.
Top 10 things to do in Newcastle with Kids
There are many unique activities to enjoy in Newcastle, from getting back to nature, and enjoying rich history, art and culture, to fun for active kids and a visit to probably one of the most passionate football teams in the North!
1. Quayside, River Tyne & Millennium Bridge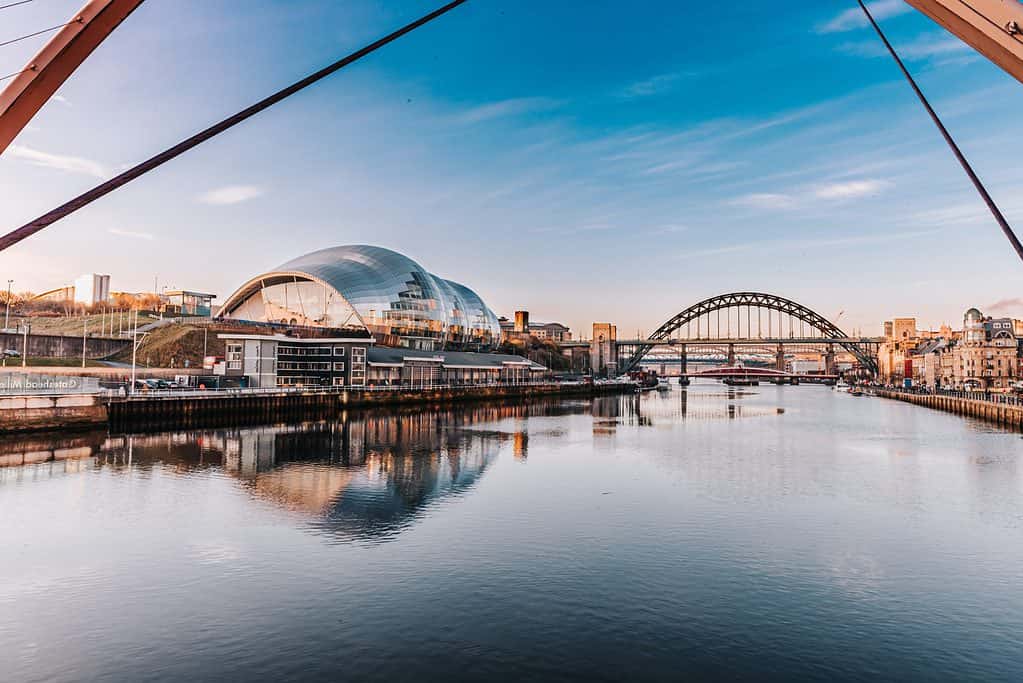 Don't miss the Millennium Bridge lit up at night! Walk along the River Tyne, and admire the iconic Tyne Bridge and cutting-edge, tilting Millennium Bridge. If you visit on a Sunday, there is a regular market on the Quayside, there are lots of great restaurants, and the Baltic contemporary art gallery is also worth a visit.
2. St James Park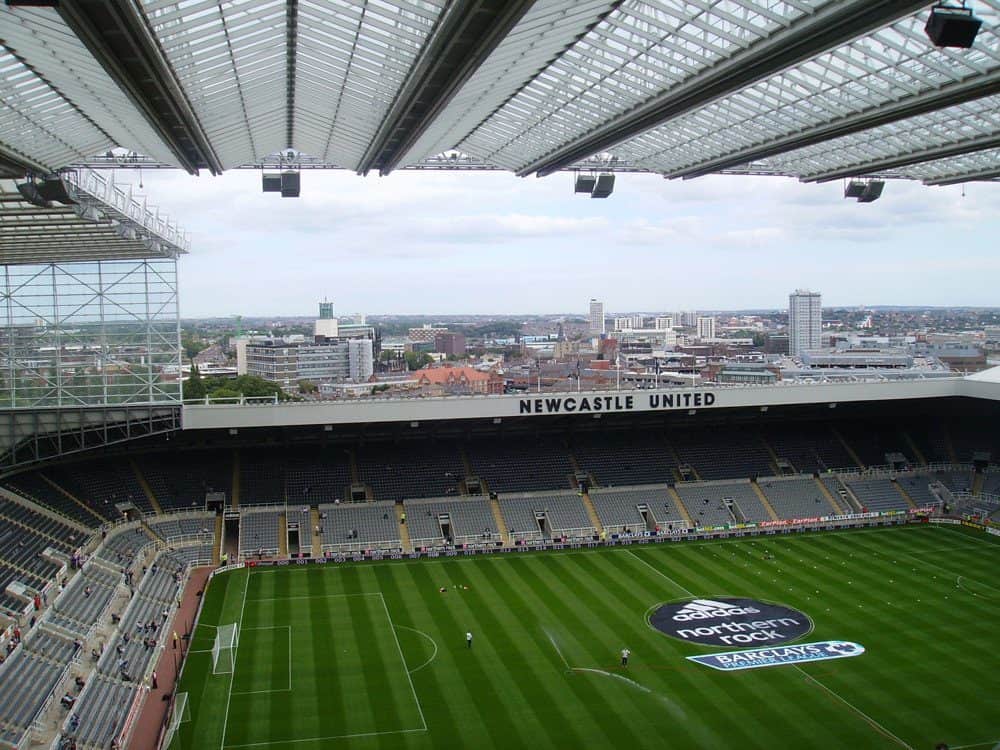 The iconic St James' Park is a magnificent stadium overlooking the city and has been home to the football club since 1892. Check out friendly matches to see if you can grab a ticket! You can take a tour with the kids, where you can see the home dressing room, media suite, director's box and much more. Get your tickets here >>>
3. The Great North Museum
The Great North is an extremely family-friendly natural history museum with interesting exhibits in natural science, world culture, geology and archaeology.
The Living Planet area with hands-on activities, live animal tanks and a virtual aquarium was a hit with the kids, as was the life-sized T-Rex replica. Great café and shop with lots of great educational toys. The museum is central and free!
4. Jesmond Dene
Jesmond Dene is a beautiful, historic park formed from the Ouseburn's steep-sided, wooded valley and home to lots of wildlife. The kids will love exploring the nature trails, stunning waterfalls and bridges. There are regular plant markets on the Armstrong Bridge, the pets corner is fun, and there is also a great play area for under 8s. The dene is close to the city between Jesmond, Heaton and South Gosforth so easily accessible by bus, Metro or car.
5. Life Science Centre
Kids will learn lots about science and get to conduct their own experiments at this fab family museum located not far from Central Station in the city centre. The Science Centre has lots of hands-on, interactive activities for all ages, with many different educational exhibits held across the year. You can also visit the North's biggest planetarium and enjoy a 4D motion ride, and the Young Explorers' Zone for under 7s is great.
6. Angel of the North
Breathtaking sculpture by Antony Gormley and an iconic symbol of the North East. Standing 20 metres tall and with 54-metre wings, it is truly astounding!
The sculpture is situated in Gateshead and can be reached by car or regular bus services in 20 minutes. About 5 minutes from the Angel is Saltwell Park. This is an amazing park for the kids, including a boating lake, playground, trees to climb, a café and lots of green space.
7. Seven Stories
Seven Stories is a great place to visit with kids, and it's free! Also known as The National Centre for Children's Books, the museum has amazing, interactive exhibitions, and there are many events and workshops that you can pre-book for a small charge. You can also see cherished pieces of children's literature, such as the original artwork from The Tiger Who Came to Tea and notes by Enid Blyton! The museum is located in Ouseburn Valley.
8. Fun Shack Newcastle upon Tyne
Largest soft play centre in Tyne and Wear, and with 30K square feet of fun, the kids won't be bored! The Fun Shack has tube tunnels, rope bridges, rubber ring slides, trampolines, go-karts, bumper buggies and a 12-cannon pirate ship arena. The Toon Town toddler village is also for younger kids, with dressing up and role-play. You can take the Metro to Walkergate in 5 minutes, and the Fun Shack is a short walk from the station.
9. Newcastle Climbing Centre
Located in the impressive former church of St Marks, this is a great climbing venue for families. There are 1200 square metres of climbing walls with roped climbing, lead wall and bouldering zones, and the height of the building is a whopping 15m! Children aged five and over can climb with various supervision requirements outlined on the website. The Newcastle Climbing Centre is not far from Chillingham Road metro station.
10. Rising Sun Country Park
Escape to this beautiful, 400-acre country park and wildlife haven. There are lots of footpaths, ponds, woodland, bird hides to explore, and a fun children's play area and water play feature. The park has regular events for kids, such as vegetable growing, Teddy Bears Picnic & Festival (August), den building, orienteering and craft activities. The park is located in the Benton area.
When is the Best Time to Visit Newcastle
Visit during the summer months when the weather is warmer. You can enjoy the many beaches in the region, and there are various festivals and events. December is also a great month to visit. You need to wrap up, but the Christmas markets, parades and events are superb.
Newcastle Upon Tyne in June
June is a great month to visit the North East. The Hoppings is Europe's largest travelling funfair and held on the Town Moor in mid-June and lots of fun for the kids. The weather is moderate (average 16C). There will be a slight breeze / a chance of some rain but nothing major.
Newcastle Upon Tyne in December
Don't miss the great Christmas market held at Greys Monument if you can visit in December. The kids will love the spectacular Christmas window at Fenwick's and meeting Santa (book ahead!), and the outdoor ice rink at the Life Science museum.
How to Get to Newcastle
Newcastle International Airport is about 7 miles from the centre, and you can travel via train, bus or taxi in less than 30 minutes, and it's super cheap. Book your private transfer here >>>
Central Station is a major railway station. This is the main East Coast Line linking Edinburgh to London, with the great option of high-speed train services. You can also easily get around the North of England via direct and cross-country services to cities like Liverpool and Manchester.
How to Get Around Newcastle
There are great transport links in and around the city. The underground/overground Metro service is a great way to travel and even goes out to the coast, as do the regular bus services. The city is pretty compact, so you can also easily get around on foot.
The walk from the Quayside to the centre is almost vertical, so you may want to jump on one of the shuttle buses or grab a taxi!
Where to Stay in Newcastle with Kids
The Quayside is a great place to stay, with many attractions close by. Jesmond is a lovely suburb to stay in, too, with lots of boutique shops, cafes, restaurants and the beautiful Jesmond Dene to explore.
Budget: Kenilworth Hotel, Jesmond
Super priced hotel located in Jesmond. The hotel is a Victorian conversion with original features and more modern, clean and bright rooms, including a family room option. You can reach Newcastle in five minutes from West Jesmond metro station.
Mid-Range: Staybridge Suites Newcastle
Perfect location in the Quayside area, these stylish apartments have great facilities and are perfect if you are staying for a few days. Each suite has an equipped kitchen and living room area, and some have amazing views over the River Tyne. Cots and extra beds are available on request.
Splashing Out: Hotel Indigo (IHG Hotel)
Boutique hotel, with striking rooms and a fantastic Marco Pierre White restaurant which serves breakfast, lunch and dinner (kids meals available). The hotel has a great location near Central Station and is only 10 minute's walk to St James' Park, Grey's Monument and the central shopping area.
Where to Eat in Newcastle with kids
It's not unusual to see fish and seafood on the menu in Tyne and Wear. Craster kippers (smoked herring) and mouthwatering fish and chips are a must. Pease pudding is a traditional dish (made from split peas, water, salt, spices and bacon or ham) served in many cafés as a lunch offering in a stottie (huge, round bread loaf!). There are lots of diverse cuisines too, so something for everyone!
Pani's
A hidden gem serving fabulous Italian food, reasonably priced, excellent service and a vibrant atmosphere that the kids will love. We visit Pani's every time we go to Newcastle upon Tyne.
The Botanist
Fab location overlooking Grey's Monument, with a beautiful interior and a glittering dome roof. Kids' meals include a main, salad and dessert presented in a quirky way (ketchup in a mini wheelbarrow and baked beans in a mini plant pot!!). View on TripAdvisor here >>>
Longsands Fish Kitchen
If you take a day trip to Tynemouth, head to Longsands Fish Kitchen for amazing fish and chips. The fish is fresh, and they even tell you where it was caught. They have kid's options and even a chip stottie! You can eat in or head to the beautiful beach to enjoy your food.
2 Days in Newcastle Itinerary
There are lots to cram in if you are visiting Newcastle, Tyne and Wear. Here are the highlights and how to make the most out of your mini-break.
Day 1: How to Spend a Day in Newcastle
Morning: Explore the Newcastle Quayside, walk under the Tyne Bridge, admire the river and enjoy the market on a Sunday. If the weather is great, you can take a boat trip down the River Tyne and see the Millennium Bridge tilted. On a rainy day, the Baltic museum has unique art installations, glass lifts, a viewing platform and an amazing shop for the kids. Head to Panis for some lunch.
Afternoon: Jesmond Dene in the afternoon is a perfect escape. You can relax in the green space, see the animals at the pet corner, have some cake at the cafe, and the kids will love the playground and woodland trails. You can reach the dene easily by bus, private reansfer or taxi.
Day 2: 48 Hours in Newcastle with Kids
Morning: Visit the iconic Angel of the North and then head to Saltwell Park, where the kids can climb trees, row on the boating lake and play at the many play areas. You can then head back to Newcastle for a fun lunch at The Botanist.
Afternoon: The restaurant overlooks the impressive Greys Monument, and you can check out some of the great shops in this area and the historic Grainger Market. Finish off the afternoon with a visit to the Centre for Life Science and/or the Hancock Museum, which are both centrally located.
Day Trips from Newcastle with Kids
Tyne and Wear is perfectly placed to explore Northumbria and Scotland. You are literally spoilt for choice in terms of days out in these areas, particularly castles, Roman forts and Hadrian's wall. Don't miss heading to the coast if you can. Longsands Beach at Tynemouth is well worth a visit.
Tynemouth
Visit the beautiful Longsands Beach, Tynemouth Priory and Castle and many quaint shops in this picturesque seaside town. There is also a great dinosaur-crazy golf course, aquarium and lovely markets on the weekend. Tynemouth is about 25 minutes via car or Metro. Longsands Fish Kitchen is a perfect place for lunch.
Alnwick
Alnwick Castle is featured as Hogwarts in the Harry Potter films, and there are lots of related events held in the castle grounds. You can also explore the staterooms and impressive interior of the castle. Award-winning Alnwick Garden is a 10-minute walk from the castle. The kids can get lost in the Bamboo Labyrinth, enjoy science in the Serpent Garden, visit the fragrant Rose Garden and see the amazing water displays. There is also a great adventure golf course and the Treehouse restaurant. Alnwick is 40 minutes by car or 1 hour via bus.
Lindisfarne
Lindisfarne (Holy Island) in Northumbria is an amazing day trip. The kids will love that this tidal island is temporarily cut off from the mainland! You can visit via boat from Seahouses or walk/drive across the causeway in the designated safe times when the tide drops. Lindisfarne Priory and Castle National Trust, Gertrude Jekyll garden and the beach are well worth a visit.
Look out for the seals and enjoy amazing fish, seafood and ice cream. You can reach Lindisfarne via car in just over one hour or head to Seahouses in 45 minutes and take a boat trip.
Plan Your Trip to Newcastle with Kids
Book your flight to Newcastle >>>
Book your private transfer here >>
Compare hire car prices and availability >>>
Discover family-friendly places to stay in Newcastle >>>
Discover More of Europe
Discover the capital cities of Europe
Discover What Manchester is Famous for
Discover the cheapest European cities
A Plymouth Citybreak with Kids
FAQ'S
What is Newcastle city famous for?
Newcastle upon Tyne is famous for its stunning bridges, passion for football, fascinating history, spectacular scenery and amazing food. Many great museums, art galleries, theatres and markets to experience.
What can toddlers do in Newcastle Upon Tyne?
There are many great activities for toddlers to enjoy, including beautiful nature parks and play areas, great museums which cater for younger children and plenty of indoor play areas for a rainy day.
What is in Newcastle for kids?
Newcastle upon Tyne has many great things to do with kids, whether you are visiting with younger children, tweens or teenagers. Newcastle is extremely family-friendly and perfectly located for day trips to the beautiful Northeast coast, historic Northumbria and Scotland.
What can a 3-year-old do in Newcastle?
If you are visiting with a 3-year-old, don't miss a visit to The Great North Museum (lots of interactive fun), Jesmond Dene (pets corner, playground and woodlands to explore), or for a rainy day, the Fun Shack is a good option (including the Toon Town toddler village!).
What is the closest city to Newcastle?
The port city of Sunderland is the closest. Known as the largest shipbuilding location in the UK and is home to the iconic Penshaw Monument (Grade 1 listed building), the impressive National Glass Centre, Roker Light House and Hylton Castle.
Sylvie Simpson is the founder of European Cities with Kids. For the past 6 years, she has been travelling all over Europe whenever she has the chance, both solo, for work and with her daughter. Sylvie is on a mission to help people make the most of city breaks in Europe with kids and helps over 50,000 readers per month plan and make the most of their trips in Europe with kids.