Looking for the best Christmas markets in the UK?
Nothing quite captures the spirit of Christmas like a good Christmas market. Step into a festive journey unlike any other. From hunting for gifts to indulging in the delightful flavours of the season, these markets offer more than just shopping – they offer an unforgettable experience wrapped in lights, laughter, and the spirit of Christmas.
There will be some amazing UK Christmas markets in 2023, with many dates and locations already announced. Here are the best Christmas markets across the country to visit this year!
The Best Christmas Markets in the UK: 2023
1. Belfast Christmas Market
Belfast Christmas Market Dates 2023 – 18 November – 23 December
Visit Belfast Christmas Market, and you will be surprised by a variety of food stalls selling everything from gourmet cuisines to ice creams. Be it beer tents, homegrown produce, craft items, grooming products, or festive knick-knacks, more than 100 chalets bring you all things Christmas-y.
This will be the 18th year of this Christmas market, and it keeps on getting grand every year. It is held at Belfast City Hall grounds at Donegall Square and can be reached easily even if you are new to the city.
The details of Belfast Christmas Market 2023 are yet to be announced, but from my experience, the format of activities and stalls is fairly similar every year.
It usually has a Santa train, Olaf ride, vintage helter-skelter, and a big snow slide, making it a perfect place for kids and adults alike.
Of course, you can check other free things to do in Belfast to make the best of your visit.
The Hilton Belfast on 4 Lanyon Pl is a popular hotel choice because of the blend of comfort and luxury it offers.
Recommended by Lavina D'Souza of Continent Hop
2. Harrogate Christmas Market
Harrogate Christmas Market 2023 Dates: 1st – 17th December
Harrogate Christmas Market is a small yet lively market, that is held on the Stray, by Montpellier Hill. Its location right in the heart of town makes it easy to access and perfect for combing with a day of shopping in town or heading to a restaurant after for dinner.
Harrogate Christmas Market hosts stalls by both local and traditional European traders. You will find everything from locally crafted Christmas decorations and handmade gifts, to yummy treats such as mulled wine and cider, local BBQs and more fudge than you can imagine.
2022 even saw the addition of a large Ice rink installed for the festive period. This was a huge success and there are plans for them to return again this year. Along with a special entertainment area for families and children.
The Stray is a magical space at Christmas with all its colourful lights, this makes the Christmas market an even more wonderful experience.
If you plan to visit from further afield and want to stay the night, I can highly recommend staying at the Crown Hotel. This way you will have the market right on your doorstep.
Recommended by Callie from Counting Our Footsteps Travel Blog
3. Knaresborough Christmas Market
Knaresborough Christmas Market 2023 Dates: 2nd-3rd December (10am – 5pm)
As the festive season approaches, the charming town of Knaresborough in North Yorkshire comes alive with its annual Christmas market. Known for its picturesque cobbled streets and stunning views of the River Nidd, this historic market town is transformed into a winter wonderland, complete with twinkling lights and an array of stalls selling unique gifts and delicious treats.
Whether you're looking to stock up on festive goodies or soak up the enchanting atmosphere, Knaresborough's Christmas market is not to be missed. Plus, you can take a stroll to the ruined castle and see Knaresborough's famous viaduct during your visit.
The finale to the market is a spectacular firework display at 4,30pm on the Sunday, and you shouldn't miss a short walk through Knaresborough's scenic streets to see wonderful Christmas Tree Festival in St John's Church.
Knaresborough is easy to reach on a day trip from York or Leeds and is a superb town to explore with kids, as the Christmas market is compact, without too much walking to tire little legs.
Top Tip: Book a table at the quirky Six Poor Folk pub, for a hearty meal in front of a crackling fire. Alternatively, treat yourself and stay over at the atmospheric 18th century Old Royal Oak pub, right in the centre of the town.
Recommended by Coralie, Grey Globetrotters
Top Stays in Knaresborough:
4. Glasgow Christmas Markets
St Enoch Square 2023-2024 Dates: 17th of November to 3rd of January
George Square 2023-2024 Dates: 1 December to 7th of January
There are two Christmas markets in Glasgow, one is at St Enoch Square and the other at George Square. Both are right in the centre of the city.
George Square is one of the prettiest squares in Glasgow, surrounded by impressive buildings which are made to look even more atmospheric by the twinkling Christmas lights.
After you have had your fill of mulled wine and bratwurst take a ride on the 100ft observation wheel to get a bird's eye view of the market and the lights.
There is also an ice rink, a snow globe perfect for festive photos, a train ride and many other fun rides. Every afternoon there are Christmas themed performances.
At St Enoch Square you will find more adventurous rides and even an ice climbing wall. For the little ones jump aboard Santa's runaway train which goes around the market. There is also a Santa snow globe to get some Instagrammable photos.
The best place to stay in the city centre is Kimpton. For a more budget friendly option nothing beats Dakoto Glasgow which is a short walk away from both markets.
Recommended by Kristin, Scotland Less Explored
5. Manchester Christmas Markets
2023 Dates: 11th November until 22nd December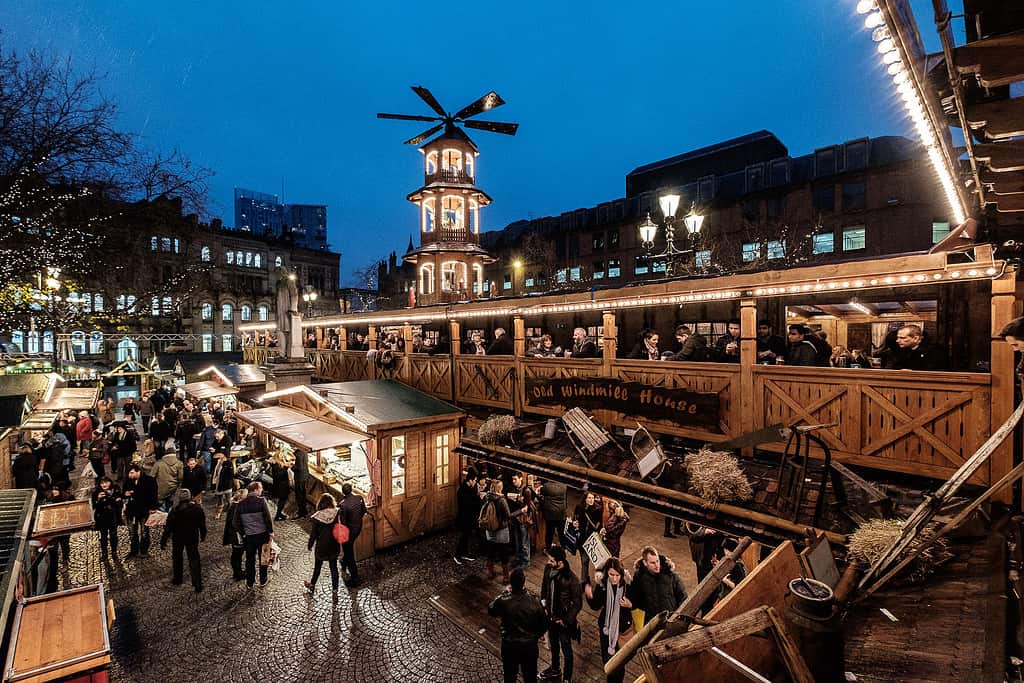 If you are looking for the best Christmas markets in the North West, Manchester will be your paradise!
Unlike most places, Manchester is home to not one but about a dozen Christmas markets! They are all located in the city centre, from Piccadilly Gardens to Deansgate, and offer a unique experience.
You will find everything you need, from craft gifts to food hampers and bars. It's also one of the best places in Manchester to eat street food. Vendors come from all around Europe, and you can find all sorts of delicious bites.
Some of the most popular ones include the Dutch pancakes, the pork dumplings with ginger, the strawberry crumb, and Biscoff chimney cake, and of course, the pies from the Great North Pie Co.
If you want to grab a drink, Piccadilly Gardens will be the best place. You can find many bars serving mulled wine, hot chocolate, as well as alcoholic beverages. There are a lot of outdoor seats available in this area.
Finally, if you are visiting with children, make sure to go to Cathedral Gardens and book a slot at the ice rink.
Since all the markets are located in the city centre, it's highly recommended to stay pretty central. Motel One Manchester is an excellent hotel in the Royal Exchange area and is the perfect base.
6. Nottingham Christmas Market
2023 Dates: 15th November – 31st December
Nottingham is one of the best Christmas markets to visit in the UK with lots of quaint German market stalls and fairground rides for children there is something for all the family.
The market stalls have all kinds of gift ideas from homemade local jams, chutney and sauces to hand crafted traditional wooden toys to personalised items. There are plenty of gift ideas for everyone and children will love the traditional merry-go-round and helter skelter rides. Alternatively get a family pass for the pop-up ice rink and have fun skating together.
A cute Christmas date idea in Nottingham is the 'cool' ice bar that pops up at Nottingham's annual winter wonderland which takes place on the Old Market Square. The ice bar welcomes families, and everyone can don fur coats and gloves and sip a selection of hot and cold drinks amongst the ice sculptures which change each year.
Stay nearby at the Crown Plaza Hotel near to the Theatre Royal and watch a Christmas pantomime after a busy day at the market.
Recommended by Steph from Book It Let's Go!
You May Also Like: Family Europe Winter Packing List Guide: 101 Essential Items
7. Winchester Christmas Market
2023 Dates: 17th November to 22nd December
Without doubt one of the best UK Christmas Markets you can visit in 2023 in Winchester Cathedral Christmas Market.
Situated in the grounds of Winchester Cathedral, this Christmas market has been taking place since 2006 and is renowned for its stunning location, bustling atmosphere and high quality exhibitors.
Whilst there wasn't any play equipment for children, the market is very child-friendly with a variety of stalls catering to the desires of children. There's also live entertainment for everyone to enjoy.
Entrance to Winchester Christmas market is free and whilst the dates for 2023 are yet to be announced, they're likely to be from mid-November to late-December.
There's loads of food options available so not matter who you're with, everyone will be satisfied. From hot roasts to flapjacks to samples of cheese, there's and range of treats available to cure your taste buds. Similarly, everything from hot chocolate to beer, cider and mulled wine is available to purchase.
We recommend The Winchester Hotel and Spa nearby if you're looking for a nice relaxing place to stay with excellent service and high quality food!
Recommended by Alex and Leah, Alex and Leah on Tour
8. Winter Wonderland Christmas Market, Hyde Park, London
Winter Wonderland Hyde Park 2023 Opening Dates: 17th November – 1st January
Winter Wonderland at Hyde Park has everything you could wish for in a Christmas market – delicious food, rides and ice skating. The highlight of this London Christmas market is Santaland where the kids will get a chance to meet santa!
Get ready to step into a magical land at Winter Wonderland in Hyde Park, London! This huge London Christmas market is a ticketed event. Entry is free at some times of day and payable at other times, but you'll need a ticket regardless.
While you're in London, make sure you check what other winter festivities are happening. Why not go on a walk around the different Christmas lights in London or attend a Christmas show?
Discover the Christmas Markets of Europe
Sylvie Simpson is the founder of European Cities with Kids. For the past 6 years, she has been travelling all over Europe whenever she has the chance, both solo, for work and with her daughter. Sylvie is on a mission to help people make the most of city breaks in Europe with kids and helps over 50,000 readers per month plan and make the most of their trips in Europe with kids.