Looking for the perfect portable blackout blind for your next trip? This post will take you through the BEST portable blackout blind options so you can make a perfect choice.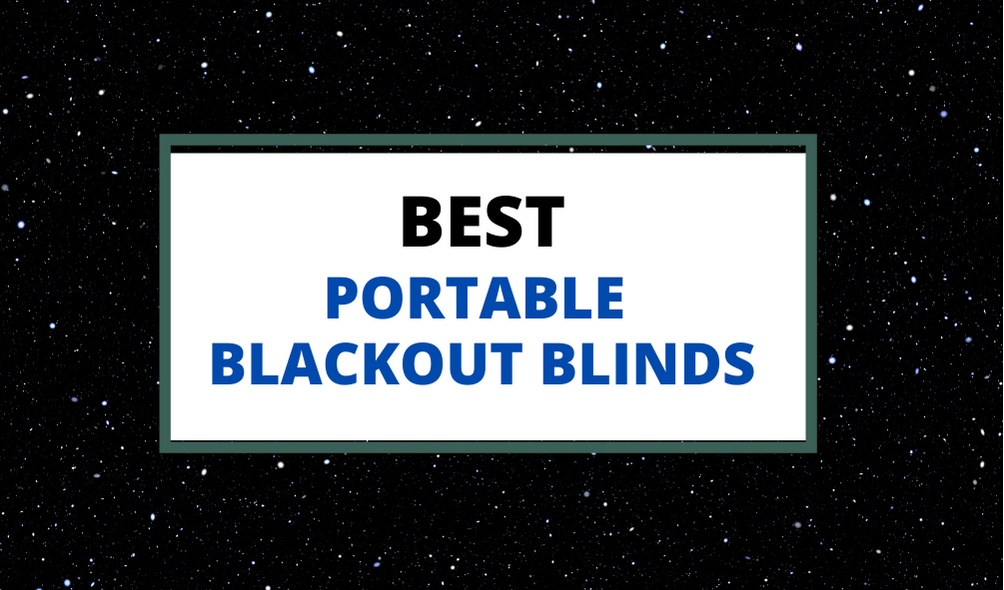 This post may contain affiliate links, which means I may receive a commission, at no extra cost to you, if you make a purchase through a link. We are a participant in the Amazon Services LLC Associates Program, an affiliate advertising program designed to provide a means for us to earn fees by linking to Amazon.com and affiliated sites. As an Amazon Associate I earn from qualifying purchases. Please see my full disclosure for further information.
10 Best Portable Blackout Blinds for Travel
Fortunately, there are many travel blackout blinds on the market. You can easily find one within your budget. With the best blackout blinds review, you can easily select one that fits in your luggage and serves its purpose well.
#1 Tommee Tippee Gro Anywhere You- Best Portable Blackout Blinds for Travel Overall
The Tommee Tippee Gro Anywhere Portable Blackout Blind is the best option overall, especially for travel with kids, thanks to its adorable Ollie the Owl print. It comes with built-in suction cups for application on the go.
This portable black blackout blind can fit large windows easily, up to a max size of 130 x 198 cm. It also comes in a smaller size measuring 130 x 99 cm. Even better, you can easily resize it to fit smaller windows with Velcro strips sewn onto the edges.
Made from lightweight yet completely opaque polyester, it can keep the room dark even when it's bright outside.
Key Features
Suction cups
Velcro resizing system
100% Polyester
Travel bag
Machine washable
Pros
Keeps light out effectively
Light to pack
Child-friendly print
Cons
Taking it off is not easy
#2 SUN AWAY Portable Blackout Curtains – Best Large Portable Blackout Blind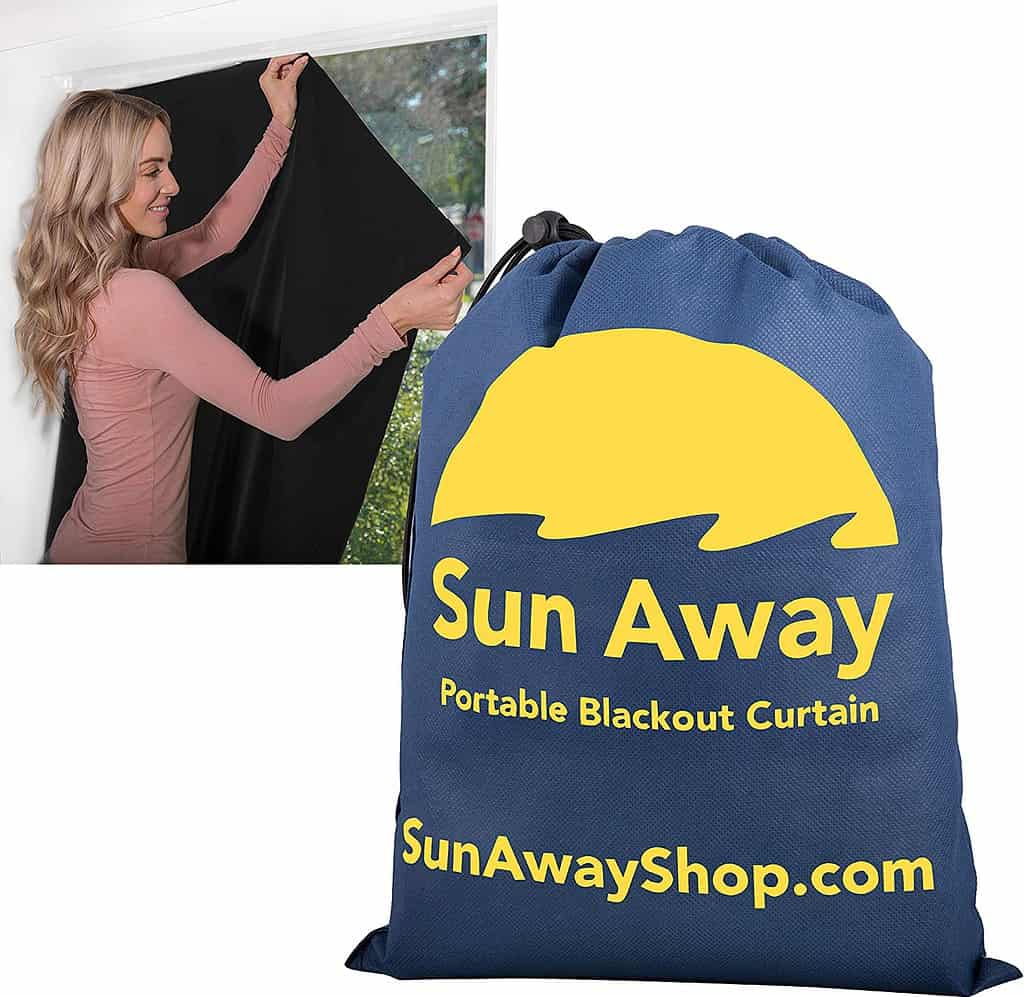 The SUN AWAY Portable Blackout Curtain claims that it can block out 100 per cent of the light. It's a large blind in a solid black shade that can easily fit those large hotel windows. One blind measures 66 x 55 inches.
This one is also made entirely from polyester. However, it has a satin-like feel to it that's incredibly soft. Plus, the width can easily be adjusted with fasteners and pleats, just like you would a curtain hanging in your home.
You can fix the blind to the glass or windowpane with the help of the suction cups.
Key Features
100% Polyester
Solid black
Suction cups
Velcro strips for resizing
Heat resistant
Pros
Great for both small and large windows
Blocks light completely
Travel bag included
Cons
Expensive
Heavier than other options
#3 easynight Portable Travel Blackout Blind – Best Black Blinds for Travel
The easynight Portable Travel Blackout Blind come in various sizes, including XL and 2XL. The XL size is the best option as it can help cover most windows; it measures 2.3 x 1.4 m.
If you're travelling during the summer months or going to a place known for hot weather, these blinds may also help keep the room slightly cooler. With these blackout stick-on shades, you can keep the room dark and cool.
There are two ways to attach these to windows: suction cups or adhesive velcro straps.
Key Features
Suction cups
Velcro straps
Carrying bag
Silver on the other side
Pros
Pitch blackout
Can be attached to glass and window frame
Multiple size choices
Cons
Resizing requires cutting
#4 DELPH MCR Black Blind Curtain – Best Portable Grey Blackout Blind
The DELPH MCR Blackout Blind Curtain is one of the best room darkening blinds. If you don't necessarily want to go with solid black choices, this grey blind with a starry pattern is a good choice. It's made of a thick material that keeps sun rays out.
The application method is pretty much the same as the rest of the baby blackout blinds. You can stick it to the glass with suction cups and to the frame with velcro strips. The size and weight are travel-friendly, and it folds nicely to fit in a carrying bag made with the same fabric.
Key Features
Star print
Suction cups
Velcro strips
Carrying bag
Machine washable
Pros
Strong suction cups
Blacks out completely
Aesthetically pleasing
Adjustable size
Cons
#5 MaximoLife Starry Night Blackout Blind – Best Printed Blackout Blind
The MaximoLife Starry Night Blackout Blind can be a great option for both temporary use at home as well as for travel, especially blackout blinds for babies. The starry night print on a blue backdrop looks great.
Made with polyester, the blackout curtain can easily withhold light. The other side of the curtain is silver, so it doesn't absorb heat. Sticking the curtain to the window is super easy, thanks to two application methods.
This blind comes with both micro-suction and velcro tabs to stick on glass or other window material.
Key Features
Micro suction tabs
Velcro patches
One-sided print
Polyester
Large size
Pros
Quick and easy to apply on windows
Good for baby nursery
Carrying bag with drawstring
Cons
Resizing requires cutting
#6 Dream Art Portable Blackout Curtain – Best Blue Blackout Blind
The Dream Art Portable Blackout Curtain is made of a soft, lightweight polyester fabric that offers 95 to 100 per cent blackout. Unlike most other portable blackout shades that have a black colour, this one comes in a light blue colour.
It comes with suction cups to attach to the glass windows. The stitched-in velcro strips can be used to adjust the curtain size/shade.
Four velcro self-adhesive strips help hang the curtain vertically with surfaces that suction cups don't stick to very well.
Key Features
Suction cups
Velcro straps
Polyester
High-density
Adjustable size
Pros
Lightweight and easy to carry
Comes with a handy travel bag
Easy to wash in a machine
Cons
Installation can be time-consuming
#7 Temposhade Pleated Paper Shade – Best Temporary Blackout Shades
The Temposhade Pleated Paper Shade is the best temporary blackout blind for travel. The package includes six paper plated blinds that offer complete blackout and take up very minimal space in your luggage.
These blinds can be fixed to the windows with an easy-peel and stick mechanism. However, you may need to use double-sided tape to reuse them. Since these are made of paper, you can easily resize them to fit the window exactly.
The overall size of the blind is 89 cm in width and 180 cm in length.
Key Features
Lightweight paper
Six pleated shades in box
Two clips and a set of push pins
Peel and stick application
Large size
Pros
Instant blackout
Easy to travel with
Quick and easy installation
Adjustable size
Cons
#8 Milliard Blackout Blind
The Milliard Blackout Blind features a fun night sky print with crescents, clouds and stars, making it the perfect choice as blackout blinds for kids.
You can apply these to glass windows with suction cups to keep out light while your child sleeps peacefully.
It also has velcro strips on the borders that can adjust the size and provide adequate window coverage. The size is big enough, coming in at 2 x 1.3 m.
When not travelling, you can even use it in the baby's nursery or kid's room for a temporary blackout.
Key Features
Printed polyester fabric
20 suction cups
Velcro strips
Travel bag
Pros
High-quality fabric
Adjustable size
Space-efficient in luggage
Cons
Doesn't provide a complete blackout
#9 Daydreamer Blackout Blinds – Best Velcro Blackout Blinds
The Daydreamer Blackout Blinds just used adhesive velcro straps to attach the portable blackout curtain anywhere. Suction cups usually only work on glass, but with velcro straps, you can use this blackout on any window or skylight.
The blind can be adjusted in terms of coverage, whilst the maximum coverage is 1.3 x 2 m or 2.6 m x 1 m. Furthermore, it comes with securing straps to lift up the blind without needing to take it off when you want some light in the room.
Key Features
Velcro straps
Adjustable size
Securing straps
Thick material
100% blackout
Pros
Quick and easy installation
Easy to pack
Carry bag with drawstring
Cons
#10 LightsOut Portable Pop Up Blackout Blinds – Best Removable Blackout Blinds
The LightsOut Portable Pop Up Blind works differently from the other blackout blinds on this list. It has a metal frame that pops out to increase the blind to its full size. Then it's attached with the help of a single suction cup. So installation is pretty quick.
It can help cover large windows, up to 120 cm in height and 100 cm in width. It's made from a lightweight PVC material that absorbs light to blackout the room.
Key Features
Pop-up frame
Carrying bag
Suction application
PVC
Pros
Easy to travel with
Quick fix for creating blackout in-room
Can be mounted inside or outside the window
Cons
View More Travel Gear Suggestions >>
Hompage >>>
Sylvie Simpson is the founder of European Cities with Kids. For the past 6 years, she has been travelling all over Europe whenever she has the chance, both solo, for work and with her daughter. Sylvie is on a mission to help people make the most of city breaks in Europe with kids and helps over 50,000 readers per month plan and make the most of their trips in Europe with kids.