The great Christmas markets in France are one of the best places you and your family can visit during the festive season. France is home to some of the best Christmas markets in the world, with Christmas markets dotted all over the country.
France Christmas markets are a winter wonderland filled with festive treats, local crafts, and holiday spirit throughout the Christmas period.
Here, we're going to take a look at some of the best Christmas markets in France and help you find your destination for this advent season. The list only covers some of the Christmas markets in France (the best ones!), so be ready for a world of festive adventure!
This post may contain affiliate links, which means I may receive a commission, at no extra cost to you if you make a purchase through a link. Please see the full disclosure for further information.
Why You Should Explore the France Christmas Markets
France has a long history of celebrating the festive period with some of the best Christmas markets in the world, dating back to the Middle Ages. Each shows Christmas cheer and festive spirit through twinkling lights, wooden chalets, nativity figurines, and artisan crafts that can't be found anywhere else. So why France?
France Xmas Markets Have a Wide Variety
If you're looking for original gift ideas, the regional specialities in each area of France will offer you something unique this holiday season.
Traditional Blended with Modern
Each year during the festive season in Western Europe, France Xmas markets offer something a little different mixed with historical tradition.
World-Renowned Christmas Celebrations
Whether in Paris, Strausberg, or elsewhere, every city in France boasts that they have the best Christmas market, most beautiful Christmas decorations, Christmas lights, and Christmas trees – and somehow, every one of them is correct in its own way.
The Perfect Winter Getaway
If you're looking for something a little different to do with your family from mid-November to early January, the market stalls, French cuisine, fairy lights, and mulled wine will give you an experience you'll never forget.
Best Christmas Markets in France in 2023
The Christmas markets dotted around France are some of the most beautiful Christmas markets you'll find anywhere. It's almost impossible to make an exhaustive list of France's best Christmas markets, but we've picked out the cream of the crop to help you find the best Christmas market for your holiday season.
Strasbourg Christmas Market – Christkindelsmärik
2023 Opening Dates: 24th November to 24th December
Strasbourg is known as the 'capital of Christmas', and there you'll find one of the largest Christmas markets in the world with an unmatchable festive atmosphere.
In Strasbourg, France, Christmas is a pretty big deal! Christkindelsmärik (meaning 'market of the infant Jesus') is the oldest Christmas market in Europe, going back to the Middle Ages when it opened in 1570!
The whole city comes alive with Christmas lights, glorious garlands, and other decorations.
Strasbourg at Christmas is illuminated more than most cities in Europe! Over 300 market stalls in wooden chalets offer everything from mulled wine to homemade cookies. At the centre of it all is a giant Christmas tree that shines bright with the city's lights.
The market sprawls across the city's historic centre, completely taking over the town centre and making Strasbourg live up to its name. There's a reason this famous Christmas market attracts tourists and locals alike year after year.
There are plenty of places to stay if you want to experience the Strasbourg Christmas market in 2023. Some of our family hotel recommendations include:
Colmar Christmas Market – La Magie de Noël
2023 Opening Dates: 23th November – 29th December
The main Colmar, France, Christmas market refers to itself as the soul of Christmas. It's one of the Christmas markets in France that focuses on the magic of the Christmas season, as its name, La Magie de Noël, implies!
The whole city centre of Colmar is closed off to traffic for the Colmar Christmas market (actually made up of six markets), meaning this historic town becomes more than just a Christmas market: it's a Christmas wonderland made up of an array of the best Christmas markets in France.
Across its many stalls, you'll find festive food, Christmas trees, hot chocolate, and more. There's also a Gourmet market where you can buy fancy food like foie gras if you're feeling like experiencing a culinary adventure this advent season!
There's a merry-go-round and a sparkling Ferris wheel for the kids to get a great view of the whole city. The Ferris wheel is great during the day, but when it lights up in the dark, it becomes a transport to a new world.
Places to stay in Colmar include:
Nice France Christmas Market
2023 Opening Dates: 1st December – 1st January
The Nice Christmas market is known for its massive Ferris wheel that takes pride of place over what could be argued to be the best Christmas market in Southern France. The beautiful wooden chalets that are famous in markets in France are here, too, filled with delights.
At this market, you'll find a breathtaking ice skating rink next to the Three Graces fountain, a stunning city landmark. This market opens in early December and goes through Christmas Eve and New Year's Eve.
While you admire the Christmas tree and sip on your mulled wine, the nativity scenes and gift ideas combined with the warmer atmosphere of Southern France combine to make something truly special this Christmas.
Looking for somewhere to stay in the old town to visit this Christmas market in France? We recommend:
Amiens France Christmas Market – Marché de Noël d'Amiens
2023 Opening Dates: 24th November – 31st December
For those who prefer a Christmas market in Northern France, the Marché de Noël d'Amie is a popular Christmas market for families and people of all ages.
It's one of the newer Christmas markets in France, first opened in 1997, but that doesn't make it less amazing!
This Christmas market in France focuses on craftmanship and, along with the traditional mulled wine and other Christmas goodies, you'll find unique stalls here from when the market opens in mid-November.
Flower arranging is a very popular craft in Amiens, and Christmas flower displays are stunning to see. You'll find fresh vegetables, handcrafted decorations, and more in this astounding and unique Christmas market in France!
If you're looking for somewhere to stay in this old town, we suggest:
Paris Avenue des Champs-Elysées Christmas market
2023 Opening Dates: November 20th – December 26th
Paris is full of Christmas markets, but the Avenue des Champs-Elysées Christmas market is the largest Christmas market in the French capital.
As well as being the largest Christmas market in Paris (though not in France), it is considered one of the greatest tourist spots under the Eiffel Tower. Filled with nativity scenes and Christmas decorations and sprawling across Paris, it's the pinnacle of Paris Christmas markets.
Christmas markets in France under the Eiffel Tower are a breathtaking discovery, filled with mulled wine, delicious food, and more.
Explore the place de la Concorde and Paris's Latin quarter while enjoying the Champs-Elysées market stalls and other Paris Christmas markets.
It's also one of the longest-running Christmas markets in France, going from mid-November to mid-January. Just bear in mind that Paris can get expensive!
Places to stay include:
Lille Christmas Market
2023 Opening Dates: 22nd November to 31st December
Lille is a charming city in the north of France, very near the border with Germany, giving it a different atmosphere than some of the other options that many decide upon when visiting France.
The Lille Christmas market is smaller than many of the others in Europe, but from its Christmas tree decorations to its food and drink, this Christmas market is the most charming Christmas market in France!
It's a great location for travellers from the UK, who can get the Eurostar train there in around an hour and a half, and what you'll find is a magical Christmas experience. The Christmas market is a gastronomical delight, filled with French delicacies galore.
The market surrounds shops, crossing through the Place Rihour and other important areas, meaning that you can visit the Christmas market and explore other shops, restaurants, and more!
If you're looking for somewhere to stay in Lille, we suggest:
Reims Christmas Market
2023 Opening Dates: November 24 to December 24
Reims in northeastern France is the unofficial capital of the Champagne region, which means that the regional specialities you'll find at the Christmas market in Reims include a champagne bar!
Nearly 150 chalets decorate the streets of Reims with illuminations, fairy lights, food, drinks, events, and so much more. Just 45 mins from Paris, the Reims market takes place under the gaze of the Reims Notre-Dame cathedral, an important piece of architecture and history.
Not only that, but the Ferris wheel will take you above the city to spy all of the beautiful lights below – an amazing place to enjoy a glass of champagne at the end of the night!
Looking for somewhere to stay in Reims while attending the Christmas market? Try:
Bordeaux Christmas Markets – Main market and Darwin
2023 Opening Dates: TBC
The main Bordeaux Christmas market is one of the most exciting tourist events of the year. Shopping during the day transforms into breathtaking sights at night when the market lights up with brilliant decorations.
Over 150 vendors sell their wares at this market, which is a huge one in southwest France. You'll find local specialities (including fine Bordeaux wine!) as well as clothes, decorations, jewellery, toys, and other handcrafted regional products.
You can also find the Darwin market, an alternative Christmas market quickly becoming popular. It's a very artsy take on the traditional Christmas market, including books, sports equipment, art, and more! However, it only runs for a couple of days, so take advantage of it.
Some great places to stay in Bordeaux include:
Annecy Christmas Markets – Marché de Noël du Vieil Annecy (Old Annecy Christmas Market), Village des Alpes, Village des Artisans.
2023 Opening Dates: November 18th – January 1st
The Old Annecy market is the most traditional of the three main markets in Annecy, with around eighty stalls all arranged around the St. François-de-Sales church in the Old Town of the city.
At the Village des Alpes, you'll really get to experience the sights of the Alps in this region, including skating around on an open-air rink right under the breathtaking views of the mountains.
Finally, the Village des Artisans is a small market that focuses on, well, artisans – crafts made by about ten local artists that can't be found anywhere else. Annecy also sometimes includes 'guests of honour in their markets to add international excitement!
For a great place to stay in Annecy, try:
Calais France Christmas Market – Calais Christmas Village
2023 Opening Dates: 26th November – 4th January
Calais adores Christmas! The entire city centre transforms into a Christmas village through the latter part of the year, with Christmas stalls, food, drink, lights, and all the classic staples of a Christmas market in France.
On top of that, you'll find the annual Christmas parade, many events like dancing, circus performances, the Town Hall's Magic Forest, special events for children, Christmas carolling concerts, and even more.
Calais Christmas village also features a World of Toys, which includes a famous indoor skating rink for everyone to enjoy.
Some great places to stay in Calais include:
Lyon Christmas Market
2023 Opening Dates: 23rd November – 24th December
Lyon's Christmas market at Place Carnot is legendary, with a big wheel, a giant holiday tree, and galore lights and stalls. You'll find a different handcrafted item at each chalet, whether it's food, decorations, or gifts.
There are over 140 wooden stalls, and the market decor is magical. Within it, you'll almost feel like you've stepped into a snow,y festive fairytale!
Not only that, but if you arrive between the 8th and 11th of December, you'll be able to experience the annual Fête des Lumières, the Festival of Lights, which is full of beautiful masterpieces from around the globe.
In Lyon, we recommend staying at:
Arras Christmas Market
2023 Opening Dates: 24th November to 30th December
In Arras, you'll find the enormous advent market north of Paris, given its special atmosphere due to the traditional Flemish structures you'll find all around the city. The gold-topped houses with snow attached look like their very own decorations.
There are many rides for kids (and adults!) at the market, including a big wheel, sledge slide, carousels, ice skating rink, and more. You can also try your hand at face painting or creating some special Christmas crafts!
On top of all that, the friendly atmosphere of Northern France combines with crisp white wines, local sweets and savouries, and the kinds of mouthwatering meals and treats you'll remember for a lifetime.
Looking for somewhere to stay in Arras? Try:
Toulouse Christmas Market – Christmas Village
2023 Opening Dates: November 25th – December 24th
Starting at the Place du Capitole, you'll experience beautiful fir-lined paths in this brightly-lit village. Traditional gifts, foods, drinks, and jewellery, not to mention toys, are sold across the many dozens of wooden chalets.
You'll find all sorts of special things to eat and drink, from mulled wine and churros to more local sweets and savouries.
There are also specific artisan chalets. Remember a visit from Santa to make things complete!
The most special thing about this market is that it is highly focused on accessibility: in Toulouse, it's a Christmas village for everyone.
Some options to stay in Toulouse include:
Mulhouse Christmas Market
2023 Opening Dates: November 24th – December 27th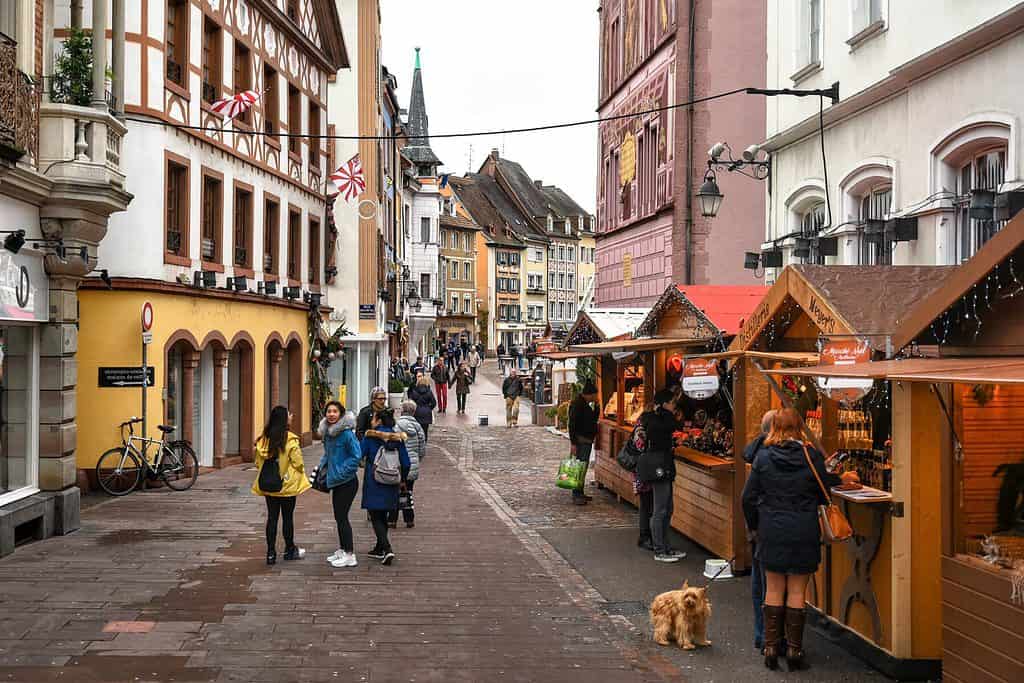 Mulhouse is the land of textiles, and this comes into play in this city's unique take on the Christmas market. Stunning decorative fabrics cover everything from the chalets to the streets, and you can purchase your own clothing or materials too!
The festive decorations covering the Mulhouse market are unlike anywhere else, brightening the French night sky with sparkling illumination.
There are also a number of shows and events, like nativity scenes from around the world, Christmas crafts and games for children, a Christmas treasure hunt, fabric workshops, and so much more to discover!
While staying in Mulhouse, we recommend the following:
Alsace France Christmas Markets – the 7 Pays de Noël (Christmas Lands)
2023 Opening Dates: 23rd Nivember – 29th December
The Alsace region loves Christmas, and almost every little town and village have its own Christmas markets in this part of France! It's a cultural region of its own near the German and Swiss borders north of the Rhine.
Let's take a look at the seven official 'Christmas lands' declared by the tourist board in Alsace and how each has its own twist on the Christmas market.
These regions go from the north of Alsace to the south, and each has a title! These are:
The Land of Christmas Mysteries (Le Pays des Mystères de Noël). This is the very north of Alcase. Places include Haguenau and Wissembourg.
The Land of Christmas Lights (Le Pays des Lumières de Noël). Christmas markets in this area focus on characters such as Saint Nicholas, the angel known as Christkindl (Christ child), and more. Here you'll find Saverne in the northeast of the region.
The Land of Christmas Flavours (Le Pays des Saveurs de Noël) This region includes the oldest Christmas market, the Christkindelsmärik in Strasbourg. All of the markets in this region have a heavy emphasis on Christmas foods and flavours.
The Land of Christmas Trees (Le Pays du Sapin de Noël) These decoration-heavy Christmas markets have one city to thank for this being their claim to fame. This land includes Sélestat, the first documented place where Christmas trees were decorated worldwide!
The Land of Christmas Stars (Le Pays des Étoiles de Noël) is one of the biggest Alsatian Christmas lands, including Colmar, Riquewihr, Éguisheim, and Kaysersberg.
The Land of Christmas Eve/Christmas Vigils (Le Pays des Veillées de Noël) is a tiny region encircled by Land 5. It is made up of the open-air museum village of the Écomusée d'Alsace.
The Land of Christmas Carols and Textiles/Cloths (Le Pays des Chants et des Étoffes de Noël). The Christmas market in Mulhouse is the biggest of these, and Altkirch is another. Each focuses on the textiles and songs tied to the history of Christmas in the region.
Montpellier's Saint Roch Christmas Market
2023 Opening Dates: December 2nd – December 30th
Located in the heart of the historic city of Montpellier, the Saint Roch Christmas Market is a dazzling blend of traditional festivities and modern charm. Montpellier, renowned for its rich history and architectural wonders, becomes even more enchanting during the winter months with the magic of Saint Roch.
As you stroll through the wooden chalets, you'll discover a plethora of handcrafted items, regional delicacies, and unique gifts. The air is filled with the tempting aromas of freshly baked pastries, roasted chestnuts, and spiced mulled wine.
The market isn't just about shopping. With an array of activities tailored for visitors of all ages, it promises endless fun. Children can enjoy the charming carousel or engage in workshops that introduce them to traditional crafts.
As the sun sets, Montpellier's Saint Roch Christmas Market transforms into an illuminated wonderland. Thousands of fairy lights shimmer, casting a soft glow over the historic squares and narrow alleys of Montpellier.
By staying in the heart of Montpellier, you can explore not just the Christmas market but also the city's historic landmarks, museums, and local eateries. Some recommended stays include:
Tips for Visiting the France Christmas Markets
Dress Warmly
When visiting the French Christmas markets, always prioritize your comfort. Even though Southern France can offer milder temperatures, as the sun sets, the chilly air of winter nights can be felt.
This is particularly true if you're planning on exploring the markets in Northern France, where it can get quite cold.
So, layering is the key. Wear thermal undershirts, cozy sweaters, and always bring along a warm scarf, hat, and gloves. This will ensure that you're able to enjoy the festive atmosphere without the discomfort of the cold.
Try Local Delicacies
One of the true joys of visiting a Christmas market in France is the chance to indulge in regional culinary specialties. Each market offers a unique blend of flavors, from warming cups of spiced wine to delicious pastries like "pain d'épices" (gingerbread) and "kouglof" (a type of brioche).
Bring Cash
While many stalls at the Christmas markets are modernized to accept credit or debit cards, there are still some that operate on a cash-only basis.
Go Early for Best Selection
The early bird catches the worm, and this adage holds true when visiting French Christmas markets. If you're someone who's looking for unique, handcrafted gifts, artisanal treats, or limited-edition festive items, it's advisable to head to the markets early in the day.
Not only will you get first dibs on the best products, but you'll also avoid the larger afternoon crowds, ensuring a more relaxed and enjoyable shopping experience.
Stay Nearby
To truly immerse yourself in the festive spirit, consider booking accommodation close to the Christmas market you're visiting. By staying nearby, you have the flexibility to visit the market at different times of the day, be it the early morning serenity or the enchanting twilight hours.
It's particularly helpful if you're traveling with children, as you can easily retreat to your hotel for breaks, or to drop off shopping bags, before heading back for more festive fun.
Plus, nothing beats the convenience of a short walk back to a cozy bed after a long day of exploring.
France Christmas Markets FAQs
What is the best French Christmas market?
The best French Christmas market is subjective as it depends on personal preferences. However, Strasbourg is often called the "Capital of Christmas" and its market, Christkindelsmärik, is one of the oldest and most famous, making it a top contender for the title.
What are the most popular Christmas markets in France?
The most popular Christmas markets in France include:
Strasbourg Christmas Market – Christkindelsmärik
Colmar Christmas Market – La Magie de Noël
Lille Christmas Market in Place Rihour
Montpellier's Saint Roch Christmas Market
Nice France Christmas Market.
What is the most beautiful Christmas village in France?
Colmar is often considered the most beautiful Christmas village in France. With its timber-framed houses, canals, and festive decorations, the town transforms into a fairytale setting during the Christmas season.
Where is the biggest Christmas market in France?
The biggest Christmas market in France is located in Strasbourg. Known as Christkindelsmärik, it boasts over 300 stalls and has been a festive tradition since 1570.
Plan Your Trip to France with Kids
Find Cheap Flights to France with WayAway, and get 10% off Way Away Plus with this link
Find Family Friendly Accommodation on Booking.com >>>
… Or Find a Holiday Home on Vrbo >>>
Discover Tours and Activities >>>
Find the Perfect Rental Car >>>
… Or Reserve Your Private Transfer >>>
Travelling to More than One Destination in France? Get Your Train Tickets Here, or look at buses here >>
Discover the Christmas Markets of Europe
Christmas Markets in Germany >>>
Discover the Christmas Markets in The Netherlands >>>
Christmas Markets in Norway >>>
Best Places to Spend New Year in Europe
Discover France with Kids
Planning a trip to France? Discover the best airlines to fly to Paris + the airports to fly into >>>
Discover Western Europe >>>
Return to Homepage >>
Sylvie Simpson is the founder of European Cities with Kids. For the past 6 years, she has been travelling all over Europe whenever she has the chance, both solo, for work and with her daughter. Sylvie is on a mission to help people make the most of city breaks in Europe with kids and helps over 50,000 readers per month plan and make the most of their trips in Europe with kids.