Looking for the best Airports in Austria to fly into? Here's what you need to know!
Located in the central European Alps, Austria is home to the original sewing machine, apple cinnamon desserts, and Wienerschnitzel, among dozens of architectural beauties.
Use this article to discover the closest airport to your destination, the international airports in Austria and even the airports near Austria you could fly into if you find a cheap deal. With this information, you can plan the perfect city break to the many amazing cities in Austria, from Innsbruck to Graz and Salzburg to Vienna.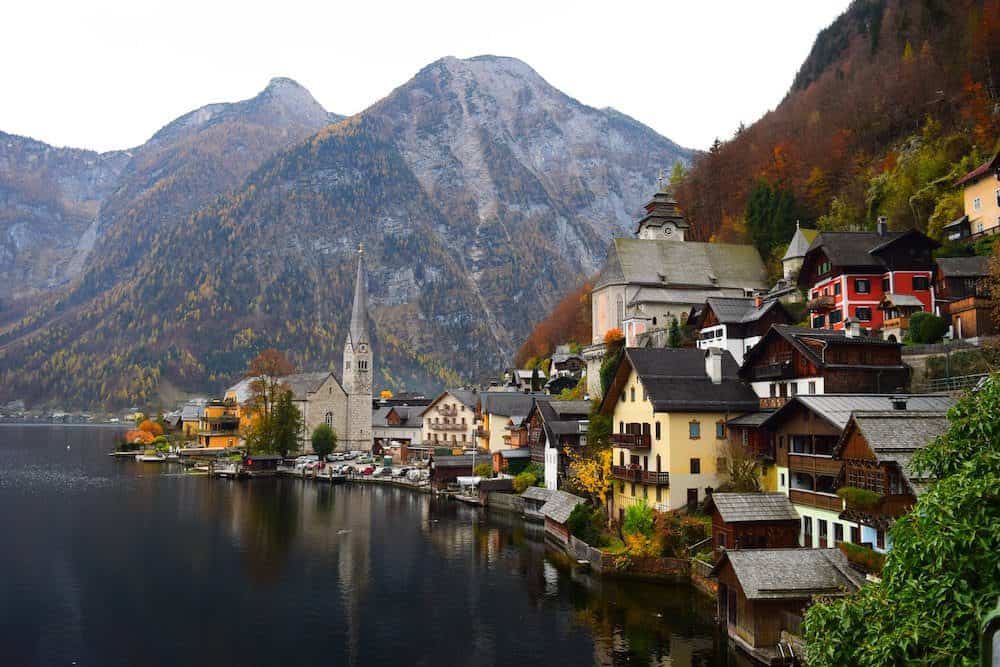 Airports in Austria Map
What is the Main Airport in Austria?
Also serving Bratislava in Slovakia, Vienna International Airport (VIE) is the largest and most used airport in Austria, located in the suburbs of the country's capital.
Vienna International handled over 10 million passengers in 2021 and is expected to reach 29 million in 2022, thanks to expansions within the last decade, allowing more flights to arrive and depart. You can learn more about Vienna International below.
How Many Airports are in Austria?
There are over fifteen commercial airports in Austria. Centred around large cities across the country, six international airports import millions of tourists annually.
Your Guide to the Airports in Austria
Here's your ultimate guide to the airports in Austria.
Vienna International Airport – VIE
You can arrive at Vienna International (VIE) from major cities worldwide (including the UK and Ireland), Asia, Africa, and North America.
Due to its location close to the Ost Autobahn, you can reach central Vienna, only 18 kilometres away, in less than thirty minutes by taxi, bus, and car rental services.
Nearby, you can enjoy lunch along the Danube or visit numerous museums and palaces surrounding the city, such as the Schoenbrunn and Belvedere. Vienna is home to some of Austria's best Christmas markets during the wintertime!
Salzburg Airport – SZG
Salzburg (SZG) is the nearest airport to Hallstatt (76km) and Salzburg (11km). You can arrive at SZG from major European airports year-round to visit Hohensalzburg Fortress and Dachstein Ice Caves or ski at the Saalbach-Hinterglemm resort (but only in the winter)!
Innsbruck Airport – INN
Only 6km and a 20-minute ride from the city centre, the Innsbruck Austria Airport (INN) in the country's west handles 50 European airlines. The airport is situated at the Inn River Valley and rests at the feet of the Nordkette Ski Resort. During your trip to Innsbruck, you can visit the Bergisel Ski Jump, Golden Roof, and Alpine Zoo while remaining within the Innsbruck Austria Airport's near-vicinity.
Graz Airport – GRZ
This Austrian airport rests within Graz's city limits, approximately 9 kilometres from the centre. Graz (GRZ) sponsors year-round and holiday-dependent airlines for travellers in Europe and Africa. You can access public transport and shuttle services, family lounges, and merchandise stands inside the airport.
After flying into Graz, you will be near Eggenberg Palace, Kunsthaus Graz, and Uhrturm in the southeastern part of Austria.
Linz Airport – LNZ
You'll cross a number of destinations on your 20-minute ride from the Linz Airport (LNZ) into the centre of Linz, located in the north of Austria towards the Czech border, including the Botanic Gardens, Jump Dome, and Kurnberghalle, the local performing arts centre.
Despite its relatively small size (compared to the VIE!), Linz departs to cities across Europe and Africa using airlines including but not limited to Austrian Airlines. Amenities on-site include duty-free shops, restaurants, and travel agencies. Another option for Austrian airports near Linz is Wels (LOLW).
Klagenfurt Airport – KLU
Closest to any town centre we've discussed today, the Klagenfurt Airport is a mere 3 kilometres away from Klagenfurt am Worthersee. Further down the road is the famous Worthersee Lake, seasonally open for water sports and surrounded by hiking trails with beautiful views.
You can visit Minimundus and Lindwurm Fountain within the villages, remaining close to the airport. Klagenfurt has decreased in size since Vienna became the most-visited city in Austria. Still, the airport continues to offer restaurants, shops, and a visitor's terrace at the terminals alongside VIP and disability support. Due to its small size, Klagenfurt is known for its excellent customer service!
Airports Near Austria
Should you travel outside of Austria's borders during your European trip, there are various airports near Austria offering similar services, such as.
Franz Josef Strauß Airport, Munich (MUC), Germany
Distance from Austria: 335 km (easily accessible via the fast train network)
MUC is the busiest airport in Germany and services international airlines worldwide. Located in the centre of Munich are train and bus services to Vienna, making the 4-hour journey easier for you.
Maribor Edvard Rusjan Airport (MBX), Slovenia
Distance from Austria: 25 km
The Maribor Edvard Rusjan (MBX) is an international airport located on the Slovenian side of the international border; just a train ride away! According to their website, the grounds are mostly used for flight schools and training programs, but passengers are still welcome to pass through.
Fertőrákos Piusz-Puszta repülőtér (LHFP), Hungary
Distance from Austria: 2 km
This regional airport, located in Hungary and surrounded by numerous vacation destinations, including Sopron, is another reliable airport to reach the Austrian border within minutes. It's only 2 km away!
Is Salzburg a big airport?
SZG is the second largest airport in Austria and is busy year-round, seeing over 1.8 million passengers in 2019. It has two terminals and lots of guest parking
What airports are close to Vienna?
The Vienna International Airport (VIE) is just outside Vienna's city centre. Although further away, Salzburg (SZG) and Graz (GRZ) will land you in Austria with direct transportation to the capital
What airport do you fly into for skiing in Austria?
Salzburg Airport (SZG) is best known for its adjacent ski resorts, including but not limited to Kaprun, Obertauern, and Zell am See
How many airports are in Vienna, Austria?
There is only one in Vienna: the International Airport (VIE).
Is Vienna airport near the city?
The largest and most convenient airport for visiting the city of Vienna is the International Airport (VIE). It offers transport into the city, which takes approximately 30 minutes.
Plan Your Trip to Austria
Book your private transfer from the airport or for a day trip >>>

Book Family-Friendly Accommodation >>>

Book your Austria train tickets >>>