(Last Updated On: November 7, 2023)
If you're visiting Europe with kids (or travelling anywhere for that matter!), a GoPro is a great addition to your travel packing list. Not only will you be able to savour precious memories, but your kids can enjoy having their own high quality camera. We'll take you through the best GoPro for kids in 2024 + plenty of other options and even GoPro alternatives and accessories. Here's everything you need to know.
This post may contain affiliate links, which means I may receive a commission, at no extra cost to you, if you make a purchase through a link. We are a participant in the Amazon Services LLC Associates Program, an affiliate advertising program designed to provide a means for us to earn fees by linking to Amazon.com and affiliated sites. As an Amazon Associate I earn from qualifying purchases. Please see my full disclosure for further information.
Methodology The Best GoPro for Kids
Selecting the best GoPro for kids is a unique challenge. Unlike standard buyers, children present a different set of requirements for technology. While they need something durable and easy to use, they also need a device that fits into the realms of fun and education. Understanding these nuances, here's how I evaluate the best GoPro options for kids:
Ease of Use (5/5)
At the top of the priority list is how easily a child can use the GoPro. The device must have an intuitive interface, simple controls, and easy-to-understand features. It's crucial that kids can independently operate the camera, ensuring they can capture their adventures as seamlessly as possible.
Durability (5/5)
Kids aren't always the most careful with their belongings, so the GoPro must be robust enough to withstand drops, bumps, and the occasional spill. The build quality should be rugged, with features like a shockproof case or water resistance, allowing kids to explore and record without constraints or constant adult supervision for the device's safety.
Appropriate Features (4/5)
While GoPros come with various advanced features, the best GoPro for a child is one with functionalities that match their understanding and needs. Excessive professional-grade features can be overwhelming and unnecessary. Instead, the focus is on features that enhance their creativity and enjoyment, such as basic video effects or easy-to-use editing tools.
Safety (5/5)
The GoPro's safety features, especially concerning its battery and any mountable parts, are non-negotiable. All components must be secure and pose no hazard to the child, ensuring parents' peace of mind when their child is using the device.
Size and Weight (4/5)
The camera must fit comfortably in a child's smaller hands. A compact, lightweight design is crucial to ensure that they can carry, mount, or wear it with ease, enhancing their user experience and preventing any strain from prolonged use.
Parental Controls (3/5)
While not a deal-breaker, having the option for parental controls is a valuable addition. This feature allows parents to monitor use or restrict access to certain functionalities, ensuring a child-friendly experience.
Price Sensitivity (4/5)
Finally, the cost is always a consideration. Kids grow and their interests change, so investing in an excessively expensive model might not be practical. The chosen GoPro should offer the best balance between quality features and affordability.
In determining the best GoPro for kids, I weigh these factors based on how they contribute to a child's creative, adventurous experiences and the parents' peace of mind regarding safety and investment value.
Is there a Kids Version of a GoPro?
GoPro doesn't make any specific version of GoPro action cameras for kids. However, almost all the GoPro cameras can be used by kids, as they are quite sturdy. Even when using a head strap, kids can wear the GoPro camera. Moreover, there are cheaper alternatives to GoPro as well that are designed for kids and are easily available online.
Best GoPro Cameras for Kids and Teens
GoPro releases new models yearly, but older ones often stay in the market, albeit often at reduced pricing. So there are plenty of choices regarding finding the best GoPro for kids. Here are my top selections to make your research easier:
#1 GoPro Hero9- Best GoPro for Kids WINNER ✅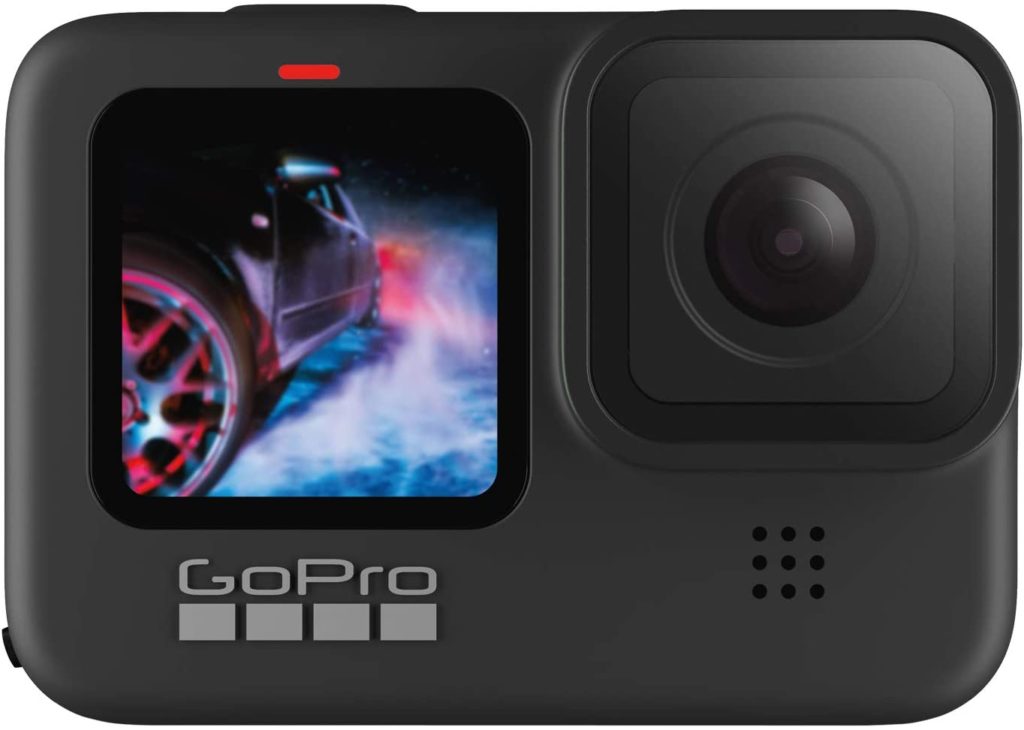 The GoPro Hero9 is the best GoPro kids can use. It packs in plenty of rich features, ease of use, and 5K video quality. It has a 23.6 MP sensor that captures incredibly detailed footage even when zoomed in.
The SuperPhoto feature is great if your kid uses the camera for photos mainly. It processes the image and increases picture quality. When it was released, it came with HyperSmooth 3.0, which is the company's proprietary image stabilization technology. So no matter what activity your kid has taken on, the camera will record stable footage.
It has an LCD screen on the front and another rear touch screen. The rear touch screen is larger than the preceding Hero 8 model, allowing more control. With TimeWarp 3.0, you can record time-lapse photos and videos easily. It also has Night Lapse Modes for nighttime shooting.
This camera can also be used for live streaming, should you or your teenage kid want to share their videos directly to their social media.
Key Features
20 MP camera
5K 30 FPS and 4K 60 FPS videos
8x Slow motion
LCD front screen and rear touch screen
Live streaming at 1080p
Pros
Long-lasting battery
Improved stabilization
Great for photos too
Multiple Mods options
Cons
#2 GoPro Hero4- Cheapest GoPro for Kids
If you're looking for an affordable GoPro as a kids action camera, the GoPro Hero4 is the most budget-friendly option. It's an older model that would still give your kid a taste of what it's like to have a GoPro. Whilst it has been discontinued by the company, it's still available online in used or new condition.
It can capture footage in 1080p, which is more than decent. More importantly, it has video stabilization, which is what makes these cameras so special. With a 30 FPS rate, it can capture high-quality photos and videos, especially of sports activities.
This can connect with the GoPro app (Quick) via WiFi and also has Bluetooth connectivity.
This one is waterproof up to 40m, so you can capture and use it as an underwater camera. You can take advantage of the multiple field of view (FOV), including Ultra-Wide, Medium, and Narrow.
Key Features
12 MP camera
1080p 30 FPS
Time-lapse videos
QuikCapture
SuperView (wide-angle shots)
Pros
Good value for money
Easy to use
High fidelity sound
Cons
#3 GoPro Hero8 – Best for Beginners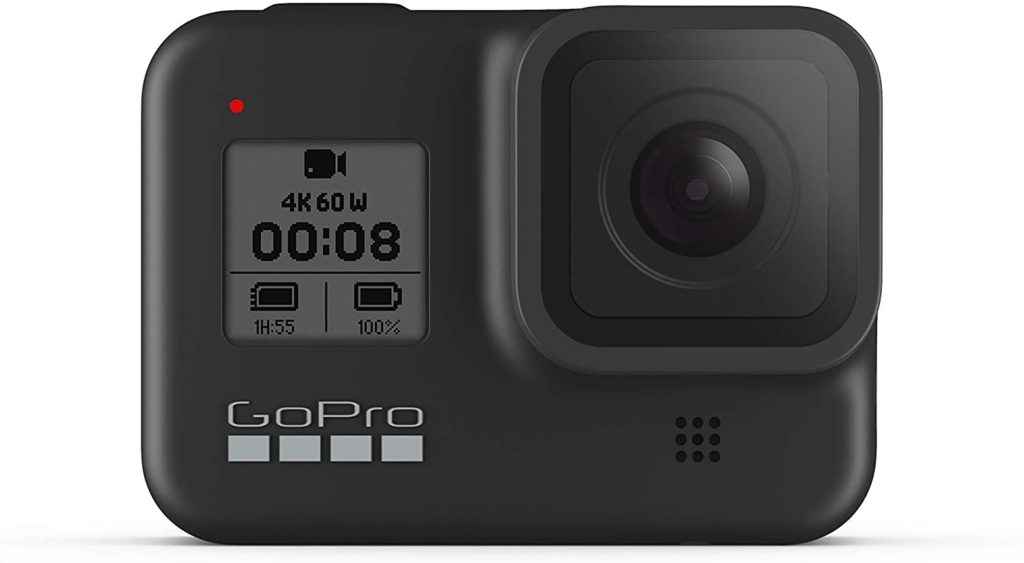 The GoPro Hero8 camera is best for beginners as it has almost similar features as its successor models and comes at a lower price. So for a kid who is not familiar with GoPro cameras, this feature-packed model would make a great first.
First of all, it offers 4K resolution, which has become a standard these days for cameras. As for photos, it can capture 12 MP photos, which is pretty high-quality. It can even capture photos while moving, thanks to the HDR camera.
Hero8 uses HyperSmooth 2.0 for stabilization, producing highly stable videos for a sports camera.
With features like LiveBurst, beginners can quickly learn how to take the perfect shot. They can also shoot incredible time-lapse videos, even at night in low light conditions, with the Night Lapse Video mode.
Key Features
12MP and SuperPhoto (HDR and RAW photos)
4K 60 FPS
1080p live streaming
8x Slow motion at 1080p
TimeWarp2.0
Rear touch screen
Pros
Crisp and detailed photos and videos
In-app horizon levelling
Improved design makes swapping mounts easy
Cons
Front status only screen
Old processor
#4 GoPro Max – Best GoPro Action Camera
The GoPro Max is the best GoPro for a teenager as it's designed for more robust action. It has many advanced features that many of the other models lack. This includes shooting 360-degree photos and videos, as well as 270 degrees panoramic shots.
At 180 degrees, it offers great video stabilization with Max HyperSmooth, the proprietary stabilization technology designed for this particular line of GoPro cameras.
Whilst it doesn't have two screens like the Hero cameras, its single intuitive touch screen can be used as both front for framing or a rear screen for controls. However, one of the fascinating features is the voice control feature. That makes it easier to use voice commands when kids are busy with their activities.
It's not just the video that will be flawless but the audio too. The stereo microphone has noise reduction specifically designed to reduce wind noise which is a problem when making videos during activities like mountain biking, skiing, paragliding, or bungee jumping.
Key Features
16.6 MP photos
5.6K, 4K, 1080p
360 degrees (with three cameras)
Max TimeWarp
Max Hypersmooth
Voice control
Pros
Horizon lock for cinematic shots/videos
Total control
Great wide-angle shots
Cons
#5 GoPro Hero10 – Best Image Quality
The GoPro Hero10 is the newest GoPro that comes with a brand new, even faster processor GP2. But that's not the only improvement as it has a much more powerful camera for both pictures and videos. It features a 23MP camera for photos and videos up to 5.3K resolution. It also has a higher frame rate at 60 FPS.
Another upgrade is the slow-mo video, which can now be captured at 2.7K resolution at 8x. Plus, you can also get photos from the videos with a resolution of up to 15.8 MP.
This is probably the best GoPro action camera for a 10-year old or older, as it's an advanced camera, and that comes at a cost. It's ideal for someone who loves taking aesthetical pictures and videos.
You have all the standard GoPro features, including a waterproof case. The camera itself is waterproof up to 33ft.
Most importantly, it has a long-lasting 1720 mAh lithium-ion battery. You can get up to four hours of recording videos.
Key Features
23 MP (SuperPhoto)
5.3K 60 FPS
HyperSmooth4.0
TimeWarp 3.0
1080p live streamingPros
High-quality pictures and videos
Larger screen
Long-lasting battery life
Pros
High-quality pictures and videos
Larger screen
Long-lasting battery life
Cons
Pretty expensive
Not for very young kids
#6 GoPro Hero5 – Best GoPro for Travel
The GoPro Hero5 camera is another viable option for a kids camera with streamlined capture modes, QuikCapture, and Time Lapse. Unlike newer models, it only has a status LCD on the front, though.
However, this one introduced 4K videos, so your kids can easily record detailed videos. With 12 MP photos, it's a great choice for travelling, in particular. This can be the only camera you need to capture images from your travels, aside from your smartphone.
As a GoPro, it's a waterproof camera that can also be used safely when it's raining or in the water. Kids can control the camera from the GoPro app, which makes it easier to use for young kids who are already familiar with mobile apps these days.
If you choose to subscribe to the GoPro Plus cloud account, you'll make it even easier to move footage and photos from the camera to your phone or other devices. In terms of built, it doesn't get sturdier than this.
Key Features
12 MP Photos
4K video
Quik app
Time-Lapse
Touch screen (rear)
Pros
Lower price
Durable and long-lasting
Best GoPro for the price
Cons
Older processor
Battery life is not that long
How to Choose the Best GoPro for Your Child
All GoPro cameras are not the same, and with new models released every year, you have plenty of choices. There are several factors you need to consider when buying your kid their first GoPro:
Battery Life
Take into consideration the battery life of the GoPro camera you're purchasing. While GoPro has been improving its camera battery time with each new release, you should still pay attention to factors like how long it takes to charge.
Field of View
Field of view or FOV is the observable area the camera can see and capture. Wide FOV captures a wide area, whereas normal or narrow FOV captures a smaller area. Most GoPros offer different FOV options.
Video Capabilities
A GoPro is essentially an action cam for shooting videos, so you must pay attention to the video features. Aside from resolution, consider other secondary features like video quality enhancement or editing capabilities. With GoPro, you do get shake-free footage even when doing activities, so that capability is covered by default.
LCD Screen
Most GoPro models have a touch screen for viewing the shots and the videos and configuring the settings. However, newer models also have an LCD screen on the front for better framing. Older models only have a status screen on the front.
Memory Card
GoPro cameras have very little built-in memory and require an SD card for storing the footage. And this card doesn't come with the camera, so you'll have to purchase one. Make sure to check the maximum memory card it can host.
Budget
Your own budget is also important considering this is a kid's camera that they will mostly use. If you have budget constraints, going with an older best budget GoPro model is a good idea.
Best GoPro Alternatives for Kids
GoPro isn't for everyone. Perhaps you're still on the fence about getting one for younger kids who may not be ready for it. Don't worry, as there are plenty of good action camera options out there that aren't GoPro or cost like it.
These affordable action cameras are highly recommended if you're looking for a GoPro alternative for your child:
Dragon Touch Action Camera
The Dragon Touch Action camera is a waterproof camera (up to 30 m) that delivers 4K HD video and has similar features as GoPro Hero cameras. With electronic image stabilization (EIS), it stabilizes moving videos at 30 FPS pretty well.
For pictures, it offers 20 MP and 4x zoom, so kids can even do some photography while travelling.
What's best is that it comes with a remote control in the form of a wristband. With wireless connectivity, this remote control can provide easy control when the camera is mounted elsewhere.
The resolution can be adjusted easily if you don't necessarily want 4K video. Other notable features include time-lapse, loop videos, and burst photos.
Key Features
4K 30 FPS video
20 MP photos
Remote control
Adjustable angle
Wifi connectivity
Pros
High-quality videos and shots
Lots of accessories
Lightweight
Cons
VTech Kidizoom Action Cam
The VTech Action Cam is perfect for young kids as it's super affordable and has plenty of features. It comes with a mount that can be attached to virtually anything, including a bike, skateboard, or snowboard. They can play with features like slow motion, fast motion, stop motion, and reverse motion.
Whilst it is waterproof but only for 1.8 meters, thanks to the waterproof case. The colour LCD screen is great for viewing the video and adjusting settings. The battery life is also pretty impressive, giving 2.5 hours of video recording.
The video quality may not be like GoPro, but it is HD. And it's very easy to use for kids and adults.
Key Features
HD quality video
Waterproof
10,000 mm max focal length
8-inch screen
Mount included
Pros
Great value for money
Many accessories
Great editing features
Cons
Not 4K
SD card not included
Akaso EK7000 Sports Action Camera
The Akaso EK7000 is the ultimate camera for kids to learn how to shoot action videos. It's a small waterproof camera with 12 MP photos and up to 4K 25 FPS video shooting capability.
This one also comes with a wireless remote wristband for controlling the camera wirelessly from a distance. Then you have plenty of other accessories that make it all the more fun to record videos.
It's equipped with two rechargeable lithium-ion batteries that give 90 minutes of shooting on a full charge. That's more than enough for shooting small day trip activities and games. With WiFi connectivity, you can connect with the camera from your phone and tablet using the app for the camera (iSmart DV).
Key Features
12 MP photos
4K 25 FPS, 2.7K 30 FPS videos
Remote control
Wifi and HDMI connectivity
Waterproof up to 100 ft.
Pros
High resolution
Easy to set up and use
Mobile app
Cons
ProGrace Kids Camera
If you're looking for a cheap GoPro alternative, especially for a toddler or young kid, the ProGrace Kids camera is an apt choice. It's one of the cheapest options on the market, with plenty of features that mimic GoPro cameras.
It's waterproof up to 100 ft. and the battery (rechargeable) lasts for 1.5 hours. It also has burst mode, time-lapse, and 4x zoom. The camera is super small and lightweight, perfect for their little hands.
The photos are 5 MP, whereas the video resolution is 1080p. That's not what you would get with a GoPro but it's pretty good considering the price point.
Key Features
5 MP photos
1080p 30 FPS video
IP68 waterproof
Mount included
Pros
Reasonably priced
Multiple colour options
Easy to use
Cons
Video quality is not that great
Best GoPro Accessories
GoPro cameras are great but to get the best out of them, you'll need some accessories. Some may be more useful than others, such as GoPro mounts. The good thing is that GoPro makes all the GoPro accessories you need and there are cheaper alternatives as well.
GoPro Gimbal
GoPro cameras have great video stabilization with HyperSmooth technology. However, software video stabilization can only go so far when it comes to action cameras. A gimbal is a small accessory that can help you get that smooth video with no camera shake issues no matter the activity you're recording.
The GoPro Karma Grip is the official GoPro gimbal. The hohem Gimbal Stabilizer is a more affordable alternative comparable with GoPro Hero cameras.
GoPro Remote
A GoPro remote allows you to control the camera wirelessly from a distance. This means you can mount it anywhere for taking pictures or recording videos remotely. Depending on the GoPro model, you may be able to connect the remote via Bluetooth or Wifi.
The GoPro Smart Remote is compatible with GoPro Hero3 and later models. It has a wireless range of 180 m and provides 40 per cent more battery duration than ordinary Wifi remotes. Plus, it comes with a wrist strap to wear during activities.
GoPro Mount
Perhaps the most important GoPro accessory is a GoPro mount. With this nifty accessory, you can mount the camera on different objects like a helmet or a rod.
The GoPro Suction Mount is the best mount for attaching a GoPro action camera to a car, bike, boat, or wall. It can withstand a speed of up to 150 miles an hour. It's compatible with all GoPro Hero models.
Extra Battery and Battery Charger
When buying the best GoPro for kids, you may want to invest in another battery and battery charger just to ensure the camera is always on and available to record. The GoPro Battery + Battery Charger is the official accessory from GoPro for GoPro Hero 7 and later models. However, there are third-party chargers available as well.
Is a GoPro a Good Beginner Camera?
All GoPro cameras are good for beginners who have never used an action camera before. However, some models are more advanced than others and may have a learning curve. Nevertheless, it should not take long for an adult or a child to learn how to use the camera.
If you're a newbie to a GoPro, any of the entry-level GoPro Hero series cameras should be your choice.
Benefits of a GoPro for Children
If you're into sports and adventure and travel around for adrenaline-pumping activities with your kids, you'll see that getting your kids a GoPro along with yourself is a good idea. Here's why:
Kids love it
Kids today are more tech-savvy than they get credit for, and they'll simply love an advanced and high-quality camera like GoPro and will have a lot of fun with it.
Recording memorable moments
Whether it's the usual trampoline jumping in the park or your kid's first ski lesson in the Alps, the GoPro can capture and immortalize those special, action-packed moments.
Super sturdy
Even though GoPro cameras are pricey, they are also incredibly durable, which makes them safe enough for kids' clumsy hands, even during activities.
Amazing waterproofing
If your child loves swimming or any other water sports, you can capture underwater shots and footage with a GoPro as they are fully waterproof.
Pushes creativity
A high-quality video recording camera will allow your kids to be creative with their video-making skills, whether for school or for fun.
FAQ's
What GoPro is best for kids?
The best GoPro for kids is GoPro Hero9, as it has many user-friendly features and great video and photo quality. It has two screens (front and rear). Since it's an older model now, the price is of this action camera is also reasonable enough considering you're buying it for a kid. Read more about the GoPro Hero 9 >>
What is the most user-friendly GoPro?
The GoPro Hero4 is one of the most user-friendly GoPro models, especially for kids and teenagers. It's an older model with much more basic features than what you would find on the latest models, which are also user-friendly enough.
Is GoPro a good fit for kids?
A GoPro action camera is an ideal camera for kids who are into sports and adventures and like to make videos while doing these activities. Yes, a GoPro camera is expensive but it's sturdy enough to withstand rough usage. However, there are many other kids action cameras other than GoPro.
Is GoPro good for travel?
GoPro action cameras are ideal for travel as these cameras can capture photos and record videos even in tough conditions. The camera is small and lightweight, unlike those professional DSLR cameras that take up a lot of space in luggage. The GoPro camera is particularly great for travellers who love adventure and sports.
Does GoPro have good quality?
GoPro has been consistently improving quality, both in terms of the built and video, with every new release. These cameras are weather-resistant and durable. More importantly, the video quality and stabilization are phenomenal.
What is the best GoPro for skateboarding?
The GoPro Hero9 is the perfect action camera for skateboarding. With HyperSmooth 3.0, this camera can capture incredibly smooth videos when doing all those ollies and wallrides. Plus, it has a long battery life, so you can shoot videos for long. Read more about the GoPro hero 9 here >>
What is the best GoPro for aviation?
For aviation videos, the GoPro Max is the best GoPro. It has a great camera plus noise reduction, which is helpful when you're in the air on a plane. Moreover, it has voice control that allows you to control the camera without touching it. Read more about the GoPro hero max here >>
What is the best GoPro for kayaking?
Most GoPro action cameras are waterproof, so you can use them on the water. For kayaking, GoPro Hero8 or later is recommended as these cameras have improved video stabilization and ultra HD resolution.
What is the best GoPro for airsoft?
All GoPro models are suitable for an airsoft game. If you're on a budget, GoPro Hero5 is a viable option, as it can shoot high-resolution videos. Otherwise, the latest GoPro Hero10 is the best action camera for all shooting sports, especially if you want to capture slow-motion videos.
What is the best GoPro for fishing?
The GoPro Hero9 is a waterproof action camera which can even be used underwater up to 33 ft. It can easily capture detailed photos and footage on a fishing trip. You can also stream your fishing expedition live on social media. And shoot a time-lapse video with TimeWarp 3.0.
What is the best GoPro for hiking?
The GoPro Hero7 or later models are great for recording videos on a hike. These cameras are waterproof and durable, making them ideal for difficult terrains. However, it's recommended to use a hand/wrist strap to secure the camera whilst your trek.
What is the best GoPro for YouTube?
For making YouTube videos, GoPro Max is the best choice. It combines GoPro Hero features with a 360 camera. It's the perfect 3-in-1 camera for vlogging, giving creative control and built-in editing options. This is a well-rounded, advanced camera, great for shooting all kinds of vlogs (interviews, action, travel, etc.). Read more about the GoPro Max here >>
What is the best GoPro for running?
The GoPro Hero7 is the best GoPro for running. You can wear it on your head with a headband and record yourself running. With HyperSmooth, it will stabilize all the jittery movement whilst running. Also, it's waterproof, so you can also use it on your runs when it's pouring.
What is the best GoPro for skiing?
The GoPro Max is the best choice for an action camera for skiing. It's weatherproof and durable. There are three cameras that can capture 360-degree videos as well. Plus, the camera is easy to configure and use. Read more about the GoPro max here >>
What is the best GoPro for cycling?
Any GoPro model would be a great fit for recording videos while cycling. If you have the budget, go for GoPro Hero9 or the latest Hero10, as these cameras have incredibly high resolution and reliable stabilization to produce smooth videos. You'll also need a reliable mount to mount the camera on the bike.
What is the best GoPro for snowmobiling?
GoPro Max is the best action camera for snowmobiling. It offers unparalleled stabilization, which can be improved further with a gimbal. It also has a 360-degree field of view, which can capture the scenery around. Read more about the GoPro max here >>>
What is the best GoPro for diving?
All GoPro action cameras are waterproof, typically up to 30 ft., so any model should be good enough for diving. However, for diving, the latest Hero10 is recommended as it can capture truly captivating footage underwater. Read more about the Hero10 here >>>
Sylvie Simpson is the founder of European Cities with Kids. For the past 6 years, she has been travelling all over Europe whenever she has the chance, both solo, for work and with her daughter. Sylvie is on a mission to help people make the most of city breaks in Europe with kids and helps over 50,000 readers per month plan and make the most of their trips in Europe with kids.