(Last Updated On: November 24, 2023)
Looking for the BEST water parks in Croatia?
Croatia boasts some of the best and most fun water parks in Europe. This post will take you through the very best water parks in Croatia for families so you can plan the perfect trip.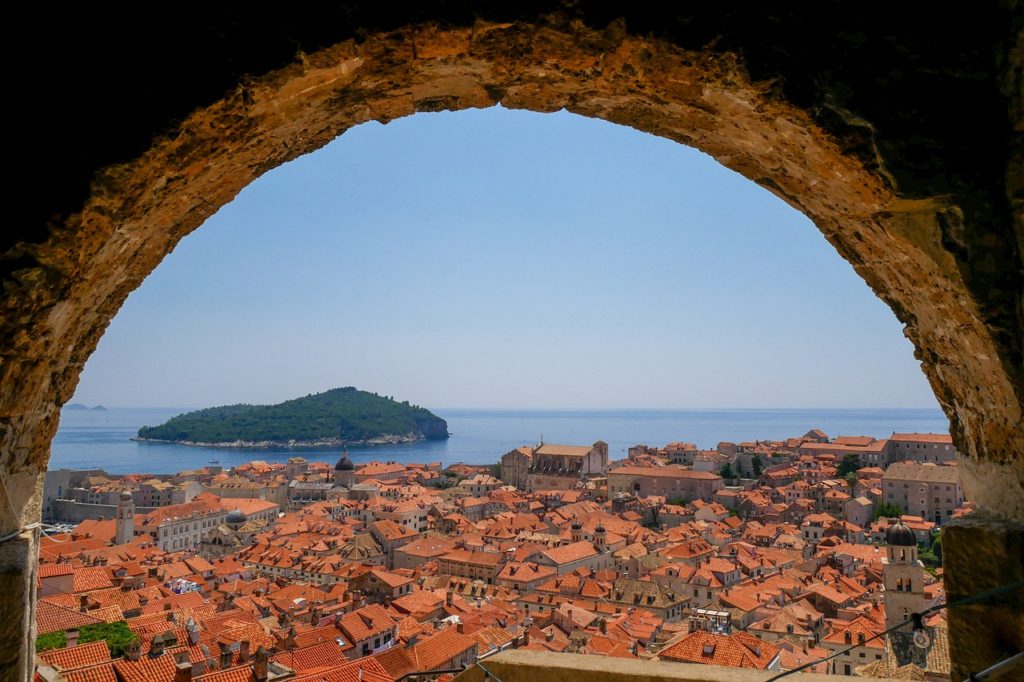 This post may contain affiliate links, which means I may receive a commission, at no extra cost to you if you make a purchase through a link. Please see my full disclosure for further information.
Water Parks in Croatia
There are 3 types of water parks in Croatia. The first is aquaparks which consist of a massive row of inflatables, usually in the sea. The entry cost for these is normally low, and the aquapark can be combined with a trip to the beach.
The most common type of Croatia waterpark is an attraction with a payable entry fee – open to the public. Some water parks are attached to hotel and resort complexes – reserved exclusively for guests, but sometimes the public can enter for a fee.
View More – Best Islands in Croatia for Families
Why You Should Visit the Best Water Parks in Croatia
If the sea is too cold or you are looking for something different – a slight adrenaline kick – maybe it's the right time to visit one of the water parks in Croatia.
Reasons to visit:
Fun for the whole family
Equipped with various facilities, including restaurants and bars
Affordable price
12 Best Croatia Water Parks
Croatia has a series of fascinating water amusement parks that offer top entertainment and recreation for everyone. These Croatian water parks provide thrilling rides, wave pools, and more. They are the ideal places to unwind and enjoy yourself in the Croatian weather with the kids.
#1 Aqua Park Dalmatia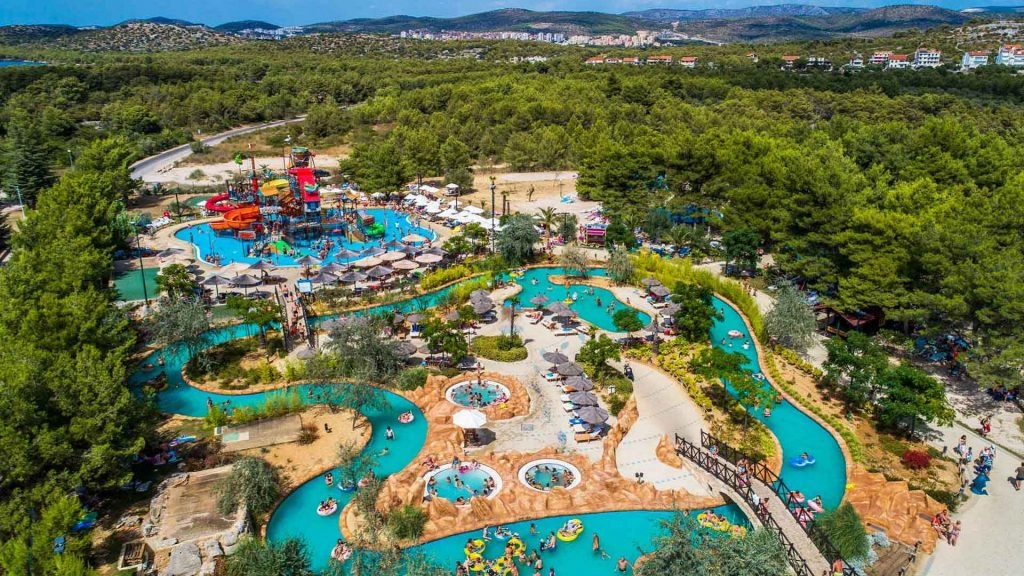 If you're looking for a fantastic waterpark in Croatia, why not plan a trip to Sibenik, Dalamantia's first water park.
Best facilities:
Aqua Rain Fortress
Jacuzzis
Kids Zone
Adults area
Splash bar that offers food and drinks
Beach shop
At Aquapark Dalamatia, children can spend the entire day enjoying various attractions. A kids' zone and an underwater fairy tale make up the children's world. There are also Billiards and various games in a special adult area.
This Croatia aqua park is located in Šibenik city within the Solaris complex, 4 km away from the city centre.
Aquapark Dalmatia is best to reach by public transport or taxi. View transfer prices for your dates here.
Where to stay Nearby: Solaris Camping Mobile Homes
#2 Zadar – Zaton Holiday Resort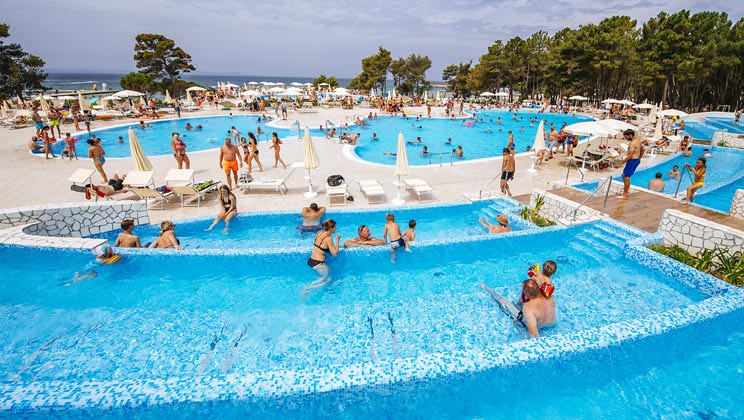 Best facilities:
• Spray park
• Spacious sun deck
• Pool bar
• 2 connected pools for younger kids
Smaller children and non-swimmers can enjoy the water carefree here without worrying about pool depth. Older children and teenagers can have fun at the pool attractions.
The resort is located in the small town of Zaton, 13 km from Zadar or about 15 minutes drive.
Where to stay: Zaton holiday resort
#3 Aquapark Pula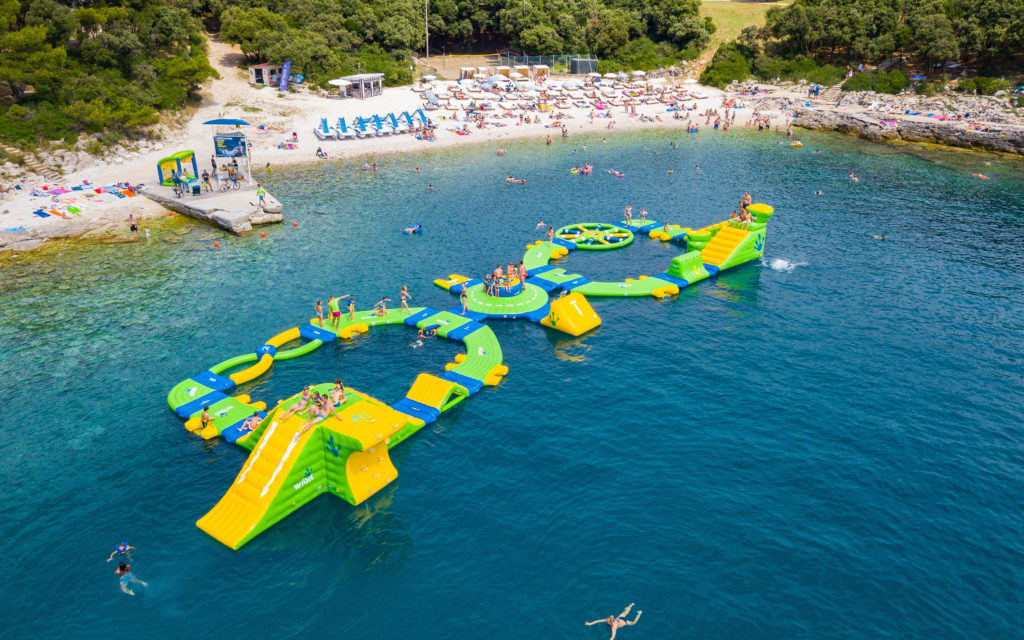 Located right next to Verudela Beach, this Wibit Pula water park offers a handful of entertainment for the youngest and the slightly older, all under the supervision of the rescue service.
This one-of-a-kind water playground, a miniature floating island of pleasure, was designed for individuals of all ages who like an active holiday or simply want to remember their summer—not recommended for those under six.
Verudela Beach is an 8-minute drive from the centre of Pula, and there are restaurants and accommodation nearby.
Where to stay: Park plaža Verudela
#4 Dubrovnik Water park
Dubrovnik water park is a top place for children's entertainment – anchored next to the famous Dubrovnik beach Copacabana.
Key feature: sea ​​trampoline
Dubrovnik water park is surrounded by crystal clear water. It's an excellent place for families. A beach bar is also located there. Unfortunately, it is not suitable for babies and children under 6.
Beach is located about 5 miles out of Dubrovnik. It's in Babin Kuk, and you can take bus number 6 there or take a taxi.
Where to stay: Guest House Misita
#5 Paleo park – Bale
This is Croatia's best theme park, taking you to another era.
Key features:
• Pools
• Sunbathing area
• Dinosaurs
• Restaurants
Paleo Park is the perfect waterpark for everyone who wants to learn something about evolution and find out which dinosaurs lived here and bathe, have fun, and have a snack in one of the restaurants. The park is suitable for all ages.
Bale is close to Rovinj, Pula, and only 80 km away from Trst. You can come by car or public transport from one of these cities.
Where to stay: Mon Perin
#6 Aquapark Čikat – Lošinj
Aquapark Čikat is located in the Čikat camp in the heart of the pine forest.
This is the right place for you if you want to relax by the pools and enjoy the facilities of a waterpark.
Key features:
Variety of slides and pools
Here, you'll find a kids pool and recreational pool for adults with a pool bar and hydromassage facilities – the perfect relaxation time.
How to get there: Take a ferry from Brestovo (Istria), or travel through the island of Krk to Cres, then to Losinj. It's not as complicated as it appears. You will not be disappointed once you arrive.
Where to stay: Camp Čikat
#7 Aquapark MartiLandia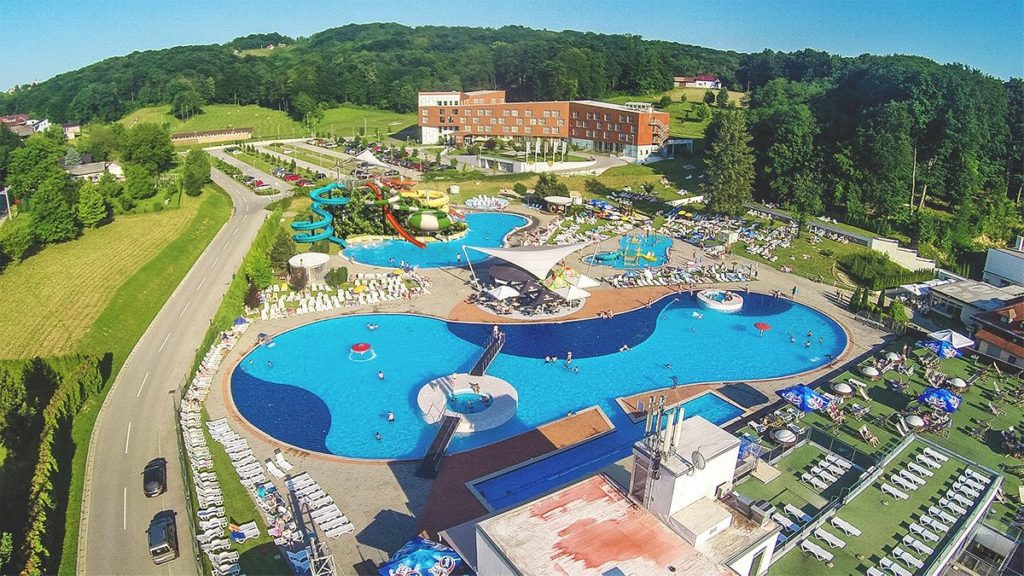 This water park offers a handful of entertainment facilities for children and adults who want to discover the mainland of Croatia while having fun, relaxing, and eating.
Best facilities:
• Falat Restaurant
• Pools
The content is adapted to babies and children. The youngest will have fun in pools, not entirely in the sun.
Sveti Martin is a small town along the Hungarian border, surrounded by larger cities like Zagreb, Varaždin, Maribor, and Ljubljana. By car or by bus, it's up to you.
Where to stay: Hotel Sveti Martin
#8 Aquapark Istralandia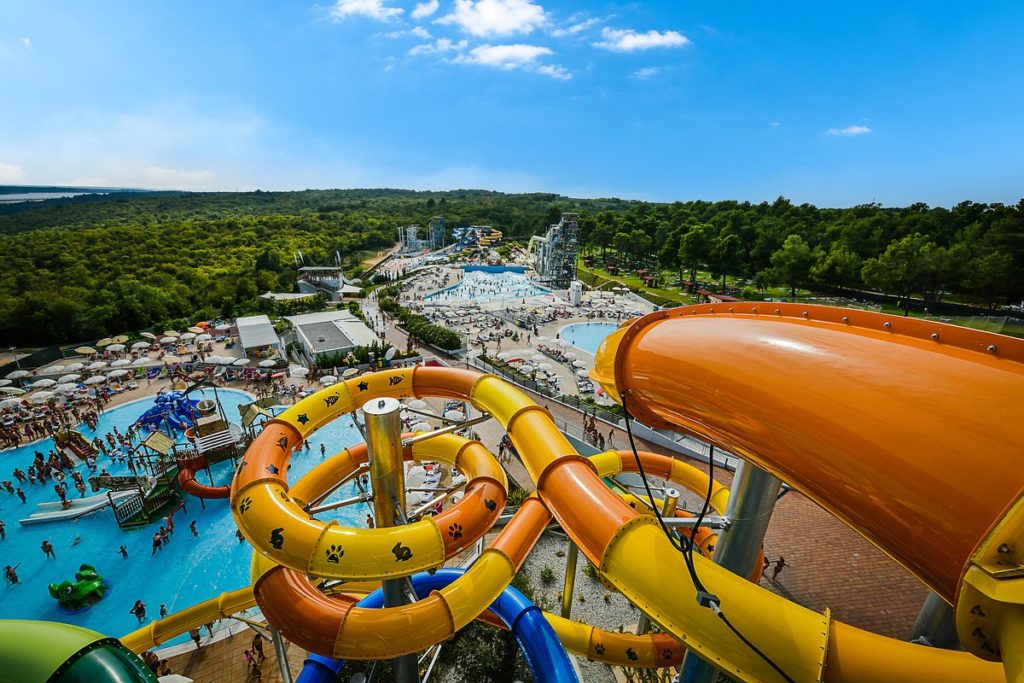 Istralandia is ranked 5th in Europe for entertainment for children and adults, and it's the Best aquapark in Croatia.
Best facilities:
Kids Corner
Grand bazaar
Spray Kids Arena
Family pool
Pirate Castle
Istralandia is your summer destination if you want to witness the largest pool in this region and enjoy limitless water attractions and high-quality food.
It is located near Novigrad, Porec, and Pazin, and you can reach it by car or bus. View hire car prices for your dates here.
Where to stay: Villa Paolija
#9 Aquacolors Poreč
This Porec park is the largest water park in Croatia and contains more than 20 water attractions.
Key features:
Crocodile Bay
Two children's pools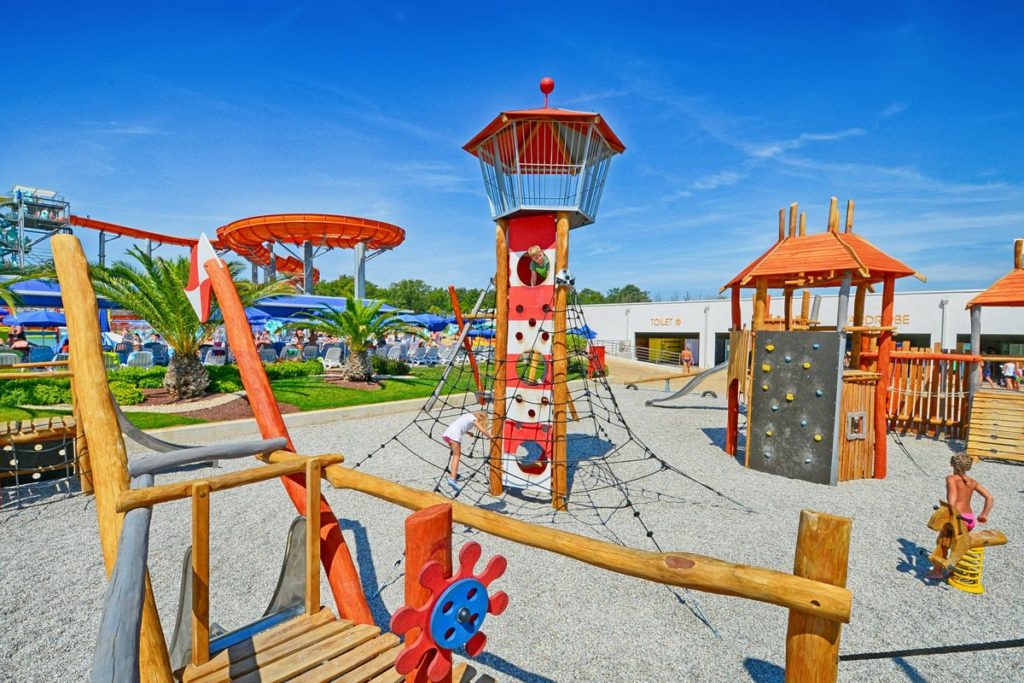 Artificial waves
Food and drink
Pool lovers will adore the largest and most modern water park in Croatia, full of attractions and fun for all ages. At Aquacolors, you will certainly not be bored, and the food and drinks offered are also fantastic.
Aquapark is located in Poreč and can be reached by car or public transport.
Where to stay: Aparthotel Adeo
#10 Aquae Vivae Krapinske Toplice
Vicae Krapiske is a fantastic spot for kids, with a large outdoor pool, underground massage facilities, a scuba diving pool, and exclusive pools for youngsters with Brio trains and Lego block play stations.
Key features:
Slides
Pools
Bar&restarant
Diving
In the restaurant, you can eat the best pizza in the area, and children can endlessly enjoy the wave pool.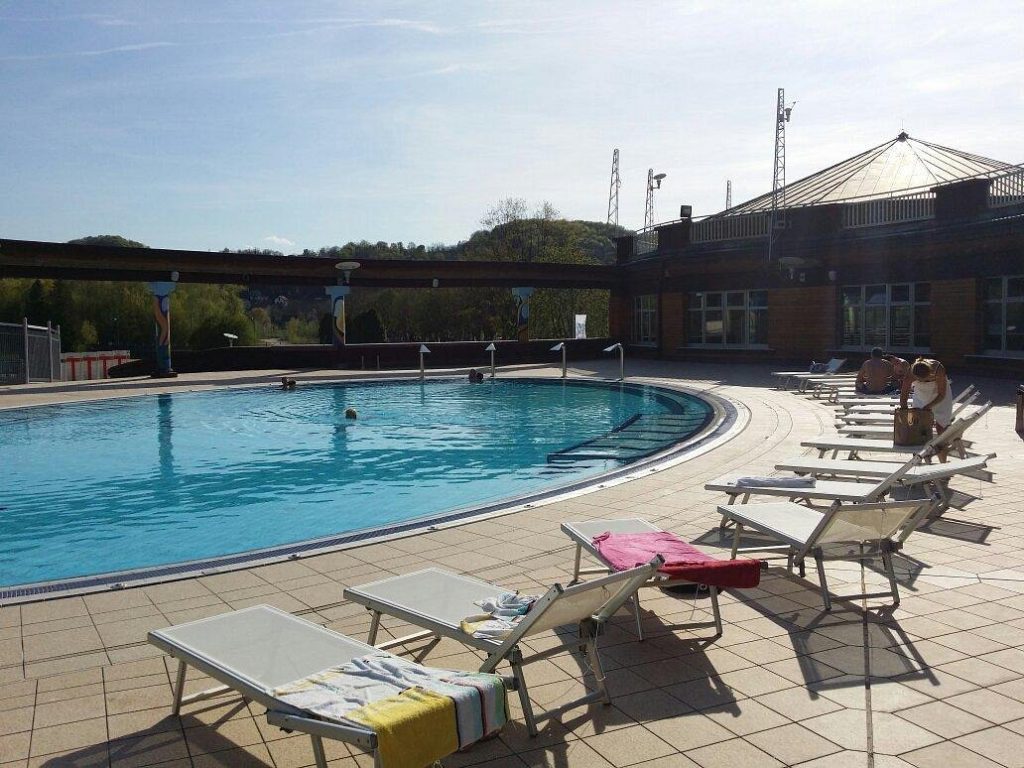 A place to stay: Apartman Thermos
#11 Water Planet – Tuhelj Spa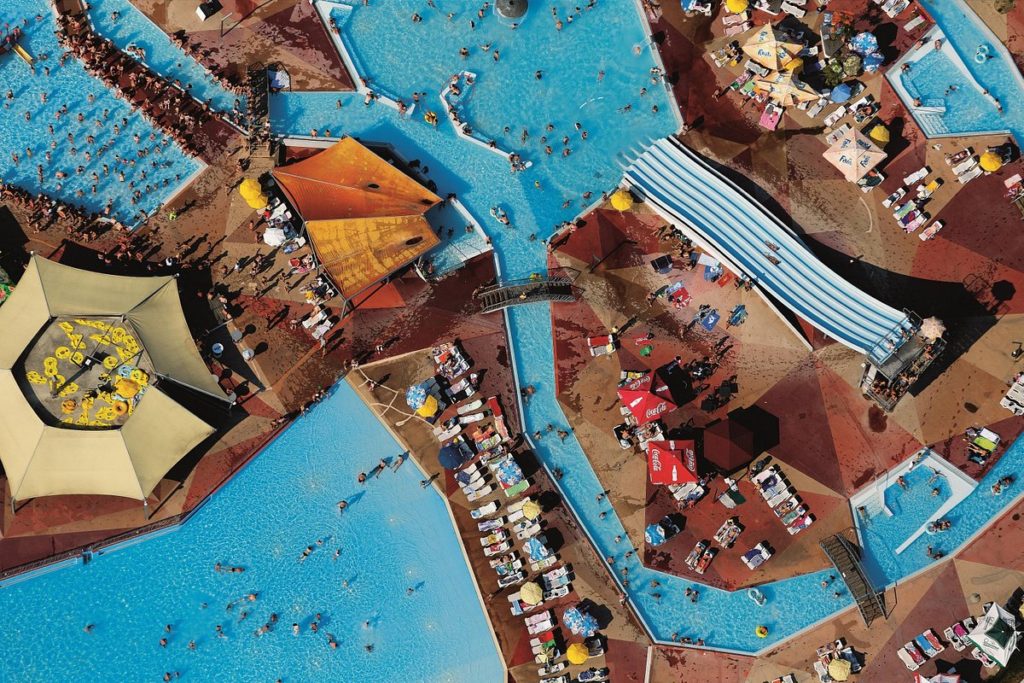 Tuhelj is one of the most famous Croatian thermal baths, and in summer, it is undoubtedly one of the most visited.
Best facilities:
Pool with cannons and sprinklers in the shape of animals
TuhiLand and inland water city with slides and syringes
Adrenaline slides
Water planet offers many water attractions and wellness facilities. Everything is subject for the whole family to enjoy – from water slides to a cocktail bar on the water.
Located in the Croatian Zagorje, 50 km from Zagreb. It is best to arrive by car or bus.
A place to stay: AQUA – TUHELJ – LAND
#12 Aquapark Split – Dupichini
Aquapark Split is a well-known Croatia inflatable water park with fish slides, micro slides, rope walkways, and rolling logs. This Croatia Split water park is the best in Split.
The park is located in Stobrec, near Split, Croatia. There are bus lines and taxis from the centre of Split.
Accommodation nearby: Rooms Margarita
Plan Your Trip to Croatia with Kids
More on Croatia
The Waterparks of Europe
Discover Croatia >>>

Home >>>
Sylvie Simpson is the founder of European Cities with Kids. For the past 6 years, she has been travelling all over Europe whenever she has the chance, both solo, for work and with her daughter. Sylvie is on a mission to help people make the most of city breaks in Europe with kids and helps over 50,000 readers per month plan and make the most of their trips in Europe with kids.