(Last Updated On: November 7, 2023)
Looking for the BEST things to do in Malaga with kids? Malaga as a holiday destination is perfect. The city is enchanting and centrally located to explore the beauty of Southern Spain.
Malaga has a unique blend of art, culture and heritage to experience, fun and family-friendly activities and spectacular food.
This post may contain affiliate links, which means I may receive a commission, at no extra cost to you if you make a purchase through a link. Please see the full disclosure for further information
Is Malaga Good for Families?
Malaga is a beautiful coastal city and a great Spanish city break due to the many family-friendly activities on offer and a perfect climate.
There is no shortage of things to do with the kids in Malaga. The city is fun for younger kids and is an ideal teenage holiday destination, making Malaga one of the best places to visit with your family.
When is the Best Time to Visit Malaga, Spain
A Spain city break offers excellent weather all year round, and there is no exception in terms of great months to enjoy a city break to Malaga.
Many fun Malaga festivals are held across the year, including fabulous fiestas, historical events, and arguably the best Christmas markets in Spain.
Malaga in May
May is a wonderful month to visit Malaga with the kids. The weather is pleasantly warm with average temperatures around 22°C, perfect for exploring the city and enjoying beach activities without the intense heat of the summer months.
I visited Malaga in May and it was fantastic! I enjoyed the sun on a boat tour and also was able to walk around without getting too hot.
May also marks the beginning of the Feria de Mayo (May Fair) in Marbella, a nearby city, which is a vibrant celebration filled with music, dancing, and traditional Andalusian costumes.
In Malaga itself, the city hosts the Noche en Blanco (White Night) usually in the middle of May.
This cultural event sees the city come alive all night with free exhibitions, performances, workshops, and guided tours across various venues. It's an exciting time for families to enjoy Malaga's rich culture and artistic scene.
Malaga in December
December is a perfect time to visit as the temperature is very mild (22C), and there are fabulous Christmas lights and markets to enjoy. The lights on Calle Larios are spectacular, and across the city, you will find amazing Christmas markets in Malaga.
The cathedral and many churches have carol concerts and beautiful nativity scenes to enjoy.
How to Get to Malaga
Air: You can reach the city centre easily from the UK or Europe, and the airport is served by many budget airlines. I flew on WizzAir from London Luton.
The Malaga airport train takes 15 minutes, or you can take a bus or taxi to and from Malaga airport at the same time or hire a car to explore the region.

Train: Take train from Malaga Airport to Malaga in 12 minutes. Malaga's main station is located at Explanada de la Estacion, providing links to Madrid, Barcelona and Seville, and many nearby towns. View train times here >>

Bus: The main station is located opposite the María Zambrano train station. There are many regular services to all tourist resorts of the Costa del Sol, Spain and other international destinations.
How to Get Around Malaga
Malaga has a compact city centre, and many tourist sites are located close to each other, so it is easy to enjoy Malaga walking. The other great thing is that many areas are pedestrianised, making it very safe to get around Malaga's attractions with kids.

There is an excellent network of taxis you can use to get around the city and also great connections via bus or train for day trips.

I enjoyed getting around Malaga on the hop on hop off bus and reached the city centre by train, bus and tube.
Top 8 Sights and Activities in Malaga for Families
What to see in Malaga? Attractions in Malaga include ancient fortresses, interactive museums, spacious parks and an impressive marina.

There are also stunning beaches as well as many amusement and water parks. Here are the top eight things to do in Malaga with children!
#1 Plaza de la Merced
Plaza de la Merced is a beautiful piazza with plenty of space for children to enjoy energetic activities in Malaga, such as riding scooters and playing ball games.

There is an impressive life-size statue of Picasso. The trees in bloom are beautiful during the summer months, and there are great tapas and markets to enjoy. This is one of the best places to visit with kids in Malaga, and it's free!
#2 Picasso Museum
The Picasso museum is one of the best Malaga museums and great for the whole family, presenting Picasso's life and artworks in chronological order and located in a 16th-century building.

The Museo Picasso is very popular so go in the morning to avoid the queues. Check the website for upcoming temporary exhibitions and fun workshops for children.
#3 Parque de la Alegria
Parque de la Alegria is an amazing and huge Malaga Parque (15K m2 park) with great open spaces and fabulous playgrounds, including castles with slides, climbing nets and swings.
There are also many bright and colourful sculptures of chameleons, bugs, frogs and turtles for children to find around the park and a large pond and running and biking trails.
#4 Selwo Marina
Located in Benalmadena, this is a great animal and leisure park. The park is home to dolphins, sea lions, exotic birds and penguins across five different zones.
You can also attend various activities and presentations to learn more about the park's habitats and species and book animal interaction experiences. Perfect day trip for the whole family.
#5 Puerto de Malaga
Puerto de Malaga is a lively and busy port with lots of places for children to play, impressive boats to see and many great restaurants and shops.
Opposite the port is the Parque de Marque which offers a pleasant green space to relax and for the kids to play. The western end of the promenade is a giant Ferris wheel, and the eastern side has an excellent lighthouse and beach area. A great activity for the whole family.
#6 Museo Automovilistico & Moda
This interesting automobile and fashion museum is located in the impressive Antigua Real Fábrica de Tabacos (known as 'La Tabacalera') building. The museum has over 300 pieces of haute couture dating back to the 19th century across 13 themed rooms.
Car fans will enjoy seeing iconic vehicles, including Jaguar, Cadillac, Rolls Royce, Bentley, Ferrari, Aston Martin and Porsche. The museum has workshops and events for children.
#7 La Calle Larios
La Calle Larios is a beautiful street with amazing Malaga shops, beginning from the port and running north to La Plaza Constitucion. There are many high-end shops and regular shops, cafes and ice cream shops.
Visit in the evening so the children can see the multi-coloured lights that make you feel like it is Christmas, whatever the time of year – a magical thing to see in Malaga!
#8 Jardin Botanico Historico La Concepcion
These historic botanical gardens with over 50K plants and are one of the best Malaga attractions. These gardens are a fantastic (and free!) place to enjoy a nice walk, catch some shade, and the kids can have a runaround.
These gardens offer beautiful flowers and trees, gorgeous old buildings, fantastic views, and various kids' outdoor activities in Malaga.
Best Beaches in Malaga for Kids
There are many beaches in Malaga for families. Here are the best options:
Playa de la Malagueta Beach
This central, man-made Malagueta Beach runs across 1.2km of coastline and has great reviews. One of the best activities in Malaga for children, with palm trees, calm seas and an extremely family-friendly atmosphere, makes this a perfect Costa del Sol beach to enjoy.
El Palo Beach
One of the best beaches near Malaga. Extremely scenic, 1.2Km long and 25m wide, and popular with the locals – this is a beach you should see during your Malaga city break.
There are many water sports to enjoy, and the Virgen del Carmen festival is held on the 16th of July – a boat procession, funfair and concerts.
Where to Stay in Malaga with Kids
Budget: Eurostars Astoria
Eurostars Astoria is a great value and central accommodation option. Rooms are bright, clean and comfortable, with cots available on request. The hotel is close to many museums and historic buildings, including the cathedral, and has great links via Maria Zambrano AVE station.
Budget: IBIS Budget Malaga Centro
The Ibis budget Malaga Centro is a fantastic budget-friendly option for families visiting Malaga. Known for its clean, comfortable rooms and friendly service, this hotel is a great base for exploring the city.
It's centrally located, which makes it easy to reach many of Malaga's family-friendly attractions on foot or by public transport.
I stayed at the IBIS budget Malaga Airport and it was a fantastic hotel apart from the location – that's why I'm recommending this option right in the center!
Mid-Range: Apartamentos Casa Palma Centro Histórico
Casa Palma Centtro Historico are stunning apartments, close to La Malagueta and La Caleta beach, Picasso Museum and Alcazaba.
The apartments have great facilities, including AC, flat-screen TV, living room, kitchen, dining area, bathroom and bedroom – some units have an outdoor patio area. Cots and high chairs are available for younger children.
Mid-Range: The Illunion Malaga – Best Wheelchair Accessible Hotel in Malaga
The Illunion Malaga is a fantastic mid-range option for families visiting Malaga. This 4-star hotel is located near the heart of the city, right next to the Malaga Centro-Alameda train station, providing quick access to many of the city's attractions.
The hotel's spacious family rooms are designed for comfort and convenience, with amenities like a minibar and free Wi-Fi. Kids will enjoy the indoor and outdoor pools, while parents can take advantage of the hotel's wellness center, which includes a spa, sauna, and fitness center.
The hotel's restaurant offers a varied menu, with options appealing to both adults and children.
Splashing Out: Gran Hotel Miramar GL
The Gran Hotel Miramar is one of the best 5-star hotels in Malaga, just a 1-minute walk from the beach and located in a stunning listed building dating back to the 1920s.
The hotel has a spa, swimming pool, extensive gardens and elegant rooms with magnificent views over the bay. The hotel also has superb cafes, restaurants and a roof-top terrace, as well as a children's pool and mini club.
Splashing Out: AC Hotek Malaga
The Marriott Malaga is an excellent choice if you're looking for comfort and convenience. The hotel offers spacious family rooms and suites, which can accommodate larger groups.
It is located near the city centre, providing easy access to the popular attractions of Malaga. Children will love the outdoor pool, while parents can relax in the hotel's spa.
The hotel also offers a variety of dining options, suitable for even the pickiest of eaters.
Most Popular Stays
Where to Eat in Malaga with kids
Don't miss the world-class tapas. It tastes amazing and is perfect for sharing with the family. Atarazanas Market is a perfect place to sample fresh produce and tapas. The location of Malaga on the Costa del Sol also offers superb fish and seafood to enjoy.
Casa Armando – A fabulous, fun and vibrant café where you can experience amazing churros, chocolate and coffee. Open from Monday to Sunday, but closed from 1 pm until 5 pm.
La Proa de Teatinos – One of Malaga's best restaurants, offering amazing tapas and is extremely family-friendly. Don't miss trying the paella and croquettes as well as one of the fresh seafood dishes. Perfect for sharing an evening meal with the family. The restaurant is open from 1 p.m. until 4.30 p.m. on Monday and Wednesday to Friday, with additional weekend evening hours.
Spago's Fresh Pasta – Amazing Mediterranean cuisine, fresh ingredients and an Italian twist. This is a great place to enjoy lunch, the children will love it, and you will find amazing food, service and ambience.
2 Days in Malaga Itinerary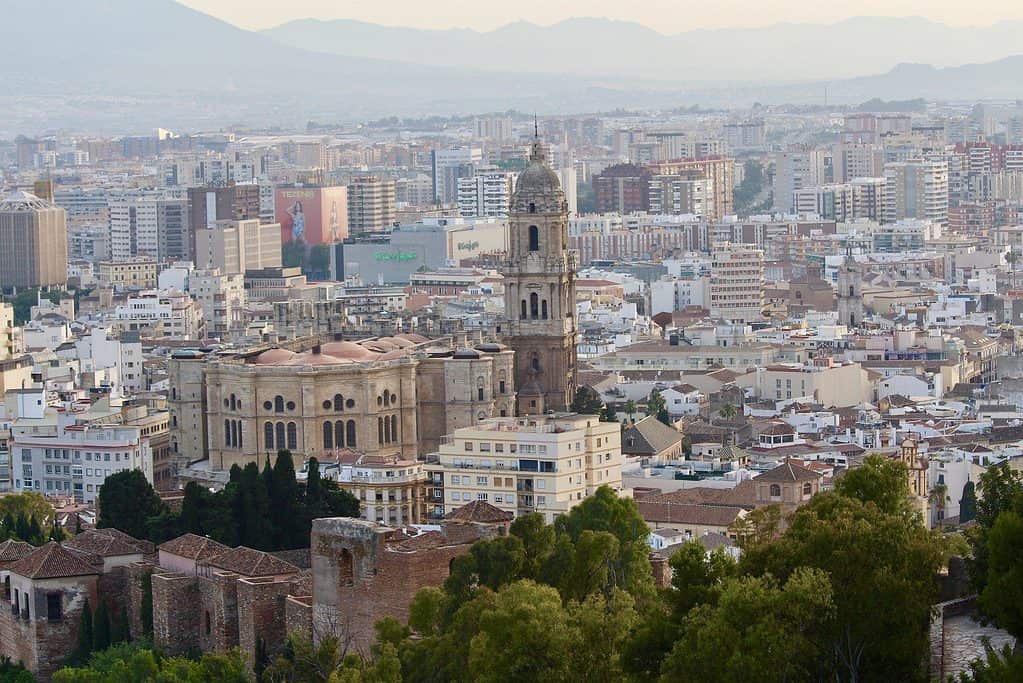 What to do in Malaga over two days? There is a lot to see and do in the city, and it is easy to balance sightseeing with fun activities for the kids in this fabulous city. Here we have the best options to enjoy a Malaga short break.
Day 1: 1 Day in Malaga
Morning: Head to the Plaza de la Merced, where the kids can have a play in the square, and you can browse the markets.
Visit the Picasso Museum (a 5-minute walk) to learn about the artist's life and works, and the kids can attend an art workshop. Casa Armando is a perfect spot for some lunch and is just over 5 minutes from the museum.
Afternoon: One of the best activities in Malaga is going to the beach. Spend the afternoon relaxing at La Malagueta beach (10 – 15 minutes via taxi). The kids can enjoy the beach, sea and water sports/activities as well as many play areas.
Book a private tour via electric Tuk-Tuk – you can specify locations of interest you want to visit on your city break in Spain.
Make sure you read our 7 day Spain itinerary which includes 1 day in Malaga.
Day 2: 48 Hours in Malaga with Kids
Morning: Don't miss the Roman Theatre and Alcazaba fortification on your Malaga city trip.
Then take a trip up to Gibralfaro Castle, which overlooks Alcazaba, via bus, taxi or (if not too tired) you can go on foot and enjoy some hiking in Malaga! Although not the typical children's activities in Malaga, the kids will love exploring the ruins and gardens. Book your Roman theatre and Alcazaba tour here >>>
Afternoon: Take some time to relax in the Puerto de Malaga (marina area), where there are many impressive boats and great cafes, parks, amusement rides, beach area and open green spaces.
There are many great restaurants in this area, or you can take a taxi over to La Proa de Teatinos for some mouthwatering tapas.
Day Trips from Malaga with Kids (Costa Del Sol)
Malaga has a superb location to explore southern Spain and the Costa del Sol. There are new places to explore every day, from ancient fortifications and charming towns to exciting caves. The city has great transport links so you can easily travel via hire car, train or bus.
Gibralfaro Castle
Built on the remains of an ancient fortress and an old lighthouse on a hill during the 10th century, this fortress aimed to house troops and protect the Alcazaba. Alcazaba has beautiful gardens and stunning views over the city, and the Roman amphitheater is at the foot of the fortress.
Gibralfaro Castle is located just above Alcazaba, and the kids will enjoy exploring the castle and ramparts. Take a bus or taxi if you are travelling with younger or tired kids.
Marbella Old Town
Marbella old town is a charming part of Marbella, with winding streets, historic buildings, small cafes, quaint shops and beautiful flowers everywhere. Don't miss the Plaza de Los Naranjos in the heart of Marbella's old town.
Arroyo de la Represa Park is ideal for the kids, with two lakes, sports tracks, a playground and the Bonsai Museum. Nagüeles beach is popular with families, where you can hire a pedalo for fun on the water, and older kids can enjoy various water sports.
You can take a direct bus from Malaga to Marbella in one hour or via a hire car takes 50 minutes.
Nerja Caves
The Nerja Caves are breathtaking and a great day out from Malaga with the kids. You can walk through the famous caves and admire the beautiful formations, including the longest stalactite in the world!
Take the Alsa bus to Nerja Caves in about an hour or take a hire car/taxi in 45 minutes. Make sure you and the kids wear suitable footwear as it can be slippery.
If you head to the caves in the morning, Aquavelis is a great water park in Malaga to visit in the afternoon and is open from June to September.
What is Malaga famous for?

Best known as the birthplace of the artist Pablo Picasso, home to world-class beaches, fabulous Andalusian cuisine and a rich historical past. Malaga has many activities to enjoy, from beautiful parks and nature to an impressive port, cathedral and vibrant city centre.

Does Malaga have a beach?

There are 16 beaches across the 14km coast. La Malaguete is very popular and El Candado, Las Acacias and El Palo are also ideal in terms of family-friendly activities in Malaga. The kids can enjoy the beach, sea, water sports and play areas as there are also great seafood restaurants in these areas.

Are there sandy beaches in Malaga?

Malaga has clean sand, clear sea waters and great beach facilities. Some have darker sand, whereas others (La Palo) have finer sand and shallow waters.

Where can you go from Malaga by train?

Malaga is in a perfect position to explore Southern Spain. Cordoba is a beautiful city with a rich Roman and Islamic history and only 45 minutes via train. You can also visit Ronda, a medieval hilltop town divided by a deep gorge and linked by the impressive Puente Nueve bridge, in 1.5 hours. Another great day trip is Seville, a stunning city which can be reached in just under 2 hours, or the Barcelona to Malaga train (direct service) takes 6 hours.

Should I go to Malaga or Marbella?

Definitely Malaga with kids! The city has so much to offer in terms of history, culture and family-friendly activities, as well as fabulous beaches, an impressive port, Gibralfaro Castle, great restaurants and shopping areas. Marbella is definitely worth a day trip during your Malaga city break.

Is Malaga worth visiting in winter?

Yes! The weather is mild and mostly sunny, there are fewer tourists and flights will be cheaper. The famous Malaga Christmas lights can be enjoyed on Larios Street. There are various events, such as the Three Kings Parade on the 5th of January and the carnival in February. You can also enjoy skiing at the stunning Sierra Nevada, located in the province of Granada and just a 3 hour's drive.

What can you do for free in Malaga?

There are many free activities to enjoy in Malaga. You can visit the Picasso Museum, Parque de la Alegria, Plaza de la Merced, the port, Alcazaba, Roman amphitheatre and Atarazanas market. Window shopping on La Calle Larios is fun, and you can enjoy the beautiful lights later in the evening. You can also visit the beach and splash in the sea for free!
Plan Your Trip to Malaga with Kids
Find family friendly accommodation >>>
More on Spain
Return to Southern Europe Page >>>
Sylvie Simpson is the founder of European Cities with Kids. For the past 6 years, she has been travelling all over Europe whenever she has the chance, both solo, for work and with her daughter. Sylvie is on a mission to help people make the most of city breaks in Europe with kids and helps over 50,000 readers per month plan and make the most of their trips in Europe with kids.