Looking for a Europe winter packing list?
The season brings a mix of weather conditions – snow, rain, and cold winds are all part of the adventure.
You might find yourself skiing in the Alps or exploring some of the best European Christmas markets. The secret to enjoying all of this without hassle? Being well-prepared.
We understand that packing for such a trip can be a bit tricky. That's why we've put together this easy-to-follow Europe winter packing list.
This post may contain affiliate links, which means I may receive a commission, at no extra cost to you if you make a purchase through a link. Please see the full disclosure for further information.
How to Use this Europe Winter Packing List
Packing for Europe in winter for adults and kids is not easy. At times you worry that you have overpacked, while other times, you fear that you packed too little.
For this reason, a travel checklist for Europe winter holidays is crucial.
But what should be on your Europe winter packing list? What to pack for winter in Europe depends on which country you're visiting.
If your destination is Spain or Greece, where the weather is milder compared to their northern neighbours, you won't need as many winter travel essentials as when you head to, let's say, Norway.
This guide focuses more on snowy cities teeming with Christmas markets and frozen villages where you'll find snow-capped peaks perfect for skiing. It aims to answer your most pressing questions, from what clothes to pack for Europe to what the weather is like in your destination.
We also have some packing tips and take a peek at Europe winter fashion. And because you are travelling with your little ones, we included a list of the top Europe travel gear you'll need on your vacation.
Before tackling what to pack for Europe in the winter, let's learn about the weather.
Weather in Europe in Winter
Europe covers a vast area and has different weather variations. Before you go, you should know the average temperatures in various parts of the region, especially if you plan to visit several places.
Winter months in Europe are from December to February, with January as the coldest. Depending on your destination, you may experience freezing temperatures, heavy rains, and short days.
Here is a quick breakdown of what winter weather is like in Europe by region:
Northern Europe includes countries like Sweden, Norway, Finland, Iceland and Denmark. Winters here are among the harshest on the continent.
In particular, Finland, Iceland, Sweden, and Norway often experience some of the coldest conditions.
Please keep in mind that, despite the freezing temperatures, this region also offers some of the most picturesque winter landscapes in Europe.
The farther north you go, the chillier it gets, with temperatures ranging between −13 °F (−25 °C) and −22 °F (−30 °C.)
Southern Europe includes countries like Spain, Italy, Portugal, Italy and Greece.
A large part of the region, particularly coastal areas, has a Mediterranean climate, marked by mild winters with temperatures averaging between 55 °F (13°C) highs and 45 °F (7°C) lows.
Some places, such as the mountain ranges of Spain and Italy, have cold, windy, and snowy winters.
Switzerland, Austria, Belgium, the Netherlands, Monaco, France, Germany, Ireland, and the United Kingdom are some of the countries in Western Europe.
Expect some rain and average temperatures of 41°F (5°C) highs and 28.4 °F (-2°C) lows. Western Europe also has part of the alps which can have lots of snow and closer temperatures.
Eastern Europe has countries like Bulgaria, Romania, and Hungary. The region often experiences cold, long winters, with average temperatures fluctuating between 32 °F (0°C) highs and 21.2 °F (-6°C) lows.
Packing List for Europe in Winter: What to Wear
Europe in winter can be extremely cold, even in countries that receive little or no snowfall. Wearing layers is a sure way to stay warm through the European winter.
Fundamentally, you dress in three layers – base, middle, and outer – for utmost coziness and comfort. You can change the number of layers throughout the day based on the temperature or activity.
In this Europe winter packing list for families, we start with the clothes you need for layering. Then, we proceed to other travel essentials for your trip.
Your Base layer
You will not need a base layer in Southern or Western Europe. This is an essential addition to your Europe winter packing list.
These insulated items are perfect for keeping your legs warm when you're out and about enjoying outdoor adventures.
Make sure they fit you snuggly but comfortably.
For kids, you can go for a fleece-lined base layer set made of lightweight material for easy movement.
Thermal shirts or singlets
A fleece-lined, breathable shirt is an excellent base layer to keep you warm under your sweater or pullover. If you spend a lot of time indoors, you can wear a thermal singlet or tank top to avoid feeling too hot.
Mid layer
A down vest pairs well with a long-sleeved thermal shirt base and keeps your chest and back warm without restricting arm movement.
Long-sleeved shirts and turtle necks are light enough to wear indoors or when the temperatures are warmer. Depending on how long your stay is, pack three to five tops. And because they are not as thick as sweaters, they don't take up much space in your luggage.
Light sweaters provide an extra thick layer under your jacket or coat when you need more warmth on cold days outdoors. Mix and match these with various bottoms to create a different look each day.
There are many cute and cozy pullovers for kids that will keep the little ones warm while traveling to Europe in winter.
Outer layer
Waterproof pants keep your base layer warm and dry while hiking, visiting Christmas markets, and doing winter sports. Check out the cute designs and comfy fit of these kiddie rain pants.
Jeans or pants
Thick, dark-colored jeans or pants are good additions to your travel packing list for Europe.
They're great for a casual day indoors or for walking around the city in warmer winter weather. Just be sure they are not too tight-fitting, so you'll still have room to layer underwear underneath them.
A waterproof jacket for Europe winter travel will keep you dry during rainy days and prevent snow from seeping into your clothes. Get one with a hood to protect you from the chilly winds. For kids, you can opt for waterproof windbreakers.
Waterproof boots are essential in all Europe packing lists for winter travel. You don't want to walk around with wet, freezing feet. Be sure your little ones also have a pair of quality snow boots.
Wool socks
You will need several pairs of warm wool socks to keep your feet warm and dry. Cashmere, nylon, and spandex are fine materials, but if you don't mind shelling out more, check out these merino wool socks.
Warm gloves
We can't stress enough how vital warm gloves are to your travel packing list for Europe. Consider getting your kids the children's fingerless gloves with a slip-on-and-off flap cover that converts the gloves into mittens.
Winter hats or beanies
Each family member should have a winter hat or merino wool beanie to protect their head from the cold.
Make sure that it covers the ears. For younger kids, there are beanie hats with earflaps and hook-and-loop closure that ensures a secure fit on your little one's head.
Neck warmers or scarves
Both protect your neck from the wind and cold, but neck warmers are more suitable for outdoor activities because they don't unravel on the move. Many children's neck warmers come in colorful and cute designs that make your kids easier to spot in the crowd.
Kids Europe Winter Packing List Essentials
Creating a kids' winter packing list for Europe can be stressful. In addition to clothes, you need to pack extra items for the little ones so they are comfortable during the trip.
This Europe travel essentials winter list for babies and toddlers will help ensure that all your bases are covered and that you pack everything you need before leaving home.
Having a travel potty helps prevent toilet accidents and bathroom meltdowns while on the road.
Few things are more upsetting than a fussy, restless toddler on a long-haul flight. Travel toys keep your kids busy and entertained while traveling on airplanes, trains, or road trips.
Choose snow boots that are waterproof and have a good grip. They don't only keep your kid's feet dry and toasty but also help them maintain balance on slippery surfaces.
The harness allows parents to keep their children close in public places, while the backpack provides storage space for snacks, toys, or a change of clothes.
Using a carrier is a safe and practical way to get around with your baby. It supports your baby while keeping your hands free, giving you more mobility. Look for a lightweight carrier that breaks down easily for packing and transport.
If you're going on long walks during your trip, we recommend you pack a travel stroller, preferably one with a rain guard. Many European streets are stroller-friendly, and you can enjoy a fantastic winter city break in Europe.
Heavy and bulky coats often hinder young kids from moving and walking. Snowsuits are usually lighter but still keep your little one warm. Go for a waterproof one to protect your kid from rain or wet snow.
When traveling with kids, warm sleepwear is a must in your winter Europe packing list. Fleece one-piece pajamas are excellent for babies and toddlers.
Earmuffs protect your kid's ears from loud noise and prevent ear discomfort when flying.
A regular diaper bag may be too bulky, so we suggest you bring a multi-purpose daypack that doubles as a travel diaper bag. You might also consider packing a portable diaper-changing pad.
Women's Winter Packing List Essentials
Is it possible to look stylish and stay warm at the same time? Yes, you can look chic even if you dress in long pants and thick coats for most of your trip. The key is to mix and match and accessorize without overlooking comfort. Check out these essentials:
3-4 long-sleeved shirts. Around four 4 to 5 long-sleeved shirts are ideal for a week-long trip. If your vacation is longer than a week, use the hotel's laundry service instead of bringing more clothes.
1-2 thermal base layer set. You might not need these in warmer countries, such as Greece or Spain, but you need a solid base layer to protect you from the cold if traveling to places with lower temperatures.
1 pair of leggings or tights. They're great for layering underneath your jeans or long pants for extra warmth. You can also wear them under skirts or dresses whenever you want to look put together for a date night.
1 pair waterproof pants. Waterproof pants keep your legs warm and dry even in the harshest winter weather. A pair is a must in every winter Europe packing list.
2 pairs of jeans or long pants. They are the best bottom clothing for your winter getaway. Go for ones with thicker material but not too bulky.
1 dress or skirt. Dresses are great for when you want to look nice for a fancy dinner. You can wear tights or leggings underneath and a cardigan over it to keep you warm. If you have enough space in your luggage, consider packing a cute sweater dress.
1 waterproof winter coat. No Europe packing list is complete without a waterproof jacket to keep dry and warm on your trip.
1 cardigan or sweater. On days that are not too cold, you can switch to a cardigan or a light sweater as your outer base.
1 pair waterproof boots. Never go on a European winter trip without the proper footwear. Quality waterproof winter boots are a staple in any Europe winter packing list.
Extra pair of shoes. Not all days will be wet and freezing cold, so you may not have to wear your waterproof boots all the time you are in Europe. Get a pair of sturdy but comfortable walking shoes. And if you plan to go somewhere fancy, pack one that is a little more dressy.
Underwear. Have one new change of underwear for each day of your trip. For instance, if you're staying for a week, pack 7 to 8 pairs of underwear. If your trip is longer than a week, consider doing laundry on the road.
2-3 bras. Go for a regular bra, a crop top, or a sports bra.
1-2 pajamas set. Sleep in something warm and cozy after a tiring day exploring your destination. We recommend that you pack an extra pair of sleep shorts as some hotel rooms in Europe can be sweltering hot in winter (thanks to erratic heating systems.) Your sleepwear can double as your loungewear.
A travel day pack. You will need a day bag to carry your daily items (wallet, phone, camera, thermos, and snacks) while you explore your destination.
Accessories. To add a bit of color and style and an extra layer of protection from the cold, don't forget to bring two pairs of scarves, sunglasses, and a warm woolen hat.
Mens Winter Packing List Essentials
1-2 thermal set base layer set. A thermal set is essential in your Europe winter packing list if you visit colder countries.
1 waterproof winter jacket
Underwear. Bring enough pairs of underwear based on the duration of your trip. About 6 to 7 pairs of these will do for a week-long stay. You can always use the hotel laundry service or wash and dry if your vacation is longer than a week.
Accessories. These include one to two neck warmers or scarves, a hat or a beanie, and sunglasses.
Optional Items to Pack for Europe in Winter
Rain is always a possibility in a European winter. To be safe, consider packing a travel umbrella.
For those who want to sip some hot tea, coffee, or chocolate while strolling through the cold streets, a thermos will be a fantastic addition to your travel packing list for Europe.
Ziplock bags
These bags are perfect for storing wet shoes or clothing while moving from one place to another. They also keep your toiletries from spilling.
Bathing suit
A soak in a heated pool after a long day of adventure is a terrific way to unwind. Check with your accommodation beforehand if they have a year-round swimming pool. There are also plenty of family-friendly water parks in Europe that remain open in winter.
Travel laundry supplies
Bring laundry supplies to wash your dirty underwear and socks instead of cramming your bag with extra pieces you might not use. A small laundry soap or detergent packet, stain remover, and portable clothesline are all you need.
These protect your belongings while in transit.
Electronics to Pack for Winter in Europe
GoPro. Nothing captures special moments like a traditional camera does. Visiting Europe is a superb opportunity for your children to hone their interest in photography. If you're unsure which camera to get, here's our list of the best GoPro for kids.
Smartwatch. Packing a smartwatch for your teens or preteens promotes independence, encourages exercise, and helps you track your kids' activities. Here's our list of the best smartwatch for teens to help you pick one that perfectly suits them.
Smartphone. Your phone allows you to stay connected as well as snap some pictures. Don't forget to bring the charger and charging cable too. Also, consider getting a local SIM card.
Portable charger. Make sure that your phone and other electronic devices stay charged while on the go with a portable charger or power bank.
Universal power adaptor. Having a universal adaptor means you can charge your devices wherever you travel. You don't have to worry whether you have the correct adaptor or not.
What to Pack for Europe: Toiletries
Suncream. It may be winter, but you still need to protect yourself from the sun while you are outdoors.
Moisturizer. Cold weather can dry your skin, so a moisturizer is a lifesaver.
Lip balm. Prevent dry lips with lip balm.
Baby wipes. Baby wipes or wet tissues are great for wiping up spills or disinfecting surfaces such as tables.
Sanitizer. You can use a sanitizer to clean sticky, greasy hands when there's no tap available. It also protects you and your kids from germs.
Feminine products. You may need some during your trip. For your comfort and convenience, it's best to pack ones from home to eliminate the hassle of finding the type you usually use.
Toothbrush and toothpaste. Go for the travel-size ones, as they are easy to pack and don't take up much space.
Shaving products and razor
Contact lenses/glasses and contact solution
Make up. Be sure to bring just the essentials, preferably in compact sizes. Also, pack some makeup remover.
Prescription medicine (if any)
First Aid for Adults and Kids
This first aid kit is ideal for travel and on the go. If you want to assemble your own, we suggest that it includes the following essentials:
Essential Travel Documents for Europe
Government-issued photo IDs
Credit Card and Debit Card
International driving permit. A driving permit is necessary if you want to drive around your destination.
Travel insurance. For your peace of mind and safety, consider getting travel insurance.
Copies of passports, IDs, tickets, reservations, and accommodation confirmations
Itinerary
Emergency contact information
Additional Skiing Essentials
Europe has some of the world's top skiing resorts, and it's a delightful experience to ski, snowboard, or explore the stunning snow-covered mountains.
You don't have to bring your own gear because you can easily rent specialty clothing and equipment for outdoor activities.
But if you do decide to pack your personal tools, make sure you have these essentials:
Ski jacket
Ski pants
Ski boots
Ski socks
Ski gloves
Neck gaiter or balaclava
Goggles
Helmet
Rechargeable hand and toe warmers
Ski backpack or hydration pack
Skis and ski poles
What Not to Bring to Europe
Each airport or port of entry in Europe may have different guidelines and restrictions. But as a general rule, these are the items you can't bring on your trip.
Sharp objects. You can bring everyday objects such as scissors, nail files, or razors, but you should pack them in your checked luggage, not in your carry-on bag.
Explosives and inflammable items. Airports and ports strictly prohibit aerosol paint and fireworks. You can't carry them in your checked baggage. You can, however, bring a lighter as long as it's in your checked luggage.
Any meat or dairy products. This restriction applies to travelers from a non-EU country. You can, however, bring powdered infant milk, infant food, and specific food required for medical reasons, but no more than 2 kg.
Endangered animals or plants or products derived from them
Packing for Carry-On Only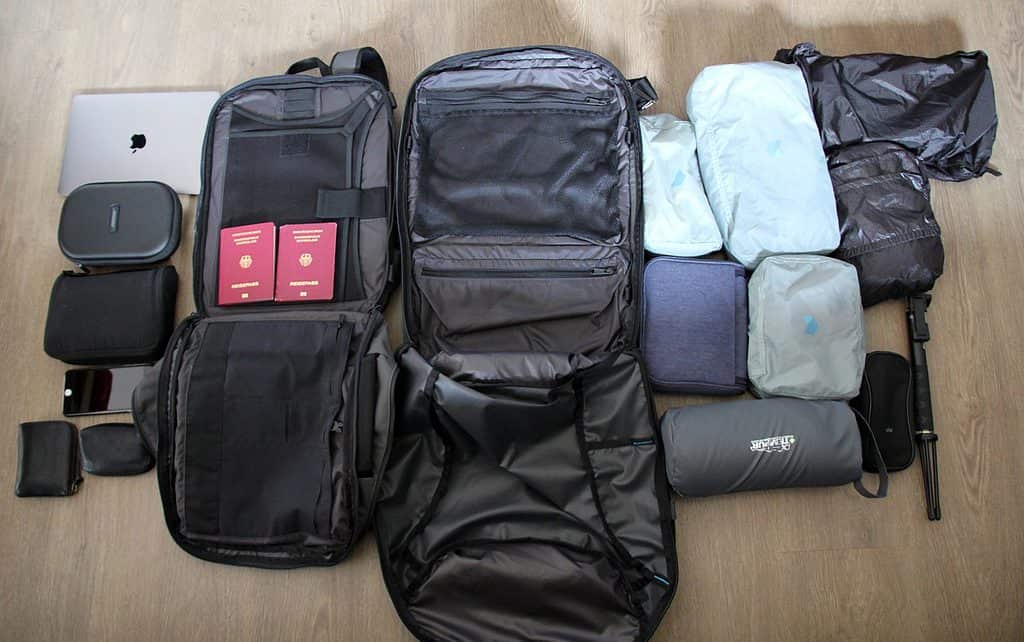 Sticking with just a carry-on when traveling with kids is a big challenge, but it's possible. Here are some tips on how to do it.
Pack fewer clothes but be ready to do more laundry. Most hotels offer laundry services. If there's none available, you can use hotel sinks for washing underwear and socks. Bring a small laundry soap or packet of powdered detergent and a portable clothesline.
Wear the bulkiest clothing on your flight. You can re-wear your clothes, especially your base layers. Choose garments made of wool as it has natural antibacterial properties and won't smell.
Get rid of the "I might need this" mentality. Do you really need that extra sweater, that jewelry, or an entire makeup kit?
Limit the number of electronics you bring. Chances are, you won't need a laptop on your holiday unless you use it for TV or working remotely. You can perform most of your online transactions on your mobile phone.
European airports allow up to 100ml (3.4 ounces) of liquids as long as they are in a transparent plastic bag. Exceptions to this rule are prescription liquid medications, breast milk, and baby formula. If you're traveling with an infant and have these items in your carry-on bag, inform the TSA officers.
Tips for Packing for Europe in Winter
Layering. When you're visiting Europe in winter, layering is the key. Pack for three layers of clothes – base, middle, and outer. Pick dark, neutral colors that match nicely with most outfits. Then, accessorize with colorful scarves. Wear heavy, bulky clothes such as jackets or coats on the plane.
Pick accessories that give you extra protection from the cold. Keep your extremities – hands, feet, and head – warm with gloves, waterproof boots, scarves, and beanies that cover the ears.
Go for breathable and quick-dry clothing. Nylon, polyester, and merino wool work well for travel clothing because they dry quickly and draw sweat away from the skin faster. You can hand wash them then they will be ready to wear the next day. Avoid clothes made of cotton, as this fabric absorbs moisture more and will only make you feel cold.
Use packing cubes. Not only will they help you organize your essentials. They will also squeeze the air out of your puffier clothes so you can maximize your luggage space.
Research the weather forecast. Europe has diverse weather, so the thick winter coat you wear in Austria may not be useable in Portugal. To avoid bringing unnecessary clothing and gear, find out in advance what the temperatures are like at your destination. You might end up not needing that extra umbrella at all.
Europe Winter Packing Checklist
General:
Thermal leggings or long johns (Northern Europe Only)
Thermal shirts or singlets (Northern Europe Only)
Zip-up fleece vests (Northern Europe Only)
Long-sleeved shirts
Turtlenecks
Sweaters
Waterproof pants
Waterproof jackets
Winter coats
Jeans
Long pants
Wool socks
Waterproof boots
Warm gloves
Winter hats/beanies
Neck warmers
Scarves
For Little Ones:
Travel potty
Travel toys
Snow boots
Travel Cup
Backpack with reins
Travel-friendly baby carrier
Travel stroller
Snow suit
Earmuffs
Travel diaper bag
Pyjamas
Women's Essentials:
Thermal base set (Only Northern Europe)
Long-sleeved shirts or turtlenecks
Leggings, tights, or jeans
Waterproof pants
Dresses or skirts
Sweater
Waterproof boots
Extra shoes
Woolen socks
Pajamas
Underwear and bras
Gloves/mittens
Scarves
Winter hat
Travel day pack
Men's Essentials:
Thermal base set (Only in Northern Europe)
Long-sleeved shirts
Waterproof pants
Jeans or long pants
Waterproof boots
Woolen socks
Extra shoes
Waterproof jacket or coat
Waterproof gloves
Sleepwear
Neck warmer
Underwear
Hat or beanie
Travel day pack
Miscellaneous (Optional Items):
Windproof travel umbrella
Thermos
Ziplock bags
Handwarmer
Bathing suits
Travel laundry supplies
Electronics:
GoPro
Smartwatch
Smartphone
Headphones
Portable charger
Universal adapter
Toiletries:
Suncream
Moisturizer
Lip balm
Deodorant
Baby wipes
Sanitizer
Hairbrush/comb
Feminine products
Toothbrush and toothpaste
Shaving products and razor
Nail clippers
Make up
Prescription medicine
First Aid Kit:
Motion sickness patches
Bandages
Small scissors
Alcohol swabs
Medical tape
Gauze pads
Pain relief medication
Antihistamine cream
Antibiotic ointment
Loperamide tablets
Essential Travel Documents:
Passports
Government-issued photo IDs
Credit card and debit card
Travel Money Card
International driving permit
Travel insurance
Visa (if applicable)
Copies of passport, IDs, tickets and confirmations
FAQs: Europe Winter Packing List
What should I pack for winter in Europe?

Your Europe winter packing list should include a base layer (thermal underwear), a middle layer (sweater, long-sleeved shirt), and an outer layer (jackets, long pants.) Pack accessories that keep you warm, such as beanies and scarves, and wear waterproof boots. Bring a first aid kit, toiletries, and your travel documents. If you're traveling with young kids, you will need a stroller, feeding items, nappies, and toys.
How do I pack for a 2-week winter trip?

Focus on layering and bring clothes you can mix and match. They should also be breathable and quick drying so you can wash and re-wear them the next day. To avoid overpacking, know what the weather is at your destination.
Do you need snow boots in Europe in winter?

In the colder parts of Europe, people dress in warm base layers, topped with sweaters or long-sleeves shirts, thick winter coats, and scarves. Bottoms are typically form-fitting, dark colored jeans or thick long pants. For outdoor activities, they usually wear waterproof shoes and waterproof gloves.
How do people dress in Europe in winter?

In the colder parts of Europe, people dress in warm base layers, topped with sweaters or long-sleeves shirts, thick winter coats, and scarves. Bottoms are typically form-fitting, dark colored jeans or thick long pants. For outdoor activities, they usually wear waterproof shoes and waterproof gloves.
Conclusion: Europe Winter Packing List
Winter is one of the best times to visit Europe. Planning your family trip can be fun, especially after you figure out what essentials to bring. We hope this Europe winter packing list gave you helpful ideas to make the preparation process smoother and stress-free.
You May Also Like
Can You Take Nail Polish on a Plane?
Sylvie Simpson is the founder of European Cities with Kids. For the past 6 years, she has been travelling all over Europe whenever she has the chance, both solo, for work and with her daughter. Sylvie is on a mission to help people make the most of city breaks in Europe with kids and helps over 50,000 readers per month plan and make the most of their trips in Europe with kids.