(Last Updated On: October 12, 2023)
Are you thinking of visiting Switzerland with kids?
Switzerland is a treasure trove of beautiful scenery, picturesque towns, and adventurous outdoor activities, making it a perfect destination for a family vacation.
On a family holiday to Switzerland, there's a huge variety of things to do, from exploring the Swiss Alps to cruising on Lake Lucerne and stepping into the historic centre of various Swiss cities.
This post may contain affiliate links, which means I may receive a commission, at no extra cost to you if you make a purchase through a link. Please see the full disclosure for further information.
Best Places to Visit in Switzerland with Kids + Things to do
With an abundance of activities, from historical tours of UNESCO World Heritage Sites to outdoor adventures in the mountains, Switzerland offers a fascinating blend of cultural and natural wonders that promise a memorable experience for the whole family.
1. Take the Cable Car to Alpine Herdsman's Playground
When you get a cable car to Alpine Herdsman's Playground, you'll look out over beautiful valleys dotted with cobblestone streets, old town charm and surrounded by the majesty of snow-capped mountains.
The kids will be entertained by the stunning views from the cable car station up to the playground, which is a fantastic place. The garden features a variety of outdoor adventures suitable for adventurous kids, including a scavenger hunt and a vast garden.
The playground is located 5-6 minutes from Wengen on an aerial cableway ride from the centre.
2. The Bernina Express (One Way)
As one of the top 10 things to do in Switzerland, a ride on the Bernina Express is a must. This train ride through the Swiss Alps offers beautiful landscapes and an experience your entire family will never forget.
The Bernina Express is more than just a train ride. It's a journey through some of the most beautiful scenery in Switzerland. The route is a UNESCO World Heritage Site, winding through mountains and picturesque villages and offering an up-close look at the stunning view of the Swiss Alps.
The Bernia Express is over 4 hours, so if you are travelling around Europe, I will use the Bernia Express to transport you to Italy for the next leg of your trip! From there, you can travel to Milan and Lake Como.
Don't forget to plan ahead when visiting Switzerland:
🛫 Book cheap flights with WayAway
Get up to 10% cashback on flights with WayAway Plus! Use the code EuropeanCitieswithKids2023 for 10% off a plus membership.
🛏️ Find the perfect place to stay with Booking.com, or discover your perfect holiday home 🏨 with VRBO
🚗 Find the best car rental deals with Discover Cars
🎫 Book amazing tours and tickets with Get Your Guide
3. Engelberg
Engelberg, a car-free town in Central Switzerland, is a beautiful city known for its surrounding mountains and beautiful gardens. A visit to Engelberg is an easy day trip from Zurich and a great destination.
In Engelberg, you can enjoy outdoor activities like hiking, mountain coasters, and snow sports. Pack your hiking boots and prepare for an easy hike that provides fantastic views of the mountain peaks.
Your young kids and older kids alike will love the children's playgrounds dotted around the town. Who knows, you may even see one of the national animals of Switzerland!
Engelberg also offers several family-friendly attractions, including the Swiss Open Air Museum and the historic centre, where you can learn about the history of Switzerland for kids.
While in Engelberg, make sure you visit Titlis, one of the best mountain trips in Switzerland!
4. Bern Bear Park
Visiting Bern Bear Park is one of the best days out for kids in Switzerland. It is home to a family of bears living in a beautiful, spacious park setting, and the city centre's location means it's an accessible and exciting stop for the whole family.
Bern, the capital of Switzerland, is famous for its clock tower, beautiful city views, and cobblestone streets, so there's much to explore before or after visiting the park.
5. Lugano
Lugano, located in the Italian-speaking part of Switzerland, offers a unique blend of Swiss and Italian cultures. It's known for its beautiful lake, Lake Lugano, and the surrounding mountains, providing a stunning landscape that will captivate the entire family.
The city is an excellent destination for a family vacation in Switzerland, as it offers many outdoor activities such as hiking and boating and boasts a historic centre filled with delicious food and beautiful gardens.
6. Mountain Rigi – A Switzerland Train Adventure
Known as the "Queen of the Mountains," Rigi is one of the most famous mountains in Switzerland and one of the top 10 attractions in the country.
Taking a cogwheel train to the top of Mount Rigi is a must for any Switzerland family vacation.
You May Also Like: Family Europe Winter Packing List Guide: 101 Essential Items
This train ride offers beautiful views of Lake Lucerne, Zurich, and the Swiss Alps. Once at the top, your can enjoy various activities, such as hiking, picnicking, and even sledging in the winter.
7. Boat Ride on Lake Lucerne, Switzerland with Kids
The picturesque Lake Lucerne, located in Central Switzerland, is surrounded by snow-capped mountains, making it one of the most famous spots in Switzerland.
A boat ride on Lake Lucerne is one of the top things to do in Lucerne with kids. It's a relaxing way to enjoy the beautiful scenery and a unique perspective on the surrounding picturesque towns and majestic mountains.
The Swiss Travel Passes can be used for unlimited boat rides, making it a fantastic way to save money on your family vacation in Switzerland.
8. Hop on Hop off Bus in Zurich
Zurich, the largest city in Switzerland, has activities for children and teens. A day trip around Zurich will keep kids entertained with beautiful playgrounds, educational stops at the museum, and delicious food options around the city.
A hop-on hop-off bus tour is a convenient way to explore the city, allowing you to visit major attractions at your own pace. Highlights include the Zurich Zoo, the Swiss National Museum, and the historic old town.
I loved this tour; I did the bus tour in the morning and visited the Lindt chocolate factory in the afternoon.
Read our complete guide to visiting Zurich with Kids here
9. Jungfraujoch
Taking a train ride to Jungfraujoch is one of the top 10 things to do in Switzerland. Jungfraujoch, known as the "Top of Europe," is home to the highest train station in Europe.
The train ride offers beautiful views of the Swiss Alps and picturesque towns.
Once at the top, you can visit the Ice Palace, walk through the snow tunnel, or enjoy a restaurant with panoramic views of the surrounding snow-capped peaks.
A trip to Jungfraujoch is a memorable adventure activity for the whole family, offering stunning views and snow sports in a beautiful landscape.
You may Also Like: Switzerland Quotes and Captions
10. Ski School
Switzerland is famous for its ski resorts.
If you're visiting Switzerland in winter, enrolling your kids in a ski school could be one of the most exciting things.
Swiss ski schools are well-equipped to teach children of all ages, ensuring they learn in a safe and controlled environment.
11. Zurich Lidnt Museum
Visiting the Lindt Museum is a must if you're in Zurich with kids. At the museum, the entire family can learn about the history of Swiss chocolate and see how it's made.
What's more, everyone gets to sample the delicious product! First, you'll learn about the history; then you can try melted chocolate, followed by chocolate buttons and then the finished product.
12. Alpamare Water Park
Located near Zurich, Alpamare Water Park is Europe's largest indoor water park and an excellent destination for family fun. The park offers something for everyone, from thrilling water slides for adventurous kids to a wellness area for parents.
A day at Alpamare is a crazy, fun-filled experience that will surely be one of the top things to remember from your family vacation in Switzerland.
13. St Moritz
St Moritz is one of Switzerland's most famous ski resorts, offering many activities beyond skiing.
The beautiful town has picturesque streets and stunning valley views, making it an excellent destination for a day trip or a more extended stay.
Enjoy hiking, mountain biking, and even horse riding in the summer.
As well as Chur, St Moritz is another main stop on the Bernina Express.
You May Also Like: The Best Christmas Markets in Austria
14. Zermatt
Zermatt, a car-free town located at the foot of the Matterhorn, one of the most famous mountains in the world, is another must-see location when visiting Switzerland with kids.
The town is known for its ski resorts, outdoor activities, and beautiful scenery.
You can take a cable car or a train to Gornergrat for some of the most stunning views in Switzerland. There's also the Glacier Paradise, a world of ice, snow, and rock, which can be visited throughout the year.
15. Mount Titlis
Located in Central Switzerland, Mount Titlis is a popular destination for bottles and tourists.
To reach the top, you'll need to take a cable car ride, which is an experience there; you can walk across the highest suspension bridge in Europe, explore an ice cave, or enjoy the breathtaking views.
Mount Titlis also offers a variety of winter sports, making it a great place to visit on a Switzerland family vacation.
16. Basel
Basel, located at the border of France and Germany, offers a unique blend of three cultures. It is a beautiful city known for its museums, including the Tinguely Museum and the Kunstmuseum, the oldest art collection in the world.
The city's historic centre is well-preserved and charming, and a visit to the Basel Zoo, the oldest and largest in Switzerland, is one of the top things to do in Basel with kids.
17. Visit the Swiss Museum of Transport
Located in Lucerne, the Swiss Museum of Transport features a variety of exhibits related to all types of transport, including planes, trains, automobiles, and even space travel. It's an educational and entertaining place to keep the whole family engaged for hours.
18. Visit the Christmas Markets in Switzerland
One of the most beautiful and substantial Christmas markets in Switzerland is that of Basel, located on Barfüsserplatz and Münsterplatz.
Basel was chosen as the best Christmas market in Europe and the best Christmas market in Switzerland for 2021.
It's located in the city centre and has a lot of different things to do. There are many booths selling food, drinks, and souvenirs. If you decide to have a fantastic time with your family, visit Basel with your kids.
Basel Christmas Market offers a lot of entertainment for children, like puppet shows and rides, ice skating on a frozen river that runs through the city centre or visiting Santa Claus at his crib.
You can read more about the best Christmas markets in Switzerland here
19 Ballenberg Open Air Museum
The Ballenberg Open Air Museum is excellent for learning about Swiss culture and history. The museum features over 100 original buildings from all over Switzerland, transported here and carefully reconstructed.
Children can enjoy hands-on exhibits, traditional crafts demonstrations, ad interaction with farm animals. It's like stepping back in time and a fantastic educational experience for kids.
20. Château de Chillon
The Château de Chillon, located on the shore of Lake Geneva, is a historic castle that offers a fascinating journey into Switzerland's past.
It's one of the best-preserved medieval castles in Switzerland, and children will be captivated by the grandeur of the castle and its many rooms, towers, and dungeons.
It's the perfect place for children interested in history and tales of knights and princesses.
21. Swiss Vapeur Amusement Park
Swiss Vapeur Parc is a miniature railway park in Le Bouveret, Switzerland.
The main attraction of Swiss Vapeur Parc is its miniature steam trains, which run over 1.5 kilometres of track through the park's various landscapes, including a Swiss village, a mountainous region, and even a replica of the Matterhorn.
Swiss Vapeur Parc is particularly good for kids because it offers a unique and exciting experience, allowing them to ride on miniature steam trains and explore the park's various landscapes.
There are also several other attractions and activities for kids, such as a playground, a mini-golf course, and a petting zoo.
In addition to the park's attractions, Swiss Vapeur Parc is also known for its picturesque setting, surrounded by stunning views of Lake Geneva and the Alps. Visitors can also take a boat ride on Lake Geneva or visit the nearby Chillon Castle, one of the best castles in Switzerland.
Map of the Best Places to Visit on Family Vacations to Switzerland
Tips for Planning a Family Vacation to Switzerland with Kids
Switzerland is a fantastic destination for a family vacation, but like any trip, it requires careful planning. Here are some tips to help you prepare for your adventure:
Choose the Right Time to Visit
Switzerland is a year-round destination, with skiing and snow sports in the winter and hiking, cycling, and sightseeing in the summer.
Consider your family's preferences and the activities you'd like to do when deciding when to visit.
When we visited in March, it wasn't too cold, and you could still see snow going up the scale cars to the mountain peaks.
Pack Appropriately
Switzerland's weather can be changeable, so it's best to pack layers. Don't forget to pack essentials like hiking boots for mountain adventures and swimwear for visits to water parks or lakes.
Plan for Your Children's Ages
Switzerland offers a wide range of activities suitable for children of all ages. Consider the ages and interests of your children when planning your itinerary.
For younger kids, consider destinations with plenty of open spaces, playgrounds, and easy hikes.
For older kids and teens, consider more adventurous activities like mountain biking or visiting a high-adrenaline amusement park.
How to Get Around Switzerland
Navigating through Switzerland is a breeze thanks to its world-class transportation infrastructure. Whether you opt for the Swiss Travel Pass or rent a car, your journey across this beautiful country will be seamless and scenic.
Switzerland by Train
Travelling through Switzerland by train is undoubtedly one of the most beautiful experiences. The train routes are exceptionally scenic, winding through picturesque towns, stunning valleys, and beautiful lakes.
The Swiss rail network is highly efficient, with frequent services to even the smallest cities.
The Swiss Travel Pass
Offers unlimited travel on trains, buses, and boats throughout Switzerland for a selected number of days, plus free admission to over 500 museums.
This is great value if you are planning to do LOTS of exploring during your trips. Make sure you add up the cost of the attractions and trains on your trip to see if the pass is worth it.
🤩Get Your Travel Pass Here >>>
Swiss Half Fare Card
Provides a 50% discount on train, bus, and boat travel within Switzerland for 1 month. This is perfect if you have a longer stay in Switzerland. Children under 16 travel free is an adult has this pass.
Saver Day Pass
Offers unlimited travel on public transport for a day at a discounted price when booked in advance.
Interrail and Eurorail Passes
Interrail (for European residents) and Eurail (for non-European residents) passes offer a cost-effective and flexible way to experience the Lucerne to Geneva route and beyond. There are different types of passes available. T
he global pass covers 33 European countries, suitable for those planning extensive travel across Europe.
This can be flexible (e.g. 7 days within a month) or continuous for 15 days to 3 months. The one country pass is ideal for focusing on a single country.
Rent a Car
For families that prefer more flexibility, renting a car is another viable option. Switzerland's roads are well-maintained and well-marked and offer some of the most stunning drives in the world, with beautiful scenery all around.
This gives you the freedom to explore off-the-beaten-path attractions at your own pace.
However, it's important to note that driving in Switzerland does require careful planning. Some Swiss cities, like Zermatt and parts of Lucerne, have car-free zones, and parking can be tricky and expensive in city centres.
You must also be prepared for mountain driving conditions, especially if visiting in winter.
🚗 Find the best car rental deals with Discover Cars
How to Get to Switzerland
Switzerland is conveniently located in the heart of Europe and is well connected to its neighbours by various transportation options.
Airports in Switzerland
Switzerland has several international airports, including Zurich, Geneva, and Basel. These airports offer flights to and from destinations all over the world. The airports themselves are well-served by public transport, making reaching your hotel or destination easy upon arrival.
Read More: How to Get from Geneva Airport to City Center
Find Your Perfect Flight to Switzerland Here >>>
Getting to Switzerland from the U.S.
The most convenient way to get to Switzerland from the United States is by air. Switzerland has two main international airports, Zurich (ZRH) and Geneva (GVA), both of which are served by numerous airlines offering both direct and connecting flights from the U.S.
Direct flights to Zurich are available from several U.S. cities, including New York, Miami, Los Angeles, and Chicago. Similarly, Geneva also has direct flights from a few U.S. cities, including New York.
The flight duration depends on your starting point in the U.S., but direct flights usually range from 7-11 hours. Connecting flights, which typically stop in major European cities like London, Paris, or Frankfurt, will take longer.
Upon arriving in Zurich or Geneva, you will find an array of transportation options available to get you to your final destination. These include trains, buses, rental cars, and taxis.
Another option for travelling to Switzerland from the U.S., although far less common, is to travel by sea. This is usually done as part of a transatlantic cruise. After the cruise, you can travel to Switzerland by rail or air from the cruise port city.
Travel by Train
If you're travelling from a neighbouring country, getting to Switzerland by train is enjoyable and eco-friendly.
Many European cities have direct train connections to Swiss cities, providing not just a means of transport but a picturesque journey across some of the most beautiful landscapes in Europe.
🤩Get Your Train Tickets Here >>>
For families travelling from within Europe, consider purchasing a Eurail Pass. This pass offers unlimited train travel within and between many European countries, including Switzerland, and can be a cost-effective way of getting around, especially for larger families.
Driving to Switzerland
Driving to Switzerland from neighbouring countries is another way to reach your Swiss vacation.
The country shares borders with Italy, France, Germany, Austria, and Liechtenstein, all of which have excellent road links with Switzerland. Remember to check local driving regulations before you embark on your road trip.
🚗 Check Car Rental Availability for Your Dates Here >>>
Buses to Switzerland
Long-distance buses like Flixbus or Eurolines also connect many European cities with Switzerland. While the journey is often longer than by train or car, buses can offer a more budget-friendly alternative, especially for families.
Where to Stay in Switzerland
Switzerland offers a range of accommodation options, from luxury hotels to family-friendly resorts, vacation rentals, and mountain chalets.
Cities like Zurich, Geneva, and Lucerne offer numerous hotels within walking distance of major attractions. For a more authentic Swiss experience, consider staying in a mountain chalet in the Swiss Alps.
Always check if the hotel or resort offers family-friendly amenities like children's menus, babysitting services, or a kids' club.
We enjoyed staying in Zurich, Geneva and Lucerne for a more city break-based holiday with day trips to the mountains. However, if you want to stay off the beaten path, try staying in the villages.
Switzerland with a Baby
Travelling to Switzerland with a baby can be a rewarding experience with a bit of planning. Swiss cities are generally baby-friendly, with changing facilities in most public restrooms.
When planning your activities, consider your baby's routine. Schedule downtime and try not to pack too many activities into one day. Baby carriers are useful for hiking or visiting towns with cobblestone streets where strollers might not be practical.
Switzerland with a Toddler
Switzerland with a toddler can be a ton of fun. There are countless playgrounds across the country, and many attractions offer interactive exhibits or activities for young children. Most Swiss restaurants provide high chairs and kids' menus.
From my personal experience, our toddler particularly enjoyed the boat ride on Lake Lucerne and the Swiss Museum of Transport. Remember to pack some familiar snacks, a comfort item, and plenty of activities to keep them entertained during travel times.
Eating out in Switzerland with Kids
Eating out in Switzerland is a beautiful way for the family to experience Swiss culture. Swiss food is hearty and delicious, with specialities like fondue, raclette, and rösti. Kids usually love Swiss chocolate and pastries, too.
Final Words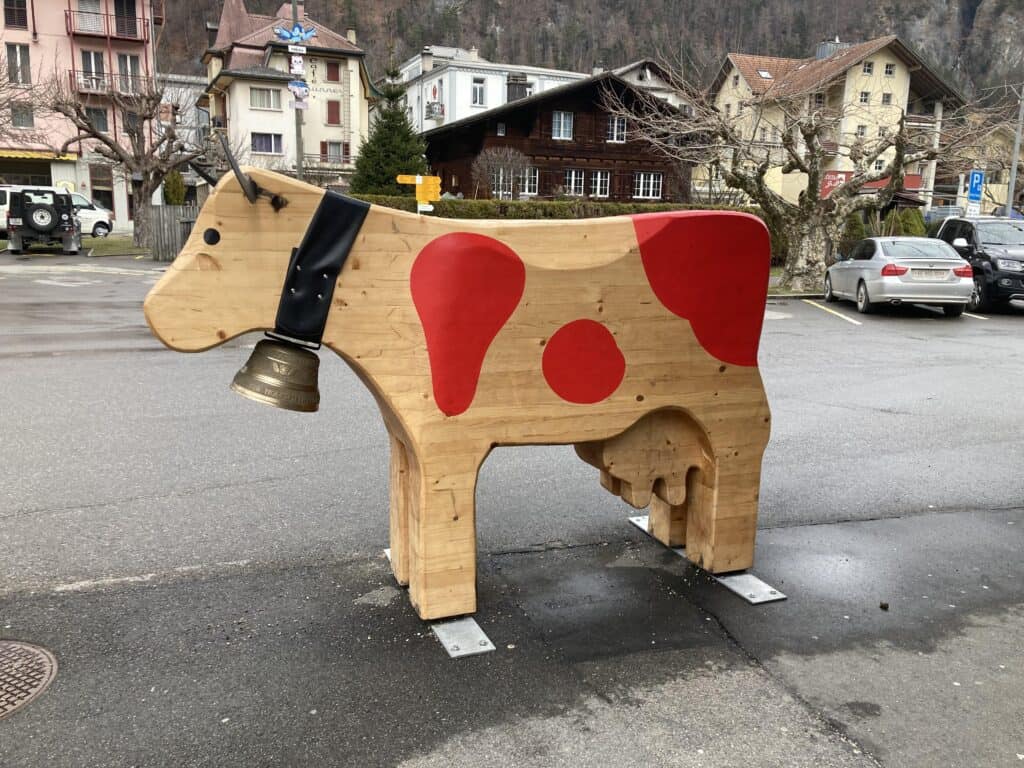 Switzerland is more than just stunning landscapes and delicious food. It's about the experience of discovering a new culture, exploring beautiful cities, and creating unforgettable memories with your family.
Whether taking a boat ride on Lake Zurich, wandering through the old town of Geneva, or ascending the snow-capped peaks of the Swiss Alps via a cable car ride, there's something for every family member in Switzerland.
Plan Your Swiss Adventure
🛫 Book cheap flights with WayAway
Get up to 10% cashback on flights with WayAway Plus! Use the code EuropeanCitieswithKids2023 for 10% off a plus membership.
🛏️ Find the perfect place to stay with Booking.com,
…or discover your perfect holiday home 🏨 with VRBO
🎫 Book amazing tours and tickets with Get Your Guide
Discover Switzerland
Sylvie Simpson is the founder of European Cities with Kids. For the past 6 years, she has been travelling all over Europe whenever she has the chance, both solo, for work and with her daughter. Sylvie is on a mission to help people make the most of city breaks in Europe with kids and helps over 50,000 readers per month plan and make the most of their trips in Europe with kids.