(Last Updated On: September 22, 2023)
Lycabettus Hill is the highest point in Athens at a height of 277m. Visitors can enjoy a panoramic view of the whole of Athens, the Acropolis and out to sea towards the islands. Visiting Lycabettus Hill can be a great activity in Athens with kids.
We visited Mount Lycabettus at the beginning of our travels around Greece this summer as part of a 4-night stay in Athens. After exploring the main tourist sites of Athens, and having been before on a past backpacking trip to Athens, I wanted to see something slightly out of the city centre. Whether you're spending 2 days in Athens or a week, Mount Lycabettus is a must-do activity.
Lycabettus Hill is the highest point in Athens, nearly twice as high as the Acropolis at 277m. Visiting the hill is one of the most popular things to do in Athens.
This post may contain affiliate links, which means I may receive a commission, at no extra cost to you, if you make a purchase through a link. Please see my full disclosure for further information.
Mount Lycabettus, Athens LOCATION MAP
How to get to Mount Lycabettus
By Taxi | Local taxis in Athens are very cheap. With kids, a taxi is an excellent option to get there fast. Taxis can be picked up at a taxi rank or hailed on the street. We booked a taxi in advance with Welcome Pickups to have a car seat for my little girl. A taxi can drop you right at the entrance to the cable car for minimal walking.
By Bus | Bus number 060 takes you relatively near the cable car entrance.
By Metro | The nearest metro station to mount Lycabettus is Evangelisimos. The metro is a fast and efficient way to get around Athens. However, you would still have to walk uphill for 25 minutes to reach the cable car entrance. This could, however, be an option for the way home.
Walking | It is possible to walk to Mount Lycabettus from Athens city centre. It's only 11 minutes away from Syntagma square. However, the walk back took us a lot longer. There are numerous steps, so it's not a good idea if you have a pushchair. The step-free route is significantly longer.
Mount Lycabettus Cable Car/Funnicular
Opening Times | 9:00AM – 1:30AM, every 30 minutes all year round.
Admission | 5 euro one way and 7 euro return.
For more information, visit the official website here.
Climbing Mount Lycabettus
Climbing mount Lycabettus takes between 30 and 90 minutes, depending on fitness levels and speed. If you're climbing Mount Lycabettus with kids, I recommend taking the cable car up and walking down again. Here. you'll be able to see the same sights while doing an easier walk.
At the Top!
Orizontes resturaunt
From small bites to 3-course meals, the Orizontes restaurant provides a perfect place to watch the whole city go by. We stopped for ice cream and coffee to get my little girl out of the sun. It turned out to be one of our best experiences in Athens and the best view!
Creative flavours at the highest level of enjoyment at the highest point of the city.

Orizontes, Athens
Agios Georgios Chapel
This small 19th-century chapel is one of the highest points of the hill's summit. The church is surrounded by a viewing platform that's great for some Instagram shots! There's also a payable binocular viewing point on the viewing platform.
The View!
From the top, you'll be able to see a panoramic view of the whole of Athens, the Athens Riviera and towards the mountains outside of the city.
You'll also be able to see an alternative view of some of the major sights of Athens. The view of the Acropolis from above is much more vivid than that of below.
You can see more of the structure for free! There's also a good view of the Panathenaic Stadium.
Lycabettus Hill with a baby
My daughter was 12 months when we made this trip. It went very well overall, although we had to be careful to keep her in the shade. Bringing a buggy was a slight pain getting on and off the cable car, and there were a few steps to carry the pushchair up at the top. However, I'm still glad we got to see the best view in Athens.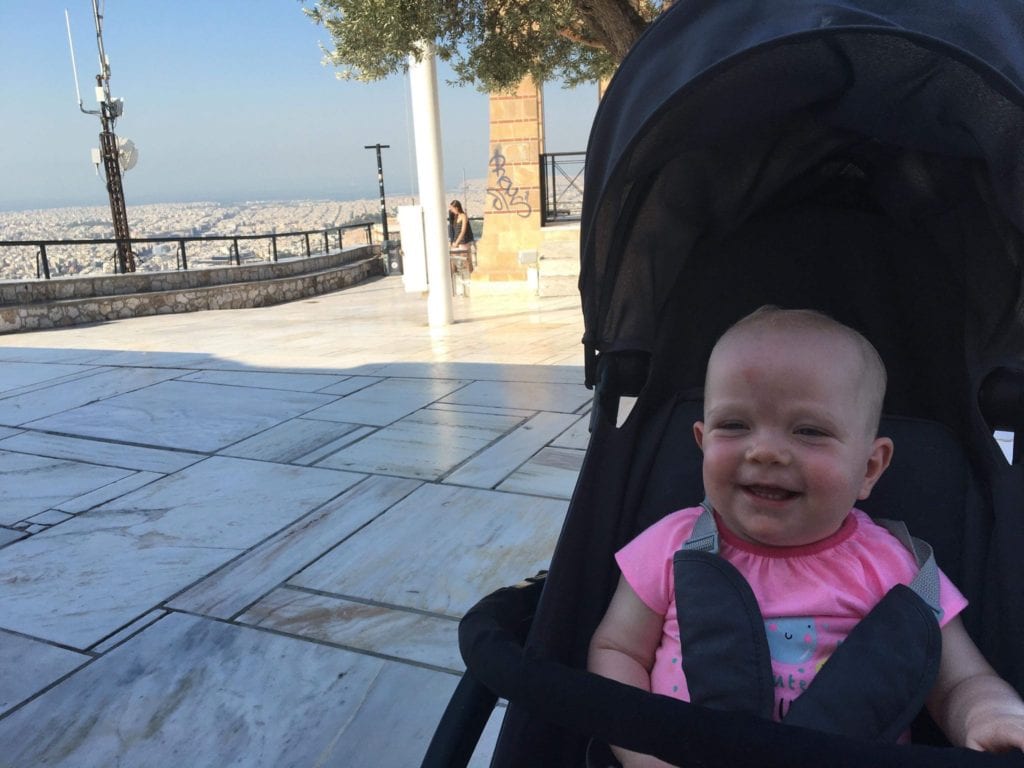 Lycabettus Hill with a toddler
Although taking a toddler to Mount Lycabettus may come with its challenges, the hill is still well-worth visiting with proper planning. I would recommend bringing reigns or a pushchair. Toddlers will love getting ice cream from the hilltop cafe.
Lycabettus Hill with kids
Mount Lycabettus is a brilliant half-day trip to do with kids. Kids will love travelling up in the cable car and seeing a panoramic view of the whole city at the top. We enjoyed an ice cream with a view! There's also a cafe at the top.
Discover More of Greece >>>
Discover Southern Europe >>>
Return to Homepage >>>
Sylvie Simpson is the founder of European Cities with Kids. For the past 6 years, she has been travelling all over Europe whenever she has the chance, both solo, for work and with her daughter. Sylvie is on a mission to help people make the most of city breaks in Europe with kids and helps over 50,000 readers per month plan and make the most of their trips in Europe with kids.