(Last Updated On: November 24, 2023)
Split is the perfect place to base yourself to visit some of the best national parks in Croatia. If you're looking for the ideal day trip from Split, Croatia, visiting a national park from Split is the perfect option. Here are the best national parks near Split, Croatia, to you can plan the perfect day trip.
Although Croatia has eight national parks, each of which is special and charming, stunning and different in its way, these 5 are located near Split and exude harsh nature and wilderness.
Croatia's national parks are home to many protected plants and animals, abound in hiking trails and waterfalls. They are some of the best national parks in Europe.
National Parks Near Split are within 200 km from Split. This means about 2 hours of easy driving. 3 are located on the mainland and are easily accessible by car or bus, and 2 are on the islands, which require ferry/boat transport to visit them.
This post may contain affiliate links, which means I may receive a commission, at no extra cost to you, if you make a purchase through a link. Please see my full disclosure for further information.
Krka National Park Day Trip from Split
This is one of the National Parks Near Split that consists of 7 magnificent waterfalls. It is imbued with the rich sound of water life.
In many parts of Krk, the flow is calm. The waterfalls have "silver necklaces,"; an increasingly dense ripple of water that takes on the colour of silver and the appearance of countless necklaces scattered across the river. All their silver will shatter down the waterfalls, and the beauty will only be transformed into a new form.
NP Krka is great for trips with children. You can visit the Krka National Park from Split with an organised tour by bus or hire car. From the centre of Split to the park is some 80 kilometres, which takes about a 1-hour drive.
National Park Plitvice Lakes Day Trip from Split
Plitvice Lakes are the most famous and most visited Croatia waterfall national park, declared a national park in 1949. Plitvice Lakes are located near Korenica, central Lika, consisting of 16 connected lakes surrounded by steep rocks and dense forest inhabited by Lika bears and wolves.
One of the specifics of Plitvice Lakes is the phenomenon of tufa, in which waterfalls are constantly built or formed due to the deposition of calcium carbonate. Plitvice Lakes is one of the two natural sights on the UNESCO World Heritage List in Croatia and was included in 1979.
The ticket price includes transport by electric boat, panoramic train within the selected sightseeing program, visitor insurance, and value-added tax. A perfect family trip!
From Split to Plitvice is 255 km or a little more than 2 hours easy drive by car or bus.
Biokovo Nature Park Day trip from Split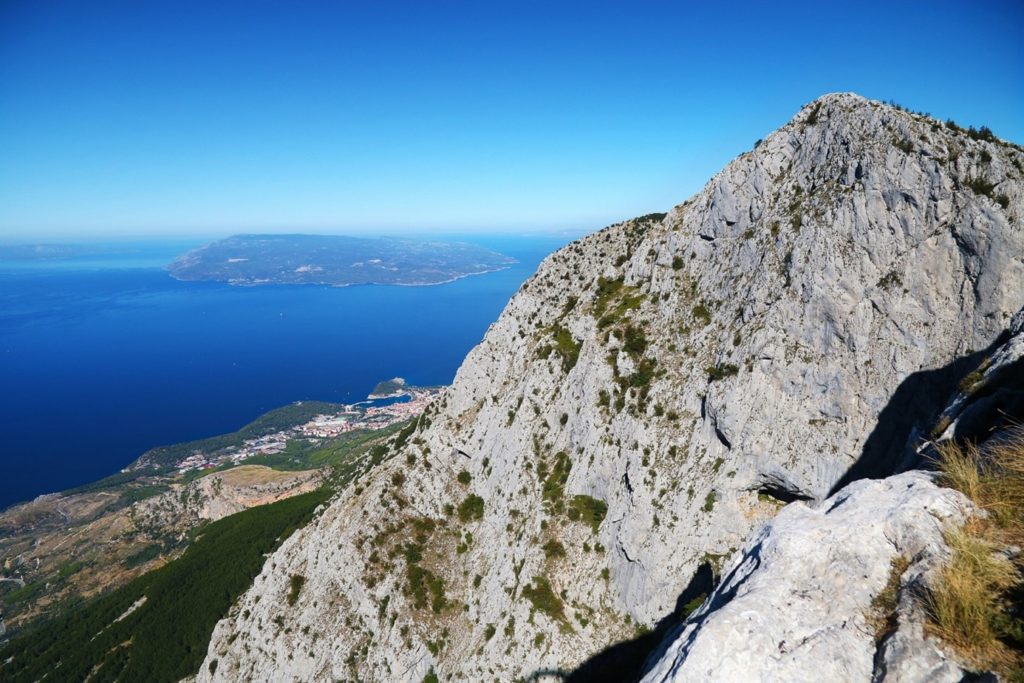 Although not a national park, this Croatia nature park is no less attractive to visit if you are in the vicinity of Split. Biokovo is one of Croatia's 11 nature parks, and it contains a section of the Biokovo mountain range.
Biokovo is adorned with an extraordinary karst relief and preserved isolated natural environment. There are caves and pits in the park area, which are especially interesting for explorers and adventurers who love nature. A particular joy for the whole family is that Biokovo Skywalk is included in the park ticket price, $ 8 per person.
It is about 130 kilometres away from Split, and you can visit it by organised tour, hire car or bus.
Kornati National Park Day Trip from Split
Kornati National Park was proclaimed in 1980 when it was placed under protection. The total area of this park is about 220 square kilometres. It is composed of larger and smaller islands and cliffs that emerge from the blue of the Adriatic Sea.
Spend a fantastic day with children discovering a beautiful national park with more than 140 islands and islets. Of the total area of the Kornati, only ¼ occupy the mainland. The rest of the National Park consists of the sea and the living world that inhabits it.
From Split to the Kornati National Park is 145 km. It takes about a 1-hour drive. Several carriers drive directly. A convenient and faster way to the park is to go to Šibenik or Murter and choose one of the organised tours from cities closer to the Kornati. Ticket prices are from € 20.
Mljet National Park
Mljet National Park was proclaimed on November 11, 1960. The park covers the western third of the island of Mljet. Its area includes the northwestern part of the island of Mljet and the surrounding sea. NP Mljet is the first institutionalised attempt to protect the original ecosystem in the Adriatic.
You can visit Mljet National Park with children all year round. There are three official entrances to the park, and during the tourist season, it is open from 08.00 to 20.00. In the winter period (from the beginning of November to the end of April), visitors are received only by prior notice.
Mljet to Split is about 200 km, but the best way to reach the Mljet National Park is by catamaran line Split-Brač-Hvar-Korčula-Mljet-Dubrovnik.
Plan Your Trip to Split
Find Accommodation in Split >>>
View Car Hire Prices and Availability >>>
View Tours and Activities >>>>
Discover Croatia >>>
Sylvie Simpson is the founder of European Cities with Kids. For the past 6 years, she has been travelling all over Europe whenever she has the chance, both solo, for work and with her daughter. Sylvie is on a mission to help people make the most of city breaks in Europe with kids and helps over 50,000 readers per month plan and make the most of their trips in Europe with kids.