Theme parks provide fun for the whole family. They are suitable for all age groups because everyone eager for adrenaline and adventure will find something for themselves.
Visiting Italy theme parks with kids where you can view wildlife up close or where they can learn about the allure that dates back to prehistory as summer approaches and the days grow longer and hotter. What about a place where you can play and have fun, perhaps in the water?
This post may contain affiliate links, which means I may receive a commission, at no extra cost to you if you make a purchase through a link. Please see my full disclosure for further information.
MAP of the Best Theme Parks and Water Parks in Italy
Does they have Theme Parks in Italy?
There are Italy theme parks for all tastes and budgets. They range from the most sophisticated, with water slides, rides, and fun shows, to the most natural, where you can admire animals in a vehicle, on two wheels, or on foot.
Best Theme Parks and Amusement Parks in Italy
In Italy, in addition to ancient ruins and medieval castles, there are a lot of amusement parks that children will like more than boring walks to sights and museums.
#1 Theme Park Gardaland, Castelnuovo del Garda
Gardaland features 445,000 metres squared of attractions, including a sea life centre, three themed hotels, and soon a Legoland water park – as well as its 200,000-metre square theme park! Italy theme parks are always an exciting time and Gardaland is no exception, featuring a mix of amazing rides and entertainment shows.
It's rated one of the top ten amusement parks in the world and the eighth-most-visited roller coaster park in Europe. It features roller coasters, water rides, dark rides, flat thrill rides, family rides, and other attractions like a 4D cinema, an actor-led forest event, and more, all split across many themed worlds. It's also located right next to the beautiful Lake Garda!
Italy City Breaks:
#2 Cavallino Matto, Tuscany
Cavallino Matto in Tuscany is one of the biggest theme parks in Italy. The park is situated on 60,000 square meters of pine woodland and goes by the name "Crazy Little Horse" in Italian.
Roller coasters dominate the park, and the largest is 17 meters high. Still, there are also many facilities for the youngest such as water attractions, from tree-riding to canoeing to Bucaniere Bay for pirate adventures.
In addition, there are magic and dance performances, a 3D cinema, and a funicular for those who want to experience the thrill of heights. The park is suitable for children aged 3 and older.
#3 Mirabilandia, Lido di Savio
Welcome to one of the largest Italy theme parks-Mirabilandia. Ducati World is a unique thematic area dedicated to the Ducati engine brand.
The amusement park itself has six different themed areas, three of which are Adventureland, Dinoland, and Far West Valley. There is something different to experience in each themed area, with diverse attractions and performances for young and old.
In the Mirabilandia amusement park area, you can choose between various campsites where you can also provide accommodation.
>> (opens in a new tab)" rel="noreferrer noopener sponsored" class="ek-link">Get Your Tickets Here >>>
#4 Rainbow MagicLand, Rome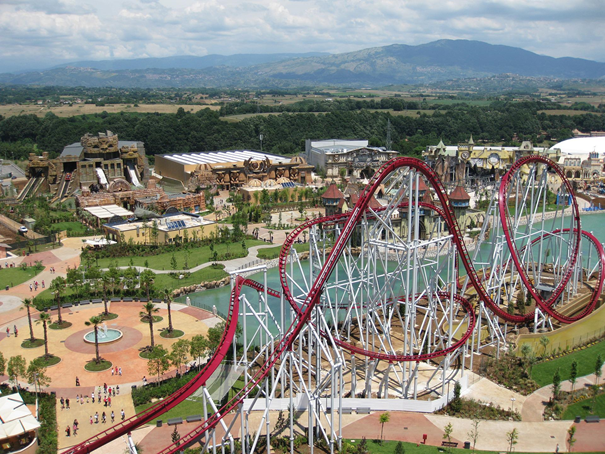 Rainbow Magic Land, Italy,  is a magical family theme park that spans about 16,000 square feet. This amusement park is located in Valmontone, about 50km from Rome.
A City break in Italy is a great place to take an escape from culture and history and provide your children with an enjoyable day.
Children can enjoy Magic Googelaars Street and enjoy the rotating houses of Houdini and others. For those who like an even more adventurous tour, they can embark on exciting rides. Among them are the Shock rollercoaster, Demonia haunted house, Mystika free fall, Cagliostro indoor rollercoaster, and Inglese Volante. In summer, you will find even more attractions.
For example, you can enjoy the Polarettilandia water playground or take a boat ride across the Rapida River, Pixie River, or Yukatana.
For more information about Rome, read here!
>> (opens in a new tab)" rel="noreferrer noopener nofollow" class="ek-link">Get Your Tickets Here >>>
#5 Movieland Park Italy, Lazise
These theme parks near Lake Garda, Italy, consist of two parts. The first part is a theme park with a Hollywood movie theme Movieland the Hollywood park, primarily known for its rollercoasters, parachute towers, haunted houses, and speedboat rides.
The second part is Caneva the Aquapark, which is, as its name suggests, a park rich in water attractions. If you are a cinema lover, this place is perfect because it is dedicated to the world of cinema. The park has more than 20 attractions that cover 100,000 square meters.
#6 Minitalia Leolandia Park – Capriate San Gervasio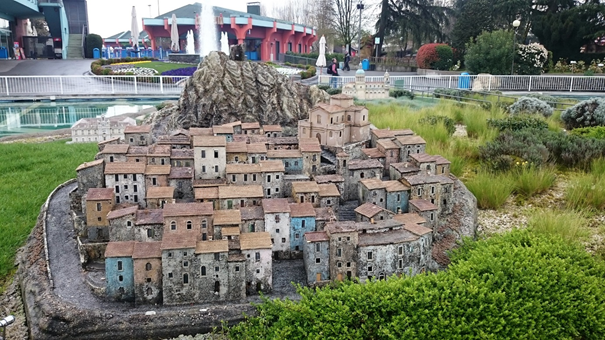 Leolandia, Italy, is the perfect kids' theme park. The park offers more than 40 attractions for all ages and six theme areas that you can enjoy. Children's dreams come true in Leolandia because they can meet their favourite cartoon characters. Numerous attractions, shows, and restaurants ensure a wonderful day full of fun.
>> (opens in a new tab)" rel="noreferrer noopener sponsored" class="ek-link">Get Your Tickets Here >>>
#7 Park Pinocchio – Collodi, Italija
Park Pinocchio in Italy is located in Collodi and is very easily accessible. If you are camping with your children, you should not miss this place because, for them, it is a natural paradise dedicated to the famous long-nosed puppet.
The park features children's rides, a puppet theatre, a hedge maze, other attractions, and catering facilities. Pinocchio Park is a magical location with a feel that is almost vintage. The enchantment of the Pinocchio narrative is the magic of the park. So don't anticipate any high-tech attractions or amazing effects.
Does Italy Have a Water Park?
In addition to the sea, lovely rivers, and lakes, Italy has over 100 water parks where kids can enjoy slides, artificial rivers, and other amusement centres. Finding a water park nearby shouldn't be a problem wherever you are in Italy.
Best Waterparks in Italy
Among the most well-known water parks are:
#8 Aqualandia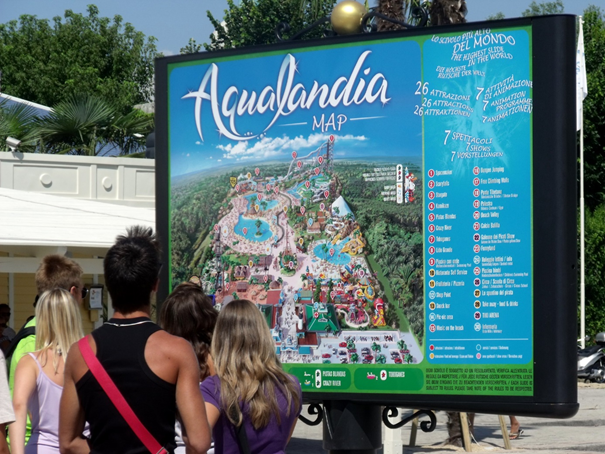 This family theme park near Venice is the most popular water park in Italy and also the only Italian water park on the list of the 25 best water parks in the world.
Caribebay water park covers an area of ​​80,000 m2. It contains attractions for children of all ages, slides, and deck chairs with parasols for adults. The park is situated 46km from Venice in a little small town named Lido di Jesolo.
#9 Zoomarine, Rome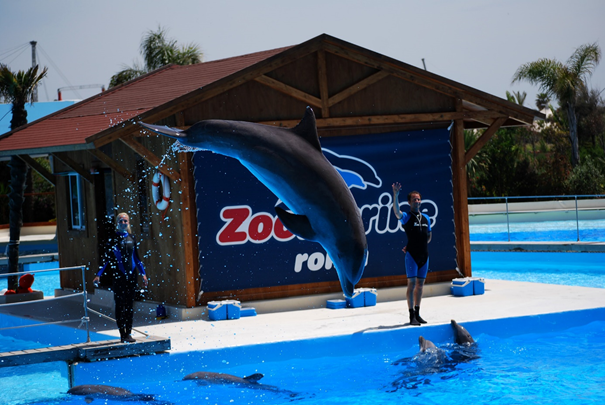 Zoomarine is one of Italy's ten largest and most famous water parks. This Amusement park in Rome offers indescribable performances with dolphins, sea lions, and divers who show their skills by jumping from very high trampolines.
This park features many attractions, such as a downhill tower, water rides, and super long water slides, encouraging anxiety for the less fearless. The water park also has a beach and a cover with umbrellas, deck chairs, and all comforts.
#10 Aquapark Etnaland
Etnaland is located in Catania. It is a water park of about 280,000,000 square meters. There are swimming pools, slides, and attractions of all kinds for adults and children. It also includes a prehistoric theme park and a botanical trail. It is one of the largest Italy theme parks in southern Italy due to its vast area.
#11 Legoland Italy
Legoland Water Park is a new fully themed water park designed for families with children. Children under the age of 12 are not allowed to enter the LEGOLAND® water park unless accompanied by an adult.
It is the first Legoland water park in Europe and the first in the world built within an existing theme park. Legoland in Italy features a variety of zones and attractions. These include Miniland, Lego River Adventure, and Jungle Oasis. Miniland is home to about 100 famous structures made of Lego bricks, like the Colosseum in Rome and the Milan Cathedral.
#12 AcquaPark Odissea 2000
 This is the largest water park in Italy. The most attractive attractions in the park are water slides such as Krono Kamikaze, Titano Roller, Skyron Rocket, and Big Olimpo. Small children have large pools with smaller slides at their disposal.
There are calmer "river waters" and many deck chairs and umbrellas for people who want to unwind. Also, AquaPark Odissea 2000 still offers various entertainment and recreational programs such as water gymnastics.
Related Posts
Theme parks provide fun for the whole family. They are suitable for all age groups because everyone eager for adrenaline and adventure will find something for themselves. Visiting Italy theme parks with kids where you can view wildlife up close or where they can learn about the allure that dates back to prehistory as summer …

12 Best Italy Theme Parks and Water Parks to Visit on Your Next Trip Read More »
FAQ's
What is the biggest amusement park in Italy?
Gardaland Park Italy is halfway between Venice and Milan, near Verona, and right next to Lake Garda (hence the name Gardaland)!
Due to its unique geographical position and attractive attractions, Gardaland is the biggest theme park in Italy and the 8th most visited in Europe. It attracts almost 3 million visitors every year. That's, on average, 8,000 a day which, you'll admit, is impressive. And this number can double or triple during the summer months, so preparing a visit to Gardaland in advance is necessary.
Do they have roller coasters in Italy?
If you opt to ride the roller coasters in Italy, you won't regret it. They are big, swift, safe, and frequently maintained. Even the most adrenaline junkie will start screaming when they see it.
Divertical and iSpeed in Mirabilandia, as well as Blue Tornado, Raptor, and Shaman in Gardaland, are some of the top Italian roller coasters.
Is there a Disneyland In Italy?
In terms of the European continent, Disneyland is not located in Italy. It is in Paris, France. But a few other Italian themes and water parks can compete with Disneyland in every way.
Does Rome have a theme parks?
There are several theme parks in Rome. Rainbow MagicLand and Zoomarine are among the best Rome theme parks.